Veg Area Coverage: 1 x 1 ft at 15 inches
Flowering Area Coverage: NA
Power: 20 watts
Dimensions: 10.2 x .4 x .4 inches
Warranty: 12 months warranty + 24/7 customer support
Spectrum: Full Spectrum (No UV or Infrared)
Weight: 11 ounces
Lifespan: 50,000 hours; 16-hour daily maximum
Best for: Veg only!
Free Cannabis Seeds? Check out my list of the best seed bank promotions – Including FREE Seeds, discount codes, and giveaways!
ACKE LED Panel Grow Light unboxing
Check out this great unboxing video of the ACKE LED Grow Light
Some people hesitate to grow their own marijuana plants, simply because they are afraid it will cost a lot of money to get started. Setting up a grow is notoriously expensive, but it doesn't always have to be that way.
For low budget growers, or those who have tiny grow spaces, the ACKE LED panel grow light is a great choice.
This light is a versatile and affordable option for beginners who are looking to raise a small number of marijuana seedlings. We like it so much that we featured it in our Best Light for Growing Weed in 2020 review – it took home the top spot in the Tiny Spaces category!
Who is this light best for?
This small, powerful light is a great choice if you are:
growing for the very first time
growing only one seed at a time
using a closet or unconventional grow space
looking for a low start-up cost for your grow space
Who is this light not for?
If you're looking for an all in one grow light that will take you from seed to harvest with optimal results, this probably isn't the light for you.
While this light doesn't have the power your plants will need during flowering, it does an excellent job of boosting the health and vitality of young plants. This light is a great option if you have a dedicated space set up for germination or you need some inexpensive supplemental lighting.
Need a full life-cycle grow light?
If you need a grow light that will take you from vegetation to flowering without breaking the bank, we recommend the Shengsite 50W LED Grow Light which won first place in our Best Light for Growing Weed review.
Features & Build
Without question, the best feature of this light is its versatility. From the multiple connectors to the dual mounting options, this light gives you the freedom to use it anywhere.
Snap-in connectors
The light itself comes in two rectangular plates that can be connected either horizontally or vertically to best fit your grow space. Connecting horizontally creates a long, thin panel light… while connecting the pieces vertically creates a square.
Each panel is 3.9″ x 10.2″ and features on horizontal and one vertical snap. That means you can buy multiples of this light and continue connecting them to cover a larger area.
Versatile mounting options
The ACKE grow panel light comes with all the supplies you'll need to mount or hang it. That's right, you can either hang this light with the included zip ties or mount it to a flat surface using double-sided tape (also included)!
This feature really adds to the appeal for unconventional growers. It's a huge benefit to be able to mount such a thin light panel on a flat surface, but hanging the light still allows you the freedom to place it closer or further away as needed for your plant.
Solid, thin design and construction
The body of this light is an ultra-thin, printed aluminum circuit board that protects the light from getting too hot. This is a huge benefit if you're using an unconventional grow space since it also protects against fire.
ACKE really proves how much they care about the heat dissipation in their choice of LED lights, which have the lowest heat emission ratings. This means that your plants can get much closer to them without bleaching or burning.
Spectrum/PAR Output
The ACKE LED Panel Grow Light stands out from its competitors because it features full spectrum lighting. This light contains 192 total LED lights: 128 red, 32 blue, and 32 warm white lights, to be exact.
This ratio of red to blue lights is perfect for new seedlings and clones, and the warm white lights can feed a plant into adolescence. Unlike others in its price range, this light has all the lights necessary to feed a plant all the way to its flowering stage.
Coverage
The ACKE LED Panel Grow Light is pretty small, and so is its coverage area. We recommend this light for single-seed growers specifically for this reason!
The light will cover an area about 1′ x 1′ if it's positioned about 15″ above the plant. This is the perfect size for one well-raised seed!
Brand Reputation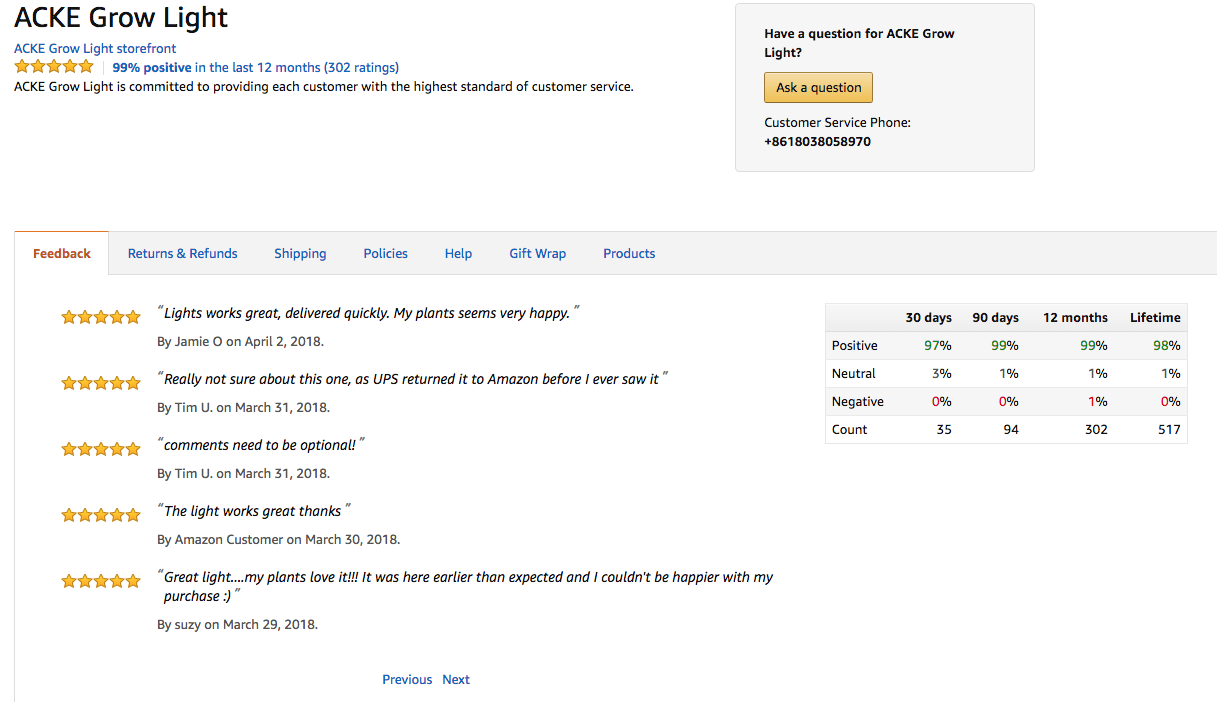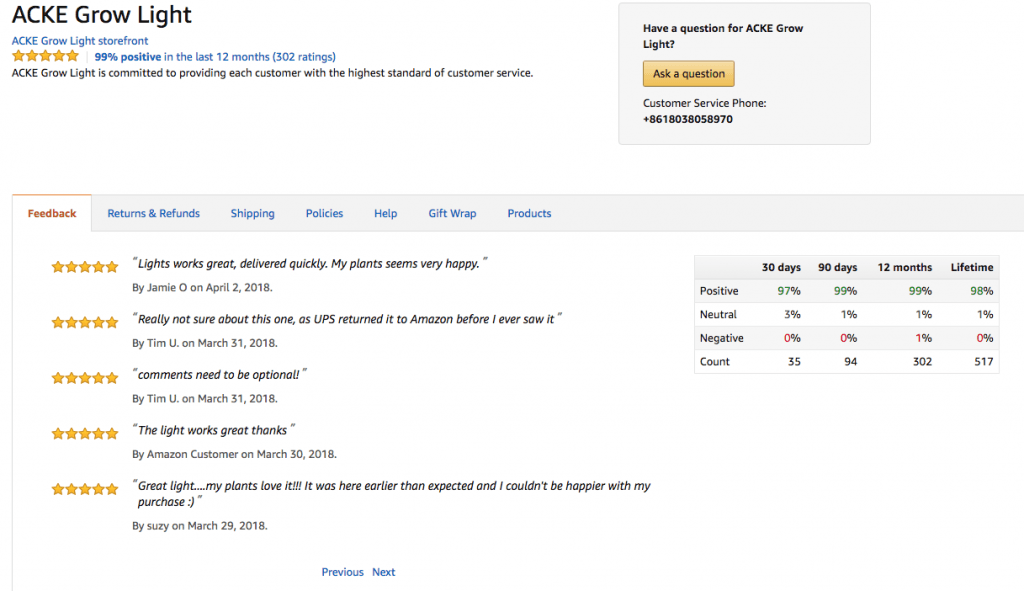 ACKE has over 10 years' experience in the grow light business. All of their products come with excellent ratings and they are very responsive to customer questions and concerns.
Warranty
Not sold? Don't worry. ACKE offers 24/7 customer service to help you troubleshoot any issues, and a 12-month warranty, so you won't end up stuck with the light if you end up needing something different.
Need something more powerful?
If you're loving the panel design of this light but need something with more power, we recommend the Roleadro 45w LED, which took home our 3rd Place spot for the Budget Lights category! The Roleadro version comes with more than twice the wattage for a very reasonable price!
Summary
We have nothing but good things to say about the ACKE LED Panel Grow Light! Everything about this light, from the construction to the features and options, is designed to make it stand out.
The possibilities of this light are literally endless, so make sure you take some pictures of your setup once you get this one and post them in the comments! We want to see how you set up the panels for your grow space!
As always, leave a comment if you have questions or suggestions, and give us a share if you liked what you read!