An essential component to indoor gardening is maintaining proper lighting conditions. Since it is often much more difficult or even impossible for your plants to receive light from the sun, it is very important that you mimic the sun's rays as best as possible.
Nowadays, there are many grow lights on the market, making claims of being the best at providing optimal lighting conditions for plants. This doesn't make it any easier to find the best lights for promoting and stimulating plant growth and development.
We understand just how confusing it can get when you have to spend hours comparing brands, features, and looking at advantages and disadvantages of several products. This is one of the reasons why we're making it easier for you.
After going through many grow lights that are currently on the market, we've come up with what we believe is one of the absolute best — the Aokey 9W LED Adjustable Plant Light. Stick around and keep reading; we're sure you'll agree with us that this grow light has some pretty desirable features.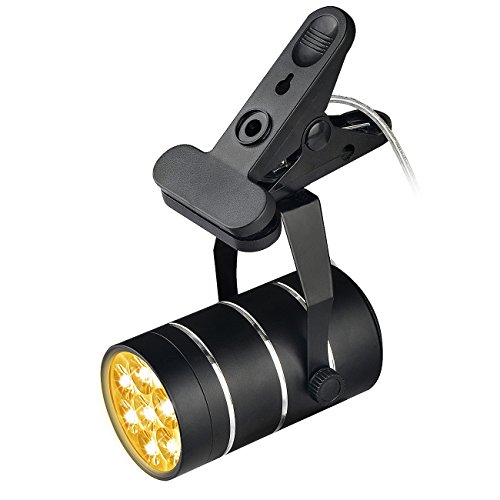 Features of Aokey 9W LED Adjustable Plant Light
This highly efficient grow light from Aokey includes 7 LED bulbs that emit light of a full spectrum. This means that all 7 beads emit purple, green, blue, green, yellow and red light. This is definitely a good mimic for the spectrum emitted by the sun and an emission that is not very commonly found in grow lights. Since a full light spectrum will be available to your plants, it means that you won't need to purchase supplemental grow lights.
One of the incredible features of this light is that it can be rotated 360°. If you don't want the light to be directly shining on your plants, you can rotate it. The rotating capability of the lights also enables you to direct light in specific areas of your garden; this increases convenience and decreases hassle.
LED lights are widely known for their low energy consumption. This Aokey grow light is no different, requiring only 9W of power. However, it emits very intense beams of light from each bead in the lamp. So, although you save on your energy bill, your plants will still maximize their growth potential. Low energy consumption has no bearing on the lifespan of the grow light either. It has an expected lifespan of about 50,000 hours.
Another amazing feature of this product is the rate at which it dissipates heat. Since it is made of aluminum, iron and plastic, heat dissipation is not an issue. Even heat distribution is also important for your plants. So, with this grow light, you can rest assured that your plants will get even light beams as well as heat emission. And, you'll love that it works in a wide range of temperatures. Being able to function at temperatures as low as -20°C or as high as 40°C really seals the deal with this grow light.
Pros
Since it emits a full spectrum of light, you can use it to grow just about any plant regardless of the stage it's in
It doesn't require a lot of power to work which means that it will save you a lot of money on your energy bill
The light can be rotated 360° so you can turn it in any direction it is needed
It has a very generous lifespan of 50,000 hours
It is quite lightweight, so it won't need a lot of support when hung over your plants
If one bulb stops working, it won't affect the function of the others and you can easily replace the broken bulb
It is very reasonably priced
You'll receive 100% money-back-guarantee when you purchase this grow light
Cons
The cable from the lamp is a bit short
Some bulbs may stop working before others
Summary
Aokey 9W LED Adjustable Plant Light
really has made an excellent grow light with this 9W Adjustable Plant Light. Whether you're a professional gardener, new to gardening or you just grow a few plants as a hobby, there are many benefits that you can reap from having this grow light. It's like having the sun indoors, shining on your plants. The only added advantage is that you can turn it on/off as you like, and you can determine the direction that the light shines in.
There's really nothing more that you could ask for in a grow light; this one has it all. From the full spectrum light to the unlimited rotation of the beams, this is truly a remarkable grow light. And perhaps one of the most amazing things about it all is that it is very affordable. Just be aware of the short cord that it comes with—although you can easily use an extension cord. If you're looking for the ultimate LED Grow Light at a bargain price, you should put this high on your list of options.