Looking for the best LED grow lights for weed?
We've reviewed the most popular LED grow lights in 2020, so you can find the perfect light for your budget and setup.
*Editors note: this post has been completely re-written and updated for 2020
Best LED Grow Lights September 2020
I'll cover each product in more detail below the table.
LED Grow Light Comparison Table
[amazon table="7053″]
TOP PICK: After looking at more than 30 LED grow lights, I can confidently say that the Viparspectra 600w Reflector Series is the best LED grow lights that provide the most value for your money.
This budget friendly LED light is powerful, efficient and outputs the perfect amount of PAR in the flowering stage.
Along with this, the cooling fans on this model are extremely quiet and the power consumption is low!
In addition to this, Viparspectra are a very reliable manufacturer and offer a generous 3 year warranty and excellent customer service.
The V600 Reflector Series is perfect for growing up to 4 plants in a 2x2ft or 3x3ft environment.
However, If you're only planning to grow 1-2 plants and are on a very tight budget, the Roleadro 300w is the light I would opt for.
Although it's a bit less powerful than the v600, it includes UV and outputs a decent amount of PAR for the price.
Overall these are the best led grow lights for your growing needs!
The Best LED Grow Lights For Weed
I've split my recommendations into 4 categories:
1. Best Value LED Grow Light – The lights i feel offer the most value for money
2. Best 1000w LED Grow Light – This power is usually ideal for between 1-6 plants
3. Best 600w LED Grow Light – This power is usually ideal for between 1-4 plants
4. Best 300w LED Grow Light –This power is usually ideal for between 1-2 plants
1.The Best Value LED Grow Lights For Weed
LED technology has come a long way over the past 10 years.
These advancements mean you can now pick up a really decent light for well under two hundred bucks.
Out of all the products I tested, these two lights offer the most bang for your buck.
[amazon table="8224″]
# 1 – Viparspectra 600w LED Grow Light
The Viparpectra 600w Reflector Series takes top spot as the best value LED grow light. It's actually my current favourite grow light – I own two of them! Although this is in the value section, I would argue that they are the best led grow lights on the market overall as well!
This is extremely powerful for the price.
With an actual wattage output of 269w providing 703 umols of PAR at 18″ the V600 provides the perfect PAR output for the flowering stage and great lumen output. Along with this, it's perfect for indoor grows because the cooling fans are near silent, and the power consumption making it energy efficient. Quiet cooling fans are essential when growing cannabis indoors.
Not many similarly priced lights come close to matching this.
Although this light doesn't come with UV, it still has a full light spectrum which includes Infrared.
The V600 Reflector Series also comes with really useful functionality, such as the ability to daisy-chain (hang multiple lights together while using only one power cord ) and veg and bloom switches (optimise your lights spectrum for the veg and bloom stage )
On top of this, Viparpectra are a very reliable company and they back this light with a very nice 3 year warranty. Read full review to find out why these are the best led grow lights.
Who is this light best for?
This light is perfect if you plan on growing up to 4 plants.
However, if you're on a tight budget or plan on growing no more than 2 plants, you might want to considering purchasing the v300 below.
What size grow tent should I get?
If you plan on growing 2 plants with this light, get a 2x2ft. If you plan on growing 4 plants under this light, get a 3x3ft.
# 2 – Roleadro GalaxyHydro 300w LED Grow Light
Roleadro's Galaxy Hydro is another very popular 300w LED grow light, and it definitely gives the Viparspectra a run for its money. The Roleadro outputs slightly more PAR at 18″ ( 453 umols ), a solid lumen output, and and also comes with the ability to daisy chain and as well as a full light spectrum which includes IR and UV. Again this light is perfect for 1-3 plants inside a small 2x3ft grow tent. Read full review
2. The Best 1000w LED Grow Lights For Weed
Choosing a 1000w light means that you're looking to spend a bit more to really maximise your yields.
The PAR output on a good 1000w LED should be in the high end of the optimal ranges for veg ( 400-600 umols ) and flowering (700-900 umols )
[amazon table="8239″]
# 1 – Phlizon 1500w LED Grow Light
The Phlizon 1500w led grow light is extremely powerful and has an actual wattage of 1000w, while consuming 340watts. Sometimes with powerful lights you have to be careful with heat dissipation, but thankfully with this Philzon I haven't experienced any heat dissipation related issues.
The PAR Output on this bad boy is a massive 812 umols at 18″ , which means that it's right in the middle of the 700-900 optimal range for flowering.
The high PAR output, combined with the full light spectrum, including UV and IR wavelengths, will mean your plants have everything they need to really max out their potential yield.
The lack of functionality such daisy chaining and veg and bloom switches means that this light is available at a very tempting price for growers looking for power over functionality. These LED lights are very high functioning, and they definitely get the job done and focus on plant growth!
# 2 – Bestva DC Series 2000w LED Grow Light
The Bestva DC series 2000w is another exceptionally high powered grow light.
With an actual wattage of 1400w this light will output roughly 760 umols at 18″ – well within the optimal PAR ranges for flowering.
Again, focusing on power, Bestva have stripped out the nice-to-have features such as daisy chaining and veg & bloom switches. Along with this, it's still quite energy efficient for being so powerful.
This makes these LED lights very affordable. This light also comes with a 3 year warranty to give you peace of mind. Overall you should feel very secure in these lights ability for plant growth… You're in good hands!
3. The Best 600w LED Grow Lights For Weed
A good 600w LED grow light will be able to take between 1- 6 cannabis plants from seedling ( or clone ) right the way through to harvest, producing a great plant growth and an excellent yield.
In my opinion, 600w of actual wattage is the perfect power for an indoor LED. It's powerful enough to output optimal PAR values, while consuming less electricity than more powerful lights.
[amazon table="7371″]
The Viparspectra 600w is hands down the best 600w grow light overall.
I've covered these LED lights briefly above under the "best value led grow light" award, so I won't repeat myself here. You can read my full review of the Viparspectra 600w here
# 2 – Phlizon 600w LED Grow Light
The Phlizon 600w is also a great option if your budget can't stretch to the Viparspectra.
It offers a full spectrum ( including UV and IR ) as well as daisy chain functionality, veg and bloom switches.
It outputs slightly less power than the Viparspectra, and therefore produces less PAR at 18″ , but it's still enough to get a very solid yield.
Using less power means using less electricity, so if funds are tight, then this is a great backup choice. Phlizon stand by this light with a 2 year warranty and responsive customer service. Read full review
4. The Best 300w LED Grow Lights For Weed
A 300w LED Grow light is perfect if you're looking to grow one or two plants.
Although these might not penetrate your plants as well as more powerful lights, they will still do a great job and provide a good yield.
Due to their value, many growers opt to purchase two 300w lights and hang them side by side to cover a larger area.
[amazon table="7375″]
My top pick in this category is the Roleadro 300w.
I covered this light above under the "Best Value LED Grow Light" award – so check that out if you missed it 🙂
If you want to read more you can check out my full review on this light, here Read full review
# 2 – Viparspectra 300w LED Grow Light
The Viparspectra 300w is the little brother to Viparspectra's excellent 600w light.
At half the actual wattage, Viparspectra offers this light at a significantly lower price point, which makes it very appealing if you're a little tight on cash.
Outputting 427 umols at 18″ , this light will produce great results for between 1 to 3 plants inside a 2×3 mylar lined grow tent.
It comes with daisy chain functionality, a well balanced spectrum light ( IR but no UV ) and is backed by Viparspectras generous 3 year warranty. Read full review
Who is this light best for? This light is only really powerful enough to take 2 plants from seed to harvest, so choose this light if you're planning a small, personal grow.
What size grow tent should I get? Best used in a small 2ft x 2ft mylar lined tent to really maximise PAR.
# 3 – Giixer 1000W LED Grow Light, Dual Switch & Dual Chips Full Spectrum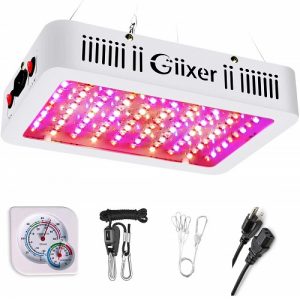 This product is a full-spectrum LED light system.
It includes red, blue, orange, white, and warm white combination for various types of plants.
It is also manufactured by a professional LED light manufacturer.
These lights are scientifically engineered and well balanced with high power lumen suitable coverage.
The lighting system also contains three optional modes, such as veg for the germination stage and bloom for the flowering fruiting stage.
It also includes double chips to make sure it works for a long time to come.
The LED lighting system has a powerful cooling feature that has a strong heat dissipation design and adopts an isolated power supply. The light lasts approximately 100,000 hours.
LED Grow Light FAQ
If you are a seasoned marijuana grower, then you know that the decision of whether to use natural light or grow lights is a long-standing debate.
However, the good news is that you can choose to use either type of light to grow your cannabis, as each has its own strengths and weaknesses.
Natural Light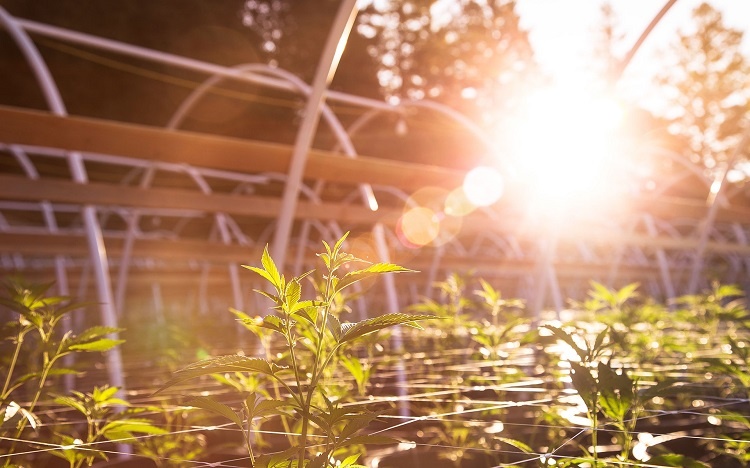 Cannabis enjoys natural light and thrives at its full potential in sunlight; however, long periods of shade is not recommended.
This is why commercial cultivators of marijuana choose to have open fields for their crops.
However, a private owner may face several challenges when using natural light.
The summer sun is ideal for marijuana growing since the sun is higher in the sky than at any other time of year.
The sun also provides your cannabis with full-spectrum lighting, which is the same type of light that grow lights imitate.
Ultraviolet illumination is the solar radiation that your plants depend on and benefit the most from.
Grow Lights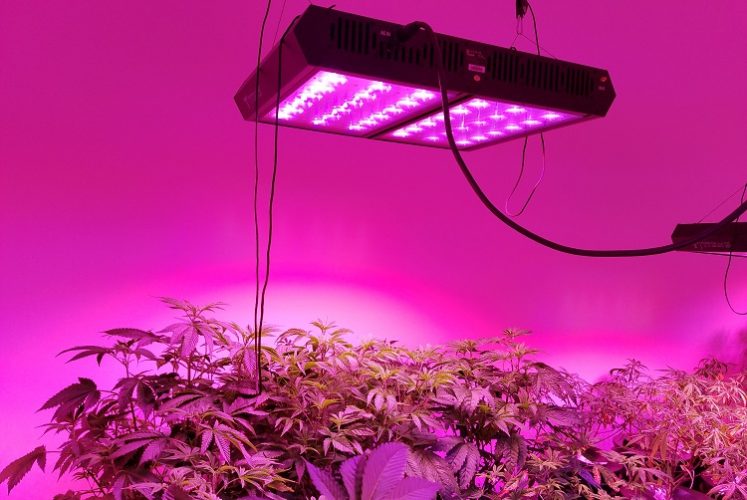 Plants set up indoors rely on full-spectrum lighting.
The most common types of lights used include HPS, which stands for high-pressure sodium, MH, which stands for metal halide, and LED lights, which refer to light-emitting diode lights.
MH lights are whiter than HPS lights and have been used in the growing of cannabis for a long time. However, nowadays, HPS is considered a new MH.
High-pressure sodium lights also emit yellowish and orange rays.
It does an excellent job of growing indoor marijuana and an especially excellent job in the sun flowering stage.
HPS lights are the variety of lights that cannabis cultivators use.
LED lights are newcomers to the world of marijuana cultivation.
However, they are gaining in popularity.
There are a bit more expensive than the other two types, but they are definitely worth the investment.
They last longer and use less electricity as compared to the other two types of lighting.
They are also safer as they don't get as hot as HPS or MH bulbs.
Does Weed Grow Faster Under Led Lighting Than Regular Light?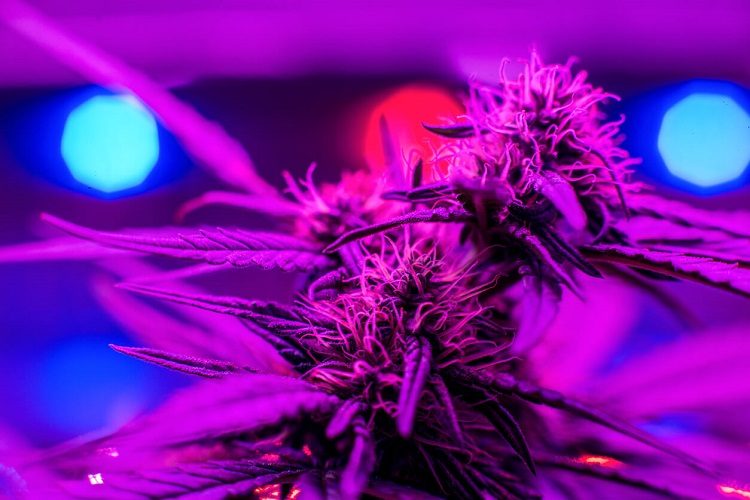 Why natural light and grow lights both have their advantages, ultimately, grow lights better for indoor growing environment.
This is mainly because you have a high level of control over the artificial habitat.
The intensity of the light can be manipulated, and so can the humidity and temperature.
The indoor grower also has the ability to provide supplemental carbon outside, which is ineffective outdoors.
The controlled indoor environment is also free from pests and the risk of outside elements.
These outside elements, such as weather, pets, and so on, can greatly affect growth and harvest and are some of the disadvantages of outdoor cannabis growing.
With grow lights, light intensity and duration are always constant and consistent throughout the entire growing period.
Therefore, it can be said that grow light is better for your cannabis than natural light.
How Can Indoor Marijuana Grow Lights Help You With Your Growth Process?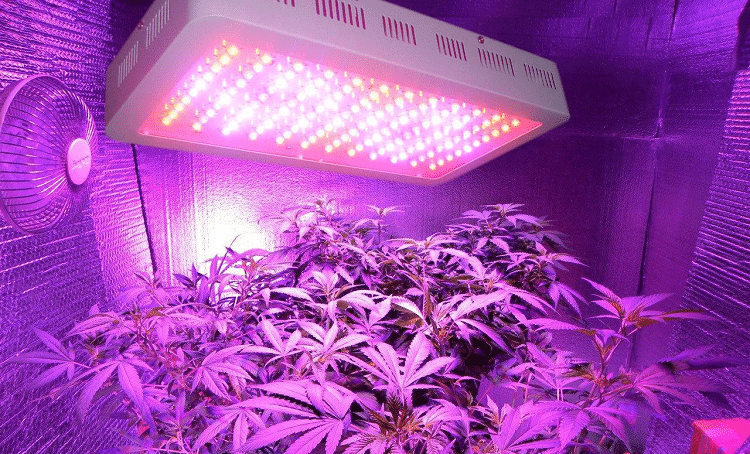 LED lights are full-spectrum and give your plants the desired wavelength of light in order to yield the best possible quality of cannabis.
LED lights that include UV and infrared diodes are the best.
Ultraviolet light has been proven to make your plants react defensively and therefore produce additional trichomes.
Ultimately this leads to an increase in the THC levels in your plants.
PAR output present in full-spectrum lighting is also beneficial for photosynthesis.
Between 400 to 600 moles is perfect for late or veg cycles and 700 to 900 is ideal for the flowering stage.
Ultimately, with artificial lighting, you have more control over the consistency and duration of light provided to plants.
Should You Use Led Lights If You Have Enough Daylight?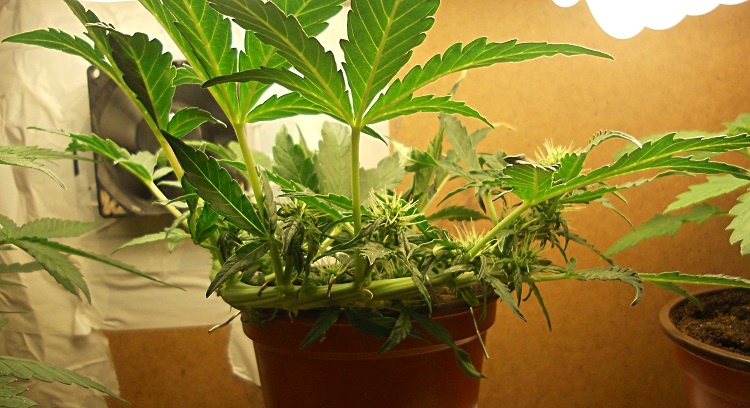 While it is possible to use natural light in combination with LEDs, it is not recommended.
This is because if you are using artificial lights, you have all of the control and light intensity that is required to give you an optimal yield.
So while you may have access to daylight, it is not available all the time, and the consistency is not the same each and every day.
However, with artificial lighting, you control the consistency and intensity, which means that you are providing a constant and consistent supply of lighting to your marijuana garden.
Ultimately, this consistency is what will yield the quality of crops you're looking for.
What's The Cost Of Electricity To Grow Marijuana?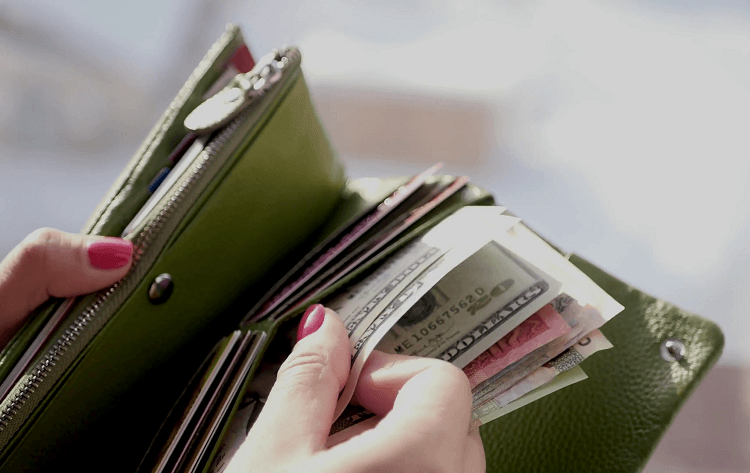 Figuring out the amount that it will cost you on electricity to grow marijuana will depend on a number of factors.
Firstly the cost will depend on where you live, the wattage of light you are using, and the number of hours that you are using it on your marijuana garden.
There is a formula to work out the exact cost, and you need to take the cost of electricity, multiply it by the number of hours, and then multiplied that by the number of watts over 1000, and this will give you the total cost.
The equation will look like this: the cost of electricity x number of hours x (watts/1000) = Total cost.
Related Questions
Q: What Are LED Grow Lights?
A: LED (Light Emitting Diode) Grow lights are a type of efficient light that are perfect for use indoors.
They offer some awesome benefits over traditional types of grow lights.
Q: What Are The Benefits of LED Grow Lights?
Full spectrum, boosting growth and potency of plants
They output low levels of heat, reducing ventilation costs
The bulbs last a long time ( 50,000 hours – 100,000 hours ) so no need to replace bulbs
Up to 50% more energy efficient than HPS/HID or Fluorescent grow lights
Easy to use. Just plug in and turn on. No complicated set up.
No need to buy extra equipment like ballasts or reflectors
Safer to operate than HPS lights
Any downsides? The only real downside to LEDs are that they cost a bit more up front than HPS or Fluorescent lights.
However, your energy savings over time will more than make up for this.
Q: What Wattage LED Grow Light Do I Need?
A: You need at least 32 actual watts of power per square feet of grow space.
Actual watts are what your grow light draws from the wall socket.
It is not the total wattage of LED chips in the light that most manufacturers advertise in their product titles, so be careful not to get LED chips confused.
For example, the Viparspectra 600w in our comparison table above gets its 600w name because the light is made up of 120 5w LED diodes.
This is simply the maximum capacity of the diodes in the light.
It's actual wattage is 269w – the power it draws from the wall socket.
One cannabis plant needs at least 1sq foot to grow in ( preferably a little bit more ) This will allow your plant room to grow to its full potential.
Therefore, if you were planning on growing 4 plants, you'd need a light with at least 128 actual watts to match up with the corresponding square feet needed.
Note: As well as actual watts, It's also very important to know how much PAR your light outputs, because some led lights might have a high actual wattage and a low PAR output due to factors such as the angle of the lenses, efficiency etc etc – so keep an eye out for high PAR output!
Q: Will LED lights burn my plants?
A: While LED grow lights run much cooler than HPS lights ( see video above ), if you hang them too close to your plants, they will get light burn.
A good way to avoid this is to place your hand over at the top of your plant.
If you feel the heat of the light is too hot for your hand, then it's too hot for your plants – move your light back a little.
Q: How far from my plants should my LED lights be?
A: This is not a simple question to answer, as it will vary between different lights.
However, most good manufacturers will provide instructions on the light hanging distance at various stages.
In general, you want to keep your light between 18 to 36 inches away from your plants.
18 inches above the canopy while flowering, and 24-36 inches above during the veg stage.
Remember, if the light is too hot for your hand, it's too hot for your plants.
It's always better for your lights to be too far away than too close.
What Makes A Good LED Grow Light?
Here are some important things that you should look for in a good LED grow light:
1. Full spectrum ( including IR and UV )
A full spectrum LED grow light will give your plant every wavelength of light it requires to maximise it's growth ( bigger yields ).
Most manufacturers will provide details or charts about their lights spectral output. Look for blue lights between 430nm-450nm for the vegetation stage and red lights red lights between 640nm-680nm for the flowering stage.
You should also look for an LED grow light that includes UV ( ultraviolet ) and IR ( Infrared ) diodes.
Ultraviolet light has been shown make your plants react defensively and produce more trichomes. This leads to an increase in THC levels ( higher potency )
The benefits of Infrared are a little more debated, but many experts believe that it promotes larger leaf growth and increases yield size.
2. High PAR output
PAR ( measured in umol/2/s ) is the spectrum of light that your plants use for photosynthesis, so you want to feed them a lot of it.
Most good manufacturers will provide you with a chart showing you how much PAR your plants will get at various heights.
Between 200-400 umols is perfect for seedlings. Between 400-600 umols is perfect for late vegging cycles, and 700-900 umols is the perfect amount for flowering.
3. Daisy Chaining Functionality
A very useful feature if you need to buy multiple lights.
This functionality allows you to plug one light into another light so that you only need one power chord.
This makes it easier to hang your lights side-by-side, keeps your grow space organised and frees up socket space.
4. Veg & Bloom Switches
Veg & Bloom switches allow you to optimise the intensity of your lights for the different stages of your grow cycle.
This prevents your young plants from getting light burn and saves you money on your electricity bill.
5. Good Warranty
Make sure you pick a grow light with a warranty of 2-3 years.
LEDs should last for more than 10 years, but having a decent warranty will give you peace of mind that if anything goes wrong, you will get a replacement or refund
6. Responsive Customer Service
This is vital. If something goes wrong with you're light, you want to have purchased from a company that will get back to you quickly and make things right.
Check Amazon reviews to see how the manufacturer has replied to negative reviews.
7. High Actual Wattage
Many manufactures name their grow lights after the total wattage of LED chips inside the light.
For example, a grow light with 120 5w LED chips might be advertised as a 600w grow light. The actual power is the wattage that it draws from the socket. Keep an eye out for text like "consuming only 160 watts!" – this is the lights actual wattage as opposed to the LED chips.
Final Thoughts
I hope you found this article useful!
All of the best LED grow lights reviewed in this article will do a solid job for your plants.
They're all reasonably priced and produced by reliable manufacturers who offer good warranties and customer service.
That said, the Viparspectra 600w stands out due to it's nice mix of high PAR output and useful functionality.
As mentioned earlier in the review, I own two V600's and they do an excellent job hung over 6 plants in a 3×3 environment. If you're looking for a reliable light that produces great yields and won't break the bank, you really can't go wrong with this light.