There's something very appealing about growing your own plants. Whether it's because food, spices or flowers taste and smell better or because the process itself causes a stronger bond with nature, it doesn't really matter.
What matters is that the process itself is painstaking, requiring a lot of attention, dedication and time. Another factor that will also impact the health of the plants is light, which is essential in their development.
Light comes naturally from the sun, but for those who own an apartment or live in unfit climates, there are viable alternatives. LED Grow lights have risen in popularity since LEDs are becoming more efficient in power consumption and delivery.
Because they're used in virtually anything that emits light, a lot of different manufacturers and researchers have developed this seemingly simple piece of electronics to a well-polished, versatile product.
One device, in particular, might draw customers' attention, namely the BESTVA DC Series 1000W LED Grow Light. There are many positive things to say about this particular machine and some downsides which buyers should take note of before making a purchase. With that said, it's time to have a lengthy discussion about this specific grow light.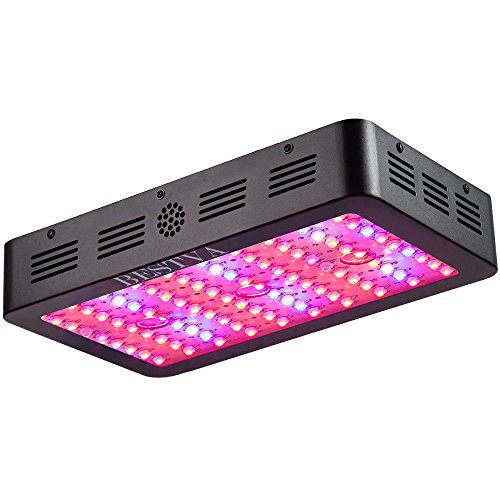 BESTVA DC Series 1000W LED Grow Light Features
A full spectrum LED board, including UV and IR lights
Dual chip LED lights, offering more efficient power consumption and delivery
Has a good cooling system
Comes with a three-year warranty
Pros
Energy efficient—delivers good performance for good and reliable power and energy delivery while keeping bills relatively low
Work in virtually any indoor area
Backed by a 30-day satisfaction or return policy and a three-year manufacturer warranty
Cons
If one of the LEDs fails, the chances are it will cause a short circuit that will affect a big part of the board
Delivers an actual 185 real watts, compared to the 1000W theoretical power
Summary
BESTVA DC Series 1000W LED Grow Light is only one of the products that are seeing good use of the recent developments in LED lighting. The dual-chip LEDs mean that each light provides superior energy, compared to single chips, while keeping power consumption relatively the same, eliminating the need for additional grows lights in most cases.
The LEDs manage to hit the full RGB spectrum, simulating natural sunlight, providing proper care and nourishment to a lot of different species of plants.
It's important to mention that it doesn't feature a dial. This can be solved in one of two ways. Either the user chooses to apply a third-party dial to the circuit, meaning that the intensity of the light can be controlled without changing the height of the machine.
The second method and the more bulletproof one is height adjustment. Since different plants are endemic to different areas of the world, it's important to emulate that area's light intensity, so for a 5.1 by 4.7-foot area, a 24″ height is optimal for most species.
The BESTVA DC Series 1000W LED Grow Light features aluminum panels, something important given the nature of the machine. Aluminum is the metal of choice in the case because it manages to keep it relatively sturdy and lightweight since it's a suspended appliance.
Furthermore, aluminum is great for dissipating heat, so using it both in the cooling system and in the casing will deliver better cooling results.
The 185 real watts that the BESTVA produces are enough for most home growing projects, a single device producing enough light for a 4×4 foot area. Because of the full-spectrum nature of the device, the IR and UV lights will allow the user to grow bacteria-free plants, making it a safe and value pick.
The product comes in three different variants: the 1000W standard, a 600W less powerful version (with 125 real wattages) and a 1000W smart purchase. The 600W isn't much of a pick, since it's a significant downgrade in power delivery, translating into weaker, less developed plants.
The Smart Series, on the other hand, uses a better light spectrum, 432 watts and a smartphone app which allows DIMMs and programs to be used in different stages of the plant's development.
The Smart version comes at a reasonably higher price point but does offer quite a lot more features. This is an interesting choice for those that are willing to break the bank a bit in order to get better growth results. With that said, the lack of redundancy is a real issue, as a malfunction can ruin the whole LED board instead of just the faulty one, destroying the entire machine.
While the purchase is protected by a three-year warranty, grow lights are something essential in completing a plant's development, so being unable to use one for an indeterminate amount of time is something to consider.
Comparison
Since LED technology has developed a lot over the past few years, it's pretty clear that BESTVA DC isn't the only manufacturer that capitalized on the perfected technology. This means that users have a lot of different products to choose from, and an informed decision is essential when buying such a crucial element.
It's time to look at an alternative of the BESTVA DC Grow light and see how much competition it brings to the table in terms of build quality, energy efficiency, and extra features. The Hi-Standard Full Spectrum Plant Light is a product that's similar in features, power consumption, and overall claims, but how well does it perform in the real world?
Well, for starters, the 158 watts of real power is considerably lower (about 20 percent) when compared to the BESTVA 1000W standard model. At a closer look, the actual LEDs use optical technology, rather than dual chips, further affecting the energy efficiency of the product.
Lastly, and the definitive deal-breaker, is the build quality. The switch used in building the Hi-Standard device is poorly constructed, causing overheating and even failure. This failure can easily result in an open fire, endangering the plants and anyone in the vicinity. The BESTVA is clearly the superior product of the two.
Verdict
BESTVA have managed to make a well-balanced grow light. The BESTVA DC Series 1000W LED Grow Light comes with no compromise in regards to power efficiency, with some shortcuts taken in developing utility features. The lack of a dimmer isn't going to do much, but it is annoying. The Smart model solves this, but it costs considerably more.
Overall, both of the products are great at what they're supposed to do, with the low 600W version being the only one that doesn't actually impress.