Crop King Seeds Review: Crop King Seeds are a great choice of seed bank if you live in Canada or the USA. They have a good selection of strains and fast shipping times backed up by a solid germination guarantee. However, Crop King's seed prices are a little on the high end, and I don't recommend them for anyone living outside the US or Canada.
Continue reading to see how Crop King Seeds compare to other top seed banks.
Crop King Seeds Review 2020
Crop King Seeds
(CKS) when they released the first-ever marijuana commercial (I've added it below)
A few of my friends in the cannabis community swear by them, so I wanted to find out how they compare to the top seed banks.
Here's what I like about them and what they could improve.
Pros of CKS
Best seed bank in Canada
High-quality seeds
Fast shipping to Canada & US
Large selection of strains
Worldwide shipping
Solid score on TrustPilot
Discrete shipping
24/7 Live chat support
Easy to use website
Cons of CKS
No bitcoin discount
Seeds are expensive compared to other seed banks
No Free Seeds offered
$30 shipping to EU, UK NZ, AUS
Not many promotions
Who Is Crop king Seeds For?
Crop King is a great option for growers who live in Canada or the US and want high-quality seeds delivered quickly.
Who Is Crop King Seeds NOT For?
In my opinion, there are better seed banks to buy from if you live outside of Canada or the US. Crop King's shipping cost is just not worth it if you are ordering from outside of Canada or the US.
About Crop King Seeds
Established in 2005, Crop King Seeds is a Canadian seed bank that has been heavily involved in curating seeds for almost a decade.
In 2012 they began their first retail partnership but have since grown to over 100 locations now selling their seeds worldwide.
Since its beginning, CKS has been dedicated to quality and genetic strength when it comes to strain selection.
According to their site, they have formed partnerships with some of the world's most respected breeders to bring customers the highest quality seeds.
Seed Quality – 4/5
Crop King Seeds have built a strong seed quality reputation, but if you search around enough you'll find mixed experiences.
To their credit, more than half of their customers report successful grows which indicates their seed quality is generally good.
Additionally, unlike most seed banks, Crop King Seeds offers a germination rate guarantee of 80% in case of failure.
The thing that makes me hesitate, however, is some of the online reviews on Trustpilot.
Some customers report bad germination rates or the wrong seeds being sent.
There are also reports of issues trying to get replacements sent out.
Don't get me wrong – there is an equal amount of positive reviews there too, so take everything with a grain of salt.
Overall I recommend some caution, and to read through all the reviews before making your decision!
Strain Selection – 4/5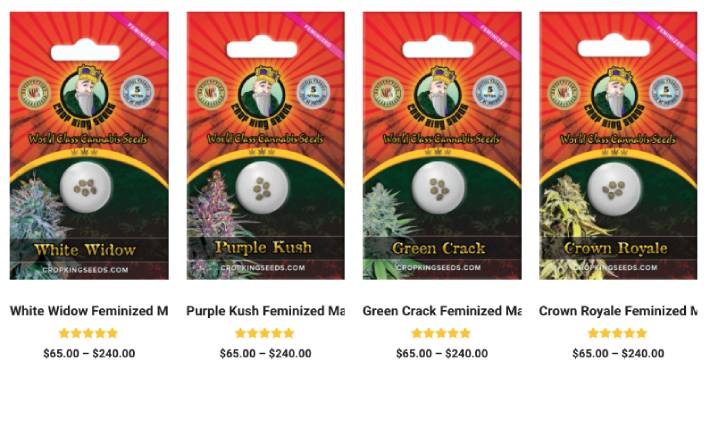 Strain selection is generally limited with Crop King Seeds, although that isn't necessarily a bad thing.
They have some amazing strains and a good mix of regular, feminized, and auto-feminized varieties.
They also have a section for high-CBD and CBD-only strains, something medicinal patients will appreciate.
The Crop King website is a bit dated, but since they have limited strains it's at least easy to get through them.
Overall I think CKS is going for quality over quantity, but I feel as though they could expand somewhat.
Customer Service – 3/5
As I mentioned earlier, there are mixed reports about Crop King Seeds' customer service.
On the one hand, they are accessible, with phone and online chat support lines manned by actual employees.
I tested the chat out and spoke to Lisa who was most definitely not a bot.
On the other hand, I have to be honest though – I wasn't very impressed.
Within a minute her responses made it sound as though I was bothering her with my questions.
After I took a few seconds to type back, she offered that I should "move along" if I didn't have anything else to ask as she was "busy".
Some of the Trust Pilot reviews I mentioned also detail customer service attitude when issues come up.
Interpret that how you want to, but for me personally it's a red flag as it reminds me of previous bad experiences elsewhere.
Customer Reviews 4/5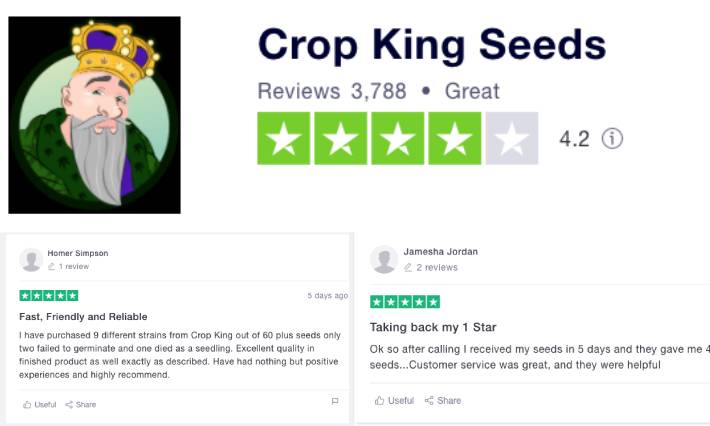 One nice feature on their website is the strain reviews from customers under each strain page.
The presentation could be improved, but the reviews still contain some great information to help set expectations for each strain.
In terms of reviews of the company itself, people either seem to love CKS or hate them.
No really – their Trustpilot Reviews are almost evenly split between excellent and bad!
I took the time to search online, and found forum posts as well were about the same.
Some people had no issues at all – some promised never to shop there again.
I'm not going to solve this debate in this review, but thought it was important to show the full picture!
Payment Methods – 4/5
Crop King Seeds offers a few payment methods, including Visa/MasterCard, cash and Bitcoin. If you live in Canada they will also accept bank transfers.
Unlike some other seed banks, they do not accept checks, money orders, Western Union, or international bank transfers.
For those of you with American Express, you'll also need to find a different method of payment.
Shipping – 5/5
Crop King Seeds offers a few different levels of flat rate shipping depending on where you live.
If you live in the U.S. or Canada, you are able to choose either $10 regular mail, or $30 express mail that includes tracking.
Australian and New Zealand are only given the option of $20 regular mail.
If you live in the rest of the world you only have the option of $30 regular mail, however, this does also include tracking.
If that seems a bit complicated don't worry – it's very straight forward at checkout and you can't go wrong.
To some this a bit pricey for "just some seeds", but CKS is putting that money too good use as we'll discuss next!
Discretion – 5/5
As far as I can tell, when it comes to discretion there are few seed banks out there taking it more seriously.
If you live in Canada (where seeds are legal) your order arrives in an unmarked envelope that is more than enough to protect your privacy.
For the rest of the world, CKS goes to great lengths to ensure that your seeds are seen only by you.
Whether tucked inside a flashlight or rolled up in a pen, your order is hidden away inside everyday objects to keep prying eyes away.
It may seem like overkill, but I definitely rest easier when a seed bank takes this extra step and not all do.
Crop King Seeds also accepts cash by mail and Bitcoin – both great ways to further increase discretion.
Finally, they are one of the few seedbanks that have a prominent policy of not saving your payment information on file.
With insanely stealthy shipping and privacy-oriented payment methods, CKS gets five stars for discretion.
Discounts / Promotions – 3.5/5
Update: In the past few months I feel like Crop Kings has stepped up their discount game because I've definitely noticed a few more discount codes floating around the internet recently.
As far as I can tell, Crop King Seeds doesn't have any regular discounts or promotions.
If they do, they don't make it obvious and I couldn't find anything shared recently on social media.
There isn't a coupon box on the checkout page either, so if you find any coupons on the web you can ignore them.
Since other seed banks have prominent and competitive discounts on a regular basis, I'm only giving Crop King Seeds 2 out of 5 stars here.
FAQs
Below are the answers to some of the most commonly asked questions about cropkingseeds.com:
Where is Crop King Seeds located?
Crop King Seeds is located in downtown Vancouver, Canada.
Are there any Crop King Seeds discount codes?
As far as I can tell, there are no official discount codes nor is there a coupon box on the checkout page.
Is Crop King Seeds legit?
Crop King Seeds is definitely a legitimate seed bank.
They have tons of loyal customers, and plenty of positive reviews online.
That said, there are also quite a few negative reviews out there, both about customer service and seed quality.
For a more reliable experience, we recommend either I Love Growing Marijuana or Seedsman.
What is the shipping time to the USA?
They state that shipping to the USA will take up to two weeks with standard shipping and 5-7 business days with express shipping.
Final thoughts Crop King Seeds Review 2020
I'm not all that impressed with Crop King Seeds, to be honest.
Their website is very dated and overwhelming, making it hard to read and navigate.
Compared to other sites, it made the buying experience one that I wanted to be over quickly!
To their credit, they have a quality-focused selection of strains and a great growing knowledge-base.
They also take stealth very seriously when it comes to shipping, which is a plus.
While they are definitely sending out quality seeds, there are enough bad reviews for me to hesitate.
Every seed bank has some bad reviews, but when compared to sites like Seedsman or ILMG there's a notable difference.
Due to poor customer service and hit-or-miss seed quality, I recommend giving Crop King Seeds a pass!