Humboldt Seed Review: Humboldt Seeds has an impressive catalog of high-quality strains. However, with high prices, no germination guarantee, and no shipping to the US, they aren't currently the best seed bank to buy from.
Are there better seed banks to use?
In my opinion, yes. If you'd rather buy from a seed bank that has fast shipping to the USA, and offers regular promotions, then ILGM or Weed Seeds Express are the the seed banks I use most regularly.
Continue reading this Humboldt Seeds review to discover the pros and cons of ordering from them, and to see how they stack up against the best seed banks.
Humboldt Seeds Pros
Easy to Navigate Website
Great Customer Service Team
Convenient and Discrete Payment Methods Accepted
High-Quality Genetics
64+ Strain Options
Humboldt Seeds Cons
Unable to Process Orders Right Now
No Germination Rate Guarantee
Expensive Prices
Does Not Ship to the US
Only Ships Within Europe
Are There Better Seed Banks To Use?
Let's take a quick look at how Humboldt Seeds compares to the many other seed banks I've reviewed
Best Customer Service

Best Customer Service

4.7/5

#1. ILGM

Awesome Customer Service
100% Germination Guarantee
Fast Shipping To USA (4 days)
FREE Shipping
Guaranteed Delivery
Don't ship to Canada or the UK

4.7/5

New Seed Bank

New Seed Bank

4.6/5

#2. Weed Seeds Express

Fast US Shipping (5-15 days)
90% Germination Guarantee
Excellent Customer Service
Low Prices
Regular Promotions
New Seed Bank

4.6/5

Best Seed Prices

Best Seed Prices

4.5/5

#3. Seedsman

Best seed prices & promotions
HUGE strain selection
Worldwide Shipping
Limited germination guarantee
Free seeds
Slow US & Canada Shipping
Average customer service

4.5/5

Best IN UK

Best IN UK

4.4/5

#4. MSNL

Fast US & Canada Shipping
Low priced seeds
Free seeds with every order
Decent customer service
Good promotions
No germination guarantee

4.4/5

Best In Canada

Best In Canada

4.3/5

#5. Crop King Seeds

Best Candian Seed Bank
Decent customer service
Fast Shipping To Canada (2 days)
80% Germination Guarantee
Expensive seeds
Not many promos or discounts

4.3/5

4.2/5

#6. Paradise Seeds

95% germination Guarantee
Strong Reputation
Responsive customer service
25 Cannabis Cups Since 1999
Don't Ship To The US
Limited Strain Selection

4.2/5

4/5

#7. Herbies Seeds

70% Germination Guarantee
Fast Shipping To US & UK
Large Strain Selection
Slow Customer Support
No Cash Payments

4/5

Autos Only

Autos Only

3.9/5

#8. Fast Buds

98% germination Guarantee
Great For Autoflower Strains
Good customer service
Affordable Autos
Don't Ship To US or Canada
Only Stock Autoflower Strains

3.9/5

3.9/5

#9. Gorilla Seeds

Large strain selection
Good reviews from customers
Worldwide shipping
No germination guarantee

3.9/5

3.9/5

#10. Attitude Seeds

Large strain selection
Good reputation
Worldwide shipping
Low cost seeds
No germination guarantee

3.9/5

3.8/5

#11. Sensi Seeds

Famous reputation in Europe
Large selection of strains
Don't ship to US or Canada
No germination guarantee
Can't pay with Bitcoin

3.8/5

3.8/5

#12. MJ Seeds Canada

Fast Canada Shipping
80% Germination Guarantee
Lots of Promotions
Expensive Shipping
Lack of Reviews

3.8/5

3.7/5

#13. Sensible Seeds

Over 3000 Strains
Good Customer Service
Affordable Seeds
Price Match Guarantee
Source Seeds from Other Banks and Breeders
No Germination Guarantee

3.7/5

3.7/5

#14. Sannies Seeds

High-Quality Strain Selection
Fast Shipping
Good Customer Service
Few Customer Reviews
Can't Pay with Credit Card
No Germination Guarantee

3.7/5

3.6/5

#15. Growers Choice

90% Germination Guarantee
competitive seed prices
Fast Shipping to US & Canada
Limited payment options
Poor customer service

3.6/5

3.5/5

#16. Greenhouse Seeds

Good reputation with customers
Low cost seeds
Limited payment options
Don't ship to the US
No Germination guarantee

3.5/5

3.4/5

#17. Blimburn Seeds

Low prices
Decent return policy
Dos Not Ship To US
No regular promotions
Limited Payment Options

3.4/5

3.4/5

#18. Serious Seeds

Award-Winning Seeds
Loyal Fan Following
Germination Guarantee
Not many promotions
Don't Ship To USA, Australia or Germany
Expensive

3.4/5

3.4/5

#19. AMS

Worldwide shipping
Germination guarantee
Not many promotions
Expensive seeds
Slow US & Canada Shipping

3.4/5

3.3/5

#20. Neptune Seed Bank

Over 100 Unique strains
1,929 Seed Options
Affordable Seeds
Poorly Designed Website
No Germination Rate Guarantee
Lack of Customer Reviews

3.3/5

3.3/5

#21. Attitude Seed Bank

Largely Positive Reputation
Provides Some of the Top Strains in the World
Thousands of Seeds
No Germination Guarantee

3.3/5

3.2/5

#22. Vancouver Seed Bank

Recognized as One of Canada's Best Seed Banks
Over 200 Strains
Potent, High-Quality Strains
Lack of Customer Reviews
Lack of Discounts and Promotions
Lack of Payment Methods

3.2/5

3.1/5

#23. BC Bud Depot

35+ Cannabis Awards
90% Germination Rate Guarantee
515+ High-Quality Strains to Choose Frome
Few Customer Reviews
Extremely Expensive
Lack of Promotions

3.1/5

3.1/5

#24. Highgrade Seeds

Top-Notch Strains
Worldwide Shipping
Lack of Reviews
No Germination Guarantee
Lack of Payment Options

3.1/5

3/5

#25. Rhino Seeds

Price Match Guarantee
Lack of Reviews Online
No Germination Rate Guarantee
Slow International Shipping

3/5

3/5

#26. i49 Seed Bank

Discrete, Affordable Shipping in the US
Selection of over 400 Seeds
80% Germination Guarantee
Unhelpful Customer Service Department
Negative Reviews on Seed's Quality
Expensive Prices

3/5

2.9/5

#27. CannabisSeeds.com

Very Cheap Prices
47 Top-Notch Strains
Lack of Reviews
Low Germination Rate
Not many payment options

2.9/5

2.9/5

#28. True North

Large strain selection
Cheap seeds & good promotions
Poor customer service
Many negative customer reviews
No germination guarantee

2.9/5

2.8/5

#29. Expert Seeds

High-Quality Strains
31+ Quality Strains to Choose From
Easy-to-Navigate Website
Few Reviews
Complaints About Seeds Not Germinating
No Germination Guarantee

2.8/5

2.8/5

#30. GTA Seed Bank

Top-Notch Quality Strains
750+ Strain Varieties
Worldwide Shipping
Awful Website
No Germination Guarantee
Limited payment Options

2.8/5

2.8/5

#31. Pacific Seed Bank

FREE Stealth Shipping
Bad Customer Service
No Delivery Guarantee
Few Discounts and Deals

2.8/5

2.8/5

#32. Dinafem Seeds

Security Certificate
First Spanish Seed Bank to Specialize in Feminized Seeds
Award-Winning Strains
Currently in Legal Trouble
Little to No Promotions or Discounts
Does Not Ship to America

2.8/5

2.7/5

#33. Elev8 Seeds

Good customer service
Lack of Customer Reviews
No Germination Guarantee
Expensive Seeds

2.7/5

1.9/5

#34. Dutch Seeds

Many reports of seeds not delivered
Poor germination rates
No germination guarantee
Bad customer service

1.9/5

1.2/5

#35. Australian Seed Bank

Autoflowering and Feminized Seeds
Average to Affordable Prices
Quality Strain Offerings
Lack of Customer Reviews
No Verification
Lack of Reputation

1.2/5

0/5

#36. BC Seeds

0/5
Is Humboldt Seed Organization Safe?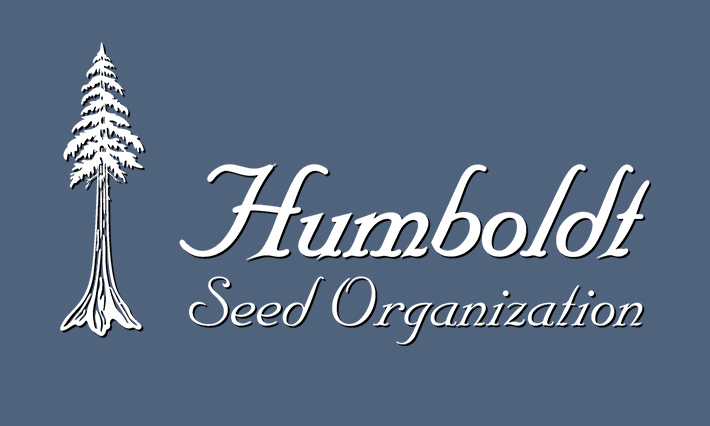 Yes, Humboldt Seeds is safe. It's a widely recognized cannabis seed bank that has received praise for its high-quality seeds.
While it is a verified seed bank that's been around for a while, it doesn't have a lot of customer reviews online.
Humboldt Seeds only has 3 reviews on TrustPilot with a rating of 3.6 / 5 stars.
However, Humboldt Seeds is listed as "green" on SeedFinder which means the cannabis-oriented website "absolutely can recommend this seed bank."
If you'd like to buy from a seed bank that has more, positive customer reviews, then try MSNL.
They have over 3,200 reviews on Trustpilot, with an incredible overall score of 4.2 /5 stars.
Reputation & History
Known for its large catalog of premium cannabis seeds, Humboldt Seeds is one of the most established, well-known seed banks in California.
Based in the heart of the Emerald Triangle, which is the three adjacent counties in northern California that are known for producing high-quality cannabis, this budding business is in the perfect area to nurture high-quality seeds.
The Emerald Triangle has been famous for its ideal cannabis growing environment since people started growing there in the 1960s.
Growers and breeders with over 25 years of experience in the cannabis industry founded Humboldt Seeds with the goal of creating uniquely effective and potent strains that would appease people with both recreational and medicinal purposes for consuming marijuana.
Unable to Process Orders
Before the seed is planted in your mind that Humboldt Seeds is unquestionably the seed bank for you, we have some bad news you should know.
As much as you may want to purchase seeds from Humboldt Seeds you simply can't.
Right now.
Currently, Humboldt Seeds is unable to process any orders.
They explain on their website that "We are very sorry to inform you that, against our will, we are now unable to engage in any commercial activity.
We are working round the clock to resume normal activity as soon as possible, but we still don't know when we'll be able to operate normally."
No other information is given and it's unclear when they will be able to fill orders again.
Until they do, be sure to check out other top seed banks.
Seed Selection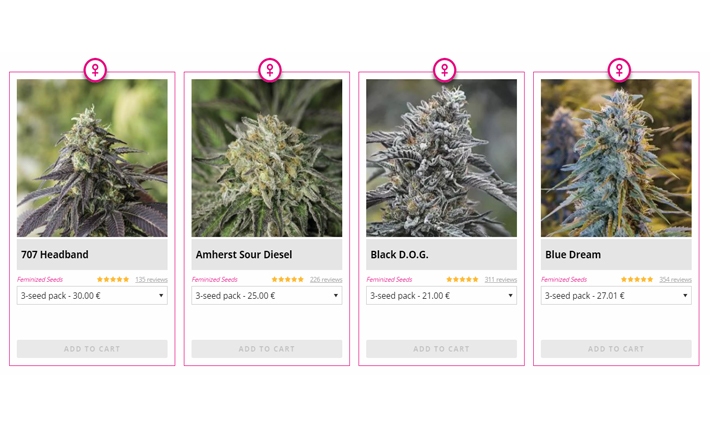 Humboldt Seeds has 64+ strains to choose from.
They offer seeds in 5 different categories: feminized, autoflowering, regular, CBD-rich, and fast-growing.
Some of their most popular strains include Lingerie, Chocolate Mint OG, OGKZ, Purple Matcha, Sunrise Sherbert, Blue Dream, Gorilla Breath, and Mango Sapphire.
If you want even more options than 64+, try a medium-sized seed bank like I Love Growing Marijuana which offers 90+ strains.
If you want even MORE strains to look through, because you love sorting through hundreds of seeds to pick out the "perfect" strain for you, then check out a seed superstore like Seedsman which has thousands of strain options all for inexpensive prices.
Seed Quality
Praising their own pot production process, Humboldt Seeds emphasizes on their website how much care they take in cultivating cannabis.
The seeds they harvest are derived from premium California genetics and are created by expert breeders.
Prestigious and professional marijuana masters came together to produce Humbold Seed's uniquely impressive genetics.
However, while Humboldt Seeds promises you won't be disappointed by their seeds and says "success is always guaranteed" they don't take the extra step of offering a germination guarantee.
This is extremely disappointing, especially since one of the easiest ways to tell if a seed bank actually has high-quality seeds is to evaluate their promised germination rate.
If you want to buy from a seed bank that has a germination guarantee, so you know your purchase is protected, there's no beating I Love Growing Marijuana's.
They have the most impressive germination guarantee in the industry, with a promised germination rate of 100%.
They can offer that because of the quality of their genetics and because they give FREE seeds with every order.
Seed Prices
Humboldt Seeds has medium to high prices. On average their 3-packs cost around $27, their packs cost around $45, their 10-packs cost around $85, and their 25-packs cost around $190.
You can see how their prices stack up against some of the top seed banks in the industry in the price comparison chart below.
Sour Diesel Price Comparison
As you can see, Humboldt Seeds Organization does have some pricey seeds.
Compared to MSNL, I Love Growing Marijuana, Weedseedsexpress, and Seedsman, they have the second-highest price for 10 Sour Diesel seeds.
The only seed bank with a higher price is I Love Growing Marijuana, but because they give free seeds with every order, per seed, they may actually be cheaper than Humboldt Seeds.
Payment Methods
Humboldt Seeds accepts a wide variety of convenient and discrete payment methods,. Some of the payment methods they accept include:
Credit Cards
Debit Cards
Bank Transfers
Bitcoin
Cash
People who want a convenient way to pay can pay with their credit or debit card, while those looking for a payment method that's a bit more discrete can use cash, Bitcoin, or a bank transfer to pay.
Humboldt Seeds Customer Service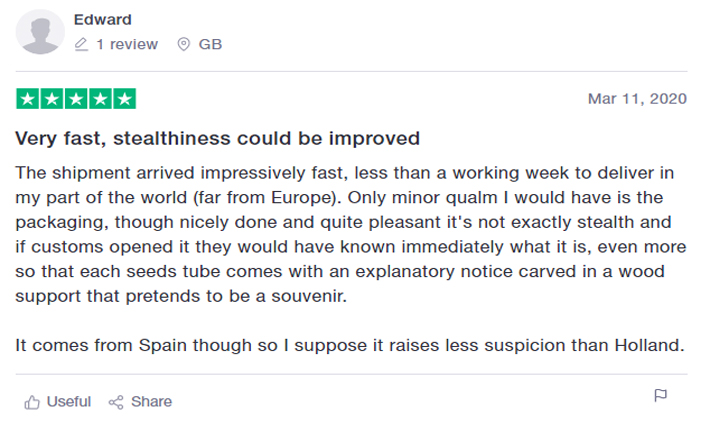 It's easy to get in touch with Humboldt Seeds' customer service team.
You can access them through their provided phone number or email which is listed at the top of the Humboldt Seeds website.
Their speedy, reliable customer service team can help with anything from seed issues to technological problems.
There aren't a ton of reviews that address Humboldt Seeds' customer service team, but those that do say they are very helpful.
If customer service is really important to you, the seed bank with the best customer service in the industry is I Love Growing Marijuana.
Their team sets the standard, offering quick, helpful replies to customer queries.
Website Design
It's extremely easy to navigate Humboldt Seeds' cleanly designed website.
Finding a specific type of seed is super simple. You can look seeds up by their names, or filter them based on their categories.
Humboldt Seeds provides all the information you could need to make an informed purchasing decision from their company.
They even have a cannabis-growing blog to help customers make the most of the seeds they buy.
Everything from the formatting to the pictures to the actual information on their website is exceptional.
Shipping
More bad news: if you live in the United States then Humboldt Seeds cannot ship to you.
They also do not ship to Australia, South Africa, Chile, and Argentina.
Don't worry though, there are plenty of quality seed banks, like Seedsman and I Love Growing Marijuana, that ship to every country in the world.
Shipping Times
Orders may take anywhere from 24 hours to 30 days to arrive at their destination.
How long it will take for an order to reach you really depends on what country you live in and what shipping option you choose.
The countries with the fastest rate of delivery are in Europe.
To ship to them with standard delivery takes about 3-4 days while express delivery takes 1-2 days.
For other countries that Humboldt Seeds ships to, like Canada, South America, Turkey, Iran, Georgia, and Israel orders may take 15-30 days to arrive.
Shipping Options
If your order is shipped with regular mail it does not include insurance coverage or a tracking number.
Unfortunately, for countries like Canada, South America, Turkey, Iran, Georgia regular mail is the only option.
European countries, on the other hand, can pay for their seeds to be priority or express shipped, in which case they do get insurance coverage and a tracking number.
Humboldt Seeds Review
If it weren't for their current hold on all orders, Humboldt Seeds may be considered one of the best seed banks in the world.
They have so much going for them with excellent strain options, high-quality genetics, and an incredible website.
However, they do have to work on some things like getting more customer reviews, having more shipping options, and adding a germination rate guarantee once they are back up and running to really be considered amongst the best of the best.