Short on time? Here's my quick Paradise Seeds Review for 2021:

Paradise Seeds has a long history of providing premium seeds to customers all over the EU.
The Amsterdam-based seed bank has high-quality seeds, excellent customer service, and a solid 95% germination guarantee.
However, their selection is limited and they don't ship to the US.
If you're looking for a seed bank that will ship to the US, then ILGM is your best bet.
Continue reading this Paradise Seeds review to discover the pros and cons of ordering from them, and to see how they stack up against the best seed banks to order from.
Paradise Seeds Pros
Premium Quality Seeds
95% Germination Guarantee
Incredible Customer Service
Guaranteed Delivery
25 Cannabis Cups Since 1999
Easy to Navigate Website
Fast and Discreet Shipping
Based in Amsterdam
Paradise Seeds Cons
Very Limited Shipping Range
Limited Selection of Seeds
High Prices
No Guaranteed Delivery Outside the EU
Paradise Seeds Alternatives
This Paradise Seeds review is part of my seed bank reviews series, where I am reviewing all of the best seed banks to see which ones are worth buying from.

Here are the results so far:
Are There Better Seed Banks To Use?
Let's take a quick look at how Paradise Seeds compares to the many other seed banks I've reviewed
Best Customer Service

Best Customer Service

4.7/5

#1. ILGM

Awesome Customer Service
100% Germination Guarantee
Fast Shipping To USA (4 days)
FREE Shipping
Guaranteed Delivery
Don't ship to Canada or the UK

4.7/5

New Seed Bank

New Seed Bank

4.6/5

#2. Weed Seeds Express

Fast US Shipping (5-15 days)
90% Germination Guarantee
Excellent Customer Service
Low Prices
Regular Promotions
Newish Seed Bank

4.6/5

Best Seed Prices

Best Seed Prices

4.5/5

#3. Seedsman

Best seed prices & promotions
HUGE strain selection
Worldwide Shipping
Limited germination guarantee
Free seeds
Slow US & Canada Shipping
Average customer service

4.5/5

Best IN UK

Best IN UK

4.3/5

#4. MSNL

Fast US & Canada Shipping
Low priced seeds
Free seeds with every order
Decent customer service
Good promotions
No germination guarantee

4.3/5

Best In Canada

Best In Canada

4.3/5

#5. Crop King Seeds

Best Candian Seed Bank
Decent customer service
Fast Shipping To Canada (2 days)
80% Germination Guarantee
Expensive seeds
Not many promos or discounts

4.3/5

4.3/5

#6. Herbies Seeds

70% Germination Guarantee
Fast Shipping To US & UK
Large Strain Selection
Slow Customer Support
No Cash Payments

4.3/5

Autos Only

Autos Only

4.2/5

#7. Fast Buds

98% germination Guarantee
Great For Autoflower Strains
Good customer service
Affordable Autos
Don't Ship To US or Canada
Only Stock Autoflower Strains

4.2/5

4.2/5

#8. Paradise Seeds

95% germination Guarantee
Strong Reputation
Responsive customer service
25 Cannabis Cups Since 1999
Don't Ship To The US
Limited Strain Selection

4.2/5

3.9/5

#9. Gorilla Seeds

Large strain selection
Good reviews from customers
Worldwide shipping
No germination guarantee

3.9/5

3.9/5

#10. Attitude Seeds

Large strain selection
Good reputation
Worldwide shipping
Low cost seeds
No germination guarantee

3.9/5

3.8/5

#11. Sensi Seeds

Famous reputation in Europe
Large selection of strains
Don't ship to US or Canada
No germination guarantee
Can't pay with Bitcoin

3.8/5

3.8/5

#12. MJ Seeds Canada

Fast Canada Shipping
80% Germination Guarantee
Lots of Promotions
Expensive Shipping
Lack of Reviews

3.8/5

3.7/5

#13. Sensible Seeds

Over 3000 Strains
Good Customer Service
Affordable Seeds
Price Match Guarantee
Source Seeds from Other Banks and Breeders
No Germination Guarantee

3.7/5

3.7/5

#14. Sannies Seeds

High-Quality Strain Selection
Fast Shipping
Good Customer Service
Few Customer Reviews
Can't Pay with Credit Card
No Germination Guarantee

3.7/5

3.6/5

#15. Growers Choice

90% Germination Guarantee
competitive seed prices
Fast Shipping to US & Canada
Limited payment options
Poor customer service

3.6/5

3.5/5

#16. Greenhouse Seeds

Good reputation with customers
Low cost seeds
Limited payment options
Don't ship to the US
No Germination guarantee

3.5/5

3.4/5

#17. AMS

Worldwide shipping
Germination guarantee
Not many promotions
Expensive seeds
Slow US & Canada Shipping

3.4/5

3.4/5

#18. Serious Seeds

Award-Winning Seeds
Loyal Fan Following
Germination Guarantee
Not many promotions
Don't Ship To USA, Australia or Germany
Expensive

3.4/5

3.4/5

#19. Blimburn Seeds

Low prices
Decent return policy
Dos Not Ship To US
No regular promotions
Limited Payment Options

3.4/5

3.3/5

#20. Attitude Seed Bank

Largely Positive Reputation
Provides Some of the Top Strains in the World
Thousands of Seeds
No Germination Guarantee

3.3/5

3.3/5

#21. Neptune Seed Bank

Over 100 Unique strains
1,929 Seed Options
Affordable Seeds
Poorly Designed Website
No Germination Rate Guarantee
Lack of Customer Reviews

3.3/5

3.2/5

#22. Vancouver Seed Bank

Recognized as One of Canada's Best Seed Banks
Over 200 Strains
Potent, High-Quality Strains
Lack of Customer Reviews
Lack of Discounts and Promotions
Lack of Payment Methods

3.2/5

3.1/5

#23. Highgrade Seeds

Top-Notch Strains
Worldwide Shipping
Lack of Reviews
No Germination Guarantee
Lack of Payment Options

3.1/5

3.1/5

#24. BC Bud Depot

35+ Cannabis Awards
90% Germination Rate Guarantee
515+ High-Quality Strains to Choose Frome
Few Customer Reviews
Extremely Expensive
Lack of Promotions

3.1/5

3/5

#25. Rhino Seeds

Price Match Guarantee
Lack of Reviews Online
No Germination Rate Guarantee
Slow International Shipping

3/5

3/5

#26. i49 Seed Bank

Discrete, Affordable Shipping in the US
Selection of over 400 Seeds
80% Germination Guarantee
Unhelpful Customer Service Department
Negative Reviews on Seed's Quality
Expensive Prices

3/5

3/5

#27. Canuk Seeds

3/5

2.9/5

#28. True North

Large strain selection
Cheap seeds & good promotions
Poor customer service
Many negative customer reviews
No germination guarantee

2.9/5

2.9/5

#29. CannabisSeeds.com

Very Cheap Prices
47 Top-Notch Strains
Lack of Reviews
Low Germination Rate
Not many payment options

2.9/5

2.8/5

#30. GTA Seed Bank

Top-Notch Quality Strains
750+ Strain Varieties
Worldwide Shipping
Awful Website
No Germination Guarantee
Limited payment Options

2.8/5

2.8/5

#31. Pacific Seed Bank

FREE Stealth Shipping
Bad Customer Service
No Delivery Guarantee
Few Discounts and Deals

2.8/5

2.8/5

#32. Expert Seeds

High-Quality Strains
31+ Quality Strains to Choose From
Easy-to-Navigate Website
Few Reviews
Complaints About Seeds Not Germinating
No Germination Guarantee

2.8/5

2.7/5

#33. Elev8 Seeds

Good customer service
Lack of Customer Reviews
No Germination Guarantee
Expensive Seeds

2.7/5

1.9/5

#34. Dutch Seeds

Many reports of seeds not delivered
Poor germination rates
No germination guarantee
Bad customer service

1.9/5

1.2/5

#35. Australian Seed Bank

Autoflowering and Feminized Seeds
Average to Affordable Prices
Quality Strain Offerings
Lack of Customer Reviews
No Verification
Lack of Reputation

1.2/5

0/5

#36. BC Seeds

0/5
Is Paradise Seeds Safe?
Yes! Paradise Seeds is a completely reputable, 100% safe-to-use company.
They are one of the oldest and most well-established seed banks in the industry with over 3 decades of experience.
They were founded in Amsterdam in the early nineties by Luc Krol, a cannabis icon.
Since the seed bank was created almost 30 years ago, countless customers have relied on Paradise Seeds.
Not only will you be totally safe in buying from them, your investment will also be safe because they provide some of the best, top-quality seeds in the industry with a 95% germination guarantee.
With seeds from this bank, you are guaranteed to grow some quality bud.
Don't believe me? Check out the hundreds of Paradise Seeds reviews online!
History & Reputation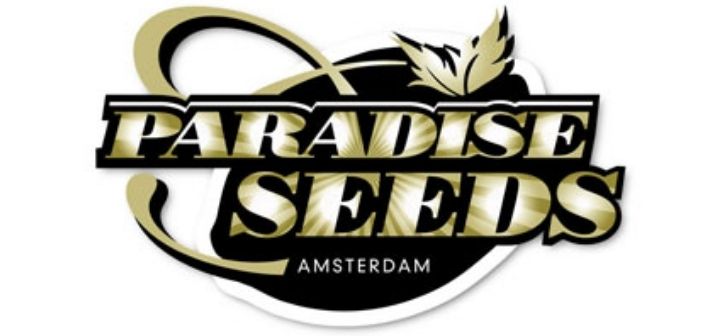 What better place to found a seed bank than Amsterdam, the weed capital of the world? And what better person to start a seed bank than Luc Krol?
Who is Luc Krol, you may be wondering.
Only one of the most notable cannabis breeders alive today!
He has been extremely active on the cannabis scene since the 1980s when he became heavily involved in breeding cannabis varieties.
Unimpressed with the poor breed of hash that he was importing from outside the EU, Krol adopted the mission of crossbreeding strains from the US to produce higher quality seeds.
One thing led to another, and his passion for breeding cannabis turned into an online seed bank, Paradise Seeds, in 1994.
Krol's mission isn't just to sell seeds, it's to produce some of the best strains available.
That's why the Paradise Seeds Promise is that they only sell the very best seeds, never the second-best.
If you've ever seen Talladega Nights, it's an "If you 'ain't first you're last" mentality.
Their first-rate seeds have taken home over 25 Cannabis Cups for Paradise Seeds since 1999.
Those awards were well earned, Paradise Seeds is meticulous about caring for their seeds and are notoriously picky about which strains they sell.
Their pickiness pays off though, throughout Paradise Seeds' long life, the overwhelming majority of reviews of the seed bank have been positive.
Seed Quality & Selection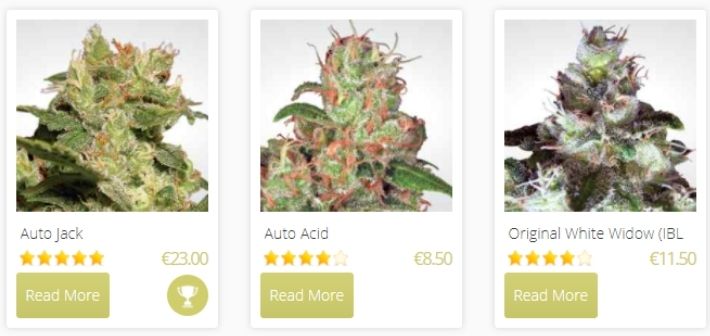 When it comes to Paradise Seeds, the phrase "Quality Not Quantity" has never been truer.
Each strain that Paradise Seeds sells has to go through a rigorous approval process to test if it's up to Paradise Seeds' high strain standards.
High standards mean that you get higher off the cannabis you buy from them.
However, it also means that Paradise Seeds has a very small and exclusive selection of seeds that's only about 40 strains long.
If you really savor sorting through strains and are consequently looking for a much wider selection, Paradise Seeds is probably not the seed bank for you.
Try a weed superstore like Herbies Seeds or Seedsman which both have strain varieties in the thousands.
Paradise Seed's selection is mostly made up of strong F1 cannabis hybrids that they created through crossing stable strains.
They have a nice selection of feminized seeds and auto-flowering seeds.
They also have a few different mixed-seed packs that will appease customers looking for some variety.
All of these strains have high germination rates and rave reviews, which you would expect from a company that has racked up an insanely impressive 25 Cannabis Cups since 1999 along with a Plant of the Year Award in 2003 for their Sensi Star strain.
Feminized Seeds
Paradise Seeds' feminized cannabis seeds are packed with flavor and strength.
They have feminized Indica, Sativa, and hybrid varieties, some of which are Cannabis Cup winners.
With only 33 feminized seed strains to choose from, there aren't a lot of options, however, they are all premium quality, with high ratings and reviews.
Some of their best feminized seeds are Sensi Star, Mendocino Skunk, L.A. Amnesia, and Space Cookies.
They also sell a Sativa Champions Pack, with 3 award-winning Sativa varieties, and a 3 New Strains Pack which features 3 of Paradise Seed's newest varieties: Sunset Paradise, Rainbow Road, and El Dorado OG.
Autoflowering Seeds
If you thought Paradise Seed's feminized seed selection was limited, wait until you see how many autoflowering seeds options they have.
A measly 10.
Of course, the strains themselves aren't measly, they are all top-notch strains, but when you compare Paradise Seeds to a bank like Seedsman who has hundreds of autoflowering options, or even I LoveGrowingMarijuana who has 25, 10 does seem like a shockingly small selection.
Within that small selection, the obvious stars are Auto Jack and Auto Kong 4 which will absolutely blow you away.
Sensi Star Strain
This strain is a superstar in the weed world, raking in a High Life and High Times Cannabis Cup in the same year, earning 15 cups in major competitions since 1995, and being dubbed "One of the world's finest cannabis strains" by cannabiscupwinners.com.
It's safe to say, Sensi Star is one of the strongest Indicas you'll ever encounter.
With 90% Indica and 10% Sativa this strain is insanely relaxing. The THC levels have been recorded above 20% in numerous cases, sometimes reaching as high as 26%.
Sensi Star hits you like a freight train, with a powerful body buzz and an uplifting mental high.
The uplifting mental high keeps you from feeling bogged down as you might with other strong Indicas, however, you'll still have to deal with dry mouth and dry eyes.
You'll feel relaxed, spacy, and sleepy, and if you use marijuana to treat medical ailments, this is an excellent choice for pain management.
Sensi Star's taste is slightly metallic, with notes of mint and sweetness. This strain produces fat and stout, densely potent buds.
Because of this plant's small size, it grows well in indoor grow rooms, which is not to say it doesn't also thrive outdoors.
Paradise Seeds Weed Gear Selection
In addition to quality seeds, Paradise Seeds also has some pretty dank weed paraphernalia.
Their shop offers Paradise Seeds branded apparel, like hats, shirts, tank tops, and jackets which all look incredible.
They also sell cannabis accessories like weed grinders and rolling papers.
Seed Prices
Paradise Seeds has high-quality seeds, and their prices reflect that, but keep in mind that value and potency mitigate some of that extra cost.
After all, the higher the quality, the higher you will get.
Of course, the price does vary from strain to strain, as is typical for seed banks, so if you have a lower budget, you might still be able to find a quality strain that works for you.
Buying in bulk will also save you some money as the price goes down per seed the more you buy.
You could also check out cheaper seed banks, but keep in mind, you do get what you pay for.
If you're looking for a more cost-efficient option, I'd recommend checking out Seedsman instead.
Of course, although some of Paradise Seeds' strains have much higher prices than Seedsman, not all of them do, so be sure to look before you buy.
For example, you can get 10 feminized Acid seeds from Paradise Seeds for 75 euros, while at Seedsman they would cost a little more, at 77 euros.
On the other hand, 10 White Widow seeds are 90 euros at Paradise Seeds, while they are only 57 euros at Seedsman.
Paradise Seeds Sales, Discounts & Promotions
If you're working with a low-budget, but have your heart set on Paradise Seeds, fear not!
Like all great online seed banks, Paradise Seeds offers numerous promotions and discounts so you can spend less green on their green.
10% Off Your Entire Order
This super simple code works all year-long.
By entering "YYBHTFCM" in the coupon code slot when you check out, you can get 10% off your entire order.
Free Seeds
If you buy one of Paradise Seeds' two new releases, Rainbow Road or El Dorado OG, they'll top off your order with extra seeds.
Buy 3 seeds. Get 1 free seed.
Buy 5 seeds. Get 2 free seeds.
Buy 10 seeds. Get 3 free seeds.
Rainbow Road is a big growth Sativa with a powerful taste, smell, and effect while El Dorado OG is an Indica trichome bomb that is super resinous, powerfully aromatic, and intensely relaxing.
While both of these newly-released strains are on the pricier side, the addition of free seeds and their powerful effects make them well worth the cost.
Latest News Section
Before buying from Paradise Seeds, scroll down to the bottom of their website and click on their "Latest News" section.
This section is the holy grail of Paradise Seeds' sales, discounts, and promotions, listing all of their on-going and temporary promotions that are currently valid.
There's no need to scour the internet, weeding through fake and expired coupon code.
Just check out this extremely helpful section!
Medical Marijuana Discount
Through enrolling in Paradise Seeds Medical Cannabis Program, customers who purchase medical cannabis seeds will receive a whopping 50% discount off all seed purchases.
Not so expensive anymore, eh?
All you have to do to qualify for the program is to provide Paradise Seeds with an ID photo and medical documentation such as a doctor's recommendation, prescription, or a medical marijuana card.
This program was started because Paradise Seeds believes that growing medical cannabis should be a human right and they want to do everything they can to make treatment easier for medical marijuana patients.
When it comes to medical marijuana, Paradise Seeds puts their money where their marijuana is.
Payment Methods
Paradise Seeds gives you a few different options when it comes to paying for your seeds.
The first option is whether you want to check out as a guest or register for an account when you place your order.
The check-out process for Paradise Seeds is safe, but if you are paranoid about protecting your personal information then check out as a guest.
Keep in mind though, Paradise Seeds has pledged to never provide customer information to third parties.
Of course, if you think you'll be a repeat customer, to save time, consider registering for an account.
Creating an account saves all of your details in the Paradise Seeds system which will speed things up the next time that you want to place an order.
How to Pay
The second option Paradise Seeds will give you is which way you want to pay. Paradise Seeds accepts:
iDeal
Visa
Mastercard
Cash
Wire Transfer
GiroPay
Sofort
Bank Transfers
Bitcoin
If you pay with cash, obviously, you can't do it through the website so you would have to mail it to the address provided by Paradise Seeds' order information page.
Of course, you do risk your cash getting lost in transit, and your order process will take much longer since your cash first has to reach Paradise Seeds, and then you have to wait for them to ship you your order.
Of course, cash does provide you with privacy.
Bitcoin and wire transfers are other privacy-friendly options, with Bitcoin ensuring that the payment will be made in total anonymity.
Overall, compared to other seed banks, Paradise Seeds is fairly well-rounded in the wide variety of payment options they accept.
However, they don't accept credit card payments for customers outside the EU, which is a huge downside.
This can make purchasing your seeds even more of a hassle for non-EU customers who already have to deal with a more difficult shipping process.
Paradise Seeds Customer Service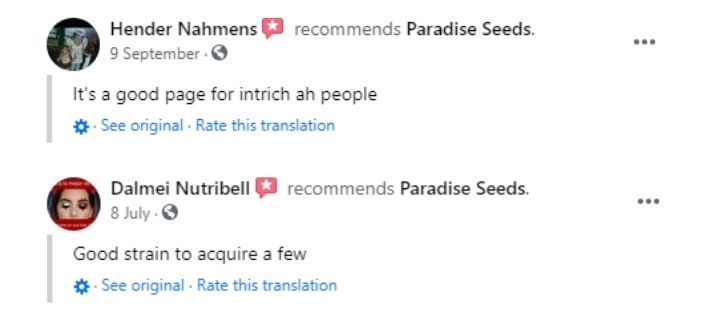 The key to customer service is accessibility, which is an area that Paradise Seed's team excels in.
You can easily get in touch with their customer service team, whether your seeds got lost in transit, you have questions about products, or you are looking for some growing guidance.
The hardest thing about getting in touch with Paradise Seeds is choosing which channel you want to access them through.
You can reach them by phone, email address, their shop's address, in Amsterdam, a contact form, or through one of their various social media pages.
Paradise Seeds will even answer the questions you didn't know you had.
They are very active on online forums, answering consumer questions, addressing concerns, and chipping in with bits of growing wisdom.
They also provide lots of growing tips and information on their easy to navigate website.
It contains detailed grow reports, helpful tips, and answers to frequently asked questions.
Reviews of Paradise Seeds
On Facebook, Paradise Seeds has an impressive 4.7/5-star rating which reflects the company's generally positive feedback.
In specific, customers comment on the company's high germination rate, excellent strain quality, and amazing customer service.
Not only are customers raving about Paradise Seeds, so are industry professionals.
Since 1999, the company has raked in over 25 Cannabis Cups and even were awarded Plant of the Year by High Times magazine in 2003 for their Sensi Star strain.
Paradise Seeds Germination Guarantee
Where Paradise Seeds really excels is in the quality of the seeds and strains they sell.
Because of that, it's no surprise that they stand behind a 95% Germination Rate Guarantee.
That guarantee is not only backed up by the company, but also by reviews on Facebook and SeedFinder.
All of the seeds you get from Paradise Seeds are quality, top-rated, fat-bud producing seeds, so they are capable of making that guarantee.
To ensure that their premium seeds are set up in an ideal situation to germinate, Paradise Seeds even has a Grow Info section on their website with tips on growing different strains in different conditions.
Paradise Seed's 95% Germination Rate Guarantee is nothing to sneeze at.
Most seed banks don't even have germination rate guarantees.
There are a couple of banks though, like ILoveGrowingMarijuana, who do Paradise Seeds one better with a very rare and hard to achieve 100% germination rate guarantee.
Shipping
While Paradise Seeds is virtually paradise for marijuana growers and seed afficianados, it does have some flaws.
Specifically, the company has a less than ideal shipping policy.
Paradise Seeds only ships to a few countries outside the EU, and America, unfortunately, did not make it on that exclusive list.
If you live somewhere outside the EU that is not America, you can find out if they ship to you by emailing Paradise Seed's Customer Service Team.
Of course, it is frustrating that their website doesn't actually list the countries outside the EU that they ship to, since that can make it hard to plan if you actually want to buy from them.
If you live in the USA, I would recommend using MSNL, as they have an 80% germination guarantee, notably fast shipping times, and actually ship to America.
Shipping Cost
There are three options for shipping costs:
Regular Mail (€ 5)
Registered Mail Within EU € 10 ( with guaranteed delivery)
Registered Mail Outside EU € 16 (with no guaranteed delivery)
It should be noted though that to qualify for free shipping you do have to hit an order minimum.
In the EU that order minimum is 100 euros, while worldwide it's 200 euros.
Shipping Times
Depending on your location shipping could take between 2 – 7 days.
That number of days greatly ranges because if you live in the EU, it should take only a couple of days for you to receive your seeds.
If you live outside the EU, shipping should take about a week, but could take a bit longer depending on how far your country is from the Netherlands and the efficiency of your country's postal system.
Delivery Guarantee
If you chose the registered mail option within the EU then your delivery is guaranteed.
This means that if your seeds get lost in transit, Paradise Seeds will replace them at no cost to you.
Tracking is offered for those who chose registered mail outside the EU, however, guaranteed delivery is not. That means if your seeds get lost in transit you will, unfortunately, receive no refund.
Discreet Delivery
Whether you live alone, with fellow stoners, or your family, Paradise Seeds has got you covered with discreet delivery.
Your seeds will be shipped to you in an innocuous parcel from the sender "Paradise Products P.V."
However, if you prefer to have the seeds sent to you in a different way, let their stellar customer service team know and they will try to make it work.
Common Paradise Seeds Questions
What is Paradise Seeds?
Paradise Seeds is a renowned Dutch seed bank that has been operating for close to 3 decades.
They sell premium quality seeds online to EU countries and select countries outside the EU and are known for their incredible strains, 95% germination guarantee, and excellent customer service.
Where is Paradise Seeds Located?
Paradise Seeds is located in Amsterdam, Netherlands. Because of their EU location, they mostly sell to EU customers.
Is Paradise Seeds Safe?
Yes, Paradise Seeds is 100% safe to use.
They are a renowned seed bank that has been in business since 1994, earning worldwide recognition for some of their quality strains, and rave reviews from customers.
Does Paradise Seeds Ship to America?
Unfortunately, Paradise Seeds does not ship to America.
The good news is, there are other great, top-quality seed banks you can buy from that do, like ILoveGrowingMarijuana.
If you live outside of Europe, chances aren't particularly high that Paradise Seeds will be able to ship to you, not to mention, even if they can, shipping will cost 15 euros with no guaranteed delivery.
Although their seeds are some of the best in the world, it might be a good idea to look to other seedbanks with wider shipping options like Seedsman who ships to every country in the world.
Who is Luc Krol?
Luc Krol founded Paradise Seeds after becoming a renowned cannabis geneticist in the 1980s.
He launched the business in 1994, and since then has developed numerous award-winning top-quality strains.
Krol is not only extremely knowledgeable but also passionate about cannabis, stating, "Our aim was to create better weed with a sweet/spicy taste and a stronger high… for our own use."
Paradise Seeds Review
With high-quality genetics, premium strains, and a 95% germination rate guarantee, Paradise Seeds has some of the best cannabis seeds in the world.
You can tell how much work they put into developing their strains, and how much knowledge they have about cannabis, from their almost 30 years in business.
If you are looking for quality, and have the dough to spend on it, Paradise Seeds is a great seed bank option for you.
That is if you live in the EU.
The biggest drawback of Paradise Seeds is definitely their limited shipping range, while their limited selection is also not ideal.
Overall, however, my review of Paradise Seeds is mostly positive.
Their usable website, frequent discounts, high germination rate, quality strain selection, cannabis expertise, and so much more makes them a top-notch seed bank to buy from.
Where to Buy From If You Live in the US
Don't worry, although Paradise Seeds may not ship to you, there are plenty of seed banks that will.
One of my favorite ones is ILoveGrowingMarijuana which is widely known as one of the best online seed banks in the world.
With a 100% germination guarantee, guaranteed delivery, free shipping, premium quality seeds, and renowned customer service it's no wonder that all of their customers rave about them.