Purple Punch is becoming a more popular strain lately, due to its tasty flavor and sedative effects. In this article, we discuss topics like where the strain originates, its characteristics, and give some details on how to grow this up-and-coming strain.
Buying Seeds Online? Don't get scammed! Check out my in-depth guide on the best seed banks to order from that are 100% safe and reliable.
Purple Punch Strain (At a glance)
Effects: Relaxed, Happy, Euphoric
Helps With: Stress, Anxiety, Pain
Indoor Yield: 600 – 700 gr/m2;
Outdoor Yield: 1000 – 2000 gr/plant
Flowering Time: 50 – 60 days
Outdoor Harvest Time: Mid September
THC Content: 25%
CBD Content: 1%
Indoor Plant Height: 90 cm
Outdoor Plant Height: 150 cm
Grow Difficulty: Moderate
Genetics: Granddaddy Purple, SFV OG Kush
Flavors: Blueberry, Candy, Grape, Sweet, Vanilla
Best place to buy seeds: Seedsman
Purple Punch History
Below, we answer some of the most common questions about the history of the Purple Punch strain.
What Is Purple Punch?
Purple Punch is a strain of cannabis that is Indica-dominant.
It gets its name from the strains it comes from, and because of the recognizable flavor that makes it highly sought-after by marijuana connoisseurs.
What Does Purple Punch Mean?
Purple Punch is the name of an Indica-dominant cannabis strain.
Purple is a color that has historically been worn by royalty, which is suitable for a tasty, sedative strain that is fit for a King.
It's been known to cause a punch when smoked or especially eaten in edibles, thus earning its name.
Where Does Purple Punch Come From?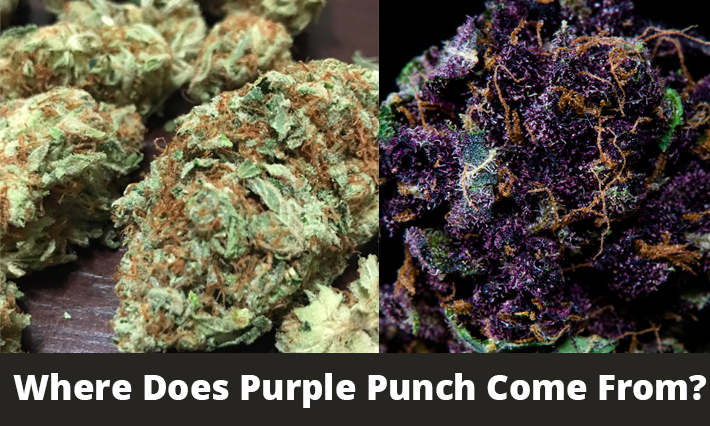 Purple Punch has an impressive lineage, as it is a hybrid of two well-established and popular Indica strains – Larry OG and Granddaddy Purple.
The breeders of Purple Punch are pretty a mystery, as the strain comes from unknown origins.
However, most cannabis growing professionals estimate it has its origins in Hawaii and has now made its way into the hands of growers on the west coast of the U.S.
When Was Purple Punch Strain Created?
Since Purple Punch is from unknown origins, it is also unknown and next to impossible to pinpoint when it was created.
However, cannabis phenotype experts estimate that Purple Punch was created some time in or around 2015.
This is the time Colorado got the ball rolling for the legalization of recreational cannabis in the U.S.
What Strain Is Purple Punch?
Purple punch is an Indica-dominant hybrid of two popular Indica strains. It is well known and desired by many cannabis consumers for its delicious berry flavor and sedative effects.
For its relaxing effects and tasty berry flavor, Purple Punch is often referred to as a 'dessert strain' or one that is best served for ingesting after dinner.
Purple Punch Characteristics
Let's take a look at some of the most common questions about Purple Punch's characteristics.
How much THC is in Purple Punch?
Despite its hard-hitting and sedative effects, Purple Punch isn't a strain known for its super-high THC content.
Most Purple Punch flower contain about 18-20% THC.
How much CBD is in Purple Punch?
Purple Punch has a relatively low CBD level, but higher than strains that have none at all.
Most Purple Punch flower sold in dispensaries contains about 1% CBD, which is a decent amount.
What Are The Effects Of Purple Punch?
Most users enjoy the relaxed feeling they get from Purple Punch, with effects that start in between the eyes then proceed to provide relaxation to the whole body. Due to its
Indica-dominant sedative effects and sweet-tasting flavor of berry and grape, Purple Punch is best suited for nighttime consumption.
What Terpenes Are In Purple Punch?
Purple Punch is popular thanks largely to its delicious flavor that leaves notes of grapes and sweet berries on the user's tongue.
This lovely flavor is thanks to the terpenes humulene and limonene.
There are also hints of spicy and earthy flavors in Purple Punch, due to the presence of the terpene caryophyllene.
Is Purple Punch Strong?
Even though Purple Punch is lower in its THC content than most modern-day strains, it lives up to its name by packing a punch.
Most users report feeling relaxed, with noticeable stress and pain relief from Purple Punch – often even feelings of sedatives.
Is Purple Punch Top Shelf?
When grown and cured correctly, the flavor of the Purple Punch strain alone makes it pretty top-shelf.
Many consumers say Purple Punch also offers relaxation, pain relief, and feelings of happiness while avoiding the dreaded "couch-lock" feelings that come with many Indica strains.
Is Purple Punch Indica Or Sativa?
Thanks to its lineage of the classic Indica-dominant strains Grandaddy Purple and Larry OG, Purple Punch is also an Indica strain through and through.
It's recommended that consumers enjoy this strain in the evening after the work has been completed for the day.
Is Purple Punch Exotic?
Purple Punch is available for purchase in many medical cannabis dispensaries or recreational retail locations.
For this reason, Purple Punch isn't exactly exotic or hard to get.
Purple Punch Grow Info
Below, we answer some of the most common questions about growing Purple Punch.
Is Purple Punch Hard To Grow?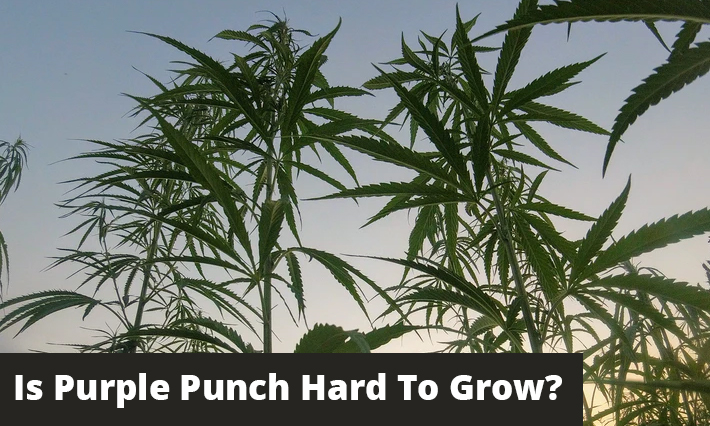 Like most purple strains, Purple Punch is not easy for the novice grower.
This is largely because its leaves and especially flower are as tasty for pests as it is for consumers.
While the strain is resistant to mites, it can be susceptible to damage from other pests like caterpillars. It can also be tricky to avoid mold during the flowering stage of Purple Punch.
Can You Grow Purple Punch Outside?
Purple Punch can be grown both indoors and outdoors but tends to perform better indoors.
If you decide to grow Purple Punch outdoors, it must be done so in warmer climates as this strain can be particularly vulnerable to frost.
This is especially true when newer growers try to trigger the deep purple color in this strain, as that color is a response to colder temperatures – but a balance must be struck to keep plants healthy while producing leaves with their beautiful purple color.
Is Purple Punch An Autoflower?
The most recent breeding of Purple Punch seeds do have the feminized quality as well as being an autoflower.
However, this wasn't always the case – especially when Purple Punch got its start over a decade ago in tropical climates.
How Tall Does Purple Punch Get?
Due to its Indica dominance, Purple Punch plants tend to be on the shorter side, growing about four or five feet high.
Like most Indicas, Purple Punch plants tend to be thick and bushy.
How Long Does Purple Punch Take To Germinate?
Most Purple Punch seeds will sprout and be ready to plant fairly quickly, typically faster than other strains – especially those with Sativa-dominance.
Most Purple Punch seeds will be ready to plant within 2-3 days, provided there is enough sunlight and fresh water for them.
How Long Does Purple Punch Take To Flower?
Another area where growers of Purple Punch benefit from the strain's Indica-dominance, flowering time takes only about 5-6 weeks.
This is depending on whether you grow indoors or outdoors, your level of expertise with growing, and so on.
How Long Does It Take To Grow Purple Punch?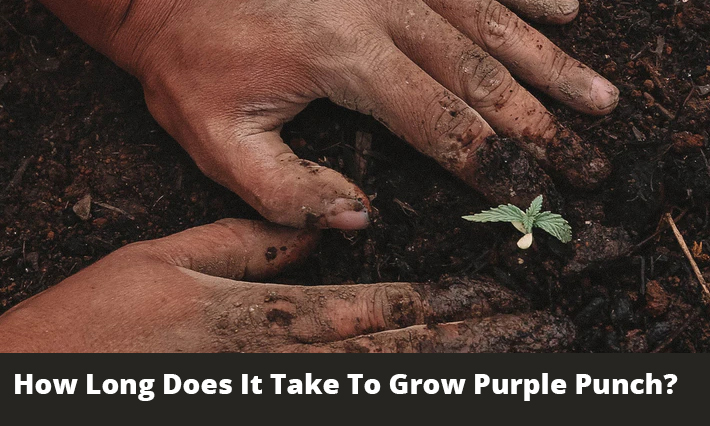 From seed to harvest, most growers can successfully cultivate the Purple Punch strain in seven or eight weeks.
Of course, this depends on the experience of the grower, the growing medium, and the quality of the original seeds.
When To Plant Purple Punch
When growing outdoors, it is recommended that you plant Purple Punch in late July.
As previously mentioned, Purple Punch performs at its best when grown in warmer climates, and might not yield much at all if you try to grow it in cold weather.
How To Harvest Purple Punch
In a maximum of 10 weeks, your Purple Punch plants will be ready to be harvested indoors.
This is typically done outdoors in mid-October.
Be sure to wear gloves when harvesting, so as to not impact the purple colors, densely packed trichomes, and red hairs on Purple Punch's delightful buds.
Experienced growers can yield up to 750 grams of Purple Punch per plant when harvesting.
How Much Are Purple Punch Seeds?
Because Purple Punch is a popular strain that many seed banks keep in their rotation, Purple Punch is pretty easy to find and is also inexpensive.
A pack of Purple seeds averages about $10 in USD.
Who Has The Best Purple Punch Seeds?
While the answer to this question is subjective, many of the top cannabis growers swear by their Purple Punch seeds from seed banks like Quebec Cannabis Seeds, Seedsman, Herbies Seeds, and Crop King Seeds.
Bottom Line
To sum everything up, Purple Punch is an Indica-dominant strain that takes a medium skill level to grow, produces thick, short plants, cultivates faster than most strains, and is renowned for its tasty grape and berry flavor as well as its relaxing effects.