Sannies Seeds Shop has an impressive selection of seeds. Their seeds are all top-notch quality and carefully bred. They also offer amazing customer service. However, they have very few customer reviews and don't offer a germination guarantee.

If you'd rather buy from a seed bank that offers a 100% germination guarantee and has a track record of raving customer reviews, then I'd suggest using ILGM.
Continue reading this Sannies Seeds review to discover the pros and cons of ordering from them, and to see how they stack up against best seed banks to order from
Sannies Seeds Pros
High-Quality Strain Selection
52 Strain Offerings
Organic Growing Process
Membership Discount Program
Discreet Delivery
Educational Cannabis Growing Resources
Quick, Inexpensive Delivery
Sannies Seeds Cons
Limited Amount of Reviews
Can't Pay with Credit Card
Website Could be Updated a Little
No Germination Guarantee
Are There Better Seed Banks To Use?
Let's take a quick look at how Sannies Seeds compares to the many other seed banks I've reviewed
Best Customer Service

Best Customer Service

4.7/5

#1. ILGM

Awesome Customer Service
100% Germination Guarantee
Fast Shipping To USA (4 days)
FREE Shipping
Guaranteed Delivery
Don't ship to Canada or the UK

4.7/5

New Seed Bank

New Seed Bank

4.6/5

#2. Weed Seeds Express

Fast US Shipping (5-15 days)
90% Germination Guarantee
Excellent Customer Service
Low Prices
Regular Promotions
New Seed Bank

4.6/5

Best Seed Prices

Best Seed Prices

4.5/5

#3. Seedsman

Best seed prices & promotions
HUGE strain selection
Worldwide Shipping
Limited germination guarantee
Free seeds
Slow US & Canada Shipping
Average customer service

4.5/5

Best IN UK

Best IN UK

4.4/5

#4. MSNL

Fast US & Canada Shipping
Low priced seeds
Free seeds with every order
Decent customer service
Good promotions
No germination guarantee

4.4/5

Best In Canada

Best In Canada

4.3/5

#5. Crop King Seeds

Best Candian Seed Bank
Decent customer service
Fast Shipping To Canada (2 days)
80% Germination Guarantee
Expensive seeds
Not many promos or discounts

4.3/5

4.2/5

#6. Paradise Seeds

95% germination Guarantee
Strong Reputation
Responsive customer service
25 Cannabis Cups Since 1999
Don't Ship To The US
Limited Strain Selection

4.2/5

4/5

#7. Herbies Seeds

70% Germination Guarantee
Fast Shipping To US & UK
Large Strain Selection
Slow Customer Support
No Cash Payments

4/5

Autos Only

Autos Only

3.9/5

#8. Fast Buds

98% germination Guarantee
Great For Autoflower Strains
Good customer service
Affordable Autos
Don't Ship To US or Canada
Only Stock Autoflower Strains

3.9/5

3.9/5

#9. Gorilla Seeds

Large strain selection
Good reviews from customers
Worldwide shipping
No germination guarantee

3.9/5

3.9/5

#10. Attitude Seeds

Large strain selection
Good reputation
Worldwide shipping
Low cost seeds
No germination guarantee

3.9/5

3.8/5

#11. Sensi Seeds

Famous reputation in Europe
Large selection of strains
Don't ship to US or Canada
No germination guarantee
Can't pay with Bitcoin

3.8/5

3.8/5

#12. MJ Seeds Canada

Fast Canada Shipping
80% Germination Guarantee
Lots of Promotions
Expensive Shipping
Lack of Reviews

3.8/5

3.7/5

#13. Sensible Seeds

Over 3000 Strains
Good Customer Service
Affordable Seeds
Price Match Guarantee
Source Seeds from Other Banks and Breeders
No Germination Guarantee

3.7/5

3.7/5

#14. Sannies Seeds

High-Quality Strain Selection
Fast Shipping
Good Customer Service
Few Customer Reviews
Can't Pay with Credit Card
No Germination Guarantee

3.7/5

3.6/5

#15. Growers Choice

90% Germination Guarantee
competitive seed prices
Fast Shipping to US & Canada
Limited payment options
Poor customer service

3.6/5

3.5/5

#16. Greenhouse Seeds

Good reputation with customers
Low cost seeds
Limited payment options
Don't ship to the US
No Germination guarantee

3.5/5

3.4/5

#17. Blimburn Seeds

Low prices
Decent return policy
Dos Not Ship To US
No regular promotions
Limited Payment Options

3.4/5

3.4/5

#18. Serious Seeds

Award-Winning Seeds
Loyal Fan Following
Germination Guarantee
Not many promotions
Don't Ship To USA, Australia or Germany
Expensive

3.4/5

3.4/5

#19. AMS

Worldwide shipping
Germination guarantee
Not many promotions
Expensive seeds
Slow US & Canada Shipping

3.4/5

3.3/5

#20. Neptune Seed Bank

Over 100 Unique strains
1,929 Seed Options
Affordable Seeds
Poorly Designed Website
No Germination Rate Guarantee
Lack of Customer Reviews

3.3/5

3.3/5

#21. Attitude Seed Bank

Largely Positive Reputation
Provides Some of the Top Strains in the World
Thousands of Seeds
No Germination Guarantee

3.3/5

3.2/5

#22. Vancouver Seed Bank

Recognized as One of Canada's Best Seed Banks
Over 200 Strains
Potent, High-Quality Strains
Lack of Customer Reviews
Lack of Discounts and Promotions
Lack of Payment Methods

3.2/5

3.1/5

#23. BC Bud Depot

35+ Cannabis Awards
90% Germination Rate Guarantee
515+ High-Quality Strains to Choose Frome
Few Customer Reviews
Extremely Expensive
Lack of Promotions

3.1/5

3.1/5

#24. Highgrade Seeds

Top-Notch Strains
Worldwide Shipping
Lack of Reviews
No Germination Guarantee
Lack of Payment Options

3.1/5

3/5

#25. Rhino Seeds

Price Match Guarantee
Lack of Reviews Online
No Germination Rate Guarantee
Slow International Shipping

3/5

3/5

#26. i49 Seed Bank

Discrete, Affordable Shipping in the US
Selection of over 400 Seeds
80% Germination Guarantee
Unhelpful Customer Service Department
Negative Reviews on Seed's Quality
Expensive Prices

3/5

2.9/5

#27. CannabisSeeds.com

Very Cheap Prices
47 Top-Notch Strains
Lack of Reviews
Low Germination Rate
Not many payment options

2.9/5

2.9/5

#28. True North

Large strain selection
Cheap seeds & good promotions
Poor customer service
Many negative customer reviews
No germination guarantee

2.9/5

2.8/5

#29. Expert Seeds

High-Quality Strains
31+ Quality Strains to Choose From
Easy-to-Navigate Website
Few Reviews
Complaints About Seeds Not Germinating
No Germination Guarantee

2.8/5

2.8/5

#30. GTA Seed Bank

Top-Notch Quality Strains
750+ Strain Varieties
Worldwide Shipping
Awful Website
No Germination Guarantee
Limited payment Options

2.8/5

2.8/5

#31. Pacific Seed Bank

FREE Stealth Shipping
Bad Customer Service
No Delivery Guarantee
Few Discounts and Deals

2.8/5

2.8/5

#32. Dinafem Seeds

Security Certificate
First Spanish Seed Bank to Specialize in Feminized Seeds
Award-Winning Strains
Currently in Legal Trouble
Little to No Promotions or Discounts
Does Not Ship to America

2.8/5

2.7/5

#33. Elev8 Seeds

Good customer service
Lack of Customer Reviews
No Germination Guarantee
Expensive Seeds

2.7/5

1.9/5

#34. Dutch Seeds

Many reports of seeds not delivered
Poor germination rates
No germination guarantee
Bad customer service

1.9/5

1.2/5

#35. Australian Seed Bank

Autoflowering and Feminized Seeds
Average to Affordable Prices
Quality Strain Offerings
Lack of Customer Reviews
No Verification
Lack of Reputation

1.2/5

0/5

#36. BC Seeds

0/5
Is Sanniesshop Safe?
Yes, Sanniesshop is safe to buy from.
They don't have a lot of reviews but Sanniesshop is a well-respected, legitimate seed bank that has basically only good press in cannabis forums.
They even created their own cannabis growing forum, OpenGrow.com.
History & Reputation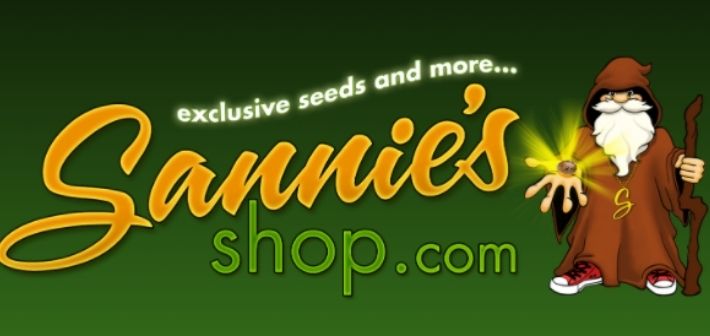 Based in the Netherlands, Sanniesshop has been impressing cannabis customers for years.
It all started 25 years ago when the bank's namesake, Sannie, became obsessed with growing marijuana, breeding his own strains, and eventually ascending to "legendary grower" status amongst marijuana lovers in the Netherlands.
He founded Opengrow in 2008, which has spent the last decade growing in popularity amongst experienced marijuana growers.
He also founded Sanniesshop which has notoriously high standards for the strains they sell.
They have a very selective process when it comes to what strains they allow in their catalog.
Only the strains with the best flavor, yield, and potency make it into Sanniesshop.
Furthermore, you won't find any of Sannies Seeds at weed superstores or other banks, they are the only shop that carries them.
All of that work cultivating a legendary catalog paid off.
On weed forums and amongst weed aficionados, Sanniesshop is regarded as a high-quality, top-notch seed bank.
Seed Quality
Sannie breeds the best, using his decades of cannabis knowledge and unique growing strategy to create high-quality, high-yielding, and highly potent strains.
His plants are all 100% organic, ensuring that anyone from a beginner grower to an advanced grower can cultivate them.
To make sure the process is as easy and effective as possible, Sannie provides growing guides on the bank's website and a link to his growing forum.
Despite how confident in his seeds Sannie is, there was no germination guarantee on his website which I found disappointing and odd, considering how much he talks about the quality of his seeds.
If it's important to you that the seed bank you buy from has a germination guarantee, then check out I Love Growing Marijuana.
Their seeds have a 100% germination guarantee, and if that wasn't enough, they even include free seeds with each order to make sure the most seeds possible germinate.
Seed Selection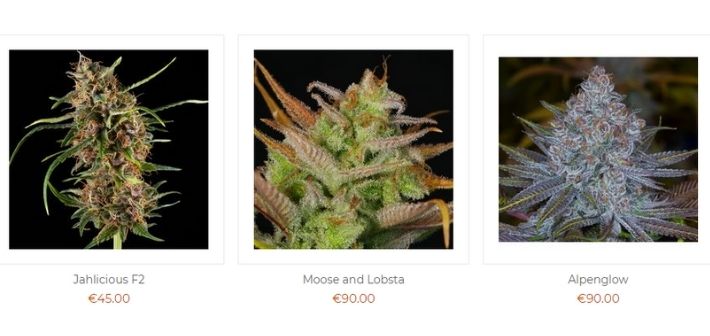 Sanniesshop is medium-sized with 52 strains to choose from. They sell feminized seeds, autoflower seeds, regular seeds, medical seeds, and landrace seeds which you can buy in packs of 5, 6, 10, or 20 seeds.
Some of their most popular offerings are Sannie's Jack Feminized, Silverfields Regular, Herijuana Feminized, and Jackberry Feminized.
While you can't buy Sannies seeds anywhere else, they do sell other banks and breeder's seeds.
Just like they are picky about what seeds they carry, they are picky about what breeder's seeds they sell, only choosing those that have high-quality strains, and aren't commonly carried by other seed banks like Dynasty Seeds, U.S.C., and Fusion Seeds.
While they have an impressive selection if you want even more seeds to choose from, check out weed super-stores like Herbies Seeds or Seedsman which both have thousands of strain varieties for affordable prices.
Seed Prices
Sanniesshop tends to sell seeds in the low to medium price range, which is incredible considering the quality of the seeds.
The ease of growing Sannies seeds, and their low cost, makes this a great seed bank for beginner growers.
Gorilla Glue Price Comparison
As you can see, Sanniesshop has the lowest price for Gorilla Glue Autoflowering seeds when compared with 3 other top-notch seed banks.
That's no small feat especially when you take into consideration that Seedsman is a weed superstore, with thousands of varieties, that is well-known for its incredibly affordable prices.
Sanniesshop Sales, Discounts, & Promotions
Sanniesshop has some excellent promotions going on at all times.
To start off, if you become a member of Sanniesshop, then you earn points every time you buy seeds, which can later on be used to purchase additional seeds.
Sanniesseeds strains were listed for the promotion buy 5 or 10 seeds and get free 5 or 10 seeds.
You can also check out the Sannie's Freebees section of the website.
There they list how you can get free seeds with each order.
His Special Freebees are:
Get 2 MLK seeds when ordering up to $110
5 MLK seeds when ordering $110 His Regular Freebees are:
5 regular seeds when ordering up to $110
10 regular seeds when ordering $110
To redeem these freebees, fill out a request in the customer notes section of your order
Payment Methods
Sanniesshop offers only three payment methods. You can pay with:
Although it's great that he allows you to pay with 3 totally discreet payment methods, it may be off-putting to customers who like the convenience of credit cards.
Sanniesshop Customer Service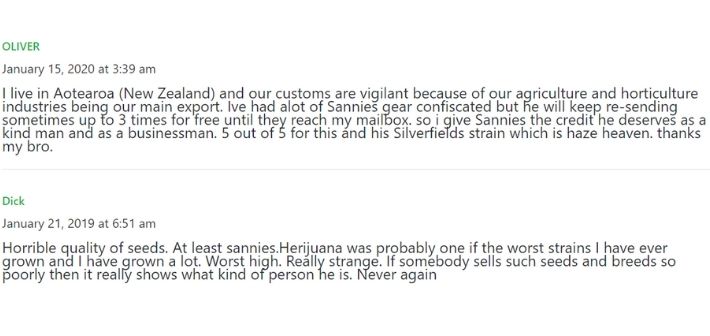 Sannieshop has great customer service reviews, which makes sense considering that it was started by someone who loves growing and whose mission is to help other people be successful growers.
They are super helpful and friendly, getting customers through order or growing problems.
I also love that Sanniesshop provides customers with so much growing information and growing materials.
You can contact them using their Customer Contact page.
I wish they also included a phone number or email too, but alas, they do not.
Some complaints have been made about Sanniesshop's website, however, I found it
user-friendly and easy-to-navigate with tabs and links that efficiently get you to the right place.
It is also full of all the information you would need to make an informed purchase from Sanniesshop.
Shipping
Sanniesshop delivers worldwide quickly and discreetly. They ship seeds in a plain bubble envelope that protects the seeds and the privacy of customers.
Their shipping is pretty inexpensive. However, if you don't want to pay for shipping, buy 3 packs of seeds or more, and you'll get free delivery.
Shipping Cost
Sanniesshop offers fairly inexpensive delivery. Their prices for shipping are:
To the world: €4.50
To the Netherlands: €2.50
To Europe: €4.50
Shipping Times
The shipping times for Sanniesshop are pretty average. To ship:
Parcels to Europe it takes 2-14 business days
Parcels to the world it takes 5-15 business days
Parcels to the Netherlands it takes 1-2 business days
Of course, keep in mind that due to COVID-19 parcels may be further delayed.
Sanniesshop Review
Offering not only quality cannabis seeds but also quality cannabis growing information, Sanniesshop is a great seed bank to buy from.
Their top-notch seeds, organic highly-potent strains, and great customer service make them one of the best seed banks on the market.
However, the downsides of Sanniesshop are that it doesn't offer many payment options, has no germination guarantee, could update its website a little more, and doesn't have a ton of reviews which could deter buyers.
Overall, though I would give Sanniesshop a positive review.