Seedsman Seeds Review: Seedsman is the Amazon of seed banks, with a huge selection of quality strains at low prices. They also have lots of amazing promotions & freebies. However, shipping times to the US and Canada can be slow. They also have pretty average customer service.
Read on to find out how Seedsman.com compares to the other top seedbanks.
Seedsman Seeds Review 2020
Pros of Seedsman
The largest selections of strains online
Cost of seeds are the lowest I could find online
Lots of great promotions
Worldwide shipping inc USA and Canada
Seeds are of high-quality with good germination rates
FREE seeds with most orders
They have a decent Loyalty points program
Seeds taken at customs are re-shipped at no cost
Orders are shipped in very discrete packaging
If you use Bitcoin they give you 25% off your first order
Seedsman reviews are generally positive on TrustPilot
Cons of Seedsman
Customer service could be improved
Seeds are only guaranteed to germinate in legalized countries or states
Shipping only guaranteed with purchase of extra insurance
Shipping times to the US are slow compared to ILGM
Standard shipping is not free (about $10 to the US and Canada)
Who is Seedsman for?
Seedsman is definitely more suitable for growers on a tight budget. I compared a 5 pack of White Widow seeds on all of the most popular seed banks and Seedsman came in $20 cheaper than their closest rival. That's pretty hard to ignore. They're also perfect for people who live in Canada or the UK.
Who is Seedsman not for?
If you live in the US or Canada and you need your seeds fast, then I probably wouldn't buy from Seedsman. Their shipping times are known to be a little slow. For faster shipping times to the US, ILGM is a better option, and for faster shipping times to Canada, Crop King is your best bet.
About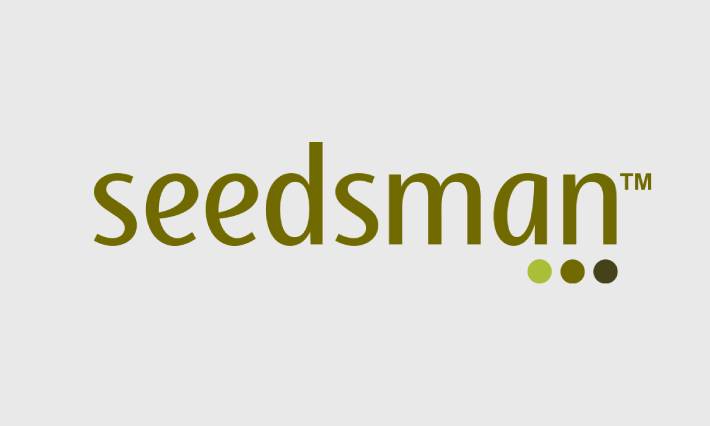 Seedsman Seeds has been in business since 2003, making them one of the older online seed banks around.
Based in Barcelona, they present themselves as experts in Cannabis genetics.
To their credit, they played a large role in bringing feminized seeds to market a few years back!
According to their about page, Seedsman is committed to preserving genetic lineages and passionate about legalization worldwide.
They also spend a portion of their profits to support Cannabis legislation and education, which gets them HUGE plus points.
More importantly, with strains from over 120 breeders, they have one of the largest seed catalogs in the world!
Strain Selection – 5/5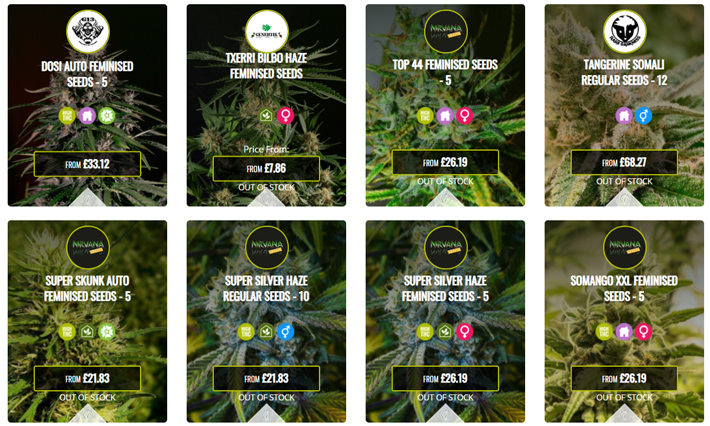 One of the primary reasons that I love Seedsman is their awesome strain selection.
With almost 4,400 different strains, Seedsman is one of the largest seed banks in the world!
New or limited edition strains can almost always be found on their site – if I can't find a strain elsewhere, Seedsman usually has it! They also usually have both auto-flowering and photoperiodic seeds of the same strain.
Their seed selection is well organized on the website, making it super easy to find that you're looking for.
You can sort by strain type, growth characteristic, cultivation method, and much more.
Seedsman seeds is very beginner-friendly, with loads of strains that are perfect for first-time growers
They also have a section devoted to medicinal growers that's sorted by medical diagnosis.
When it comes to selection, there are few other seedbanks with more selection than Seedsman – so full marks from me here!
Check out this great strain review:
Shipping – 4/5
On the whole, I find Seedsman is above average when it comes to shipping their seeds and receiving your order.
A few other seed banks have better shipping features but have a much more expensive flat rate for shipping.
With Seedsman, shipping cost is calculated based upon your location rather than a flat rate.
And I the price is generally pretty reasonable.
One important note is that they offer shipping insurance, and will only fix shipping/delivery issues on orders that have purchased it.
While this isn't ideal, it's understandable given the amount of fraud seed banks encounter – personally I only opt for it on more expensive orders.
They also don't offer tracking on Air Mail packages, but they do have an internal system to let you know when your order has shipped.
Overall I find Seedsman to be a good compromise between shipping features and cost, with some room to develop.  But they have enough functionality with their shipping not to hinder your order experience in any way.
Seed Quality – 4.5/5
Bad seeds won't germinate, so seed quality is always the first thing I look at when choosing a supplier!
Seedsman seeds are great in this regard, and most customers report problem-free germination and grow.
Relatively few seeds are dead on arrival, and that plants have strong genetics once grown.
My personal experiences buying seeds from them have been great, with no germination issues at all so far!
However, It should be pointed out that Seedsman does not offer a clear-cut germination guarantee on their seeds.
If you live in a legal country, they will "endeavor to resolve the issue" – but only within 90 days of purchase.
Some other seedbanks such as ILGM offer no-questions-asked germination guarantees, so I've removed half a star from Seedsman in this category.
While it's not the best policy around, reviews of their actual seed quality are great overall and I don't think you'll be disappointed with buying your seeds online through Seedsman.
It should also be noted that because of their sheer size, Seedsman is able to offer seeds at some of the best prices I could order online.
Seedsman Customer Service – 4/5
The one area that I feel Seedsman could improve slightly is their customer service.
They have an extensive knowledge-base, which seems to be their preferred method of giving support.
Seedsman does have phone support numbers in various countries, but I've found that it's mostly an automated system and can be a little difficult to get hold of an actual human.
I've had most success contacting them via email – they usually take less than 12-24 hours to reply.
NOTE:
Their
returns policy
is only 14 days, so it's a good idea to inspect your shipment as soon as you get it!
Overall, there's room for improvement here, but their customer support seems pretty typical for such a large company and you shouldn't have any issues with your order.
Seedsman Reviews 4.1/5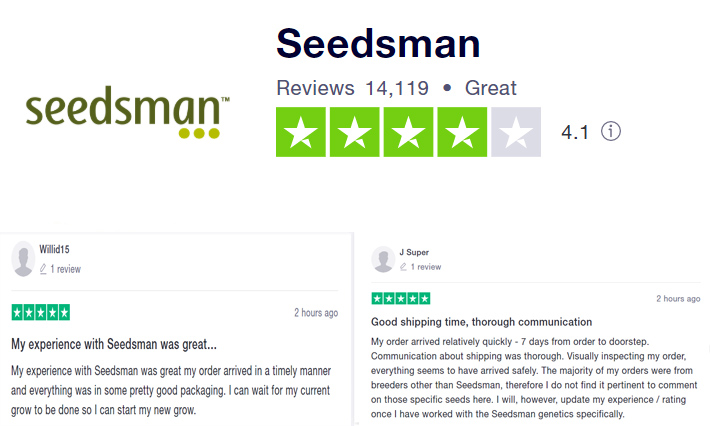 One feature I really love about the Seedsman website is the reviews section under each strain.
It allows you to read other buyers' experiences before you make a purchase, which has saved me from wasting money more than once!
I've also found it's a great place to pick up grow tips from other growers, so make sure to give them a read.
Seedsman doesn't delete negative customer seed reviews either, meaning you can trust you're getting a balanced view.
On top of their seed reviews, they have over 9,000 company reviews on Trust Pilot which is a huge number!
Despite some minor complaints here and there, the vast majority of Seedsman customers report excellent experiences and their strain reviews make choosing the right seeds a painless process!
Payment Methods – 5/5
Seedsman offers a number of payment methods, including credit card, bank transfer, money order, and check for your order.
For people who really want to remain anonymous, they also accept cash in the mail as well as Bitcoin!
If you pay by Bitcoin, you will receive 15-25% off your order as well as free seeds which is a great deal!
I found payment on their site to be easy and straight forward, and they have step-by-step instructions for each method so you can't go wrong.  I know a lot of people don't want to go through the effort of purchasing bitcoin to buy cannabis seeds, so having the credit card option, bank transfer and other payment options is definitely a huge plus.
Overall, Seedsman offers a lot of payment options and they make it easy to use the one you prefer – no complaints here!
Discretion – 5/5
When it comes to discretion, Seedsman puts in a lot of effort to ensure your order arrives safely.
They take privacy seriously, and seeds are shipped in a standard bubble envelope without identifying markings.
This means that your seeds will arrive looking no different from any other mail!
Depending on your country, they will sometimes ship seeds inside a DVD case or another ordinary household item for added security.
Additionally, as mentioned above they accept both cash in the mail and bitcoin cryptocurrency for untraceable transactions.
Finally, entries on a credit card or bank statements are generic and will not identify your purchases!
With subtle shipping and privacy-oriented payment methods, Seedsman gets five stars for discretion.
Discounts & Promotions – 5/5

Seedsman seeds put a good amount of effort into worthwhile discounts and
promotions
.
With various spend levels, you'll not only get free shipping but free seeds with your order too!
Seedsman also has an excellent loyalty program allowing you to earn and spend loyalty points on all purchases.
You receive bonus loyalty points for stuff like your birthday, and for reaching five orders on your account!
I've noticed that they switch up the strains that are on sale fairly often, so make sure to check back often for new promotions.
Despite recently removing a few features that were being abused, Seedsman maintains a competitive loyalty program and are always improving it.
Seedsman FAQ
Below are the answers to some of the most commonly asked questions about Seedsman.com:
Where is Seedsman located?
Seedsman is located in Barcelona, Spain.
They also have customer service numbers in the USA and several other European countries.
Are there any Seedsman discount codes?
Seedsman releases coupons from time to time on their sales page, as well as free seeds for orders over certain amounts.
Seedsman also offers a loyalty program that allows you to earn points that you can redeem on future orders.
Finally, they offer a standing 15%-25 discount and free seeds on orders paid in Bitcoin.
What is the shipping time to the USA?
Seedsman states that shipping to the USA will take approximately 5-25 days.
In my experience, it takes about two weeks depending on U.S. Customs, although recently it has been closer to three.
Final thoughts, Seedsman Seeds Review 2020
There are several reasons why I keep going back to Seedsman.
Their strain selection is simply staggering, with more strains than you would have time to grow in a lifetime!  Their website is extremely easy to navigate and makes purchasing online a breeze.  Along with this, they offer a solid loyalty program that will have you coming back for more!  While some might argue if they are the absolute best, you can't argue that they are a very strong competitor.
I've also had no issues with their seed quality, with multiple successful grows from Seedsman seeds.
Shipping is discrete, and orders arrive relatively quickly.
As I mentioned, it seems their customer service and shipping features could be improved further, but I don't think it's a deal-breaker!
Overall, I have no problem recommending Seedsman.com – they offer high-quality seeds, an excellent selection, and decent customer service overall.  I hope this review of Seedsman was helpful, I would definitely recommend them as a seed bank, and I think you should give them a shot if you're in the market for some seeds!