Short on time? Here's my quick Sensible Seeds review for 2022:

Sensible Seeds is a well-respected seed bank in the cannabis community. They stock over 3,000 seeds and have great customer service, fast worldwide shipping, and affordable prices. However, they don't offer any kind of germination guarantee, which is disappointing.

If you'd rather buy from a seed bank that has all the features above, but also offers a germination guarantee, then I'd recommend ILGM or Weed Seed Express.
Continue reading this Sensible Seeds review to discover the pros and cons of ordering from them, and to see how they stack up against the best seed banks to order from.
Sensible Seeds Pros
Over 3000 Strains
Affordable Seeds
Price Matching Guarantee
Discreet Delivery
Ships Worldwide
Easy-to-Navigate Website
Accepts Cash and Bitcoin
Sensible Seeds Cons
Source Seeds from Other Banks and Breeders
No Germination Rate Guarantee
Have to Buy Amazon Gift Cards to Pay With Your Credit Card
Sensible Seeds Alternatives
This Sensible Seeds review is part of my seed bank reviews series. I am reviewing popular seed banks to see which ones are worth using and which ones are not.
Here are the results so far…
Is Sensible Seeds Safe?
Yes, Sensible Seeds is completely legitimate and totally safe to buy from.
In fact, they are a sensible choice, with 4.6/ 5 stars rating on Trustpilot from 62 reviews, and a "green" rating on SeedFinder which means they are absolutely recommended.
History & Reputation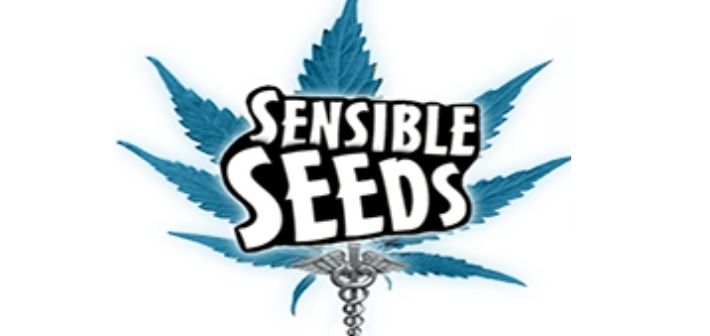 Sensible Seeds has built up a great reputation as a trusted cannabis superstore with excellent customer service, over 3000 strain varieties, and affordable prices.
This family-run business has been making customers happy for almost 20 years.
They are based in the UK but ship worldwide, being one of the most reputable seed banks in the world.
They source their high-quality marijuana seeds from over 150 of the world's best seed breeders.
Once the seeds are purchased, always fresh, they dedicate a lot of effort towards keeping them that way.
Seed Quality
While purchasing seeds directly from their breeder is always the best option, it's not always a possible one.
Sometimes breeders don't have online stores or can't ship to your location, in which case it's a good idea to turn to superstores like Sensible Seeds who make an effort to keep seeds fresh and prices low.
Sensible Seeds carries the seeds of some of the best and most prestigious breeders in the world.
They only buy top-notch quality seeds and strains.
Their germination rate across the board is over 80% which is extremely impressive, especially
considering that they don't offer a germination guarantee.
They aren't able to offer a guarantee since they work with so many breeders.
It's a good idea before buying from Serious Seeds to see if the breeder they got the seeds from has a germination guarantee.
Of course, if a germination guarantee is really important to you, then buy from I Love Growing Marijuana.
They have one of the strongest germination guarantees on the market, with an impressive germination rate of 100% and they even include free seeds with each order to ensure that you get your money's worth quality-wise.
Seed Selection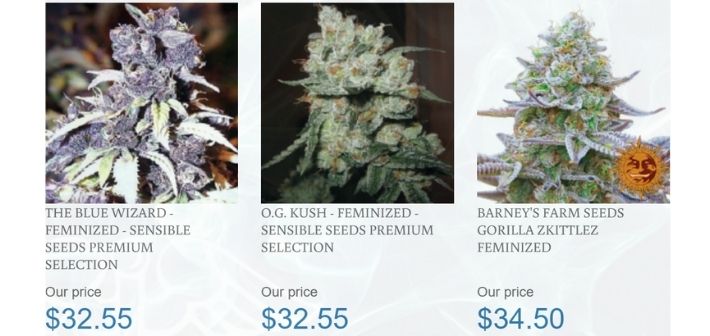 With over 3000 strains of marijuana, Sensible Seeds definitely carries whatever you are looking for.
They source their seeds from over 150 of the best brands and breeders in the market including:
Seedsman Seeds
White Label Seeds
The Plant Organic Seeds
Sensi Seeds
British Columbia Seeds
Kush Cannabis Seeds
Paradise Seeds
Centennial Seeds
DINAFEM seeds
Heavyweight Seeds
They sell auto-flowering, regular, and feminized seeds along with medical marijuana, CBD, and award-winning strains.
Of course, if the idea of sorting through thousands of seeds to find the right one for you overwhelms you, check out much smaller, more selective seed banks like Paradise Seeds, which only has 48 seeds to choose from, but they are all extremely high-quality and most of them are award-winning, so it's hard to go wrong.
If you want a smaller seed bank that ships to America, check out ILove Growing Marijuana.
They have only around 50 strains, but they are all of top-notch quality and have a 100% germination guarantee.
Seed Prices
As a seed superstore, Sensible Seeds has some of the lowest prices on the market. If that wasn't enough they also have an impressive price matching guarantee.
Their guarantee states that if you find a different online bank where a specific product is offered for a lower price, then Sensible Seeds will match that lower price.
If you found the lower price after buying your seeds, Sensible Seeds will even issue a refund of the difference between their and that seed bank's price.
OG Kush Price Comparison
Sensible Seeds prices are some of the lowest you'll find online, so it's no surprise they only charge $51.72 for OG Kush.
Weed Seeds Express having even lower prices is surprising, but that just shows you it's always a good idea to check with a few seed banks before buying if you're hunting for a deal.
Especially if you want to cash in on Sensible Seeds' price matching guarantee.
Sensible Seeds Sales, Discounts, & Promotions
Sensible Seeds has rotating promotions and discounts going on all the time.
Right now they have a Free Seeds Discount that states you get:
5 free feminized seeds if you spend £50
10 free feminized seeds if you spend £90
15 free feminized seeds if you spend £160
They also always have payment method related discounts, offering you free seeds if you pay with Bitcoin or cash.
Payment Methods
Sensible Seeds accepts some wonderful, discreet payment methods. You can pay with:
Bitcoin
Cash
Amazon Gift Cards
Amazon gift cards may seem weird, but there is a reason behind that method.
To prevent credit card companies from refusing to release payments to them because they are a cannabis
company, which happens frequently, you can buy an Amazon gift card valued at the cost of your seed using a credit card, and then pay them with that gift card.
For the extra effort, Sensible Seeds will even include 5 free seeds with your order, which will stack on top of whatever other free seeds you may be getting from other promotions.
They also include free seeds with Bitcoin and cash orders, so basically, no matter what, you are getting free seeds.
Sensible Seeds Customer Service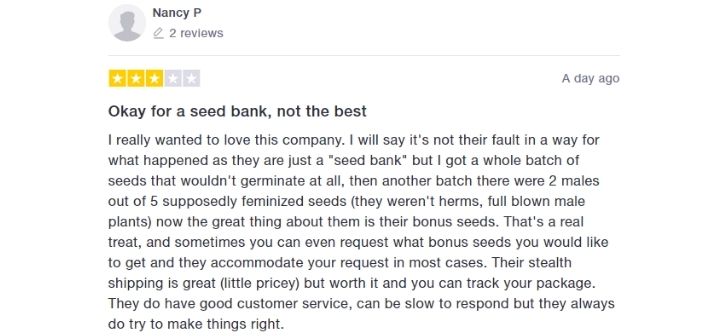 You can easily access Sensible Seeds' extremely helpful customer service team with the email or phone number listed in the bottom right corner of their website, or through the Customer Inquiry Page.
They get back to customers quickly, responding in a friendly and professional way.
On top of having excellent customer service, their website is extremely easy to navigate, with numerous helpful tabs, and very informative, with all the information you could possibly need to buy from Sensible Seeds.
Shipping
One of the reasons you would buy from Sensible Seeds, instead of directly from a breeder, is because they ship to every country in the world.
They provide fast and secure delivery in discreet packages. For customers who need particular stealthy delivery, they package seeds within T-shirts or craft bead sets, doing their best to accommodate whatever your shipping needs may be.
Shipping Cost
For packages shipped throughout the UK their prices are:
1st Class Recorded: £4.50 (1-3 days delivery)
Next-Day Special Delivery: £6.95
Saturday Special Delivery: £11.95
For the USA and the rest of the world, they only offer one standard shipping option which is £9.95.
All of these prices are fair and affordable, and they even offer tracking with each delivery option.
You can also choose to have your international order insured, which means that if it gets intercepted or for some reason doesn't make it to you, Sensible Seeds will take care of sending you a whole, new order.
Shipping Times
Their speedy delivery times are:
Europe: 3-5 days
USA: 5-8 days
Worldwide: 5-14 days
These are some extremely fast shipping times, even in comparison to some of the world's top seed banks.
Of course, keep in mind that due to COVID-19 related delays, your package may take even longer to arrive.
Sensible Seeds Review
Overall, I would give Sensible Seeds a positive review.
They have an excellent, vast strain selection.
They have affordable seeds with perks like a price matching guarantee and revolving and standard promotions that ensure you get free seeds with each order.
They provide discreet and fast delivery worldwide.
There is a lot to love about this seed bank.
If you feel okay about buying from a middle-man seed bank, instead of the actual breeder who produced the seeds, Sensible Seeds is an incredible option for you.