Do-Si-Dos is an Indica-dominant variety that has become popular in the last few years.
It was achieved by crossing OGKB, a Girl Scout Cookies phenotype, with Faceoff OG.
It is a very potent strain with very high THC levels and an euphoric, couch- locking high that will be the delight of Kush and Indica lovers.
It can also provide relief for a variety of ailments and medical conditions.
Read on to find out more about this cannabis strain.
Buying Seeds Online? Don't get scammed! Check out my in-depth guide on the best seed banks to order from that are 100% safe and reliable.
Do-Si-Dos Strain (At a glance)
Effects: Euphoric, Dreamy, Happy
Helps With: Anxiety, Depression, Stress
Duration of effects: Longer than average
Indoor Yield: 500 – 550 g/m2
Outdoor Yield: Up to 900 g/plant
Flowering Time: 8-10 weeks
Outdoor Harvest Time: Late September to Early October
THC Content: 25 to 30%
CBD Content: <1%
Indoor Plant Height: 80-100cm
Outdoor Plant Height: up to 250cm
Grow Difficulty: Moderate
Genetics: Indica dominant hybrid, Cross between Girl Scout Cookies and Faceoff OG, Created by Archive Seed Bank
Flavors: Sweet, Earthy, Spicy, Skunky
Best place to buy seeds: Seedsman.com
Do-Si-Dos Genetics
Archive Seed Bank created Do-Si-Dos back in 2016 by crossing the OGKB phenotype of Girl Scout Cookies with Faceoff OG.
It is a 70% Indica dominant hybrid that will delight those who love Indica-leaning strain.
The Girl Scout Cookies parenting contributes to the delicious taste and smell of this strain While its Faceoff OG ancestry contributes to the dynamic terpene profile and relaxed high.
Do-Si-Dos Cannabinoids and Terpenes (THC, CBD etc)
Do-Si-Dos is a potent cannabis strain, its THC levels are very high between 25% to 30%, CBD
levels are low with less than 1%.
The three most prevalent terpenes in this strain are Limonene, Linalool and Humulene.
Limonene is one of the most common terpenes found in nature.
It has anti-inflammatory, antioxidant, anti-stress, anticancer, and heart-disease-fighting
properties.
Linalool is a terpene found in lavender and other aromatic flowers.
Research shows it has anti-anxiety, stress relief, anticonvulsant, antidepressant and muscle
relaxant properties.
Humulene is the third most active terpene in Do-Si-Dos and it is also found in Cannabis' closest
cousin Hops.
It has proven to have appetite suppressant, anti-inflammatory, pain-relieving, cancer-fighting and
antibacterial properties.
Do-Si-Dos Grow Info
Do-Si-Dos can be grown both indoors and out, yet, for a successful outdoor harvest, you will need a semi-humid climate and daytime temperatures between 20 and 26 Celsius.
One thing to keep in mind when growing Do-Si-Dos is the very pungent smell they produce.
Indoor growers should look to invest in a good odour control system with decent carbon filters
and exhaust fans.
This strain also has the potential to produce beautiful purple pigmentation when exposed to cold
(not freezing) nighttime temperatures.
Flowering lasts between 8 and 10 weeks and produces abundant yields.
Size for this strain is moderate to tall, reaching heights of 200 to 250cm outdoors and 80 to 100cm indoors
Like OGKB and Girl Scout Cookies, Do-Si-Dos is resistant to mould diseases and doesn't usually have problems with pests.
Do-Si-Dos Yield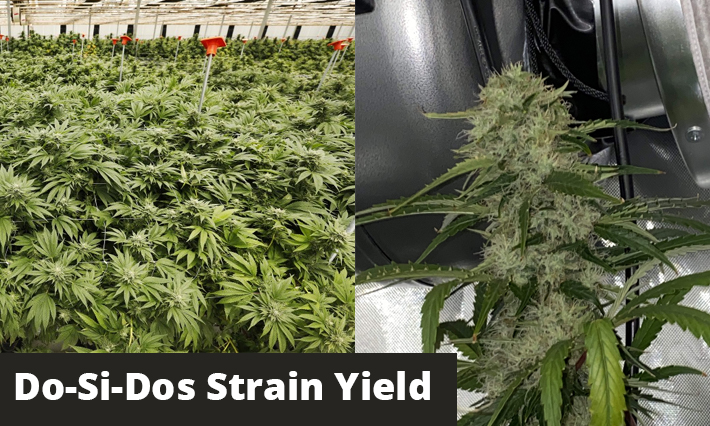 Do-Si-Dos has a short flowering period of around eight weeks, but this doesn't mean you should expect low yields.
In fact, Do-Si-Dos yields tend to be on the higher end of production.
Indoor yields are around 550 grams per m2 and outdoors it's possible to harvest up to 900 grams per plant.
Do-Si-Dos, like most Indica-dominant varieties, produces dense flowers that adhere in small clusters.
It's also a very colourful strain, with bright lime green buds, abundant orange pistils and hints of blue and purple produced by anthocyanins in the strain's genetics that become active with cold weather.
The buds also have a heavy frosting of white trichomes that accounts for their psychoactivity.
Do-Si-Dos Effects
The high produced by Do-Si-Dos leans towards the sedative side starting with a stoney, hard-hitting buzz that melts over your body and leaves you petrified, stoned and happy.
It is quite a potent strain, with THC levels clocking between 25% to 30%, it can leave even experienced users completely paralyzed.
Despite the high THC levels, the calming body high keeps the cerebral mindset from becoming too buzzy.
This calming effect can be explained by the presence of the terpene Linalool in the plant's chemovar.
Instead of agitation, what users of Do-Si-Dos will find is heavy relaxation that spreads down the whole body finishing in total couchlock.
Because of the sedative nature of the high, Do-Si-Dos is best consumed late in the afternoon or early evening and not when you're on the go.
The high is also characterized by being potent but mellow and followed by lots of dreamy, euphoric bliss.
This heavy, body-centric high makes Do-Si-Dos a very good strain for treating pain, anxiety and a variety of other medical and psychological issues.
In my case I found Do-Si-Dos to be very good for helping me sleep.
When smoked before bed it calms and relaxes my mind and body leaving me ready for a good night's sleep.
Adverse Effects Using Do-Si-Dos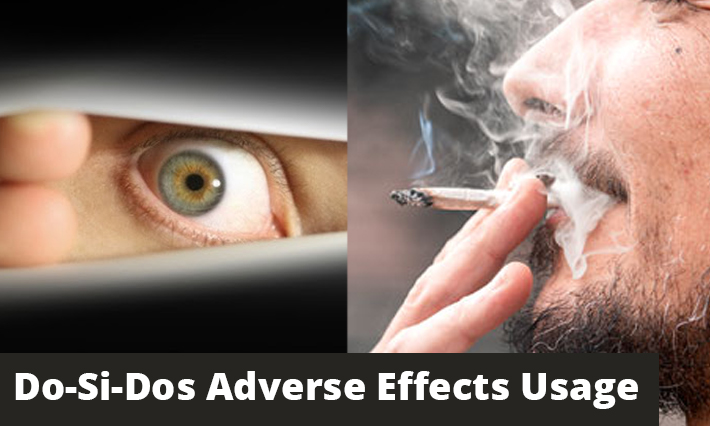 Due to the very high THC content of this strain, it should be used with caution by inexperienced users, users who have a low tolerance for THC or those that are prone to paranoia.
Another aspect to keep in mind is that this bud can leave you completely paralyzed, so make sure you have time to unwind and won't be nodding off in the middle of a meeting.
Yet, if you're prepared for relaxation, this is one smooth, comfortable ride.
Do-Si-Dos Medical Benefits
Do-Si-Dos' high, with its sedative and analgesic effects, can be used for aches and pains.
It can provide relief for sore muscles and injuries as well as chronic conditions like arthritis or fibromyalgia.
Besides, its anti-inflammatory properties are very effective at relieving headaches and muscular pain.
The body buzz produced by this strain helps to eliminate pains while relieving any signs of depression and relaxing mind and body which makes it ideal for dealing with insomnia, depression or anxiety.
Moreover, the speed with which Do-Si-Dos effects are felt makes it perfect for patients looking for quick relief from chronic pain, insomnia or a variety of other ailments.
Do-Si-Dos Flavors
Do-Si-Dos flowers have a very sweet, almost fermented smell that also presents some notes of dank, skunk and earth.
The aroma is also very strong and Kush-like, with lime, mint, nut and spice undertones.
The flavour is also sweet and reminds you of typical Kush varieties and mint cookies, it also has notes of lime and pine.
The smoke tastes skunky and fruity, it can be quite pungent and can be easily felt from some distance.
It can also make inexperienced users cough a bit.
Do-Si-Dos is definitely a delicious strain with intoxicating flavour and smell that will delight lovers of Kush and Indica varieties.
Do-Si-Dos Flowering Time
Flowering time for this strain is between 8 to 10 weeks indoors and between late September and early October outdoors.
Even though the flowering period is not particularly long it can produce good yields.
Growers looking to bring out the purple hues of this strain should expose the plants to cold but not freezing temperatures during early flowering.
Do-Si-Dos Price / Best Place To Buy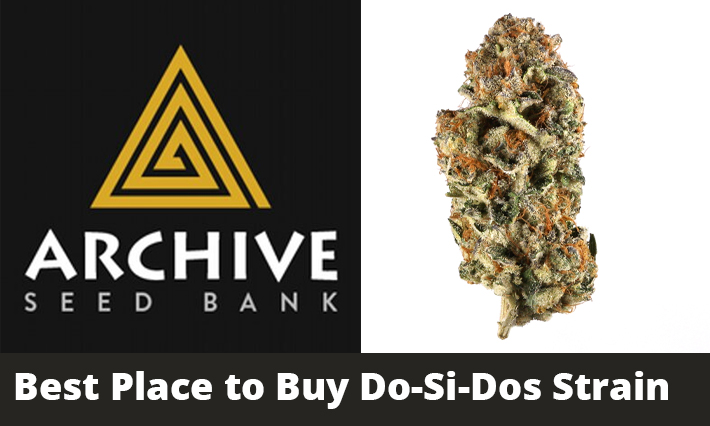 The original Do-Si-Dos from Archive Seed Bank is almost impossible to track down since they are out of stock everywhere.
If you do find them, however, they can only be found in 12-packs of regular seeds and price is between 190 to 230 dollars.
You can also find Do-Si-Dos replicas from other seed banks, but there are no guarantees they will be as good as the original.
They may range from amazing to bleh, your mileage may vary.
Archive Seed Bank also offers new Do-Si-Dos crosses like Dosi-Cake (Do-Si-Dos x Wedding Cake) that are easier to find and sound equally delicious.