Gorilla Glue is a highly popular strain that has become a household name over the last few years.
This epic strain is resistant to mold and pests and can be grown indoors and outdoors, which are traits that make Gorilla Glue attractive to inexperienced growers.
Also called GG #4 and Original Glue, this hybrid strain helps treat many conditions like depression, pain, and insomnia.
In this article, we answer some of the most common questions consumers have about Gorilla Glue – including its lineage, potency, flavor and aroma, and its high.
We also provide details on how to best grow this game-changing strain, including the time it takes to grow this plant and how big of a yield you can expect at harvest.
Buying Seeds Online? Don't get scammed! Check out my in-depth guide on the best seed banks to order from that are 100% safe and reliable.
Gorilla Glue Strain (At a glance)
Effects: Relaxed, Sleepy, Cotton Mouth
Helps With: Depression, Anxiety, Insomnia
Indoor Yield: 18oz/ m2
Outdoor Yield: 21oz/ plant
Flowering Time: 8-9 weeks
Outdoor Harvest Time: Mid-October
THC Content: 18-25%
CBD Content: 1%
Indoor Plant Height: N/A
Outdoor Plant Height: 80 inches tall
Grow Difficulty: Easy
Genetics: Chem's Sister x Sour Dubb x Chocolate Diesel.
Flavors: Coffee, Chocolate
Best place to buy seeds: ILGM
Where To Buy Gorilla Glue Seeds
Where Does Gorilla Glue Strain Come From?
Gorilla Glue has a solid lineage. Its parents are Sour Dubb, Chocolate Diesel, and Chem's Sister.
Originally developed by the Las Vegas-based breeder GG Strains, Gorilla Glue is a hybrid that is also known as GG #4, Original Glue, Gorilla Glue #4, and Glue.
When Did Gorilla Glue Strain Come Out?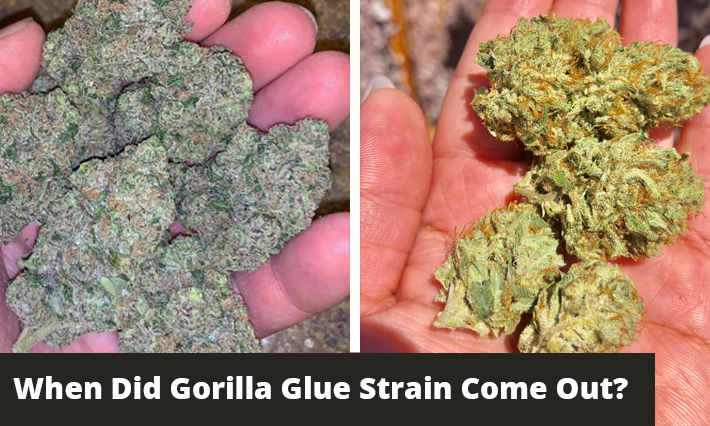 According to the GG Strains website, Gorilla Glue was originally developed in 2014.
The first Gorilla Glue strain was entered into the 2014 High Times Medical Cannabis Cup in San Bernardino, Los Angeles, California. It took first place in the Cup, and the rest is history
Is Gorilla Glue Strain A Sativa Or Indica?
Gorilla Glue is a hybrid, meaning it's a cross between both Sativa and Indica.
Gorilla Glue is as close to a 50/50 hybrid as can be found on the legal cannabis market today, thanks to its stable genetics. Some Gorilla Glue flower will show a slight Indica dominance.
What Is Gorilla Glue's THC Level?
Gorilla Glue contains one of the highest levels of THC on the legal cannabis market today.
At most dispensaries, Gorilla Glue buds will contain between 18% and 25% THC, on average.
However, some Gorilla Glue strains can reach up to 32% THC, especially on the west coast.
What Is Gorilla Glue's CBD Level?
Gorilla Glue is not a CBD-rich strain. It ranges between 0.05 and 0.1 percent CBD.
If you're looking for a strain with high CBD content, you'll want to look elsewhere – perhaps a variety like Charlotte's Web, Harlequin, or Cannatonic.
How Do You Identify Gorilla Glue Strain?
You can identify Gorilla Glue by its namesake, which is the fact that it's one of the stickiest strains ever made.
Handling Gorilla Glue flower without gloves will almost inevitably lead to your bare hands becoming sticky.
The dense, green buds with orange hairs as well as the pungent aroma of pine and earth also distinguish this popular hybrid from other strains.
How Long Does Gorilla Glue Strain Take To Veg?
Most cannabis growers report that the Gorilla Glue strain spends 3 to 10 weeks in its vegetative stage.
Of course, this is dependent on the quality of the seeds, the growing medium, and several other factors.
Gorilla Glue Strain Yield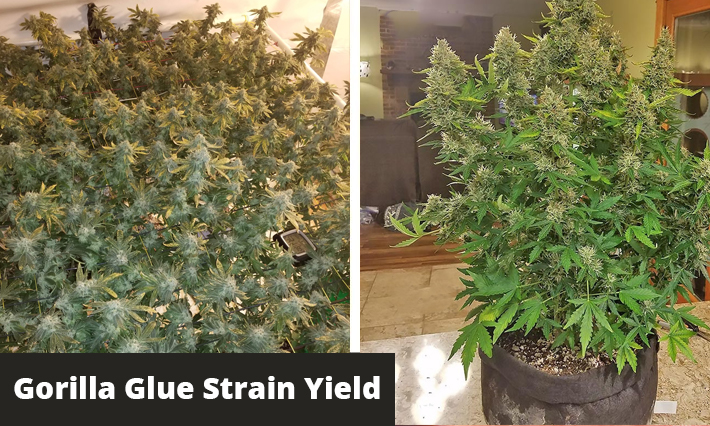 One plant of the Gorilla Glue strain can yield up to a pound and a half under the most ideal conditions.
Most home growers will be able to harvest at least two ounces of dried flower from one plant.
Naturally, harvest is widely dependent upon growing conditions.
How Tall Does Gorilla Glue Strain Grow?
Despite its Indica influence, Gorilla Glue plants tend to grow fairly tall.
This is especially true if grown outdoors. Most growers report their Gorilla Glue plants up to 80 inches tall, with most mature plants reaching around 50 or 60 inches.
How Long Does Gorilla Glue Strain Take To Flower?
As long as the growing conditions are favorable, Gorilla Glue plants take about 8 or 9 weeks to flower.
When grown indoors, experienced growers will recommend an 18 hour light cycle to encourage your Gorilla Glue plant to produce flower as quickly as possible.
What Are All Gorilla Glue Strains?
Although often imitated, the original Gorilla Glue breeders developed five related strains.
The as Vegas-based breeders GG Strains originally created GG4, also known as Original Glue, GG5, also known as New Glue, GG1, also known as Sister Glue, Purple Glue, and GlueChee.
Purple Glue is crossed with Purple Kush, and GlueChee is crossed with Cheese.
What Does Gorilla Glue Strain Smell Like?
Gorilla Glue has a classically earthy and piney aroma with a hint of spiciness.
The smell of your Gorilla Glue flower will depend on the lineage, as some buds will also have a diesel aroma with a hint of chocolate.
Most Gorilla Glue buds have a very pungent aroma that unmistakably smells like cannabis.
What Does Gorilla Glue Strain Taste Like?
Thanks to its Chocolate Diesel lineage, Gorilla Glue has a flavor of mocha, coffee, and a bit of clove on the inhale.
When exhaled, Gorilla Glue flowers have a diesel taste and a hint of sour.
The sour diesel taste stays on your pallet for a while after consumption.
What Does Gorilla Glue Strain Help With?
Because of its relatively low CBD content, Gorilla Glue typically isn't recommended for cancer patients or sufferers of epilepsy.
Thanks to its sedative Indica side, relaxing and euphoric effects, Gorilla Glue can help treat minor pain and insomnia.
Those who suffer from anxiety and depression can also be helped with Gorilla Glue, as it can make the consumer feel uplifted.
Is Gorilla Glue Strain Sticky?
Yes, the Gorilla Glue strain is incredibly sticky.
The strain gets its name from how sticky its buds are.
When handled with bare hands or with scissors when trimming, Gorilla Glue can cause things to get stuck together like actual glue.
Is Gorilla Glue Strain Laced?
Is Gorilla Glue Strain Exotic?
No, Gorilla Glue is not exotic – at least not anymore.
The now popular strain was perhaps exotic years ago when its breeders debuted it at the 2014 High Times Cannabis Cup.
However, the strain has since become widespread – so much so that the makers of the Gorilla Glue brand adhesive have filed claims of copyright infringement.
Where Can You Buy Gorilla Glue Seeds?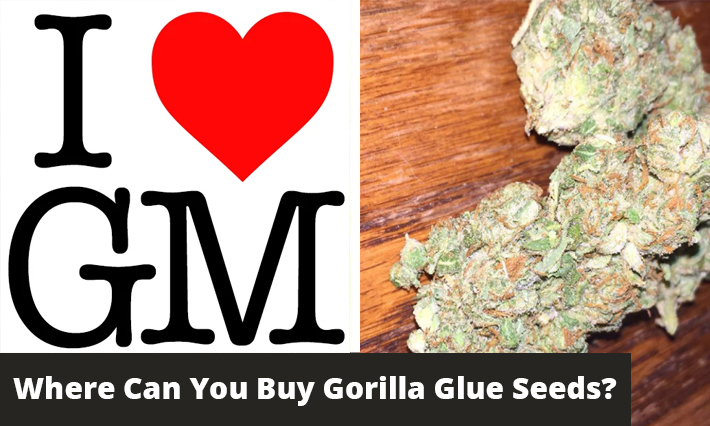 Gorilla Glue Seeds can be purchased from most dispensaries.
Popular online seed banks like ILGM and Seedsman also sell Gorilla Glue Seeds and offer fast and discreet shipping to the USA and Europe.
What Is The Best Gorilla Glue Strain?
The Gorilla Glue 4 strain is the most popular of the bunch, although this is opinion-based, of course.
Some consumers might prefer the purple influence of Purple Glue or the cheese influence of GlueChee.
It all depends on your preference.
Which Gorilla Glue Strain Is The Strongest?
The strongest of the Gorilla Glue strains is the Original Glue, also known as GG4.
When grown and cured properly GG4 is one of the most potent strains on the market today.
Some users have reported that their GG4 flowers reach up to 30% THC.
What Is Platinum Gorilla Glue Strain?
Platinum Gorilla Glue strain is an Indica-dominant hybrid of Original Glue and Platinum Kush that has an earthy and slightly fruity flavor and aroma.
This cross is said to have originated from Colorado, winning Cannabis Cup Awards dating back to 2014.
Consumers report feeling relaxed, euphoric, sleepy, and hungry after ingesting Platinum Gorilla Glue strain.
How To Grow Gorilla Glue Strain?
One of the main aspects of successfully growing Gorilla Glue strain is its light cycle.
The majority of growers agree that Gorilla Glue plants thrive with an 18-hour light cycle.
Gorilla Glue is one of the easier plants to grow, either indoors or outdoors, and can act as a good start for beginner home growers to get their feet wet.
When To Harvest Gorilla Glue?
After Gorilla Glue strain passes its vegetative stage and becomes a fully grown plant, it spends about 8 weeks in the flowering stage.
As a general rule of thumb, the best way to optimize the THC and CBD levels of your cannabis growing is to look at the trichomes under a magnifying glass.
Young trichome heads appear glassy and clear, mature trichome heads are milky white, and aging trichome heads are amber in color.
Is Gorilla Glue Hard To Grow?
Actually, Gorilla Glue is one of the easiest strains to grow.
This is thanks to its resilience to mold and pests as well as its adaptability to its growing environment.
Gorilla Glue is a good choice for first-time growers.