Are you looking for a grow light that you can use to effectively grow your plants? Many gardeners and plant experts may recommend an LED grow light. Not only are they super-efficient when it comes to your energy bill, but they are often designed to provide just the right amount of light and in the spectrum necessary for plants to thrive well.
Currently, one of the best LED grow lights on the market is the Swiftrans 24W LED Full Spectrum Grow Light Bulb. It is designed to help all levels of gardeners to receive optimal results from the plants, regardless of the type of plant.
As we continue to inspect this indoor garden light and the features it contains, you will quickly realize why we consider this product to be one of the best on the market today.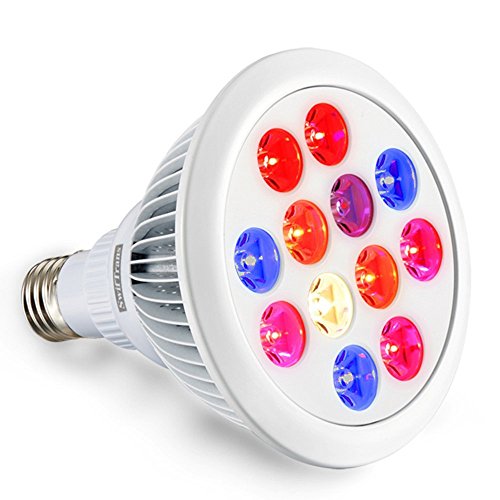 Features of Swiftrans 24W LED Full Spectrum Grow Light Bulb
Equipped with 12 different light beams, this Swiftrans grow light can grow just about any type of plant. It emits a full spectrum of light from the beams, including 460nm, 630nm, 660nm, 740nm and 2700K wavelengths. All these wavelengths are necessary as the light mimics the wavelength of the sun. So, no matter what stage your plants are at, these wavelengths will ensure they grow optimally.
It's very easy to set up too, and it fits your standard E27 or E26 sockets. You can easily put it in just about any desk lamp. There's no need to go out and buy a special lamp base. This way, you'll have no extra costs to think about as you provide the perfect lighting conditions for your plants.
The bulbs of this grow light have a very long life and incredible heat dissipation. With up to 50,000 hours of non-stop usage, you're sure to get your money's worth when you purchase this product. Moreover, this grow light is designed to distribute heat evenly across all bulbs, making sure that your plants close by won't get damaged because of the heat being given off.
Based on the name of the product, you may have realized that it has a power rating of 24W; this is quite low. However, you can rest assured that it has no bearing on the ability of the beams to effectively provide light for your crops. And, you'll be pleased to know that there is no radiation or other harmful side effects associated with using this product.
Able to effectively service up to 15 square feet of space, this grow light is a very good buy. You won't even have to worry about the beads overheating if the light is left turned on continuously for extended periods.  With so many astounding features, it's no wonder that we consider this one of the best products on the market today.
Although there are many great features of this Swiftrans Grow Light, there are a few disadvantages that cannot go unnoticed. Before you go ahead and purchase this product, check out the pros and cons below to see how they match up to the standards you seek.
Pros
The LED bulbs emit a mixture of white, blue and red light which is sufficient for the growth of most plants
It is very inexpensive but includes many high-end features
It has a very good lifespan expectancy, able to last up to 50,000 hours
There isn't a lot of heat emission from the bulbs, so it is less likely that your plants will get heat damage
The power rating is very low at just 24W, so the energy consumption won't be extremely high
It can provide light for up to 15 square feet of space
Your purchase will include an 18-month warranty and a 30-day money back guarantee
Cons
The bulb may interfere with radio reception
You only receive a bulb, so you may have to purchase a lamp to use it in
Summary
If you have a desk lamp sitting at home, not being used, or you had a grow light that was designed to look like a desk lamp, this product may be perfect for you. Although it is just a single bulb, this grow light has a lot to offer indoor gardeners. With this bulb, your plants can receive all the light they need to properly grow. Whether you have newly planted seeds, young plants or plants that are already flowering, these grow lights can help to maximize their potential.
One of the best things about this bulb is that it has a very affordable price tag even though it emits a full spectrum of light. If you're a seasoned gardener, you should know the advantages of having light with a full spectrum. If you're new to gardening, you'll love the progress your plant makes when you use this full-spectrum light. With so much to offer, you really should consider purchasing the Swiftrans 24W LED Full Spectrum Grow Light Bulb.