Looking for an LED grow light? We've reviewed all of the best LED grow lights in 2018 so you so you can find the perfect light for your budget and setup.
After researching and reviewing more than 30 LED grow lights, I can confidently say that the Viparspectra R-S 600w is the LED grow light that gives you the most value for your money. This budget friendly LED grow light is super powerful, outputs high amounts of PAR, and promotes great yields. In addition to this, the company has outstanding customer service, while customer reviews are very positive. Read more below.
Quick Picks - The 5 Best Grow Lights 2018
Note: Our detailed reviews are below, but you can also click the links above to read customer reviews on Amazon.
What Makes A Good LED Grow Light?
A good LED grow light is essential if you want to produce high quality buds. However, choosing the right light is no easy task. There are literally hundreds of options to choose from, and every light has different features.

Here are a few common features that you should look out for in a good LED grow light:
1. Full spectrum ( including IR and UV ) - A full spectrum LED grow light will give your plant every wavelength of light it requires to maximise photosynthesis. Lights with UV ( ultraviolet ) and IR (Infrared) will penetrate your plants deeper and give you bigger yields.
2. High actual wattage - Higher wattage means more Many grow light manufactures name their grow lights after the amount of LED chips inside. For example, a grow light with 60 10w LED chips might be called a 600w grow light, when it's actual wattage is only 400w. Make sure you look for the information that tells you what power of HPS grow light it compares to - this is it's the lights actual wattage.
3. High PAR output - PAR ( measured in umol/2/s ) is the spectrum of light that your plants use for photosynthesis, so you want to feed them a lot of it. Most good manufacturers will provide you with a chart showing you how much PAR your plants are getting at various heights. Between 200-400 umols is perfect for seedlings. Between 400-600 umols is perfect for late vegging cycles, and 700-900 umols is the perfect amount for flowering.
4. A good warranty - Make sure you pick a grow light with a warranty of 2-3 years. LEDs should last for more than 10 years, but having a decent warranty will give you peace of mind that if anything goes wrong, you will get a replacement or refund

5. Customer reviews - Always check for recent customer reviews. This will give you a great idea about how the light is currently performing,

6. Responsive customer service - This is vital. If something goes wrong with you're light, you want to have a company that will get back to you quickly and make things right. Check Amazon reviews to see how the manufacturer has replied to negative reviews.

7. Daisy chaining functionality - A very useful feature if you need to buy multiple lights. This functionality allows you to plug one light into another light so that you only need one power chord. Things makes it easier to hang your lights side-by-side, saves you energy and frees up space.
What Power of LED Grow Light Do I Need?
To calculate the power of grow light you need, you need to calculate the size of your grow space. In general, each square foot of grow space requires at least 50 watts of light. Therefore, if you have a 4 square foot grow space, you would need a grow light that was at least 200 watts.

Check out the table below to see some examples:
| | | |
| --- | --- | --- |
| Grow Space | Number of Watts Required | Number of Plants |
| 2 sq ft (2×1) | 100w minimum | 1-2 plants |
| 4 sq ft (2×2) | 200w minimum | 1-3 plants |
| 6 sq ft (2×3) | 300w minimum | 1-6 plants |
| 9 sq ft (3×3) | 450w minimum | 1-9 plants* |
| 12 sq ft (3×4) | 600w minimum | 1-12 plants* |
| 16 sq ft (4×4) | 800w minimum | 1-16 plants* |
| 20 sq ft (4×5) | 1000w minimum | 1-20 plants* |
* The size of the grow space in these situations will require you to purchase multiple lights to hang side-by-side to ensure the entire canopy is receiving light. In general, you should never grow more than 8 plants under one light.
The Best LED Grow Lights For Weed
LED grow lights come in all shapes, sizes and prices. Most of the LED grow lights that we feature below are not "high-end" LED grow lights that cost a fortune. We purposely chose grow lights that provide the best value for money. However, don't let the prices fool you. Every grow light on this list packs a punch and delivers excellent results.
We broke our reviews down into 5 main categories:

1. Best Value LED Grow Light
2. Best 1000w LED Grow Light
3. Best 600w LED Grow Light
4. Best 300w LED Grow Light
5. Best Budget LED Grow Light
Best Value LED Grow Lights 2018
These two grow lights are currently our two favourite led grow lights on the market.

Why did we pick two? Because these two lights are so popular that they are out of stock quite often, so if one is out of stock, you can always pick up the other.
The VIPARSPECTRA just beats the PHLIZON to top spot due to the extra power that it outputs ( meaning more penetration and bigger buds ) These two lights offer a grower everything they need to take a seed from germination to harvest and are backed by two very reliable manufacturers.

We think that a 600W led grow light is the "sweet spot" for an indoor grow of between 1-6 plants, and with LED grow light prices falling all the time, they have now become affordable for even those on a tight budget.
Best 1000w LED Grow Lights
Choosing a 1000w LED grow light means that you're looking for that extra little bit of power to really penetrate your plants with PAR ( the actual edible light your plant uses ) and maximise your yields. Our best 1000w grow lights were chosen after considering their specs, performance and value for money. We only pick grow lights that can back up their performance claims and come from reliable manufacturers.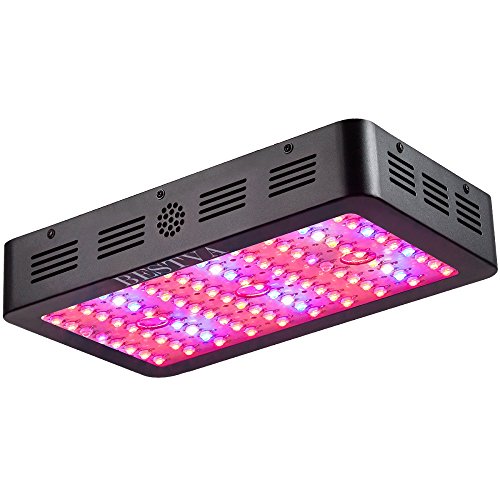 Dimensions:
​12.2 x 8.26 x 2.36 inches

Core coverage: 5.1ft x 4.7ft at 24"

Features:
- Replaces a 600w HPS
- Consumes 185 watts
- 3 Years Warranty
- 100,000 hrs lifespan
See ALL Best 600w LED Grow Lights >>>
Best 600w LED Grow Lights
A good 600w LED grow light should be able to take between 1- 6 cannabis plants from seedling ( or clone ) right the way through to harvest, producing excellent yield results. We've selected our top 3 best 600w grow lights based on their specs and performance compared to their price. All three lights featured below have been proven to back up their performance claims and come from reliable brands.
See ALL Best 600w LED Grow Lights >>>
Best 300w LED Grow Lights
A 300w LED Grow light is perfect if you're looking to grow one or two plants. Although these grow lights not might not penetrate your plants as well as more powerful lights, they will still do a great job and provide a good yield. Due to their value, many growers opt to purchase two 300w lights and hang them side by side to cover a larger area. These best 300w LED grow lights have been chosen based on their performance, specs and value for money. Each grow light below comes from a reliable manufacturer that does not make false claims about their lights performance.
See ALL Best 600w LED Grow Lights >>>
Best Budget LED Grow Light
If you're starting out with a super tight budget then we recommend that you focus on one plant at a time. Our top 3 best budget LED grow lights will all grow a single plant from seed right the way through to harvest. You might not get the best results from these lights due to their lower power, but they will get the job done. Each of our 3 choices below have been chosen based on their performance, power and price. Each light also comes from a trusted brand that is responsive to customer concerns, making it easy to get a full refund or replacement if you experience any issues.
See ALL Best 600w LED Grow Lights >>>
How To Choose The Right Light
Choosing the right grow light for your project can be frustrating. The best light depends on several factors such as the size of your grow space, the stage of your plants' life cycle, and your budget.
To ensure you pick the right light for your grow space, here are some key things to keep in mind:
The size of your grow space
There's no point picking a highly rated light if it won't fit your grow space.
If you haven't done so already, measure the dimensions of your space (length, width, and height). Knowing these measurements will help you figure out the size and power of the grow light you require ( see next step ), as well as how many you'll need to cover your space.
Important: If you have more than one plant, it's important not to place them too close to each other. For optimum yields, it's recommended that you leave a couple of inches "air space" between the plants. This will give them the space they need to grow.
Most of the lights on our list can be placed side by side or "daisy chained" together to cover larger grow areas.
The watts per sq/ft you require
Measuring wattage is one way to ensure that your light is strong enough for your grow space.
While it won't give you a precise measurement of the actual light your plants are consuming (you need PAR for that, which we discuss at the end of this article), it will give you a good idea of the power you require for a good yield.
If you're using an LED grow light, we recommend at least 50w per sq ft of grow space while flowering. For the vegetative stage, you'll need around half of that.
Find out how much power you need.
First, multiply the length and width of your grow space. Then, take this value and times it by 50. That's the minimum number of watts your grow space requires for optimal results.
Example: If your grow space 3 ft long and 3t wide, you would have a grow space area of 9 sq ft. Multiply 9 x 50 and you have 450. In this example you would want to purchase a grow light that produces at least 450 watts.
Of course, it is possible to grow cannabis with less than 50 watts per sq meter. However, you want your plants to produce awesome, potent buds. 50w per sq meter will help max out the photosynthesis process.
Final Thoughts
Picking an LED grow light can seem like a daunting task. However, as long as you go with a light that has good specs and is from a reputable brand with responsive customer service, you can't go too far wrong.
We hope that this article has helped you decide which LED grow light is best for your setup. If you enjoyed what you read, we'd really love if you gave this article a share!
Also, make sure you drop your comments, questions, and pics of your LED grow lights in the comments!