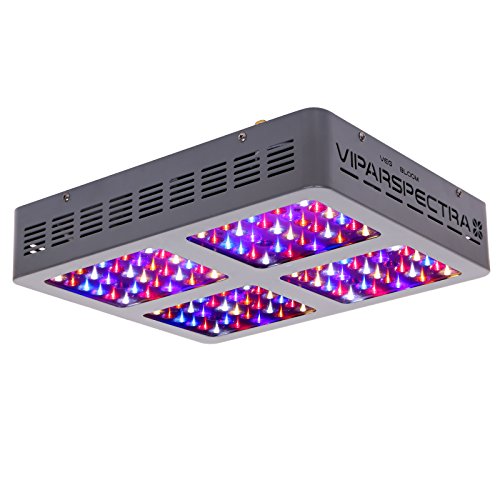 Model #:
V600

Veg Area Coverage: 
4 x 4 coverage at 24"
Flowering Area Coverage:
 3 x 3 at 24"
Power: 
Replaces up to 600 watt HID/HPS; Consumes 285 watts
Dimensions:
 11.8 x 14.1 x 3.5 inches
Warranty:
 3 years warranty + 30 days money back guarantee
Spectrum: 
Full spectrum (including UV & Infrared); 12 band spectrum
Weight:
 13.7 lbs
Lifespan:
 100,000 hours
Best for:
 Veg & Flower Stages
Price:
Check latest price on Amazon →
| PROS | CONS |
| --- | --- |
| Affordable price & reliable brand. | N/A |
| Daisy-chain outlets for combining multiple lights. | N/A |
| Full spectrum lightings including UV and Infrared. | N/A |
| Energy-efficient - uses only 269 watts of power! | N/A |
| Runs 70% lower heat than HID bulbs. | N/A |
Check latest price on Amazon →
VIPARSPECTRA Reflector Series 600w LED
With the explosion in popularity of home grows and the rise of the LED, it's no surprise the grow light market has become flooded. Many lights make unrealistic claims about performance, so it's important to do your research before buying.
Here at GreenBudGuru, we've tested and reviewed the best-rated lights so you don't have to. Today, we're going to be looking at the VIPARSPECTRA Reflector Series 600w LED grow light.
VIPARSPECTRA is a very popular grow light manufacturer. Their Reflector Series is a line of LEDs which feature built-in reflectors to direct the light towards your canopy (instead of around your grow room).
The V600 is one of their best selling models in the series. In this review, we're going to cover all the features of this incredible grow light, including:
Features & Build quality
Color Spectrum / PAR Output
Coverage at different stages of your grow
Warranty info
Quick review
Heads up! this review is a bit of a long one, so if you're short on time, here's a quick overview:
The V600 is an excellent grow light for the beginner to the semi-experienced grower. It provides all the power and light your plant needs from seed to harvest, while still being extremely energy efficient and affordable.
On top of that, VIPARSPECTRA is a very reputable company, offering a solid warranty and money-back guarantee. We love the V600 a lot and even awarded it "Best Overall Grow Light" in our Best Light for Growing Weed in 2018 guide.
Check latest price on Amazon →
Who is this light best for?
The VIPARSPECTRA Reflector Series 600w LED is a great light for a small home grow, but you can also hang several side-by-side for larger grow operations. The high PAR output and 12-band spectrum give growers everything they need to feed their plant, so you should consider it if you:
Want a single light that will work for both the veg and flower cycles.
Are planning a small indoor grow or a medium professional setup.
Want a quality grow light but don't want to spend an arm and a leg.
What's in the box?
The V600 comes with everything you need to get started as soon as you unpack it.
V600 LED grow light
6.5′ daisy chain cord
Hanging kit
User instructions
Power cord
Check latest price on Amazon →
Features & Build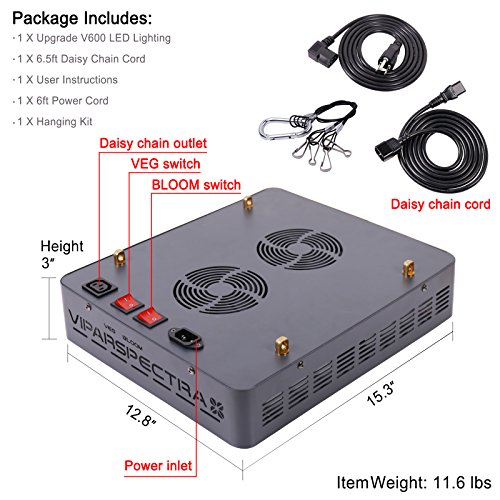 Excellent for heat dissipation
Investing in an LED light is a great way to cut the heat in your grow space since they run much cooler than HID or fluorescent lights. But that doesn't mean that all LED grow lights are equal when it comes to heat.
The VIPARSPECTRA Reflector Series 600w LED grow light runs an average of 70% cooler than an equivalent HID light. This is due to the 2 high-speed fans and aluminum construction that set it apart from competitors.
The best part? Even though the fans are very high powered, they run ultra quiet!
Energy efficient
A lot of new growers worry about how much their electrical bill will increase when they set up their first grow space. LEDs are a popular choice because of their energy efficiency, and this light is no exception!
The V600 can replace a 600w HID bulb, but only consumes an average of 269 watts. Because of the power options, which we'll discuss next, the true, consumed wattage can vary by 3% in either direction, but those numbers are still very impressive.
It also features an extended 100,000-hour lifespan, so it will last longer than other lights which just adds to how efficient it is!
Independent controls for both stages of growth
Two of the coolest features of the V600 are the individual controls that allow you to customize your lights output according to which stage of the grow cycle your plants are at. There are two switches on the back of the light: one for the vegetative stage of growth and another for the flowering stage.
The veg switch turns on about 1/2 of the lights with the correct red:blue spectrum ratio required for the veg stage. The bloom switch turns on the other 1/2 of LED lights, which are perfect for the flowering stage.
Most people choose to use the VEG switch for veg and both switches (to increase PAR) for flowering.
High-quality LED bulbs
VIPARSPECTRA uses high-intensity 5-watt LED bulbs from well-known companies that have excellent reputations for producing high-quality products.
Check latest price on Amazon →
Spectrum/PAR Output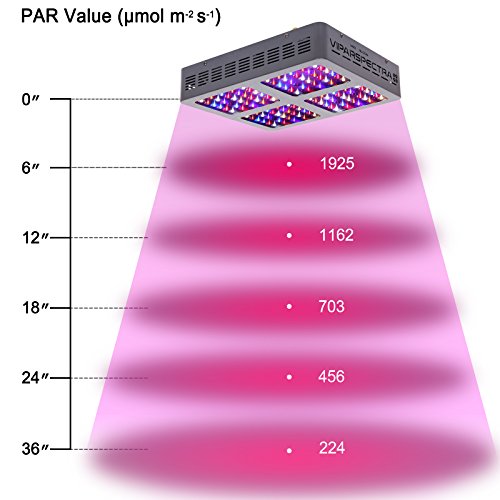 Spectrum
In order to call a light "full spectrum", it must feature more than just red and blue LEDs. Many companies will attempt to exploit this rule by adding a few white LEDs to a standard red/blue light.
VIPARSPECTRA doesn't skimp when it comes to their full spectrum lights, though, and the V600 features 12 bands of light across 120 LEDs, including UV and Infrared lights. That means your plant will get a robust diet of healthy light at every stage of growth.
PAR Output
Just like not all food is healthy for the human body, not all light is healthy for your cannabis plant. The PAR output of a light source tells us how much of the light is actually providing healthy food to your plant.
Examining the PAR output of the VIPARSPECTRA Reflector Series 600w LED gives us one more reason to love this light. The company provides us with a clear explanation of the PAR value at various heights, so you can make sure your plant is getting the right amount of food every step of the way.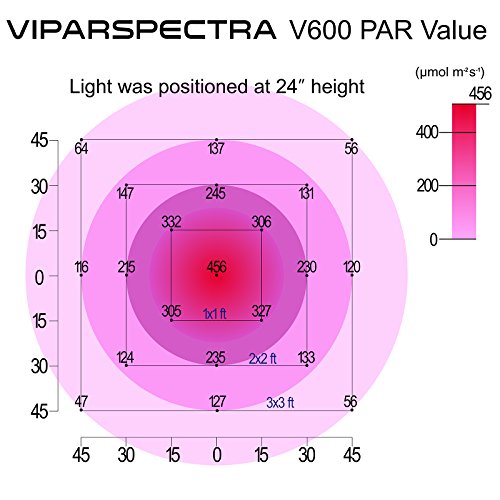 Note: Plants in the early part of the veg stage need a lower PAR value (generally between 200 and 400). As they grow, the PAR should increase (around 400 to 600), and flowering plants should get the highest PAR (600-900).
The PAR values listed in the image above show the value if your plant is directly under that spot. So if you want your plant to be getting about 500 PAR, you'd want it directly under this light about 22" away.
This light can easily provide one plant a PAR value of 900+ during its flower stage, which means you can expect thick, dense buds and strong trichs. (It also means your plant can get flooded with too much light, so make sure you're looking for signs like burned tips and yellowish leafs.
Check latest price on Amazon →
Coverage
Just one V600 grow light can cover a 4' x 4' grow area during the veg stage. That number goes a little during the flower stage, but can still cover a 3' x 3' area. This amount of coverage is plenty for a small grow setup with a few plants.
If you need to light a larger space and want to maximize the PAR Output in your grow space, you can also buy multiples of this light and daisy-chain them together. Daisy chaining allows you to plug one cord into your light and run it directly to a second light, like a link, which allows you to minimize the number of cords running in and out of your grow space.
Need something a little stronger? A little smaller?
Don't worry, VIPARSPECTRA has you covered! This light is the middle size of their Reflector Series, so you have options. Here is a comparison chart of the lights in this product line:
No matter what your needs, VIPARSPECTRA has you covered, and we're sure you won't regret investing in one of these incredible lights.
Check latest price on Amazon →
Our Verdict
It's hard to find a bad thing to say about the VIPARSPECTRA Reflector Series 600w LED grow light. We love nearly every aspect of this light… and based on the Amazon reviews, lots of people agree with us!
For a relatively low cost, you get:
12 bands of high-PAR light that provides excellent, healthy food for your plant.
2 high-speed fans and aluminum construction that keeps the heat low in your grow room.
Independent switches for each stage of your plants grow cycle.
Easy, flexible options if you need more power.
Warranty information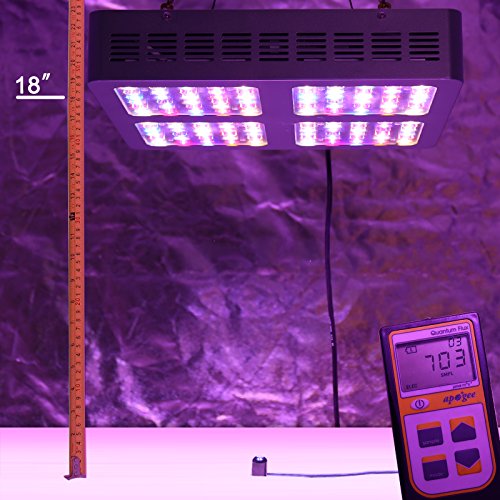 Buying a light from VIPARSPECTRA comes with the added comfort of knowing you're getting a quality brand. The company is one of the most popular manufacturers of lights for indoor cannabis growing and has been a fan favorite for years.
They also back their products with a decent warranty! This light comes with a 3-year warranty AND a 30-day money back guarantee, so you can rest easy that you're covered in the rare event that anything goes wrong.
Let us know what you think!
Did you decide to buy the VIPARSPECTRA Reflector Series 600w LED grow light? If so, drop a picture in the comments of your grow space so we can see this light in action! And, as always, make sure you share this review with your friends!
Happy growing!