Features
Veg Area Coverage:
4 x 4 coverage at 24"
Flowering Area Coverage:
3 x 3 at 24"
Power:
Replaces up to 600 watt HID/HPS; Consumes 270 watts
Dimensions:
20 x 15 x 5 inches
Warranty:
3 years warranty + 30 days money back guarantee
Spectrum:
Full spectrum (including UV & Infrared)
Weight:
13.25 lbs
Lifespan:
100,000 hours
Best for:
Veg & Flower Stages
Price:
Check latest price on Amazon →
VIVOSUN 600w LED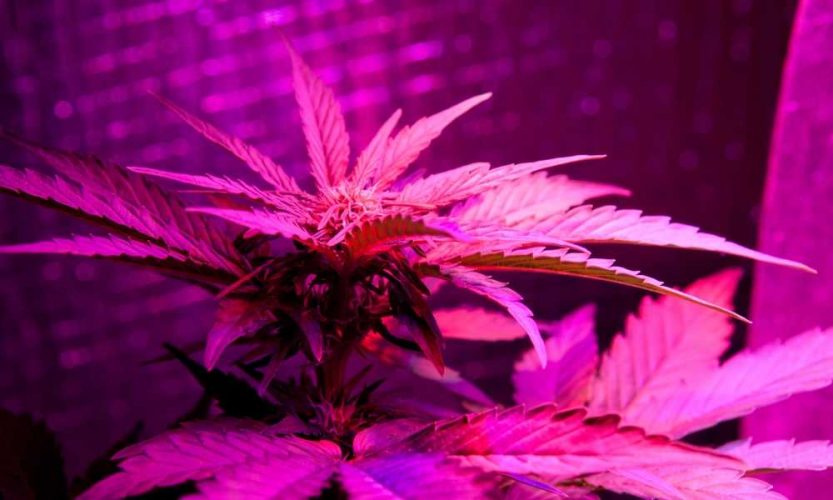 As more people decide to grow their own marijuana at home, LED grow lights are becoming extremely popular. And it's no surprise, since LEDs offer an affordable way to give your plant all the edible light they need to achieve big, dense yields.
So it makes sense to see VIVOSUN, a popular name in grow tents, expand their talents to include LEDs. The VIVOSUN 600w LED is the first of its kind from the company, and we're excited to review it for you today!
We love the VIVOSUN line of grow tents, so we have really high (pun intended) expectations for this 600w. Today we're going to review:
Features & Build Quality
Color Spectrum/PAR Value
Coverage
Warranty
…and much more! Let's get started!
Quick review
Heads up! This article is a little on the long side. If you're short on time, here's a quick overview for you:
Here's what we love most about this light:
This 600w definitely gets a reliability boost by having the VIVOSUN label, but its merits speak for themselves. Here's what you can expect when you buy this light:
All the power you'd expect from the VIVOSUN brand
Exactly the right kinds of light for each stage of your plant's life
Solid, sturdy construction focused on keeping heat low
Excellent customer service and support
We love this light… we even included it in our Best Light for Growing Weed in 2018 guide. It took home the 3rd Place title in our Best Overall Grow Light category, only missing out because it's so new and we don't know how well it will stand the test of time.
Who is this light best for?
The VIVOSUN 600w LED grow light has everything an in-home grower needs, from the 12-band, full-spectrum lighting to the solid construction and high-speed fans for heat dissipation. This light is a great choice if you:
Want a single light that will last from seed to harvest
Need the best quality possible but don't want to spend an arm and a leg
Plan to daisy chain multiple lights together for a mid-size grow operation
Want to increase the average yield for your plants
Check latest price on Amazon →
What's in the box?
This model comes with everything you need, straight out of the box:
600W LED Lighting System
Carabiner Hanging Kit
6ft Power Cord
User Manual
Features & Build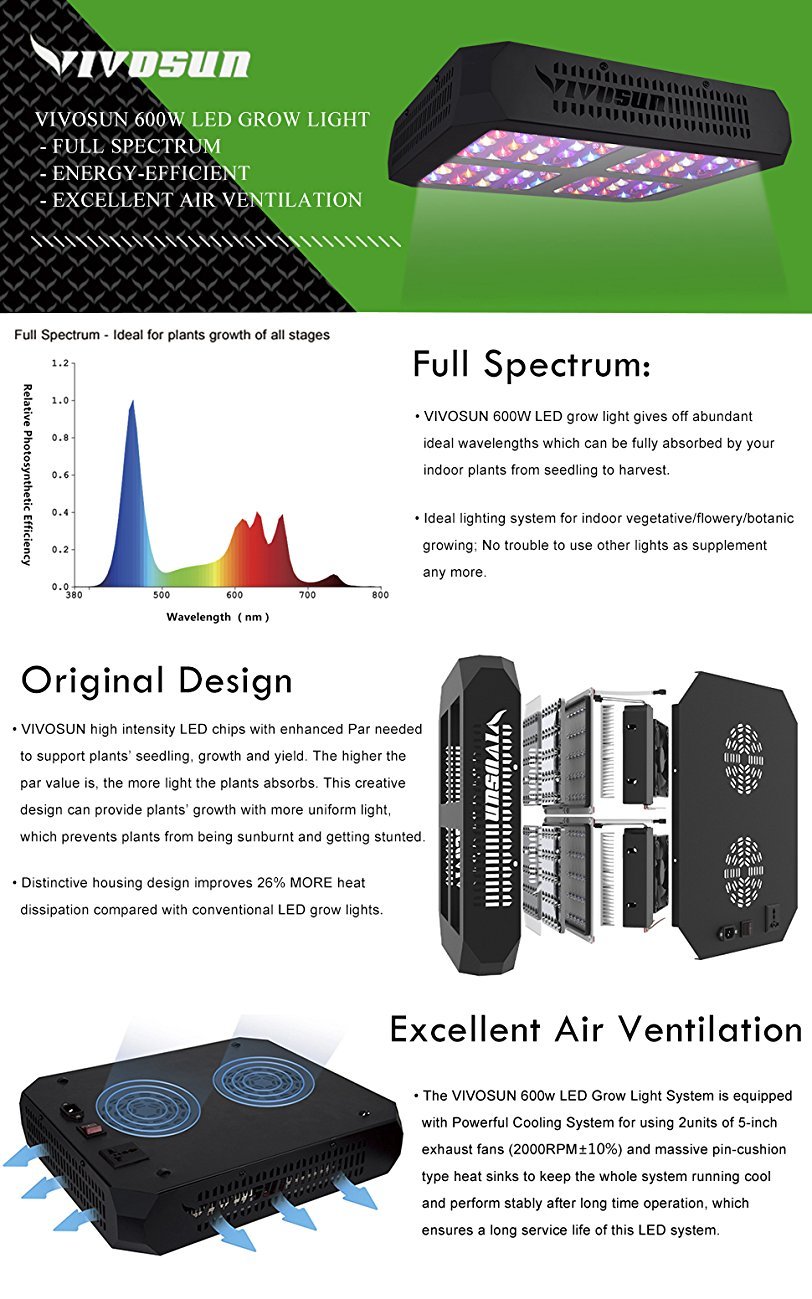 Outstanding ventilation
If you're growing in a mylar-lined, reflective tent, you have to pay special attention to the heat your lights produce. Bulbs that are too hot can burn or bleach your plants, stunting their growth and also increase the risk of fire.
LED lights are known for being the coolest, compared with HID/HPS and fluorescents, but can still create too much heat for a grow tent. VIVOSUN obviously considered that when they were building the VIVOSUN 600w LED.
On the top panel of this 600w light are two large exhaust fans, each 5" in diameter, to circulate and cool the air. The unique construction of this LED allows air to move out the sides of the fan instead of pushing heat downward onto the plants.
Together, those features allow this fan to run roughly 26% cooler than standard LEDs! The sturdy construction and high-quality materials also add to our love for this light!
Energy efficient
Many first-time growers worry about how much their energy bill will increase when they start growing. Fluorescent lights and HIDs are notorious for using a high amount of energy, but LEDs are much more efficient.
With the VIVOSUN 600w LED grow light, you can replace a 600w HID/HPS light, but only use an average of 270 watts of power. It also features an extended 100,000 hour projected lifespan, which means it will last longer and save you money on replacements.
Brand recognition
Normally we'd have a really hard time recommending a grow light from a company with zero experience in LED lighting. But VIVOSUN stands out from the crowd for two reasons:
First, the company is known for being among the best in the industry for indoor grow tents. They have a longstanding reputation for high quality, affordable products and excellent customer service.
Second, they are offering a generous, 3-year warranty on this product along with a 30-day hassle-free return policy and 24/7 customer support. This means you're covered if some unknown problem sneaks up a couple years down the road, which is a nice reassurance.
Check latest price on Amazon →
Spectrum/PAR Output
Spectrum
Science tells us that there are 12 specific bands of color that are healthiest for cannabis plants.
Many low-cost grow lights only feature the red and blue bands, because those provide essential food that your plants can't live without. The best lights, however, will have LEDs in all 12 spectrum colors.
Think of it like providing your plant with a 12 course meal instead of just warming up some mac and cheese. The VIVOSUN 600w LED grow light feeds your plant a whole diet of full-spectrum light, which will help it grow stronger, fuller buds and larger yields.
Among those 12 bands are UV and Infrared lights, both of which provide specific necessary benefits to your plant. UV light waves are known for creating bigger, thicker buds, while Infrared lights keep your plant low and more manageable for indoor grow spaces.
In all, the spectrum of this VIVOSUN LED is absolutely perfect to take your plants from seed to harvest!
PAR
PAR stands for Photosynthetic Active Radiation; It is the measure of usable light at a given space. The higher the PAR value of a light, the more healthy, edible wavelengths it provides to your growing plant.
Plants thrive first under lower PAR values (200-400) during its first few weeks of the veg cycle, but need a higher PAR as they grow. A thriving plant in the veg stage needs a PAR between 400 and 600, and a flowering plant needs between 600 and 900 PAR.
VIVOSUN proves once again that they understand every aspect of in-home growing because they have provided us with detailed info about the PAR for this light. At 18" from the plant, we can use the above diagram to determine exactly how much PAR your plant will receive.
The center point PAR at 18" is only 584, which isn't quite high enough for flowering, so you'll want to keep the plant closer to the light during flower to increase the PAR it's receiving. Be wary of keeping the light too close, though, to avoid burning or bleaching the leaves.
Check latest price on Amazon →
Coverage
During the vegetative stage, this light can cover an entire 4' by 4' grow tent. The size decreases to 3' by 3' during the flower stage. If you need a high PAR throughout your tent, you might want to consider buying two of these lights and using the convenient daisy chain feature to link them in your grow space.
Not quite sold on this one?
While there are a lot of great features about this powerful 600w LED, it might not be the right fit for everyone. If you like this one but aren't quite sold, we recommend the VIPARSPECTRA Reflector Series 600w LED which beat out the VIVOSUN in our Best Light for Growing Weed in 2018 guide for Best Overall Grow Light.
Warranty information
When shopping for LEDs, it's a very good idea to compare warranties. Most LEDs will last between 5 and 10 years, but they're also very costly to replace if something goes wrong. A warranty promises that you're covered in case of an unexpected breakdown.
A solid warranty is even more important in this case, since we don't have any long-term info about the VIVOSUN. We have faith in the brand, but there are a few pieces of the warranty that we especially love:
30-day hassle-free return policy
3-year warranty
24/7 customer support
Once again, VIVOSUN goes above and beyond by providing triple-layer protection for its customers. With a warranty like this one, you can rest easy knowing that your investment is covered!
Check latest price on Amazon →
Our Verdict
When it's all said and done, we really like the VIVOSUN 600w LED grow light and we think you will too. It has everything that you need to feed your plant a healthy diet for its whole life. And it's very affordable compared against comparable models.
The sturdy frame is specially designed to keep the heat low and features every single color of light your plant will need. Purchasing this light also comes with the amazing reputation of the VIVOSUN brand.
We recommend this light for any grower who wants a very high quality light but doesn't want to spend a ton of money. Mid-size growers could also use the low cost of this light as an inexpensive opportunity to buy multiple lights and daisy chain them together.
Let us know what you think!
Did you decide on the VIVOSUN 600w LED grow light? If so, we want to see your setup! Take a picture of your grow and drop it in the comments along with your review. And make sure you share this review with your friends!
Happy growing!