If you are curious about the White Runtz strain of cannabis, you have come to the right place. In this article, we discuss where the White Runtz strain originates, some of its most notable characteristics, and provide interested growers with details on how to cultivate this heavy-hitting strain.
Buying Seeds Online? Don't get scammed! Check out my in-depth guide on the best seed banks to order from that are 100% safe and reliable.
White Runtz Strain (At a glance)
Effects: Relaxed, Happy, Euphoric
Helps With: Anxiety, Stress, Depression
Indoor Yield: 14-16 oz/m2
Outdoor Yield: 18 ounces per plant
Flowering Time: 8-9 weeks
Outdoor Harvest Time: Late October
THC Content: 23%
CBD Content: N/A
Indoor Plant Height: Average
Outdoor Plant Height: N/A
Grow Difficulty: N/A
Genetics: Gelato, Zkittlez
Flavors: Candy, Citrus, Fruity, Sour, Sweet
Best place to buy seeds: Seedsman
Where To Buy White Runtz Seeds
>Sorry, not available.
White Runtz History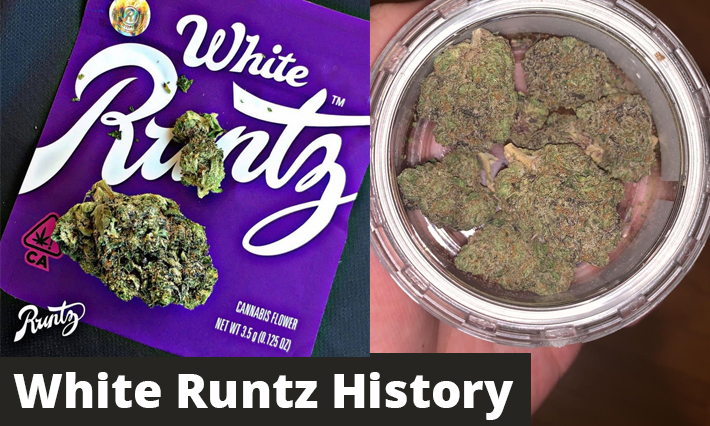 Below, we answer some of the most common questions about the history of White Runtz
What Is White Runtz?
White Runtz is a strain of cannabis that has its origins in California.
Many cannabis connoisseurs are drawn to this strain because it offers the relaxing body buzz of Indica along with the creative head high of Sativa.
What Does White Runtz Mean?
White Runtz is a term used to describe a specific cultivar of cannabis.
White Runtz likely got its namesake from the Runtz hard candy, which is produced by the Wonka Candy Company, owned by Nestle.
The name comes from the fact that White Runtz tastes sweet and fruity when smoked, like the candy.
When Was White Runtz Strain Created?
It is hard to pinpoint when the White Runtz strain was created, but it was likely sometime around 2014.
The classic strain parents of White Runtz have set this highly sought-after strain apart from the rest, making it a favorite of a lot of cannabis consumers.
Where Does White Runtz Come From?
Two well-known and respected breeders of the Cookies and the Runtz brands came together to create the White Runtz strain.
Like so many other excellent strains, White Runtz originates from the San Francisco Bay Area in California.
What Strain Is White Runtz?
White Runtz is a 50/50 hybrid of Indica and Sativa.
This strain has an impressive lineage, with its parents being the well-known classic strains Gelato and Zkittles.
White Runtz Characteristics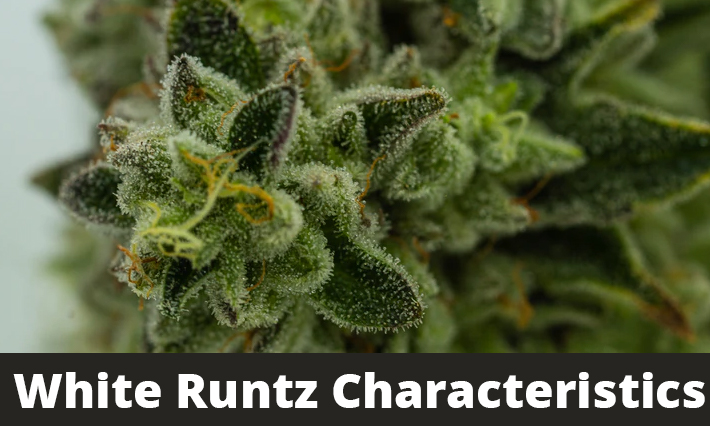 Let's take a look at some of the most common questions about White Runtz's characteristics.
How much THC is in White Runtz?
White Runtz is a relatively heavy-hitting strain, with some flowers found on dispensary shelves reaching up to 23% THC.
The lowest THC content of White Runtz puts it around 18%, which is still respectable.
Like other cannabis products, the cannabinoid content of the White Runtz strain is entirely dependent on the grower and the dispensary you purchase it from.
How much CBD is in White Runtz?
White Runtz is a strain with a very low CBD content.
The majority of White Runtz cannabis products have less than 1% CBD content, and often are reported as having 0% CBD, or absolutely none at all.
What Are The Effects Of White Runtz?
Being a 50/50 cross of Indica and Sativa, White Runtz offers a nicely balanced effect.
Consumers enjoy the feeling of relaxation and calm, coupled with talkativeness and dizziness.
This is a strain that could be used either during the day for conversation and socializing, or for pain relief and to help you wind down in the evening.
What Terpenes Are In White Runtz?
Living up to its name, the most abundant terpene in White Runtz is limonene, which gives this strain its delightful candy fruit taste.
Also present in White Runtz are the terpenes linalool and caryophyllene.
The linalool terpene gives White Runtz attractive hints of earthiness and flowers, while caryophyllene leaves subtle notes of spiciness and diesel on the smoker's tongue.
Is White Runtz Strong?
Even though some buds of the White Runtz strain sold in dispensaries can be as low as 18%, most users seem to share the opinion that it possesses a high potency.
This strong, high potency is likely thanks to the strain's lineage and its 50/50 Sativa and Indica cross.
Is White Runtz Top Shelf?
White Runtz was highly popular about 4 or 5 years ago.
Since then, it has seemed to drop off and become hard to find.
Since White Runtz is both deliciously tasting and extremely difficult to find, this strain is one of the highest premium choices on the market today – if it can be found in the market at all.
Is White Runtz Indica Or Sativa?
White Runtz is both Indica and Sativa.
This excellent strain is a 50/50 hybrid of both of the two varieties, thanks to its parents Gelato and Zkittles.
Two top-tier California breeders of the brands Cookies and Runtz collaborated to create the White Runtz strain.
Is White Runtz Exotic?
White Runtz was highly sought after in California up until 2019 but seems to have fallen off the map a bit since, making this a rare strain.
So, the answer is yes – White Runtz is a very exotic strain, mainly because it is so difficult to find nowadays, even in California.
White Runtz Grow Info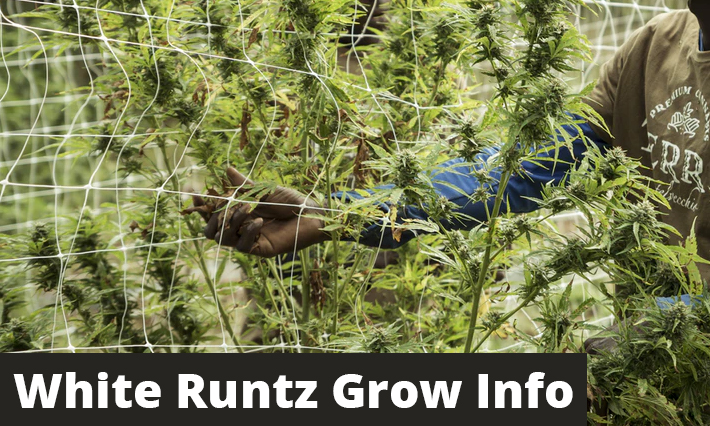 Below, we answer some of the most common questions about growing White Runtz.
Is White Runtz Hard To Grow?
White Runtz is notoriously hard to find, and therefore is also hard to grow.
This is because little is known about how to grow this rare strain outside of its breeders in California.
Can You Grow White Runtz Outside?
Because it's both an Indica and Sativa, White Runtz can grow almost as well outside as it can inside.
White Runtz plants don't do well with excess humidity, most often leading to mold if the plants are exposed to climates that are too humid.
One of the ways to avoid mold is to keep your plants well-trimmed and pruned and remove excess leaves.
How Tall Does White Runtz Get?
Most White Runtz plants reach average heights, usually around four inches.
However, if grown outdoors in the right conditions, White Runtz plants can reach up to six feet – which is why it's important to regularly trim your plants.
Is White Runtz An Autoflower?
Because so little is known about how to grow White Runtz, there are few autoflower seeds available for this exotic strain.
In fact, many growers are thankful to be able to acquire White Runtz seeds at all.
How Long Does White Runtz Take To Germinate?
Like most 50/50 hybrid strains with very stable genetics, White Runtz seeds won't take long to germinate.
When using the wet paper towel method, White Runtz seeds take about 2-3 days to sprout seedlings and be ready for a transplant to a larger flower pot.
How Long Does White Runtz Take To Flower?
Thanks to its stable genetics from its classic lineage, White Runtz plants will usually flower quickly.
Most White Runtz growers say that their plants will develop thick and mature flower and buds in 4-6 weeks.
How Long Does It Take To Grow White Runtz?
From seed to harvest, the White Runtz strain takes about two and a half months to grow.
Of course, this is dependent on where you get your White Runtz seeds (if you can get them at all), the climate of where you live, and the growing medium of the White Runtz strain.
When To Plant White Runtz?
When growing outdoors in warm climates, you'll want to plant your seeds of the White Runtz strain, no later than mid-July.
The White Runtz strain does fairly well in colder climates, as long as you plant outdoors in June – otherwise, you could risk your plants growing frost.
How To Harvest White Runtz?
When grown indoors, the White Runtz strain is usually harvested in about 8-10 weeks.
With outdoor growing for White Runtz, most growers harvest their plants in mid-October for warm climates.
How Much Are White Runtz Seeds?
Because they are so difficult to find, it's next to impossible to say who has the best White Runtz seeds.
However, growers that have been fortunate enough to find White Runtz seeds say that they can cost a pretty penny – sometimes up to $40 or more for a 10-pack.
Who Has The Best White Runtz Seeds?
Due to the rarity of the White Runtz, growers will often jump at the chance to buy seeds of this strain from just about any seed bank.
With that in mind, some of the most popular weed seed banks in 2021 include Seed City, Nirvana Shop, Sensi Seeds, and Barney's Farm.
Conclusion
As you can see, the rare and exotic White Runtz strain is highly sought after for a reason.
Its relative ease of growing, its delicious flavor, and highly pleasant effects make the White Runtz strain one of the favorites of many true cannabis connoisseurs.