Gelato is a near-perfect hybrid that provides a balance of Indica and Sativa highs, making it a popular strain for weed lovers.
Gelato was on top of Leafly's search volume and was named "Leafly's Strain of the Year" in 2018. Surprisingly, online users spent nearly 435,000 hours looking at the details and availability of this strain in November alone.
Want to know what makes this strain so unique? This list will answer some common questions about Gelato, including its taste, aroma, THC levels, and how to grow it.
Let's get into it!
Gelato Strain (Key Info)
Effects: Relaxed, Happy, Euphoric
Helps With: Stress, Depression, Pain
Indoor Yield: 600g/m2
Outdoor Yield: 1000g/plant
Flowering Time: 9 weeks
Outdoor Harvest Time: Mid October
THC Content: 25%
CBD Content: 0.1%
Indoor Plant Height: Medium
Grow Difficulty: Hard
Genetics: sunset sherbet , thin mint girl scout cookies
Flavors: Sweet, Pungent, Berry
Best place to buy seeds: Seedsman.com
Where To Buy Gelato Seeds
Free Cannabis Seeds? Check out my list of the best seed bank promotions – Including FREE Seeds, discount codes, and giveaways!
Where Does Gelato Come from?
Gelato is a hybrid strain that comes from Northern California. It is a cross between Sunset Sherbet and Thin Mint Girl Scout Cookies.
Who Created Gelato Strain?
Gelato strain was originally created from a deep bank of genetics by the Cookie Family, the Sherbinskis family, and cultivator Mario Guzman.
It was first cultivated in the Bay Area of Northern California.
When did Gelato come out?
Nobody knows when the first Gelato phenotype came out.
Its temporal dimensions are a big question mark.
How does Gelato make you feel?
Gelato seems like a sweet name but does not be deceived by its fun face as it provides a powerful punch usually described as a "forceful experience of blissful euphoria and physical relaxation that can be quite the ride."
Its effects are almost instant, and you feel them before even exhaling it.
Gelato causes an altered perception and confusion along with a palpable body buzz and head rush.
Time dilation and sound sensitivity are also experienced by many of its users without the couch-lock.
Is Gelato Sativa or Indica?
Although Gelato is a hybrid, it is predominantly an Indica-dominant cannabis strain. The Sativa/Indica ratio comes up to 45%/55%.
What is Gelato THC level?
The THC level in Gelato is considerably higher than other strains, ranging from 20% to 25%.
What is Gelato CBD level?
Gelato possesses very little CBD like most marijuana strains, ranging from 0.1% to 1.59%.
Is Gelato Strong?
Yes, Gelato is very potent and provides a solid high even for more experienced cannabis users.
However, novice users need to regulate their consumption according to their THC tolerance levels because the intense cerebral effects may even cause a deeply paranoid mindset.
Is Gelato Top Shelf?
Yes, Gelato is usually top shelf as its seeds are not commercially available, and those intending on cultivating should consider plant trimmings to grow clones.
However, a cultivation process not undertaken aptly can prevent it from being top-shelf.
Is Gelato Exotic?
Yes, Gelato is exotic because potential cultivators of this strain need to obtain certified Gelato clones from Cookies for its propagation as clones or seeds of Sherbinksis' Gelato phenotypes are not available for sale.
Therefore, it is not only rarely available but also possesses distinguishing qualities.
What Strains Are Similar To Gelato?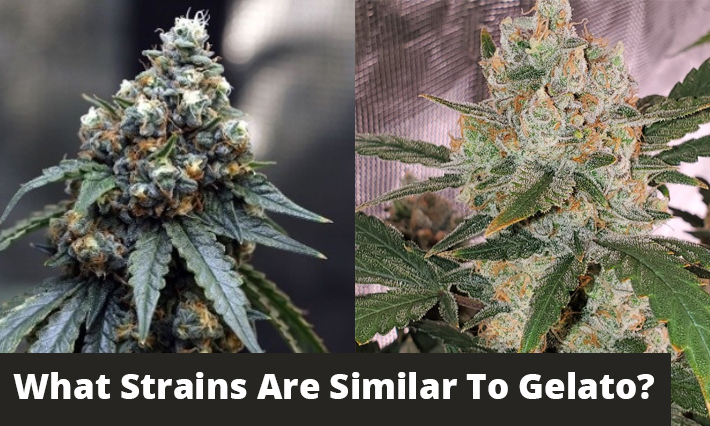 Gelato is a near-perfect hybrid strain that offers the best of both worlds. It produces a cerebral high with a relaxing buzz on the afterburn.
You should opt for hybrid strains if you are looking for a similar experience.
Strains similar to Gelato may include:
OG Kush
Chemdawg
Wedding Cake
White Widow
What Does Gelato Taste Like?
Gelato tastes like a concoction of the fruity and smooth appeal of Sunset Sherbet and the earthy, herbal goodness of Thin Mints.
This strain is very delicious and even has undertones of creamy blueberry and orange flavors.
What does Gelato Smell like?
Gelato has a sweet and fruity smell with traces of lavender, berries, and citrus.
Does Gelato Smell Like Gas?
Gelato does not smell like gas once fully grown but is quite intense during the growth process and requires control measures like air filters or exhaust fans if grown indoors.
Why is Gelato So Popular?
Gelato is very popular and is one of the most potent cannabis strains. Its delicious flavor is another factor that adds to its fame.
Is Gelato Kush?
Gelato is not a Kush strain. However, one Gelato phenotype can be considered a Kush strain.
It is called Gelato Kush.
Gelato Grow Info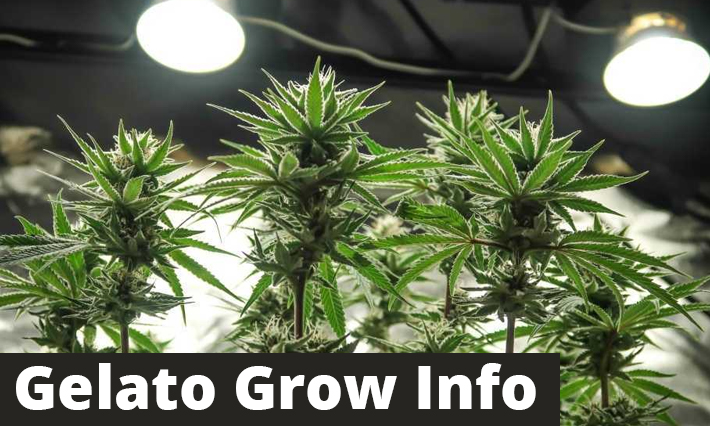 Gelato can be grown outdoors or indoors, but outdoor cultivation comes with the prerequisite of warm and humid conditions of about 75 degrees Fahrenheit.
On the other hand, the medium-height plants of this strain can be more easily grown indoors as conditions can be conveniently controlled.
Growing this strain is, however, an arduous task as each phenotype expresses different growth characteristics.
How much does Gelato yield?
There is not much information available about the yield of this strain, but since its parent strains both have higher than average yields, one can make an educated guess that the same applies to it as well.
Is Gelato Easy to Grow?
Gelato is not an easy strain to grow and is not necessarily recommended for novices. Apart from the growing process, finding its seeds is a difficult task as well.
How Long Does Gelato Take to Grow?
When grown indoors, a Gelato plant takes about 8 to 9 weeks to grow.
How Tall Does Gelato Grow?
Gelato grows from about 1.2m to 1.8m which is a reasonable height for a strain with this level of Sativa genetics.
Is Gelato Mold Resistant?
Although high humidity can risk the growth of mold, Gelato is fairly mold and disease resistant.
When Should You Harvest Gelato?
If grown outdoors, Gelato can be harvested by mid-October in the Northern Hemisphere and mid-March in the Southern Hemisphere.
Does Gelato Turn Purple?
Gelato can turn purple, and you can unleash its full purple potential by exposing the plant to colder temperatures just before the flowering period. This stimulates the anthocyanin pigments, which produce purple coloration.
How Does Gelato Compare To Other Strains?
Gelato vs. Gelato 33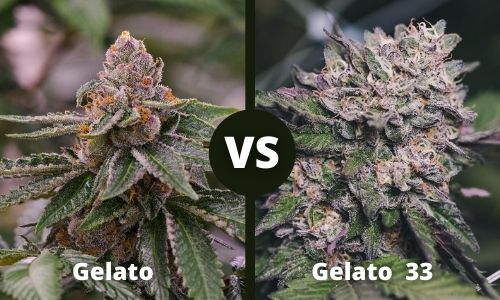 Several phenotypes with their characteristics have been released since the development of Gelato, one of which is Gelato 33.
Gelato 33 possesses numerous characteristics similar to that of Gelato, such as parent strains and effects on users.
However, Gelato 33 is a balanced hybrid with 50% Sativa and 50% Indica with a distinctive taste of sweet caramel, cinnamon, musk, and flowers.
It also has almost the same levels of THC as Gelato.
Gelato vs. Runtz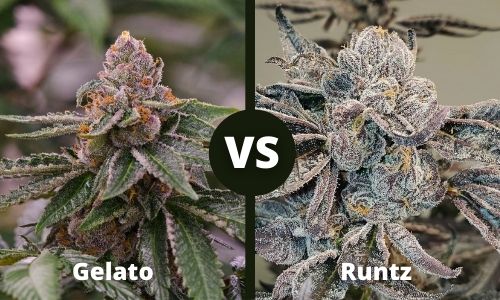 Runtz is a hybrid marijuana strain made by crossing Zkittlez and Gelato.
It was named Leafly Strain of the Year in 2020 and is as rare as Gelato. Both strains have a sweet and smooth flavor and produce almost similar effects, including euphoria, mood enhancement, energy boost, and serenity.
However, Runtz has a much higher THC content (about 25%) than Gelato and is more potent.
It is also slightly taller than Gelato and has a high yield of about 400–450g/plant outdoors.
Gelato vs. Wedding Cake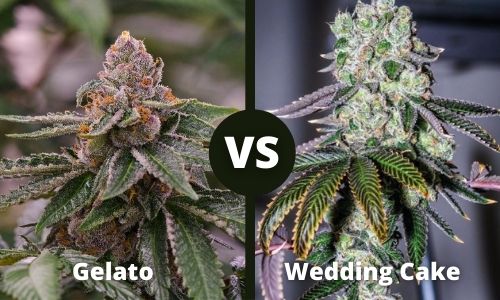 Both Gelato and Wedding Cake are hybrids, but Wedding Cake is made from girl scout cookies and cherry pie.
Both have a sweet and pungent taste, but Gelato tilts a little towards berry flavor and Wedding Cake towards earthy and vanilla tones.
Both these strains have almost similar mood uplifting, joy-inducing, and euphoric effects.
However, wedding Cake has a THC content as high as Gelato, and thus both should be approached with an extra slice of care.
Wedding Cake has a similar flowering time as Gelato (7-9 weeks) and yields about 18-21 ounces per square foot indoors.
Check out my full Wedding Cake Strain Review (& Grow Info)
Gelato vs. Gorilla Glue #4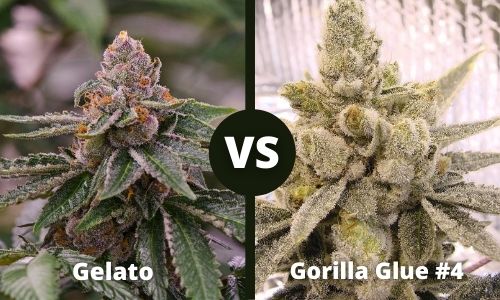 Gorilla Glue differs from Gelato as it has chem's sister and chocolate diesel as parent strains and possesses a pungent, earthy, and piney flavor.
Both strains work great in improving mood and happiness, but Gorilla Glue induces hunger along with heavy-handed euphoria and relaxation, which literally "glues" users to the couch.
It is easier to grow than Gelato and yields about 18 ounces per square meter indoors and up to 21 ounces per plant outdoors.