Growing cannabis indoors doesn't have to be difficult or time-consuming.
There are several ways you can simplify your grow operation and make growing weed a lot easier.
Using grow tents is definitely one of them.
However, choosing the right grow tent for your needs is no easy task.
Each grower will have completely different requirements, from the number of plants to the size of grow space.
This article will explain how to choose the right size grow tent.
We've also taken the 5 best-selling grow tents on the market and reviewed them based on their functionality, performance and value for money.
Free Cannabis Seeds? Check out my list of the best seed bank promotions – Including FREE Seeds, discount codes, and giveaways!
The Best Grow Tents For Weed
Below, you'll find our more detailed grow tent reviews.
However, you can also click the links below to see current prices or read customer reviews on Amazon.
Table could not be displayed.
Do you need a grow tent?
Cannabis plants are pretty hardy ( they are weeds after all ) and will survive in just about any environment.
So you don't really need to use a grow tent.
However, we don't just want our plants to survive – we want them to thrive.
Using a grow tent gives your plants the best chance of producing big yields and potent buds.
Here are a few reasons you might want to use a grow tent:
[su_list icon="icon: check" icon_color="#188931″]
The sealed design protects your plants from pests.
Reduces plant odors with air tight design and build in vents for inline fans and carbon filters. Reduces the noise of fans and lights too.
Easier to control the temperature.
Provides the perfect environment for your plant to thrive.
Your plants get lots of light due to the reflected mylar lined walls.
[/su_list]
What size of grow tent should I get?
There are many different sizes of grow tents.
Some of them are small enough to put on a desk and some of them are large enough to be their own walk-in closets.
There are also massive tents that can take up an entire room and are great for filling up a basement if you have a lot of plants to cultivate.
So, how do you pick a grow tent that is the right size for your needs?
In general, each cannabis plant you grow requires 1 sq ft of grow space.
This allows each plant to grow to its full potential without obstructing other plants.
Therefore, if you wanted to grow 3 plants, you would need a grow tent that was at least 3ft x 3ft.
Grow Tent Height
Most grow tents that you look at will be between 4 -7 foot in height.
If left to their own devices, cannabis plants can grow much taller than this.
Therefore, it's important that you perfom some basic training techniques to ensure that you're plant will not grow too tall.
What to look for in a good Grow Tent
Fabric strength and density:
Look for a grow tent that's made with a strong, thick outer fabric.
A thick fabric will help keep odours inside, prevent light from escaping and stop pests from getting in.
Look for a fabric that's at least 600D.
High quality zippers and stitching:
Light leaks are the biggest issue that grow tent users face.
The most common reason for a light leak is bad quality stitching or poor zippers.
Look for grow tents that have a flap that cover the zippers.
Frame strength:
Nobody wants a wobbly grow tent that could potentially collapse with expensive grow lights and precious crops inside.
Look for customer reviews that specifically mention how sturdy the tent is.
Frame strength:
Nobody wants a wobbly grow tent that could potentially collapse with expensive grow lights and precious crops inside.
Look for customer reviews that specifically mention how sturdy the tent is.
Removable spill tray:
These removable trays make cleaning up spills inside your tent a breeze.
Make sure your tent has them.
Ventilation, chord and exhaust ports:
These build in ports allow you to easily regulate your grow room air and temperature while extract any unwanted smells. A must have.
Viewing windows:
Being able to view your plants quickly without opening up your tent is very useful as you don't have to disturb your plants environment as much.
Look for grow tents with peak or viewing windows.
The Best Grow Tents For Weed
1. VIVOSUN Mylar Hydroponic Grow Tent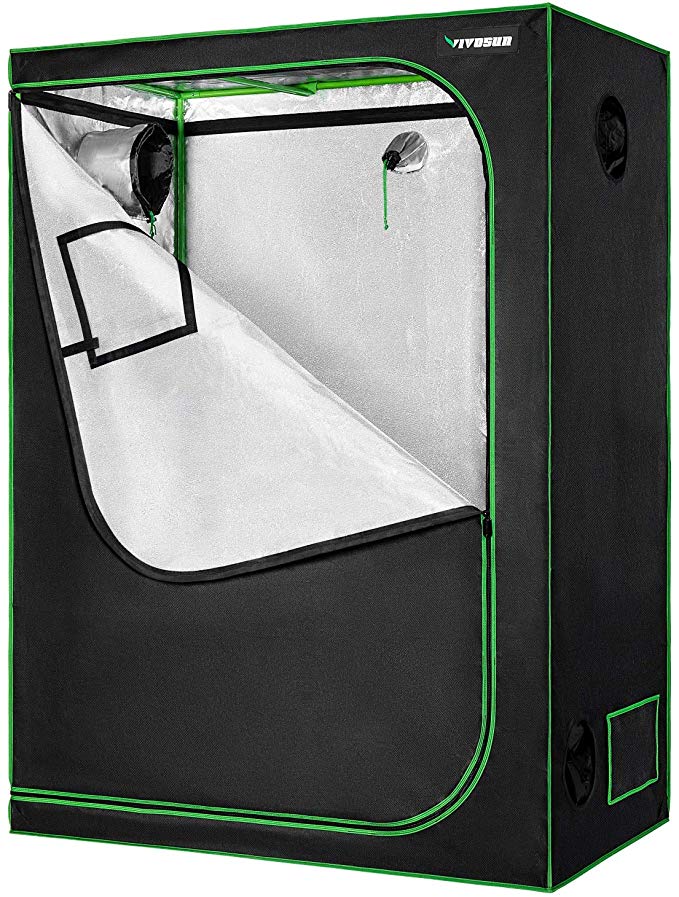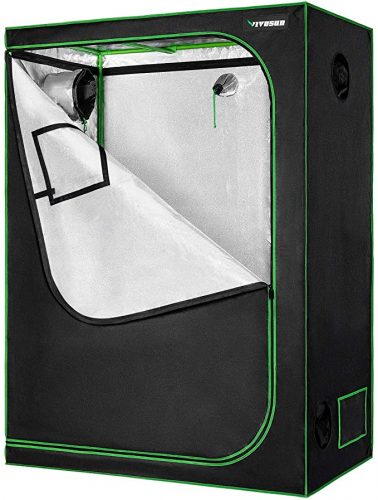 If you're looking for a high-quality grow tent, one which also comes with a wide range of additional accessories, have a look at the 48″x24″x60″ VIVOSUN Mylar Hydroponic Grow Tent. These tents also come in sizes from 60″x32″x80″, 120″x60″x80″, 120″x120″x80″.
Features
Construction and Design
In order to ensure that it lasts long, this product is made of a durable 600D canvas. This is quite a thick canvas which is not only tear-proof but, at the same time, it also consists of a double-stitched construction.
The manufacturer is so sure about the sturdiness of this tent that upon purchasing, you'll get an impressive two-year warranty.
Additionally, more than 90% of the tent's interior is covered by Mylar lining which is more than capable of reflecting light. This particular feature comes handy in terms of preventing any amount of light from escaping the tent's interior.
It also makes sure that the plants, which you're trying to grow, will always be prevented from unwanted exposure to the outside light.
The frame of the VIVOSUN Mylar Hydroponic Grow Tent is made of sturdy steel tubing, and for your convenience, the manufacturer also provided three different hanging bars. As evident from the name, you can use these bars to hang other types of equipment, including lights and fans, at the top of your tent.
Convenience of Use
Another thing which is quite impressive about this tent is that it comes with an exclusive observation window. This window is located on the front side, and it allows you to watch the growth of the plants without opening the tent.
To make it easy to get in or out of this tent, a heavy-duty zipper has been included in its design. It is made of metal, and unlike a wide range of zippers which are usually designed in low-quality grow tents, this one can be used for an extended duration of time.
Finally, you'll get a high-quality inner tool bag for storing different tools, along with a separate floor tray.
Pros
Made of thick, durable 600D canvas
Comes with a two-year warranty
Easy to install
2. iPower Hydroponic Water-Resistant Grow Tent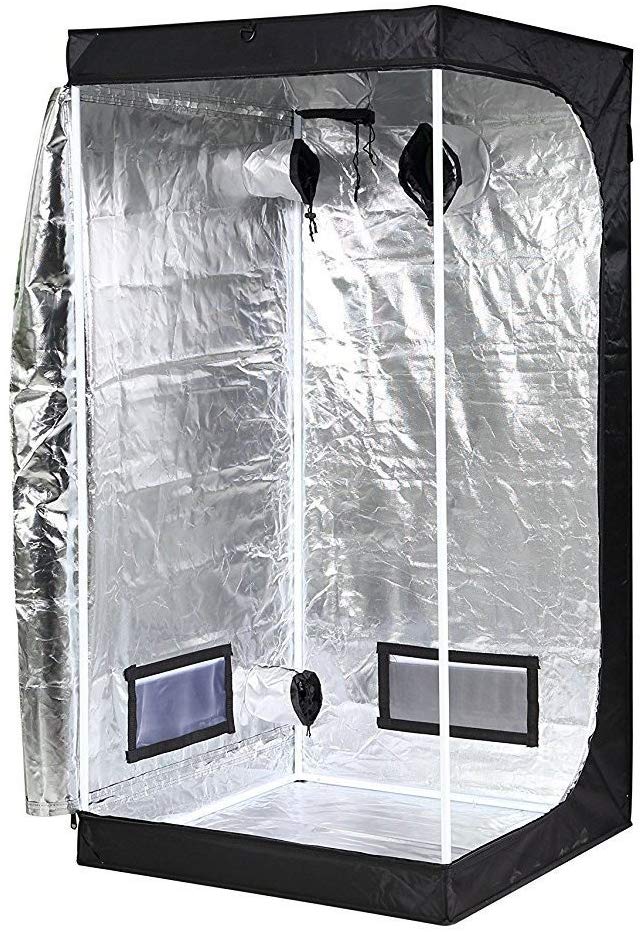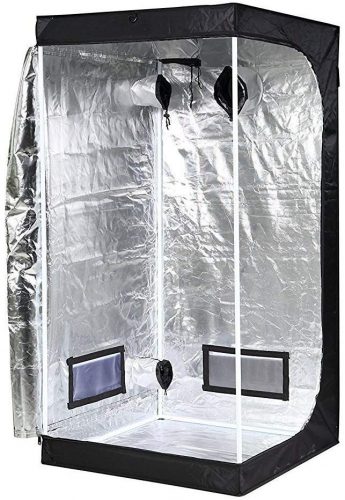 The iPower Hydroponic Water-Resistant Grow Tent is ideal for all those of you who're looking for a medium-sized, specifically 32″x32″x63″, product for growing plants in an indoor environment.
Available in a full black design, which comes handy in terms of absorbing the sunlight since a diamond-shaped Mylar covers the interior of this tent. It is basically a reflective lining which, when combined with the double-stitched design along with a tear-proof material, makes it a 100% lightproof growing tent.
The manufacturer has also made use of heavy-duty zippers which makes it easy to access the plants inside on a consistent basis.
The iPower Hydroponic Water-Resistant Grow Tent is supported by a heavy-duty frame which is made of tough, steel poles. These are designed to accommodate no less than 110 pounds of weight.
The model is easy to clean because you'll get a water-resistant Mylar tray which is easily removable. It means that even in the case of accidental spillages, you can always remove this floor tray without any hindrance.
Furthermore, you'll also get a couple of filter straps which comes handy in terms of removing any kind of unwanted odor from the tent's interior.
Upon purchase, you'll get a one-year warranty which is better when you compare it with similarly priced models in the market. So if you've limited space inside your apartment, but still want to set up an indoor garden, the iPower Hydroponic Water-Resistant Grow Tent is one of the best grow tents which you can purchase.
Pros
100% light proof grow tent
Heavy-duty steel poles make it a long-lasting product
Features one-year warranty
Con
Best 2×2 Grow Tent
Both of these 2×2 ft grow tents are solidly constructed, easy to assemble and offer excellent value for money.
These tents are shipped in stealthy packaging and are produced by two reliable manufacturers who are very responsive to customer concerns.
CoolGrows takes top spot due to its slick design and the fact that it has a handy window for checking your crop without opening the door.
How many plants will these grow tents fit? 2ft x 2ft grow tents will fit up to 4 plants in 5 gallon containers. However, we recommend that you only grow 3 plants to give each plant plenty of room to grow. As both of these grow tents are only 4ft in height, some basic training will be required to keep your plants heights low.
Need a matching grow light? These grow tents will work perfectly with the excellent Viparspectra 300w or Roleadro 300w LED grow lights.
Best 2×4 Grow Tent
The CoolGrows 2ft x 4ft grow tent takes top spot again in this category for its pleasing design and awesome viewing window.
Both of these grow tents are well made, heavy duty and easy to set up.
Oshions customer service is not very responsive on Amazon, but apart from that, they've created a solid 2×4 grow tent.
How many plants will these grow tents fit? 2ft x 4ft grow tents will allow you to grow up to 8 plants planted in 1sq ft 5 gallon pots. That said, we recommend that you only grow a maximum of 5 or 6 plants to give your them space to breathe so they will grow to their full potential.
Need a matching grow light? As these tents are a bit larger, we recommend using a grow light with a bit more power. Either the  Viparspectra 600w or Philzon 600w LED grow lights would be perfect for this size of grow tent. You could even hang two side by side.
Best 4×4 Grow Tent
Yup, you've probably guessed by now that we LOVE CoolGrows grow tents.
Their 4ft x 4ft tents are another tent that's solidly built, looks great and represents amazing value for money.
CoolGrows also back up their products with fantastic customer service and are continually improving their grow tents based on customer feedback.

How many plants will these grow tents fit? These tents are massive at 16 sq ft and can technically grow up to 16 plants ( in 5 gallon containers ) However, as always, we recommend that you grow no more than 12-13 plants in this tent to allow sufficient room to tend to your plants and allow your plants room to grow.
Need a matching grow light? These tents are LARGE, so you're going to need to hang at least two lights side by side to cover the entire canopy with light. The Viparspectra 600w or Phlizon 600w grow light will do the job nicely.
Final Thoughts on Grow Tents
Grow tents are a very useful tool for growing weed indoors.
They keep your plants safe from pests, help control the funky smell, increase the light that your plants get and make it easy to control the environment.
This means you get better yield results and endure less stress while growing.
Choosing a grow tent for your project does not have to be difficult.
As long as you know how many plants you want to grow and understand what makes a good grow tent, you can't go wrong.
Good luck with your grow tent selection! 🙂
Last update on 2022-12-09 / Affiliate links / Images from Amazon Product Advertising API