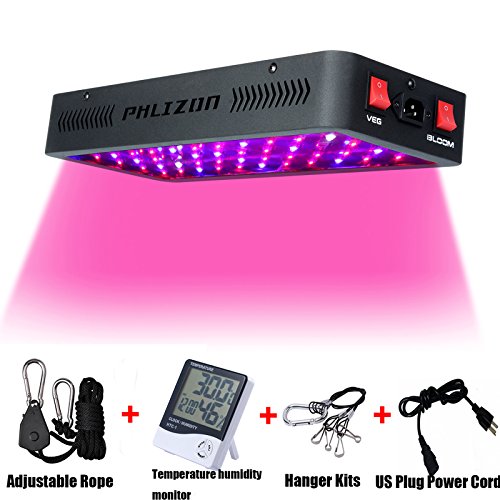 Veg Area coverage:
3 x 3 at 24"
Flowering Area coverage:
2.5 x 2.5 ft at 24"
Power:
Replaces up to 400 watt HID; Consumes 108 watts
Dimensions:
6.7 x 15.7 x 2.36 inches
Warranty:
2 years warranty + 30 days money back guarantee
Spectrum:
Full spectrum (including infrared)
Weight:
4.85 lbs
Lifespan:
100,000 hours; 16 hr daily limit
Good for:
Veg & Flower Stages
Price:
Check latest price on Amazon →
| PROS | CONS |
| --- | --- |
| Affordable. | Does not use reflectors; is less powerful than comparable 600w LEDs. |
| Daisy-chain outlets for combining multiple lights. | Can cause burn or bleaching if placed too close to plants. |
| Full spectrum lightings including UV and Infrared. | Small coverage area. |
| Energy-efficient - uses only 108 watts of power! | 16-hour per day maximum use. |
| Dual-switches to support independent grow cycles. | Noisy fans. |
Check latest price on Amazon →
Phlizon Newest 600w LED Grow Light Review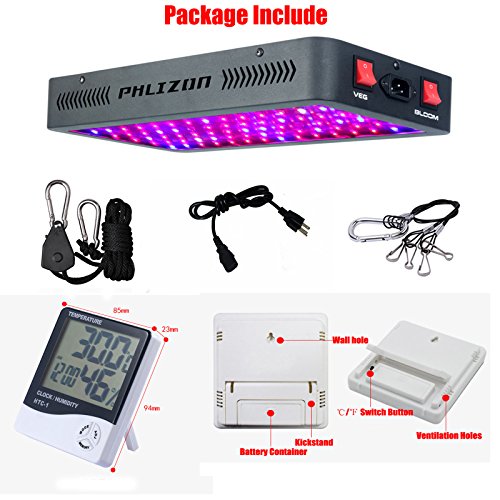 As cannabis becomes more popular (and more legal), there has been a huge rise in home grows. People want to grow their own plants at home, but it can be really overwhelming to get started.
Lighting is one of the most confusing parts for new growers, and that's why we have taken the time to review and feature some of the highest quality LED grow lights on the market today. We have chosen LEDs specifically because they are affordable and high-quality, which makes them perfect for in-home growers.
Today we're going to be looking at the Phlizon Newest 600w LED grow light. In this review, we're going to cover:
Features & Build Quality
Color Spectrum/PAR Value
Coverage
Warranty
Check latest price on Amazon →
Quick review
Heads up! This article is a full review, that will go over all aspects of the light in detail. If you're only wanting a quick overview, here you go:
Here's what we love most about this light:
The Phlizon Newest 600w LED grow light has a lot of really amazing things going for it. Specifically, we love the:
Full spectrum lighting and dual switches for each stage of plant growth
Low heat levels
Affordable price point
Bonus items included with the purchase
Who is this light best for?
This LED has everything a new grower needs to feed a plant all the way from germination to flowering. Because of its easy daisy-chain ability and low cost, this light is also a great choice for the mid-size grower who wants to hang multiple lights side-by-side to cover a larger area.
Who is this light NOT for?
While we love many features of this light, there are a couple of pieces that could work better. Specifically, because of the company's views on reflectors, this light doesn't provide as much bang-for-the-buck when it comes to PAR-per-WATT. We'll get into that a little later, but if you want to get the highest yields with the least wattage, there are better options.
Even with the small downside to this light, we love its performance over all. In fact, we listed it in our Best Light for Growing Weed in 2018 review! It earned the Runner Up spot for our Value Grow Light category! It lost the top spot to the VIPARSPECTRA Reflector-Series 300w LED… mainly because of that PAR-per-WATT ratio we mentioned earlier.
Check latest price on Amazon →
What's in the box?
One awesome benefit of this LED is that it comes with literally everything you need to get started PLUS a few cool bonus items! Inside the box, you'll find:
Phlizon Newest 600w LED grow light
Power cord
Hanging hook kits
Thermometer humidity monitor
Adjustable rope
Check latest price on Amazon →
Features & Build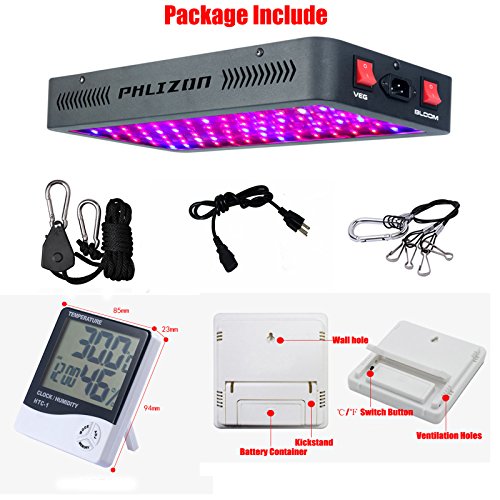 Low heat; lower PAR
Phlizon takes heat very seriously, which you can see in the design of this light. This LED features two top-mount fans that help keep the heat in the top of the tent, away from your plants. It also comes with side slots that help keep the heat low also.
The company also chooses not to use reflectors in the construction of their LEDs, which are known to increase the heat output of a light. This decision is a little bit controversial since not including reflectors can decrease the wattage output and PAR value of a light. For instance, the Phlizon Newest 600w LED features 600w, but can only replace a 400w HID equivalent.
The reflectors help increase the power and distance that a light can reach. By leaving them out, Phlizon lowers the heat but also lowers the power of this LED.
Energy efficient
While this light comes with 600 watts of LEDs, it only uses an average of 108 watts! That's a huge energy savings, and is one of the best features of this light.
With the Phlizon Newest 600w LED grow light, you can rest easy knowing that your electrical bills will not go through the roof while you're growing your cannabis plants.
Excellent choice for daisy chaining
This light comes with a great feature that allows you to hang multiple lights ( daisy chain ) beside each other while only requiring a single power chord.
Because of the very low cost of this light, you can invest in multiples of these for less than the cost of a single more expensive light. If you want to increase the PAR and coverage area for your grow, we recommend hanging two or three of these side-by-side.
Check latest price on Amazon →
Spectrum/PAR Output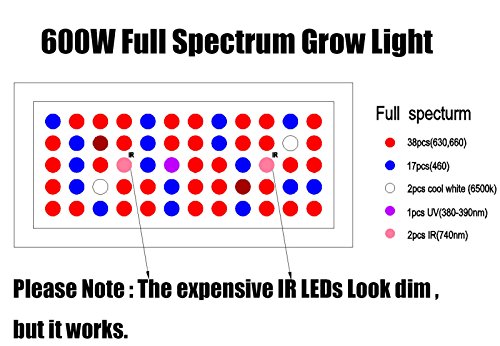 Spectrum
Not all light is healthy for your cannabis plant. In fact, along the color spectrum there are 12 color areas that provide a robust diet for marijuana… the other colors do very little.
Red and blue lights are the most popular because they provide the best quality food for cannabis, and many inexpensive LEDs will only feature those two colors.
That's why it's nice to see the Phlizon Newest 600w LED grow light providing a full, 12-band spectrum of LEDs, including Infrared.
It also features dual switches – one for the veg cycle and another for the flower cycle – so you can customize the kind of light your plant is getting at each point in its life! Use just the "veg" lights during the veg cycle, and then switch on both lights when your plant moves into flower!
The lights for each switch are perfectly designed to provide the right wavelengths needed to sustain your plant.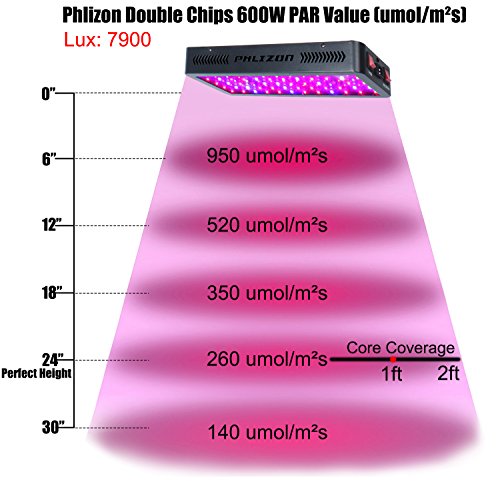 PAR
PAR is easily the most important aspect of an in-home grow light. It is a scientific measurement that tells us exactly how much edible light your plant is getting at any time.
Some people believe that a high PAR value is always the right choice, but younger plants actually need less PAR than flowering plants. Seedlings like a PAR between 200 and 400, while flowering buds need between 600 and 900.
There are a lot of things that can impact the PAR your plants receive, in addition to the light itself. Those factors include:
The distance between your light and your plant.
Whether the plant is directly under the light or off to one side.
Mylar-lined grow tents increase PAR by up to 25%
Daisy chained lights overlap coverage to increase PAR.
If you want to get a precise measurement of your light's PAR, we recommend investing in a handy PAR meter. In the meantime, Phlizon has provided us with some general information about what to expect from this LED.
At 24" high, the PAR at the center point of the Phlizon Newest 600w LED is 260. This is perfect for a seedling or clone, so you can start your light at this height and move it closer as your plant grows. The closer your light is to the plant, the higher the PAR will be directly under it.
Pro tip: be sure to watch for signs of light burn if your plant is too close to the LED. You'll notice burnt tips first, then discoloration of the leaves, and finally scorch marks and burns if your plant is too close. During flower, keep your plants as close as possible (to maximize PAR) without burning.
Check latest price on Amazon →
Coverage
This is a relatively small light, so it's not going to cover a large grow tent by itself. At 24" ( the vegetation stage ) this light will cover a 3' by 3' grow area. During the flower stage, we recommend keeping it between 6" and 12" from the plant, and it should cover an area about 1.5' by 1.5'.
The higher the PAR value in your tent, the larger your yield will be… so it's definitely a good idea to invest in 2 or 3 of these lights if your tent is larger than 3' x 3'.
Not quite sold?
If you're not sold on this light, we recommend checking out the VIPARSPECTRA Reflector Series 300w LED, which beat this Phlizon for the top spot in our Best Value Grow Light category. You can learn more about the winner here.
Check latest price on Amazon →
Our Verdict
While there are other LEDs on the market that can provide a bigger bang for your buck, we still really love the Phlizon Newest  600w LED grow light. You can't go wrong with the quality construction, and the lights are perfect to take a plant from seed to harvest.
Any new in-home grower or mid-sized grower would love the ease of use and efficiency that comes with this light, and the added thermometer helps check another thing off your purchase list too!
Warranty information
Phlizon offers a standard 30-day satisfaction guarantee and 2-year local warranty, and are known for providing excellent customer service.
Check latest price on Amazon →
Let us know what you think!
Did you decide to get the Phlizon Newest 600w LED grow light? If so, show us your set up in the comments and let us know what you think! And as always, make sure you share this page with your friends!
Happy growing!