As a farmer or gardener, you should know that the amount of light that your plants receive can severely impact their growth and fruitfulness. While some plants need a lot of light, others don't need as much. When it comes to indoor gardening, lighting conditions are very important. So, for you to maximize your plants' potentials, make sure you purchase grow lights that will provide the right intensity of light and at the correct spectrum.
With so many grow lights on the market today, finding one that is ideal for your garden can be a heck of a task. Before you go out searching though, make sure you know some important features to look for.
As simple as they may seem, there are a lot of features that grow lights can possess. From wattage rating to the color spectrum, you've got a lot of choices to make for your grow lights, not to mention the space you're trying to illuminate.
We know all these specs can get overwhelming for you, especially if you're new to gardening. So, we've picked what we believe is one of the best grow lights on the market, the Roleadro 45W LED Panel Grow Light Series, Red Blue Spectrum. You will find out all about this amazing product as you continue reading.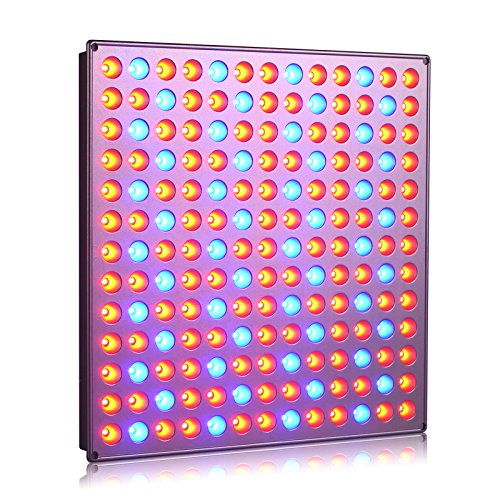 Features of Roleadro 45W LED Panel Grow Light Series, Red Blue Spectrum
One of the best features of this grow light is the spectrum ratio. It is designed to emit both blue and red light at a red: blue ratio of 2.25:1. Of course, this is a great light ratio for plant growth. Not only will it help your plants to grow faster, but it optimizes fruit production and flowering.
Another amazing feature of this product is the fact that it provides light via LED bulbs. In total, it has 117 red LEDs and 52 LEDs which emit light at 660nm and 450nm respectively. Not only will this light promote photosynthesis, it will also save you a lot of money on your electric bill. Plus, these light colors are considered best for plant growth.
With so many bulbs, this grow light is ideal for covering areas that are 7-8 square feet in size. Not many LED grow lights have such a wide light angle. Each chip light can reach an angle up to 90°, ensuring that your plants receive all the light they need. However, if your garden is larger than 8 square feet, you may need additional bulbs. Also, if your garden is smaller than 7 square feet, be careful if you purchase this grow light; you do not want your plants to get too much light as that can negatively impact their growth.
This grow light is one of the best on the market because of its low power consumption in comparison to the high power that it actually produces. This is all made possible because of the thick aluminum alloy plate that is incorporated into its design. This plate allows better heat dissipation and ensures that the light is less likely to cause damage to your seeds and small plants as they develop. Since the light efficiency is much better than many other grow lights, you get much better value for your money. Backed by a 12-month warranty and 30-day money-back guarantee, this grow light is surely worth trying.
Pros
It has both colors of light that are most recommended for plant growth and flowering. You won't have to purchase additional bulbs to complement or supplement these
These bulbs have a very good lifespan of over 50,000 hours when used properly and properly taken care of
Just about 95% of the light emitted by these bulbs can be absorbed by plants which makes them extremely efficient and effective
When compared to many other grow lights, these bulbs can end up saving up to 80% of your energy costs
They have an excellent wattage per lumen output at just 25.2W for 4546.2 Lux
You can use them in a variety of indoor gardening settings
They come with a 12-month warranty
They are not very expensive to purchase in comparison to many other grow lights with similar features
Cons
It doesn't come with any material to use for hanging so you have to purchase that separately
Some LED bulbs may stop working before others and render the unit less effective
Summary
Overall, the Roleadro 45W LED Panel Grow Light Series, Red Blue Spectrum seems to be a good choice for gardeners. Whether you're looking for a product that can provide the best bang for your buck, or you're seeking a high-efficient grow light, you can find it in this amazing product. If you're a bit skeptical about this product and how well it will work for you, the company offers a generous warranty which may put your mind at ease. But, based on many customer reviews, this product is well worth a try.