Green Crack Strain sometimes called "Mango Crack" or "Green Cush " is a popular strain with an epic, fruity flavor profile. The strain won third place for Best Sativa at the Denver High Times Cannabis Cup in 2015.
In this article, we will discuss everything there is to know about Green Crack, including aroma, taste, cannabinoid profile, how to grow, and much more.
Let's dive right in!
Green Crack Strain (Key Info)
Effects: Energetic, Happy, Uplifted
Helps With: Stress, Depression, Fatigue
Indoor Yield: 500g/m2
Outdoor Yield: 550g/plant
Flowering Time: 9 weeks
Outdoor Harvest Time: Late September
THC Content: 21%
CBD Content: 0.10%
Indoor Plant Height: Tall
Grow Difficulty: Moderate
Genetics: skunk #1
Flavors: Citrus, Earthy, Fruity
Best place to buy seeds: Seedsman.com
Where To Buy Green Crack Seeds
Free Cannabis Seeds? Check out my list of the best seed bank promotions – Including FREE Seeds, discount codes, and giveaways!
Where Does Green Crack Come From?
Green Crack usually comes from the Pacific Northwest, California, Arizona, and even Colorado.
Its origins are disputed, but it is commonly said that it is a hybrid that originally came from a cross between a 1989 Super Sativa Seed Club, a Skunk #1, and an Afghani landrace.
Who Created the Green Crack Strain?
It is believed that Green Crack was bred initially in Athens, GA.
It was named Cush by its original breeder, Cecil C., but was then renamed as Green Crack by Snoop Dogg as a reference to what he perceived as potent, Sativa-like effects.
When did Green Crack Come Out?
Green Crack supposedly came out sometime around the early 1990s.
However, the exact temporal dimensions are unknown.
How Does Green Crack Make You feel?
Green Crack is an incredible "wake and bake" strain that provides a big mood boost and a jolt of energy.
It induces a sharp buzz like high, which elevates creativity, focus, and drive. In addition, it is a great daytime strain that manifests as a cerebral mindset and keeps you productive all day long.
Is Green Crack Sativa or Indica?
Green Crack is a hybrid strain with a Sativa/Indica ratio of 65:35.
There are two varieties of Green Crack, the most common of which is the Sativa dominant version.
A less popular version available in medical marijuana and recreational cannabis markets is a 75% Indica variety.
What is Green Crack THC level?
The THC level in Green Crack is typically 17% and may reach 20% in some samples.
However, most hybrids are usually around a 15% THC range.
What is Green Crack CBD level?
Green Crack has almost no CBD, with statistics usually coming under 1%.
What Strains Are Similar To Green Crack?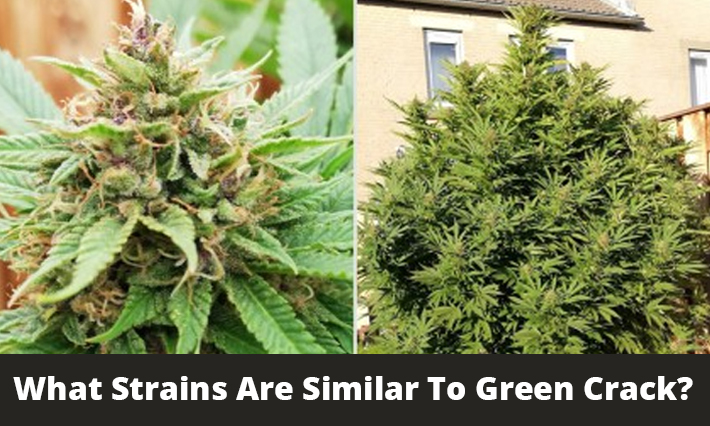 Green Crack is a Sativa-dominant strain known for its fruity taste and cerebral high.
If you are looking for strains similar to Green Crack, choose a pure Sativa or a Sativa-dominant type.
Strains similar to Green Crack may include:
Durban Poison
Sour Diesel
Blue Dream
Trainwreck
Is Green Crack Strong?
Yes, Green Crack has an intense Sativa high despite a majority of its Indica physical characteristics. However, its high does not make you feel a complete couch-lock but increases productivity with added energy.
Is Green Crack Top Shelf?
Yes, Green Crack is top shelf but can sometimes be of lower quality because of cultivation blunders.
A top-quality strain is produced with incredible flavors, aroma, and high potency. Quality growers usually cultivate such a strain indoors.
Thus, improperly grown Green Crack is not top shelf and should only be bought after careful consideration from an authentic seller.
Is Green Crack Exotic?
Green Crack is not an exotic strain since it is readily available almost everywhere and is highly popular among weed lovers.
Exotic strains are rare to find and have unusual characteristics.
What Does Green Crack Taste Like?
Green Crack has a sweet taste with underlying citrusy tones and is infused with the flavor of a ripe, juicy, and somewhat tangy mango.
What Does Green Crack Smell Like?
Green Crack has an easily distinguishable citrusy and fruity aroma mixed with subtle earthy, woodsy, and hearty blends.
Does Green Crack smell Like Gas?
No, Green Crack does not smell like gas but instead has a ripe mango's fruity and tangy aroma.
However, its odor is exceptionally pungent during growth and may resemble that of gas at that time.
Why is Green Crack So Popular?
Green Crack provides the perfect blend of revitalizing and exhilarating energy without acting like a cat on a hot tin roof.
It is excellent as a morning strain for people who need an extra boost for an arduous day.
Although it has one of the most controversial strain names, its popularity remains unmatched because of its long-lasting effects and medicinal treatments.
Is Green Crack a Kush Strain?
Green Crack is not a Kush strain, but it is sometimes called a "Cush" (with a C instead of a K) by people who don't want to confuse it with cocaine.
Most Kush strains are pure Indicas or Indica-dominant in nature, and Green Crack is a Sativa.
Green Crack Grow Info
Green Crack is predominantly a Sativa strain in its growth phase, although it is a hybrid.
Its medium-height owes its Indica component, making it an excellent plant for growing either indoors or outdoors.
Growing it indoors is relatively easy because outdoor cultivation requires consistent temperatures between 72- and 80-degrees Fahrenheit and stable sunlight.
Additionally, make sure to harvest correctly and subsequently cure the harvested buds with 50% humidity.
Please take a look at our cannabis growth guide to gain a better insight, as this strain has an almost similar growth procedure.
Green Crack Grow FAQs
How Much Does Green Crack Yield?
Green Crack yields about 20 ounces per plant outdoors and 18 ounces per square meter when cultivated inside with easily controllable conditions.
Is Green Crack Easy to Grow?
Green Crack is an easy strain to grow for all kinds of cultivators ranging from experienced to novice.
It is even appropriate for those intending to grow one as a plant experiment in their closet or backyard space.
How long does Green Crack take to grow?
Green Crack has medium-height plants which grow up to 3 and 4 feet tall and possess strong lateral branching.
Is Green Crack Mold Resistant?
No, Green Crack is not mold-resistant but is somewhat moderately susceptible to it.
Therefore, it is significant to give it plenty of air circulation with high ventilation, fans, or a combination of the two.
When should you harvest Green Crack?
Green Crack is usually harvested in late September to early October.
Does Green Crack turn purple?
Yes, Green Crack does turn purple and is called "Purple Green Crack." It is a hybrid marijuana strain that promotes creativity, mood elevation, and energy.
It comes in a mix of flavors ranging from floral, earthy notes of fresh citrus fruits and pine.
How tall does Green Crack grow?
Green Crack has medium-height plants which grow up to 3 and 4 feet tall and possess strong lateral branching.
How Does Green Crack Compare To Other Strains?
Let's take a look at how Green Crack compares to other strains:
Green Crack vs. Pineapple Express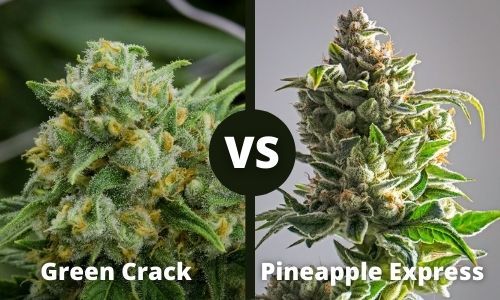 Pineapple Express and Green Crack are almost similar in THC content (17-18%) and promote alertness, creativity, and a high buzz.
However, Pineapple Express causes a more euphoric and relaxed feeling than Green Crack.
Both strains are sweet, but Green Crack has a more citrusy and earthy flavor, whereas Pineapple Express has a tropical flavor infused with the taste of pineapple.
Pineapple Express has a Sativa/Indica ratio of 60% / 40% and yields about 18-19oz per plant.
Its flowering period is also similar to that of Green Crack, about 7 – 9 weeks indoors.
Check out my full Pineapple Express Strain Review (& Grow Guide)
Green Crack vs. Super Lemon Haze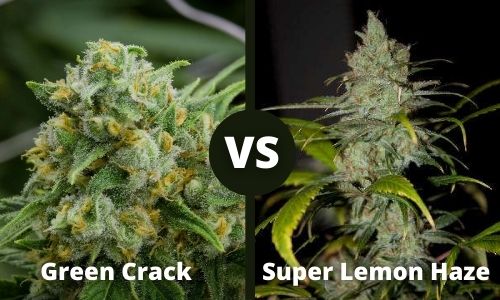 Green Crack and Super Lemon Haze are both mirth-inducing strains with an uplifting and energy-inducing high.
As the name suggests, Lemon Haze has a citrusy, sweet taste induced with undertones of lemon compared to the fruity and earthy undertones of Green Crack.
Super Lemon Haze has a comparatively much larger yield than Green Crack and is relatively easier to grow.
Green Crack and Super Lemon Haze possess a Sativa/Indica ratio of 75% to 25% and 80% to 20%, respectively.
Green Crack vs. Green Crush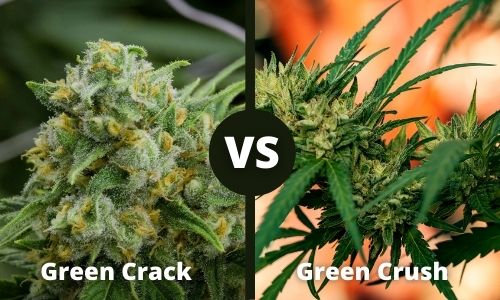 Green Crack originates from Skunk#1, whereas Green Cush is a cross between Green Crack and Purple Kush.
Both are almost similar in taste, but Green Crack has more earthy and sweet notes than the flowery and citrusy ones of Green Kush.
Additionally, both are quite different in their effects; Green Kush promotes sleepiness, relaxation, and euphoria, whereas Green Crack focuses on boosting energy, creativity, focus, and mood.
Green Crack vs. Amnesia Haze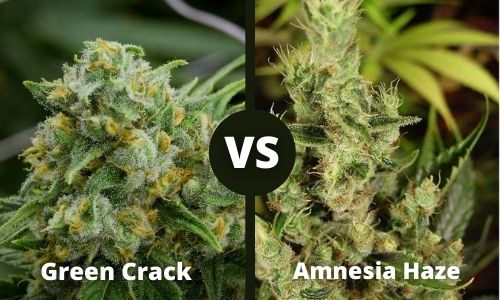 Amnesia Haze is a hybrid that possesses various strains, including Thai, Afghani, Hawaiian, Jamaican, South Asia, Indica, Cambodian, and Haze, whereas Green Crack comes majorly from Skunk #1.
Both are pretty similar in taste and possess sweet, citrusy, and earthy tastes.
Amnesia Haze promotes feelings of relaxation, euphoria, and sleep, which is different from the energizing and rejuvenating effects of Green Crack.
Amnesia Haze also takes longer to flower (about 10-11 weeks) and grows up to just over a meter tall.
Green Crack vs. Incredible Hulk (Bruce Banner)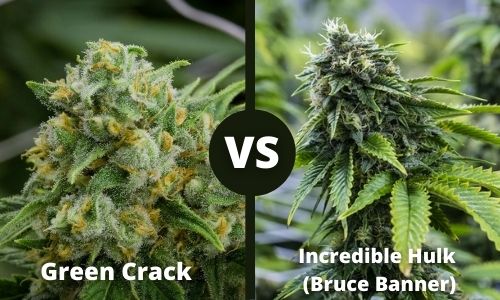 Incredible Hulk strain is a hybrid possessing an 80% / 20% ratio of Sativa/Indica with Green Crack and Jack Herer as parent strains.
It has an outdoor yield of 16 ounces per plant with a more extended flowering period than Green Crack (10 – 12 weeks indoors).
It is also harvested later than Green Crack, around late October to mid-November.
Incredible Hulk has the opposite effects to Green Crack: it induces sleep, hunger, euphoria, and relaxation.
Check out my full Bruce Banner Strain Review (& Grow Guide)
Green Crack vs. Durban Poison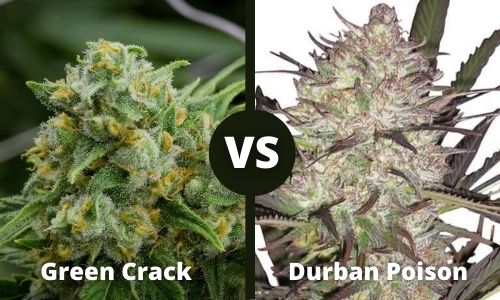 Durban Poison is an African Sativa with a taste similar to that of Green Crack.
Both possess sweet earthy tones, but Durban Poison is more pine flavored and may also have lemon, vanilla, and orange undertones.
They are pretty similar in their effects and promote creativity, uplift mood, boost energy and induce euphoria.
Durban Poison is much more potent and possesses a 21.5% THC content. It does not contain Indica at all.
Check out my full Durban Poison Strain Review (& Grow Guide)
Green Crack vs. Jack Herer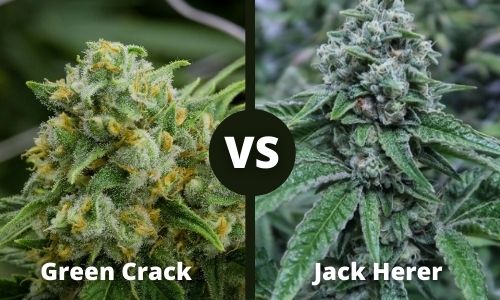 Jack Herer has Haze, Shiva skunk, and Northern lights # 5 as its parents.
Green Crack and Jack Herer have a Sativa/Indica ratio of 75%, 25%, and 55%, 45%, respectively and are pretty similar in THC content as well (21-23%).
Although both possess similar flowering times, Jack Herer is easier to grow than Green Crack (9-10 weeks).
However, their yield ranges from 500g/m2 indoors and 550g/plant outdoors.