The growth medium that you choose for your cannabis plant is absolutely essential for proper growth and development.
Some people call it soil; others call it dirt; however, irrespective of what you call it, it is a crucial component in healthy cannabis growth.
Free Cannabis Seeds? Check out my list of the best seed bank promotions – Including FREE Seeds, discount codes, and giveaways!
Best Marijuana Growing Soil December 2022
Best Growing Toil Compared
Best Overall: FoxFarm Ocean Forest Potting Soil Organic Mix Indoor Outdoor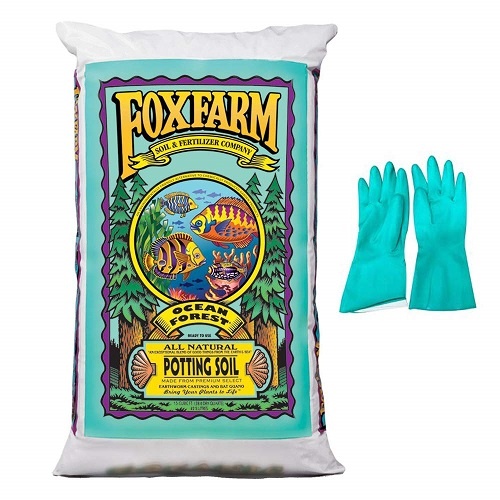 The FoxFarm Ocean Forest Potting Soil is ready to use straight out of the bag and offers the ideal environment for young seedlings to grow into thriving marijuana plants.
Not only is it lightweight and well-aerated, but it's also specially formulated for seedlings and cutting. It is also a great mix of container-grown plants.
It is pH adjusted and allows for maximum fertilizer uptake and makes for a naturally ideal and conducive environment for seedlings to grow into strong and vigorous plants.
Pros
Ready to use
Lightweight
PH adjusted
Cons
Product Specifications
Available Sizes: 38.5 quart
Number of nutrients: 5
pH: 6.3 – 6.8
Runner Up: Black Gold 1302040 8-Quart All Organic Potting Soil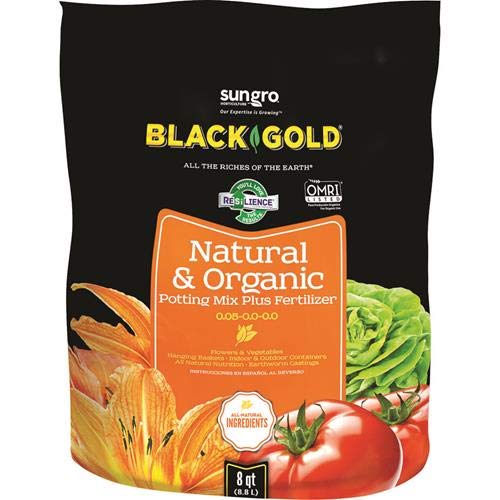 The Black Gold potting soil is an organic soil that will fit all of your cannabis growing needs.
Not only is it convenient, but it's quality tested and contain the highest quality organic nutrients that have a proven track record.
It is made in the United States and is also a rich, loamy mix which is ideal for cannabis and various types of garden applications.
When it comes to optimal growth for marijuana plants, perlite, and pumice are added to provide optimal and stable growth.
You can use them in hanging baskets, herb gardens, patio containers as well as vegetable plantings.
Pros
Premium quality
United States made
Ideal for various plants
Cons
Susceptible to mold growth
Product Specifications
Available Sizes: 8 quart
Number of nutrients: 8
pH: not specified
Alternatives: Dr. Earth Gold Premium Potting Soil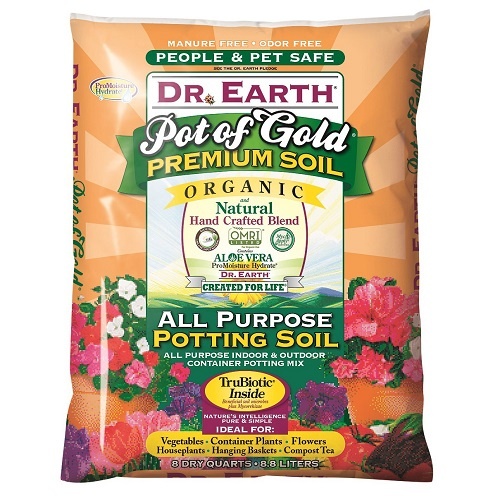 Dr. Earth is safe for both pets and people. It is also designed for indoor and outdoor potting as well as containers.
Aside from helping your marijuana plants grow strong and healthy, it is ideal for herbs, indoor gardens, vegetables as well as the various other plants and flowers.
You can also use it to aid your growth of trees, roots, and shrubs as well. It's great for mulching, indoor garden production, seed cover, transplanting as well as compost use.
Ultimately Dr. Earth is loaded with lots of organic ingredients that will assist your cannabis growth.
Pros
Great for mulching
Versatile
Organic ingredients
Cons
Product Specifications
Available Sizes: 8 quart
Number of nutrients: 3
pH: 6.5
Alternative: Burpee Natural Organic Premium Growing Mix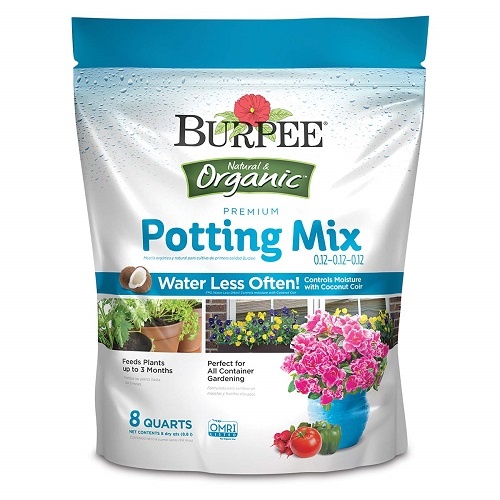 The Burpee Growing Mix is enriched with plant food and is ideal for growing vibrant flowers, not to mention delicious herbs and vegetables.
It is ideal for container and raised bed gardening. It instantly provides food to your plants and is also designed to provide a slow-release that can feed for up to three months.
Burpee soil mix is made of coconut coir, which is a renewable and sustainable resource.
Ultimately it helps maintain moisture between waterings for vibrant flowers as well as delicious herbs and vegetables.
Pros
Slow release feeds plants up to 3 months
Organic ingredients
Sustainable and renewable resources
Cons
Water retention soil is not ideal for all seed types
Product Specifications
Available Sizes: 8 quart
Number of nutrients: Not specified
pH: 6.5
Best Seed Starter: Espoma SS8 8-Quart Organic Seed Starter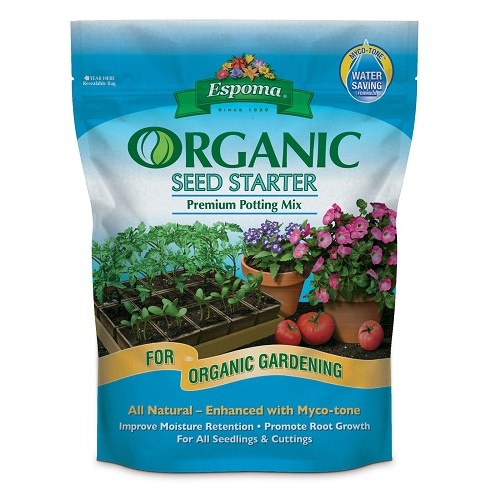 This potting soil is ideal for all seedlings and cuttings.
Ultimately, it promotes growth and is a great seed starter.
One of the reasons why it is such a great seed starter is because it contains a premium blend of natural ingredients that are specifically formulated to grow seeds and cuttings.
It also contains great organic ingredients that promote growth and increase water and nutrient uptake.
This allows your plants to grow bigger and have more abundant buds and flowers.
Pros
Promotes root growth
Ideal for seedlings and cuttings
Enhanced with Myco-tone
Cons
Seeds take some time to sprout
Product Specifications
Available Sizes: 8 quart
Number of nutrients: 4
pH: Not specified
Marijuana Growing Soil FAQ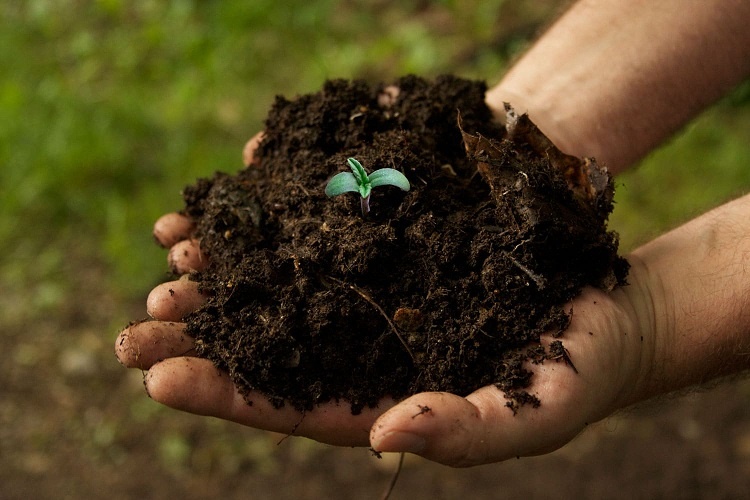 Before attempting to grow cannabis in soil, there are a few things you will need to consider.
Some of these considerations include the texture, drainage ability and water retention capabilities of the soil.
There are also good cannabis ingredients that you need to look out for, and you will probably not find all the elements that you need in your soil mix.
Ultimately this means that you will need to add the missing components. This process is crucial as it sets the foundation for your seeds and, eventually, your marijuana plants.
What Type Of Soil Is Best For Marijuana Growth?
Cannabis is also known as "weed' because it tends to pop up and thrive in various types of conditions.
However, that doesn't mean that you should just throw your seed in the backyard and hope for the best.
Cannabis can grow in a wide range of soils; however, to produce a high quality of trichomes, cannabinoids, and THC, a proper balance of variables is needed in the soil.
Some of these variables include:
Proper drainage
Proper nitrogen to phosphorus ratio
Adequate water retention
Ideal fungus to bacteria ratio
Correct pH
Best pH for Marijuana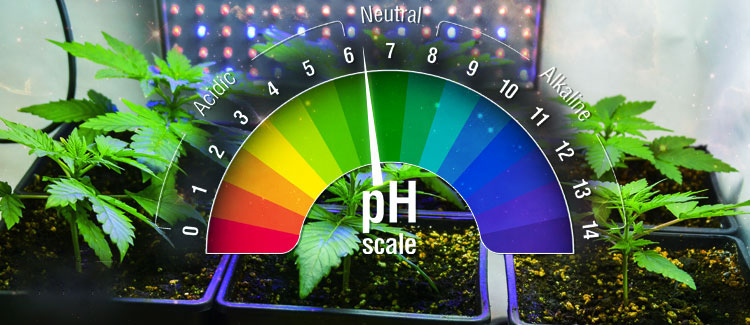 PH, in this case, stands for potential of hydrogen. Ultimately it's a chemical scale that is used to determine the acidity of a substance.
Soil contains water; it also has a pH. In order for cannabis to thrive, the soil needs to be slightly acidic.
So ideally, the pH needs to be anywhere between 5.8 to 6.3. Your cannabis will still thrive if the pH is anywhere between 5.8 to 6.3.
However, it may not produce, as well. So in order to get optimum results, keep the soil at around 6 pH for the best results.
In order to do this, it is recommended that you purchase the soil pH test kit.
Unfortunately, there's no way around it and sticking your finger, and that will not give you an accurate determination of the pH.
The good news is that these pH test kits are usually cheap and could be the deciding factor in how well your Marijuana grows.
The Best Soil for Outdoor Cannabis
Natural soil comes in three types:
However, there are various types of soil.
So IT can either be loamy and Sandy, Clay and loamy, or Sandy and clay and, in other cases, a combination of the three.
This makes it confusing, and they can be different variations of each cell type.
However, each soil type has its own advantages and disadvantages.
However, if you're going cannabis outdoors, it is suggested that you use organic soil, and this would give your Marijuana plants proper drainage, the right amount of nutrients as well as adequate water retention.
Ultimately this helps your cannabis grow tall and strong as well.
You can also choose to create a cannabis garden outdoors.
You have to monitor the humidity, temperature, amount of sunlight, and rainfall as well as keep an eye out for pests, especially when you're growing outdoors.
Growing your cannabis in a pocket or contain outdoors is great because it offers portability and mobility.
So if the weather is not to your liking or not conducive for your Marijuana, you can simply bring it indoors.
However, when growing weed indoors, the only disadvantage is that it's going to cost you time and effort to control the light, movements, humidity, and sunlight.
The Best Soil for Indoor Cannabis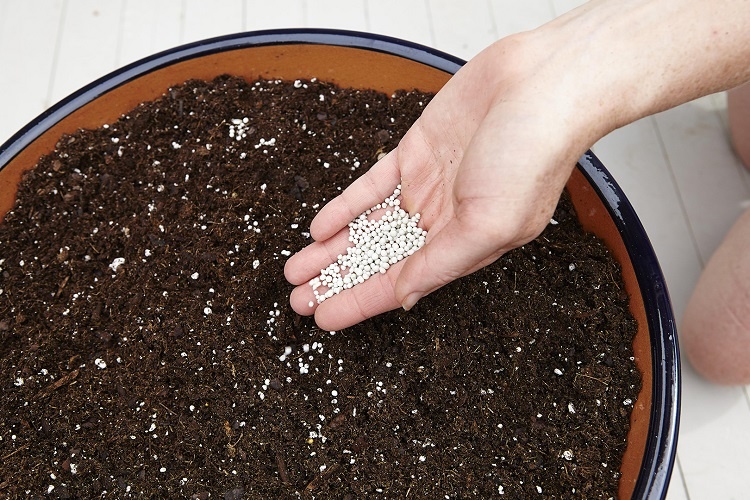 The best possible soil for growing Marijuana indoors is organic soil and 420 fertilizer.
The organic soil will give you the right balance of nitrogen, carbon, phosphorus, and a whole lot of other macronutrients that are essential for proper marijuana growth and development.
The fertilizer will give you tall plants with an abundance of buds and lots of cannabinoids.
Ultimately you can just simply buy soil instead of making it yourself, and if you have lots of outdoor space to set up a garden, this will be ideal for you.
Best Potting Soil for Cannabis
If you prefer to purchase organic soil from your local garden store, keep an eye out for the terms "organic potting mix" or "organic potting soil."
Ultimately these types of potting mixes are ready to use, and you can start your Marijuana growing journey immediately.
However, when looking out for cannabis potting soil, you want to make sure that the mix does not contain any slow-release chemical nutrients.
Unfortunately, these time-released chemicals can give your cannabis plant the wrong type of nutrients at the wrong time. And that spell disaster for your marijuana garden.
Best Organic Soil for Cannabis
Organic soils are thankfully tried and tested and are definitely cannabis-friendly. If you are not truly gifted in creating your own super soil, purchasing organic soil is your best.
The Best Soil for Auto-Flowering Cannabis
Perhaps one of the elements that play the biggest role in the flowering stage of your marijuana garden is the amount of light the plant is receiving each day.
Cannabis plants that are grown outdoors will need between 12 to 15 hours of light each day.
This amount of sunlight may not be possible during all seasons except in summer, and therefore growing your plants indoors will give you more control over the light it receives.
Some cannabis plants are known as auto-flowering, and this means that it doesn't depend on the amount of light it receives in order to trigger the flowering stage.
They automatically transition to the flowering stage when the plant reaches a certain stage of development.
This type of cannabis naturally prefers more airy soil, light, and low levels of nutrients.
So ultimately, if you have this type of cannabis and should use it with light soil.
How Often Should You Change Your Growing Soil?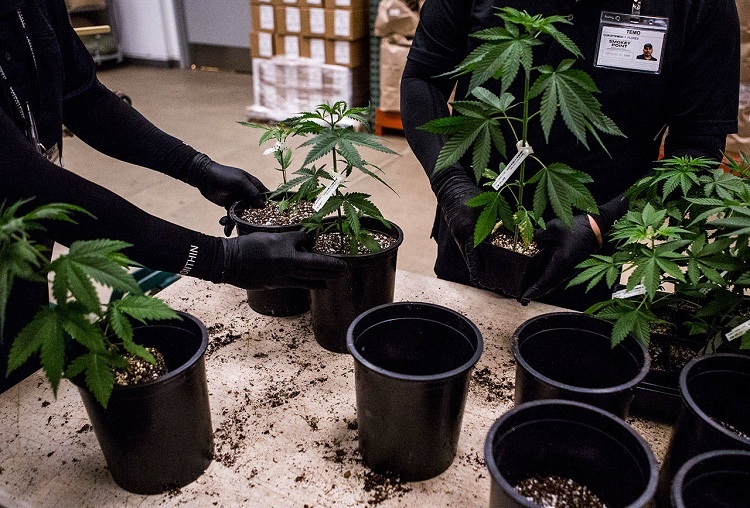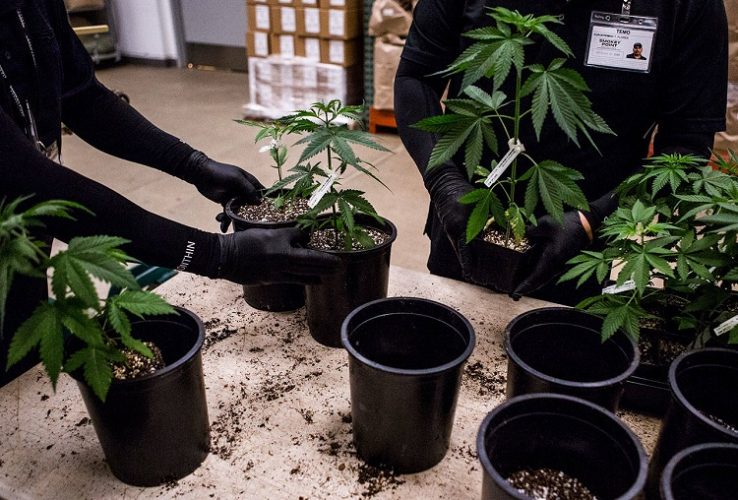 When growing marijuana, there are times when you're going to need to change the soil.
The truth is if you start off with good soil, you probably may not need to change it at all. However, more often than not, this is not the case.
Ultimately, you would need to change the soil if your marijuana plant has taken root and is too big for the pot you planted in or if you notice anything unusual or unhealthy about how you're marijuana plants are growing in the current soil.
Ideally, the best time to do it would be before the flowering stage.
This is because the flowering stage is extremely delicate, and moving the marijuana plants from one soil to the next could cause stress in them, especially during such a delicate phase.
So the best thing would be to transfer your plant to new soil before the flowering stage or probably wait until after the flowering stage to do so.
How To Enrich Marijuana Soil?
If you would like to grow marijuana in soil successfully, you need to understand and know your soil.
Ultimately, your cannabis plant depends on getting its nutrients from the soil and soil microbes, and it also depends on the entire ecosystem for its optimal growth.
So while it is interesting, it is also complex at the same time.
In fact, it's much more than just solid particles. Ultimately, it has structure, texture, and composition.
The soil also has a pH. It is also true that cannabis prefers soils with a pH of between 6 to 7.
Clay soils are naturally not conducive for cannabis growth because they are more alkaline, while many Sandy soils are aerated and still retain moisture, therefore it is ideal for growing marijuana.
So when it comes to optimizing your soil for marijuana growth, you need to understand that weed can be extremely adaptable and has the ability to survive in various conditions.
However, being able to survive doesn't necessarily mean that they're going to produce high-quality yields.
Cannabis does still have some differences, such as getting the appropriate amount of macronutrients, micronutrients, and minerals as well.
So if you would like to optimize your soil for marijuana growth, you should ensure that you add, iron, zinc, manganese, and boron to your soil.
You should also ensure that your soil is at an optimum pH level so that it can properly assist the functioning of magnesium, calcium, and phosphoric acid.
Cannabis also needs a lot of light to grow, and therefore, loamy soils are ideal because they drain well and also keep moisture.
A great solution would be to purchase organic super soil, which basically contains all of macronutrients, micronutrients, and minerals that your cannabis seeds need to grow and thrive.
As a bonus, it's also ready to use.
What Are The Most Important Soil Ingredients?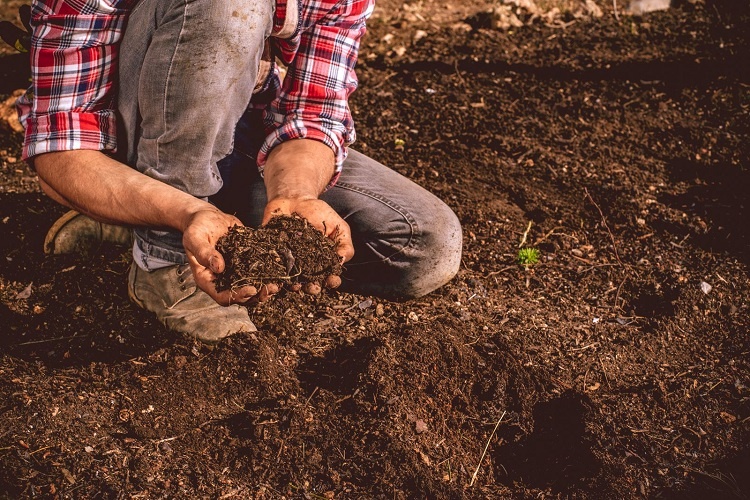 If you are new to growing marijuana, it's really easy to get caught up in thinking about nutrients your soil needs.
However, this is a good thing because these nutrients are crucial to marijuana plants thriving.
Ultimately, the best type of soil for marijuana needs to have the proper texture, ability to drain, and ultimately retain water.
There should also be a good mixture of water and oxygen to the roots all the time.
Too much water will restrict oxygen, and not enough water will dry out your roots.
So ultimately, you need to choose a soil that has a light texture as it will drain well and also retain an adequate amount of moisture.
Ultimately good soil will be dark and rich and have a loose texture. It will also drain well and also hold an appropriate amount of water.
Some of the natural ingredients that are absolutely crucial to the proper growth and development of your cannabis include nitrogen, potassium, and phosphorus.
Your plants also need enough oxygen and hydrogen to thrive as well as plenty of water and light.
In addition to that; you may want to add some additional ingredients to your soil to turn it into a cannabis super soil and ensure that it contains all of the ingredients that it needs in order to thrive and grow.
Some of these ingredients that you will see on the pre-packed super-soil packages, which are also crucial for the proper growth and development of the cannabis include forest humus, coco coir, perlite, fish meal, pumice, and mycorrhizae.
Best Marijuana Soil
In order for your cannabis garden to grow and thrive, you need to use the best possible marijuana soil.
Ensure that your marijuana soil contains all of the macronutrients and minerals that your plant needs from the seedling stage right up until your plants are ready to be harvested.
By ensuring that you choose the best possible soil for your plants and putting in the time and effort to tend to your marijuana plants, you will ultimately reap a bountiful yield.
Last update on 2022-12-09 / Affiliate links / Images from Amazon Product Advertising API