High-quality cannabis is expensive, and the millions of smokers who can afford it will tell you this.
However, have you ever thought of growing your own marijuana?
[amazon table="11665″]
If you have, you'll be pleased to know that they are a wealth of benefits to growing your own cannabis.
For one, purchasing cannabis from a dealer or dispensary always comes with concerns about quality.
By growing your own cannabis, you don't have to worry about the use of pesticides or what type of fertilizers were used in the process.
When you grow your own, you already know what's in it.
Luckily, there are quite a few marijuana growing kits on the market, and the following guide will give you an insight into the features and benefits of each one.
Best Marijuana Growing Kit
Best Overall: TopoGrow Grow Tent Kit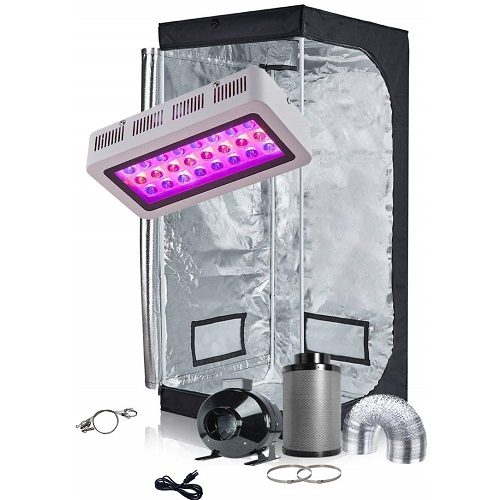 The TopoGrow Grow Tent Kit contains a 100% consistently reflective diamond mylar that's also waterproof.
Ultimately, this enhances the reflective effect. It also contains large, heavy-duty zippers and protects against light leaks thanks to its double stitching.
The multiple vents offer filter and fan output. The kit also contains a heavy-duty 600D Oxford cloth.
A 1.5-inch housing mesh that is anodized and has a carbon layer is present.
It makes use of coal-based activated carbon, and the carbon enables 100% filtered air-flow.
Some additional features include the strain relief and power cord, which is filtered on both ends and allows you to receive ducting.
Ultimately, it is suitable for various stages of cannabis growing and has a user-friendly design.
This allows you to grow your cannabis in any growth cycle easily.
So you'll be able to see your process through germination and seedling to veg and flower stage.
Pros
Heavy-duty zippers
Double stitching to prevent leaks
Available in various sizes
Cons
Would benefit from additional vent holes
Can only store between one to two full-grown plants
Product Specifications
Size: 400x260x110mm
Weight: 2.3KG
What do you get in the kit: 1x 96% reflective Growing Tent Cover, 1 set frame of rods and connectors, 1x Removable Water-proof Floor Tray, 2x Nylon Belts can be used for Filter Straps, 1x Assembly Instruction
Runner Up: The Bud Grower Complete Indoor Grow Kit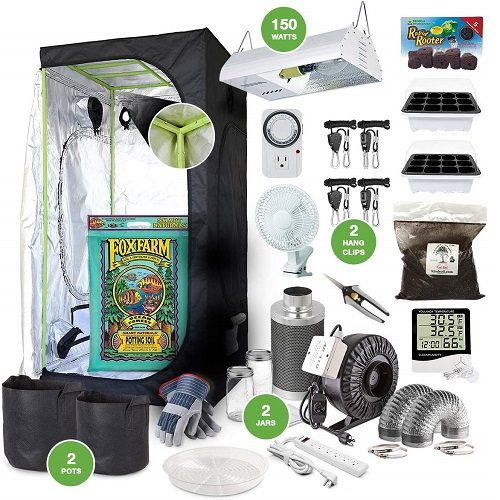 The Bud Grower Complete Indoor Grow Kit has everything you need to start growing your own cannabis.
The Indoor kit contains a mylar hydroponics non-toxic hut.
It also has an HPS 150 Watt light fixture with an HPS bulb.
The kit contains an indoor hydroponics kind of soil known as "hot soil" and the bag from Fox foam with a Bush doctor Coco loco potting mix.
The fans contain a five-speed control and in the leather case is equipped with four carbon air filters.
Ultimately, this kit takes all the planning and thinking, as well as the shopping hassles out of the process.
It's a turnkey solution that allows you to start growing cannabis right in your very own home. Everything you need is included at an affordable price.
Pros
Complete kit
Easy to set-up
Cons
Contains HPS light instead of LED
Product Specifications
Size: 46 x 20 x 12 inches
Weight: 70 pounds
What do you get in the kit: 8 corner pieces, rods, canvas tent,  sound system, 150-watt HPS light and bulb, two hangers, 4-inch fan, carbon filter, dust cover, steel ducting, temperature clock, 6-inch circulating fan, power strip, lights timer, hooks, clay pebbles, rock cubes, netting pots, bud tending scissors, gardening gloves, 2 jars, potting soil, organic soil
Alternatives: TopoLite Grow Tent Room Complete Kit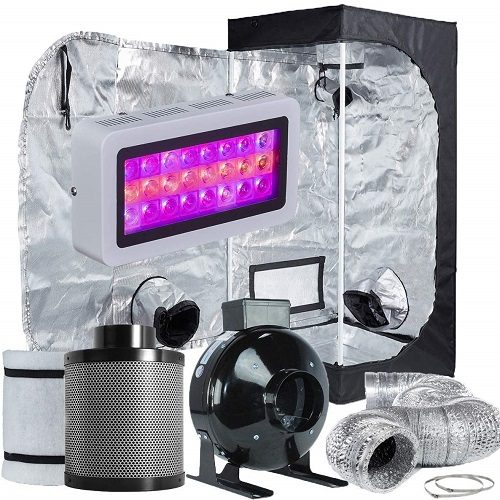 The TopoLite Grow Tent Room Complete Kit is recommended for those who want to grow weed due to its product design and compact features.
It's only 80 inches tall, 48 inches wide, and 48 inches large making it extremely portable as well.
It is perfect for apartments and condos too. Although it is small in size, its performance is spectacular.
It will speed up your plant growth excessively and save you a ton of time.
It's available in color black and made from reflective and strong materials that trap light inside.
One of the most advantageous materials is the waterproof interior and 600D box oxford material that is light proof and used on the outside of the kit.
The whole structure is supported by metal rods that have plastic connectors.
This kit has various features and benefits that set it apart from others in the market.
Aside from the basic tools that you need, there are also additional vent holes, two windows at the bottom that have a Velcro closure as well as a heavy-duty zipper lock.
The windows are clear to show you exactly how your plant is growing throughout the process.
They are also lined with a green tent that ultimately deters any disturbance to your growth cycle by filtering out white light.
They also allow you to keep a close eye on anything, causing disruption.
Irrespective of whether you are growing your plant through germination, seedling, or flower stage, it is designed to give the process optimal encouragement.
Pros
It is light reflective
Has multiple vents
You can regulate the temperature
It is double stitched to prevent leakage of light
Cons
Fans cannot be adjusted
Light may leak from the seam of the zippers
Product Specifications
Size: 18.4 x 17.9 x 14.3 inches
Weight: 35.1 pounds
What do you get in the kit: 1 x Carbon Air Filter, 1 x Changeable Velcro Pre-filter, 2 x Elastic Ropes, 1 x Silver Ducting, 1 x Inline Fan, 2 x Steel Hose Clamps, 1 x 300W LED Grow Panel Light, 1 x Power Line, 2 x Stainless Steel hanging kits, 1 x Grow Tent Cover, 1 set frame of rods and connectors, 1 x Removable Floor Tray, 2 x Nylon Belts, 1 x Assembly Instruction
BloomGrow 300W Full Spectrum UFO LED Light Grow Kit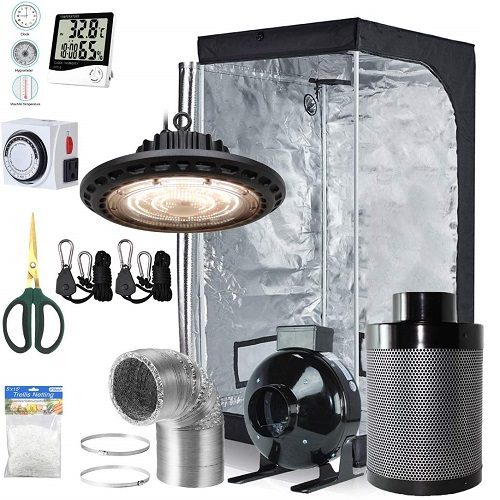 The BloomGrow 300W Full Spectrum UFO LED Light Grow Kit contains full-spectrum LED lighting and a high-efficiency filtration system.
It's a very high-quality system and has great hydroponic accessories.
The UFO LED light is unique and purpose-built for horticultural professionals.
So if you're looking for high output in conjunction with long service life, this is the kit for you.
It's ideal for stimulation of growth in all phases thanks to the color spectrum.
You can house your entire garden and all of its components in an easy to assemble and highly reflective tent.
There's no need to build a control room from scratch thanks to this kit which is easy maintenance.
The ventilation that you need in order for successful growth is provided inside the kit.
It has included the in-line fan, ducting as well as a carbon filter to remove odors from the growing space.
These accessories also promote airflow and bring fresh air to your plants as and when needed.
Pros
Contains great ventilation from the fans
Contains full-spectrum LED lights
Carbon filters eliminate odors
Cons
Since it is small in size, you cannot plant too many trees at once
Product Specifications
Size: 34.8 x 14.2 x 12.4 inches
Weight: 42.8 pounds
What do you get in the kit: 1xGrowing Tent Cover, 1 set frame of rods and connectors, 1x Removable Water-proof Floor Tray, Nylon Belts can be used for Filter Straps, 1x Assembly Instruction, 1x Digital Thermometer Humidity Monitor, 1 Pair Rope Ratchet Hanger, 1x60mm Bonsai Straight Scissor, 1×24 hour Dual Outlet Timer, 1x 5'x15′ Trellis Netting, 1x 600W LED Grow Light + 1x Inline Fan + 1x Activated Carbon Air Filter +1x Ducting + 2xSteel Hose Clamps
The Bloomgrow LED Grow Tent Complete Kit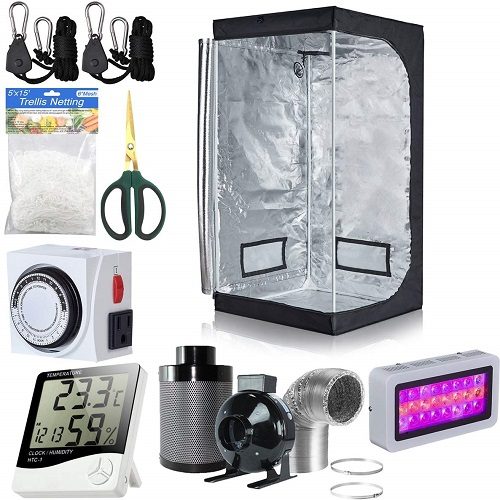 The Bloomgrow LED Grow Tent Complete Kit offers full-spectrum LED lighting to make sure your plants get the light coverage they need.
All the ventilation your plants need is provided as well, thanks to the in-line fan, carbon filter, and proper ducting that removes odors and promotes airflow.
The accessories are easy to assemble, and the entire kit is easy to maintain.
This is the ultimate growing solution on a budget and contains a 600D thread count mylar fabric, which is highly reflective and robust as well as it ensures no light will be lost.
The rods are also powder-coated to guarantee extra durability.
The full spectrum of the 300 watts LED grow light is a combination of blue and red wavelengths, which are crucial for successful growth.
The blue light promotes growth in the early stages, and that red light is for encouraging blooming in the flowering phase.
Pros
Full-spectrum led light
Inline fan
Carbon filter
Cons
Product Specifications
Size: 35 x 15.5 x 11.4 inches
Weight: 41.9 pounds
What do you get in the kit: Full spectrum LED light, Carbon filter, ducting, highly reflective 600D mylar inner tent fabric, powder-coated poles plastic connectors, in-line fans, hangers, hygrometer, timer, shears, netting.
On What To Pay Attention When Buying A Home Growing Kit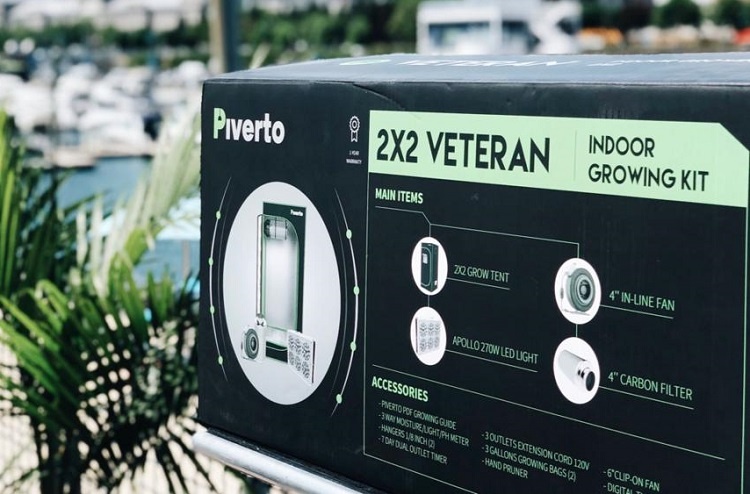 Growing your own cannabis is a rewarding experience.
However, if you are a beginner, it can prove to be daunting since they are quite a few aspects that you need to get right in order to grow your own cannabis successfully.
You need optimal lighting, nutrients, and of course, it all starts with the right tent.
For beginners, it's normal not to know exactly how to get started. Thankfully choosing the right marijuana growing kit will allow you to be successful.
Grow Room Or Grow Tent?
This is one of the first questions that you should ask yourself.
Would you like to create your own grow room or choose a grow tent instead?
A grow room will require quite a lot of effort, such as drilling into the ceiling to hang grow lights.
You also need lots of reflective material and proper ventilation.
So unless you are prepared for lots of building and drilling, not to mention handiwork, choosing a grow tent is the optimal choice.
There's no handiwork needed, and you get everything required to start successfully growing your own cannabis.
One of the many major benefits of choosing a grow tent is that it's not susceptible to outdoor conditions the way an entire room is.
You also have more control over temperature and humidity, which is ideal and essential for proper growth.
These tents have exhaust fans and are designed specifically to optimize your growth potential. All you have to do is set it up incorrectly and start growing.
Lighting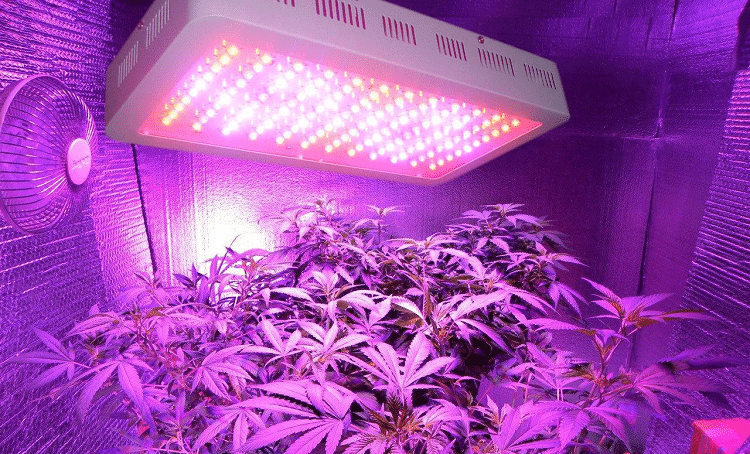 The right lighting conditions are essential for proper growth, and your plants will need a good source of light for robust growth.
The light spectrum and intensity will need to be optimal.
So choosing a grow kit that has sufficient or efficient grow lights is absolutely crucial to growing cannabis successfully.
Ultimately, you want to choose a kit that has LED lighting, which is stronger and more intense.
You also need to calculate the wattage of light that you need to cover the entire growing area.
Although HPS lighting is closer to the spectrum of the sun, LED lighting cannot be beaten.
Ventilation
Before starting the growing process, it's important to understand that you need to exhaust stale air and heat and also bring in a supply of fresh air constantly.
A grow kit is designed to prevent stale air from building up, and this is why it contains carbon filters and adequate ducting.
It eliminates odors and also allows fresh air to circulate inside the tent constantly.
Ultimately what this does is strengthen your branches and helps to control the temperature and humidity inside the tent.
So in-line fans, ducting, and air vents are absolutely crucial to the development of your marijuana.
Temperature And Humidity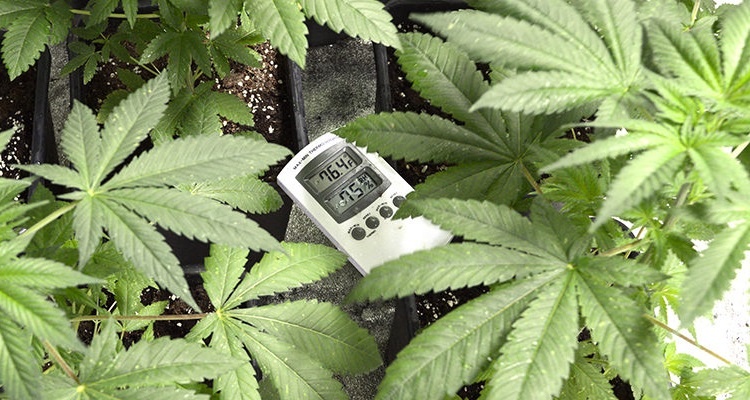 Poor temperature and humidity levels are bad for the growth of your cannabis.
This is mainly because plants that are stressed out will be stagnant, contain mold, pests, mildew, and ultimately die.
So to give your plants a happy life, the environment in which you are growing them must be optimal.
Humidity levels should never reach more than 70% at the highest and should always be between 65 to 80°F.
Growth System And Hydroponics
Perhaps one of the most daunting decisions you'll make is choosing a medium to grow your cannabis in. There are so many options that it can prove to be overwhelming.
Some of the best options are hydroponics systems, which are completely soiled and require you to mix nutrients into the water reservoir to supply food to your plants.
Soil mediums are great for beginners since they contain all the nutrients that your cannabis seeds will need.
Coco blend is ideal for drip system feeding and is the best go-between if you're not sure whether to choose hydroponics or soil mediums.
Hydroponic systems, on the other hand, require quite a bit of attention while soil mediums require the least amount of maintenance.
Cocoa blends will require more attention than soil but not as much as hydroponics.
DIY Grow Tent Vs Buying Tent Kit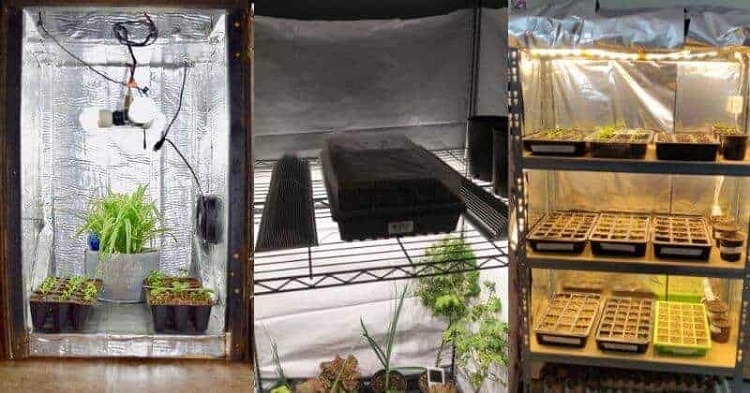 If you're interested in growing cannabis at home but have never done so before, then you're probably wondering about the difference between a grow room and grow tent?
Well, to put it simply a grow room represents the entire space that you use to grow cannabis while a grow tent is a contained area.
So while the grow room can be any space inside your home such as a spare room or garage, a grow tent is a confined and separate unit.
In fact, grow tents are portable and reusable as well. The exterior of a grow tent contains canvas, and the interior has reflective materials.
Ultimately this boosts the effectiveness of the grow lights and helps your plants grow healthier.
If you're considering a grow room, it needs to be an area such as the basement or cellar inside your home.
This is because these areas have light coming from the outside and are out-of-the-way or separate from your living area, and the temperature seems to be stable.
However, you still need to choose your materials carefully and take all the factors needed for successful growth into consideration.
Creating your own grow room will also require lots of effort as you need to install lights, proper ventilation, etc. in order for it to be successful.
Whereas investing in grow kits will give you everything you need for successful cannabis growing.
Most growing kits are contained units, the external factors will have no influence on the environment inside the canvas.
It is very well ventilated, comes with in-line fans, carbon filters and ducts as well as temperature control settings.
Ultimately, for an effortless experience, you'll want to choose a grow kit.
Growing Kit FAQ
Do You Need A Tent To Grow Indoors?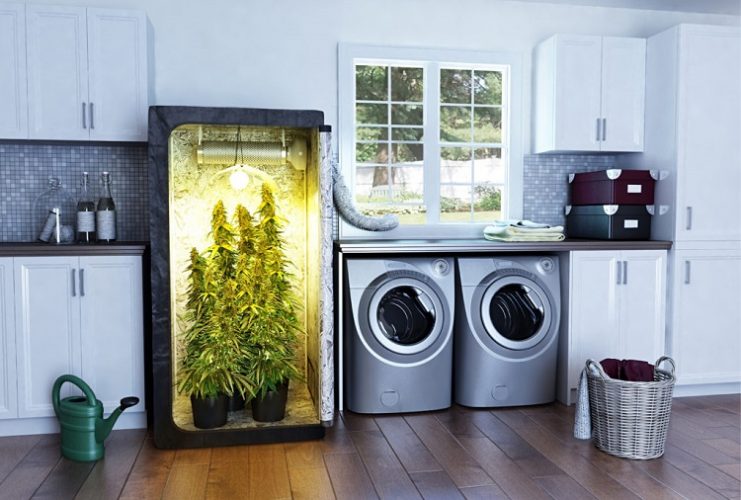 If you're new to growing weed at home, then you're probably wondering about how to get started.
You're probably already wondering about how to cut costs and whether a grow tent is really necessary?
Ultimately, there are advantages and disadvantages to each option. So let's take a closer look at why we think a grow tent is necessary.
A grow tent makes it possible to grow your cannabis the entire year round irrespective of the season.
It will also allow you to use your space wisely. Since these tents do not take up much space, they are ideal for growing weed in your closet or garage.
Ultimately you don't need to worry about where you are placing it because you have full control of the temperature and lighting inside the tent.
Grow Tents Also Make Use Of Energy Efficiently
As a bonus, you will be keeping pests out. A grow tent is designed to deter pests such as aphids, spider mites, and whiteflies.
Since the tent is closed all the time, pests will stay out.
Clean air is also circulated constantly when you use a tent.
This is because they contain air filtration systems that enhance the circulation of clean air inside the tent.
The process of technology that these tents use is called "negative pressure."
The lighting has to be just right for the optimal growth of cannabis.
With a tent, which makes use of LED lighting, you'll be exposing your plants to a greater concentration of light and saving energy at the same time.
Grow tents are pretty easy to set up. You don't have to be rocket science to figure out how to get your tent up and running.
One of the only possible drawbacks of a tent is the fact that your space is limited.
So while you are able to grow potentially dozens of cannabis plants inside a grow room, with a tent, you are limited to just a couple at a time.
How Does A Grow Tent Work?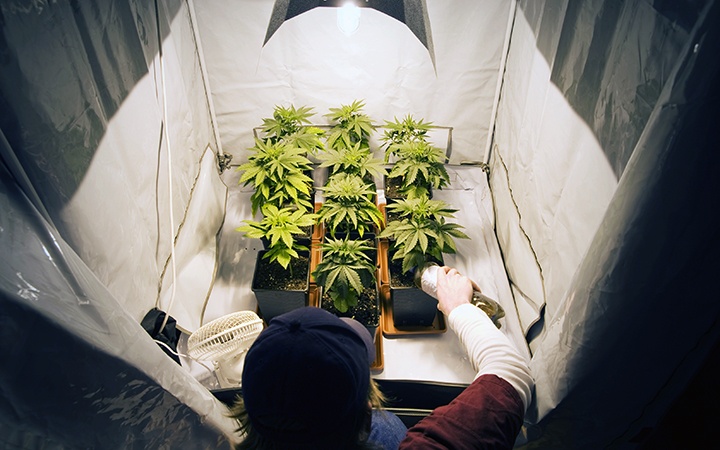 A grow tent is a complete kit to help you start growing your own cannabis.
However, what exactly makes grow tents so suitable for this purpose?
Let's take a closer look at exactly how to grow tents work.
A grow tent is made up of a number of different parts and accessories that all work together to create a harmonious environment for your marijuana to grow.
Fabric
Firstly the tent itself is made from heavy-duty canvas fabric.
The outer fabric is both durable and strong, and the inside is meant to increase the effectiveness of light, providing an excellent reflective surface.
When you hear measurements like 600D, it is referring to the thickness of the thread used in the fabric.
So usually, the higher the thread count, the stronger or, the thicker the canvas.
So if you are considering opting for a large tent, it's best to choose a thread count that is higher.
Lining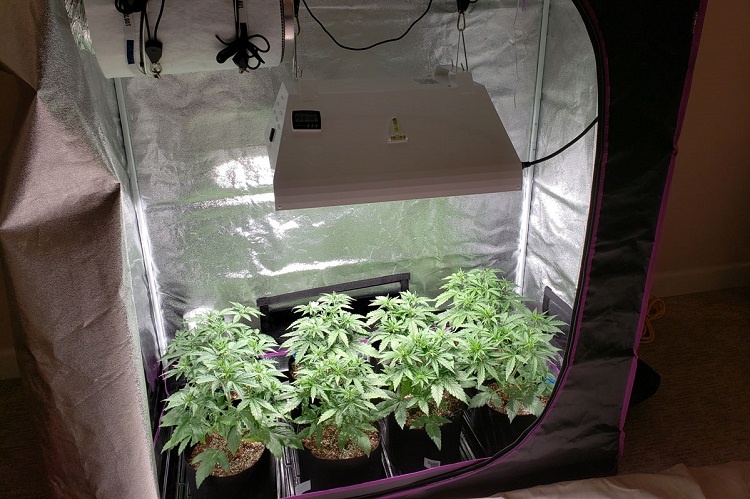 The inner lining of the canvas tent is created to reflect light. So the materials used on the inside of these tents are best for light reflection.
The entire tend rests on the poles which provide support. The roof seams, therefore, sustain the weight of the entire tent.
There might be stress on the seams over time, which will lead to wear and tear.
However, the more sturdy the fabric, the more you can do reduce punctures and abrasions to the fabric.
So opt for the canvas; that is thick and robust. And ensure that your roof seams are double-stitched for enforcement.
The Grow Tent Frame
The frame is a durable skeleton that holds the fabric. It carries the weight of the other equipment, including the mounted light fixtures, etc.
You can choose from a number of frames used using a range of materials; however, they need to be strong enough to offer optimal support.
While steel frames are difficult to set up and dismantle, synthetic or lightweight materials are easy to assemble and disassemble, and they also offer similar support.
Grow Tent Zippers And Seams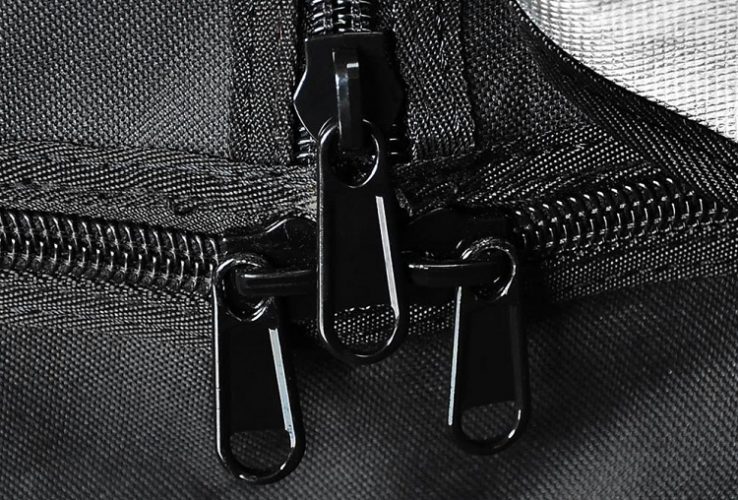 The zippers and seams are two of the most common problems that are faced when using a grow tent.
The zippers are used in grow tents to create a door so that you can peek in and see how things are going.
Most tents make use of a heavy-duty plastic zipper; however, after continual use, it leads to wear and tear, and eventual breakage.
Torn or poor stitching also leads to light leakage.
So some of the things you can do to prevent this from happening is cleaning the zippers from time to time to move the build-up of dirt, and you may also apply a thin coating of paraffin to the teeth of the zipper to lubricate them.
Ports And Vents
One of the most important benefits of a grow tent is that it creates an enclosed environment that is also controlled.
You can manage access to the outside and inside environments.
However, this can prove to be challenging since aspects such as ventilation, hydroponics, filtration, and automation equipment all need to access to the outside environment.
This is mainly for things such as electrical services and air circulation.
However, a well-designed grow tent comes with space for a range of equipment.
So ultimately, a grow tent has the relevant space to accommodate every possible piece of equipment needed for optimal growing.
What Is The Point Of A Grow Tent?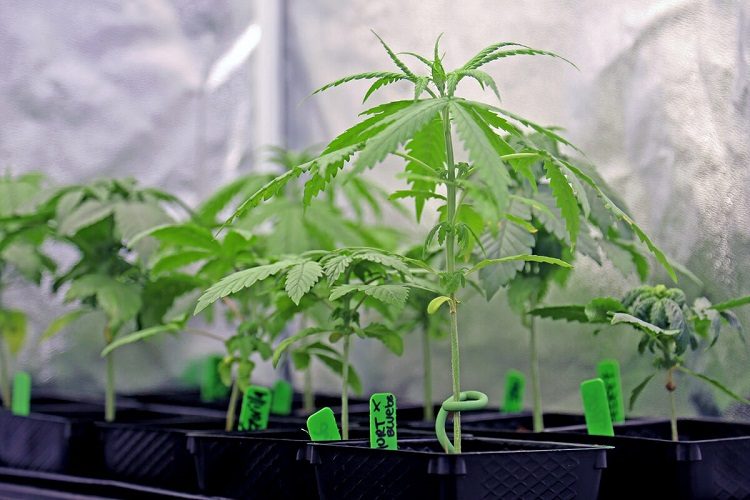 Irrespective of whether you are a beginner or experienced marijuana grower, you'll know exactly how the outside environment can affect the growing process.
Common control issues, odors, infestations, and also space limitations can all impact your cannabis growth negatively.
The ideal solution though is a grow tent. There are several benefits to investing in a grow tent, and here are some of them.
A grow tent offers you a contained unit to grow your cannabis.
So you no longer have to worry about finding space in your basement or cellar, and you can just use a corner inside your home.
When it comes to growing cannabis or any other type of plant, climate control is a huge hurdle.
Depending on the type of plant you are growing, different conditions will be suitable.
However, when it comes to marijuana, a grow tent is designed to create an optimal environment for the best growth conditions.
Pest infestations are probably the most irritating aspect of growing any type of plant.
Since a grow tent is sealed off from the outside environment, it will keep pests outside and far away from your precious cannabis
A grow tent also controls odors. Cannabis tends to have quite a pungent smell, and your neighbors may not take too kindly to it.
Therefore by using a tent, the odors are eliminated.
Lighting is probably one of the most important pieces of equipment in your grow tent.
The proper lighting is absolutely crucial to the healthy growth of your cannabis. Therefore grow tents are equipped with the right LED and HPS lighting.
Perhaps the ultimate advantage of buying a grow tent is that it comes complete with everything that you need to start the marijuana growing process.
As a beginner, you may not know what to start with or where to go to begin the process.
However, when you purchase a grow kit, you have everything you need to get started immediately.
How Much Light Does A Grow Tent Need?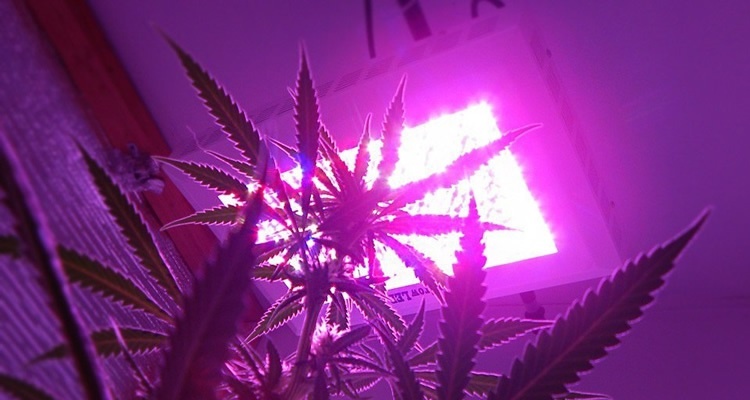 Most tents range from 3 x 3 to 4 x 4. However, some people may find that too small and may opt for a 5 x 5 tent.
Ideally, if you are choosing a 5 x 5 tent, you can choose anywhere from 700 to 1000 watts of LED lighting.
When it comes to HPS lighting, you can go as high as 2600 watts.
However, when it comes to LED lights, it's recommended that you stick to the maximum of 1000 watts to avoid your marijuana from getting overexposed to lights.
When you purchase a grow tent, you will get the exact or specific amount of watts needed for the optimal growth of your cannabis.
Best Marijuana Growing Kit: Time To Make Your Choice
There are quite a few complete marijuana growing kits on the market.
Irrespective of your experience or budget, there's a kit out there for you.
Ultimately by investing in marijuana growing kits, you will have full control over the environment that you are growing your cannabis in, and you will also be able to monitor the growth as often as you like.
So ultimately growing cannabis can turn out to be quite a rewarding experience for you, and having a grow kit will eliminate all of the issues that come with growing marijuana inside your home.