This review aims to give you all the info you could need to grow and enjoy the Grape Ape strain.
In this review, I will answer the most common questions about this strain as well as give you some growing tips and general advice.
Grape Ape Strain (Key Info)
Effects: Relaxed, Happy, Sleepy
Helps With: Pain, Stress, Insomnia
Indoor Yield: 450g/m2
Outdoor Yield: 800g/plant
Flowering Time: 8 Weeks
Outdoor Harvest Time: Late September
THC Content: 23%
CBD Content: 0.07%
Indoor Plant Height: Short
Grow Difficulty: Moderate
Genetics: afghani,mendocino purps, skunk no. 1
Flavors: Grape, Sweet, Berry
Best place to buy seeds: Seedsman.com
Free Cannabis Seeds? Check out my list of the best seed bank promotions – Including FREE Seeds, discount codes, and giveaways!
Where Does Grape Ape Come From?
Grape Ape has a varied genetic origin, it was created by Apothecary Genetics and Barney's Farm and is a cross between the famous Mendocino Purps from Northern California, Skunk, and the legendary Afghani landrace.
When Did Grape Ape Strain Come Out?
Grape Ape first showed up sometime in 2004 as one of the first crosses created by the Apothecary Genetics seed bank after they started operations in early 2004.
This strain has won multiple Cannabis awards since its appearance, including the 2005 and 2006 Green Cup and best concentrate in the 2011 High Times Medical Colorado Cup.
Who Created Grape Ape Strain?
Grape Ape was created by the famous cannabis activist and cancer survivor, Bret Bogue, who is also the founder of Apothecary Genetics.
Mendocino Purps, Skunk, and Afghani were the strains that served as inspiration for the creation of Grape Ape.
Why Is It Called Grape Ape?
Grape Ape is known for its delicious grape-like smell and taste from which it also gets its name.
It also shares some of the same purple and blue hues of Mendocino Purps, one of its parent strains.
The Ape part probably comes from its strong Indica genetics which makes its effect similar to the one from Gorilla Glue 4 (GG4) although they don't share the same genetics.
Is Grape Ape Strong?
Grape Ape is quite a strong strain, with THC levels between 18-21%, making it good for treating pain.
The relaxing Indica effects will let you nod off to sleep at night while at the same time relieving any symptoms of physical pain you may have.
What Strains Are Similar To Grape Ape?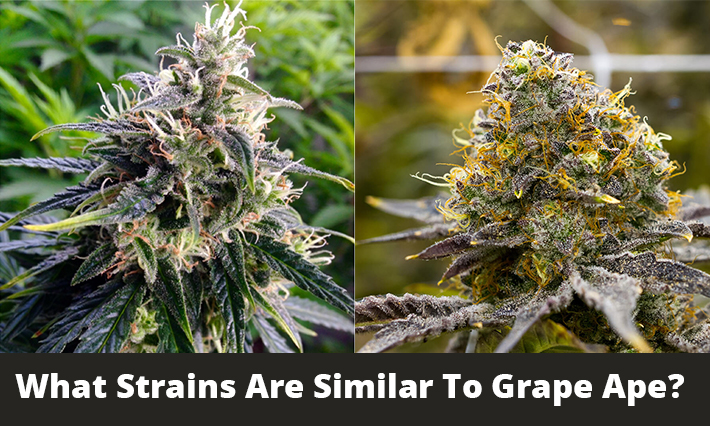 Grape Ape is an Indica dominant hybrid high in anthocyanins that give it the characteristic purple coloring, so if you're looking for strains similar to Grape Ape, you need to look for other Indica-dominant hybrids that exhibit purple or bluish hues.
Here are some strains with colors and effects similar to Grape Ape that should also provide a relaxing Indica high:
Mendocino Purps
Granddaddy Purple
Purple Punch
Grape Bubba
How Does Grape Ape Make You Feel?
Grape Ape is excellent for treating pain, tension, and anxiety that will leave you in a relaxed haze so it's very good to relax after a long day or in case you need some extra help to fall asleep.
The effects start slowly and build up to a heavy body high that doesn't feel overpowering, instead it feels like a well-balanced mix of cerebral and physical relaxation that will leave you with a feeling of spacey calmness.
Is Grape Ape Indica or Sativa?
Grape Ape is a mostly Indica hybrid (90% Indica / 10% Sativa). So it can be considered an almost pure Sativa strain.
What THC Is Grape Ape?
Grape Ape's THC levels are moderately high, in the 18-21% range.
Is Grape Ape high in CBD?
The CBD levels in Grape Ape are very low, lab tests have shown between 0.26% and 0.68% CBD.
Is Grape Ape a Top Shelf?
Grape Ape is considered a top-shelf Indica-dominant strain.
It is a delicious cross of Mendocino Purps, Skunk, and Original Afghani, making it a pretty exciting bud to enjoy.
The dense nugs of Grape Ape are covered in trichomes and you can see clear hints of blue and purple on the calyxes which darken as the flower matures.
It is also a heavy resin producer which makes the plant quite sticky and gives off a potent fruity aroma.
Correctly grown and cured Grape Ape is among the tastiest and most top-level Indicas you can find.
There are not many cannabis strains out there that can compete with the "bag appeal" presented by the Grape Ape strain
Where To Buy Grape Ape Seeds?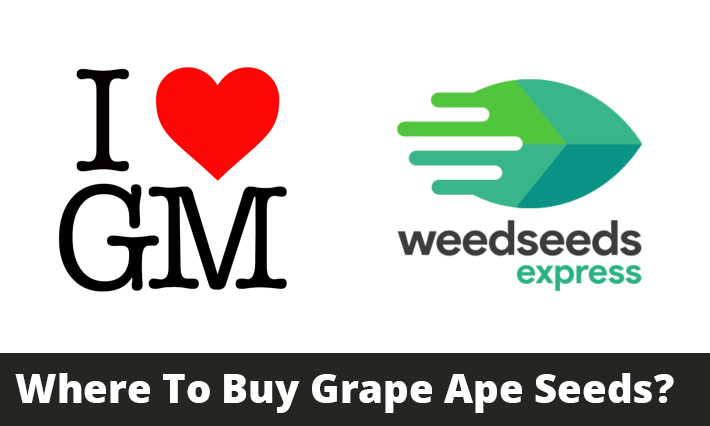 Grape Ape was created as a collaboration between Apothecary & Barneys Farm around the year 2004.
The huge popularity of this strain means seeds won't be hard to find, however, remember to use reliable seed banks that have a good track record and germination guarantee.
I would recommend using any of the following seed banks to buy your Grape Ape seeds
ILGM
Weed Seeds Express
Seedsman
Who Has The Best Grape Ape Seeds?
The original Grape Ape was developed by Apothecary & Barneys Farm, but nowadays you can find seeds with several online vendors.
However, who has the best Grape Ape seeds is pretty hard to say.
Instead, I would recommend looking at the quality of the seed bank instead.
If the seed bank is reliable and has a good reputation, then you can be pretty sure that they will have excellent Grape Ape seeds.
These seed banks are all ones that I have used personally, and stock high quality Grape Ape seeds
ILGM (5 Grape Ape Seeds for $XX)
Weed Seeds Express (5 Grape Ape Seeds for $XX)
Seedsman (6 Grape Ape Seeds for $XX)
Crop King Seeds (5 Grape Ape Seeds for $XX)
I've had excellent results with ILGM's Grape Ape seeds, as well as Seedsman
Is Grape Ape exotic?
An exotic strain could be anything from a fruity Sativa to a dark purple Indica, but the general standard is that it must be rare for the region and must have extremely noticeable effects.
Grape Ape can definitely be considered an exotic strain in more ways than one: it is not a particularly easy strain to find, it has a long maturation time which makes it demanding to grow and it has very unique and noticeable effects that set it apart from other strains.
How Does Grape Ape Taste?
Grape Ape tastes overwhelmingly of grapes, with notes of strawberry and cotton candy.
Making it a perfect strain for those who love sweet-tasting weed.
The sweet, fruity flavor is then followed by a sharp, earthy exhale with notes of earth and skunk.
What Does Grape Ape Smell Like?
Grape Ape has an enticing smell of grapes, berries, and cotton candy, perfect for those that love weed with a sweeter aroma.
You will also be able to catch some hints of skunk, earth, and hash, but the principal aroma will be sweet.
Why Is Grape Ape So Popular?
Many factors contribute to the popularity of Grape Ape.
There are very few Cannabis strains that can look as good and have as much "bag appeal" as Grape Ape.
The soothing high that will leave you in a blissful state of pure relaxation has also made it a favorite in dispensaries among the West Coast of the U.S.
Its large buds and abundant harvests have also made it a favorite amongst growers and enthusiasts.
Grape Ape Grow Guide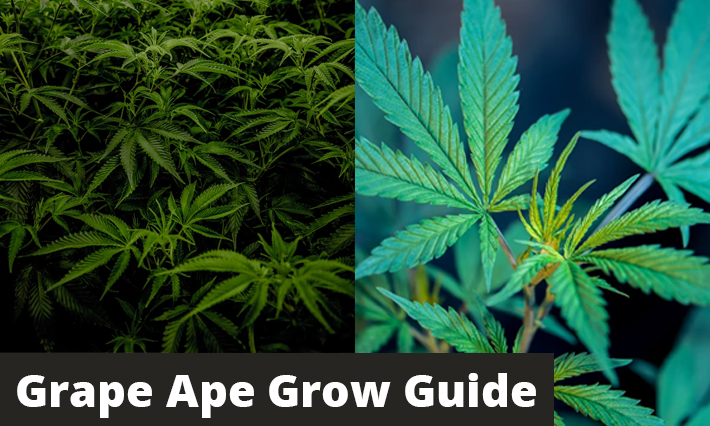 Grape Ape is not a difficult strain to grow, however, it has some challenges that make it not a perfect choice for first-timers.
It can be grown well both indoors and outdoors, however, the large yields it can offer in reduced spaces make it a favorite among indoor growers.
When growing outside you should watch out for mold and if possible try growing in a covered space, like a greenhouse, to avoid problems with rain and humidity.
Lollipopping and clearing the lower canopy should improve airflow and help out with humidity problems as well.
How Much Does Grape Ape Yield?
Grape Ape is known as a very large producer, with harvests of up to 800 grams per plant when growing outdoors.
Indoors you can expect harvests of around 450 grams per square meter.
Is Grape Ape Difficult to Grow?
Most cultivators consider Grape Ape as a moderately difficult strain to grow so some skill is required, however, new growers will also be able to get away with growing Grape Ape maybe with a minor mistake or two.
How Long Does Blue Dream Take to Grow?
The average flowering time for Grape Ape is around 7 to 8 weeks.
The time needed to reach the flowering stage is usually longer than with other strains, sometimes requiring up to twelve weeks to reach full maturity.
How Tall Does Grape Ape Strain Grow?
Grape Ape is a strain that doesn't tend to grow very tall, usually not growing higher than 1.5 meters.
This makes it a favorite for indoor growers who can easily train and manipulate it to produce abundant harvests in reduced spaces.
Is Grape Ape Mold Resistant?
Grape Ape is quite a healthy plant, it is reasonably resistant to mold, mildew, insects, and mechanical damage.
It can be affected by heavy rains or extreme humidity, so if you're growing outdoors in very humid environments it would be preferable to keep them in a greenhouse or other covered space that will provide some protection against the elements.
When Should You Harvest Grape Ape?
When growing outdoors Grape Ape will be ready for harvest around late September to early October.
Indoors, buds will be ready after about 7 to 8 weeks.
However, those are just rough estimates. Grape Ape (like all strains) is ready to harvest when the trichomes reach your desired color.
Clear = too early

Cloudy = head high, (Sativa)

Amber = couchlock/body high (Indica)
How Does Grape Ape Compare to Other Strains?
Let's take a look at how Grape Ape compares to some other popular strains…
Grape Ape vs Gelato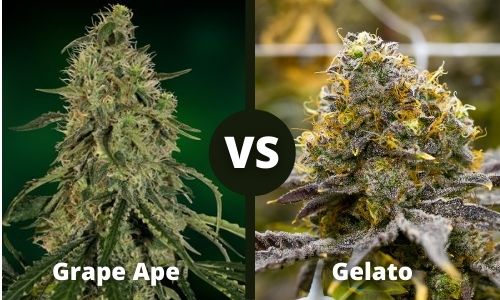 Grape Ape and Gelato are two hybrid Cannabis strains with different genetics, while Grape Ape is a cross between Mendocino Purps, Skunk, and Afghani which makes it a much stronger Sativa, Gelato is a cross of Sunset Sherbet and Thin Mint Girl Scout Cookies making it for a balanced 50% Sativa 50% Indica strain.}
This nice balance of Sativa and Indica genetics make Gelato produce a euphoric high accompanied that will leave you relaxed, numb to pain but mentally stimulated and productive, the THC level of 17% is moderately high which will also add to the recreational and medicinal effects.
On the other hand, both Grape Ape and Gelato have very interesting flavor profiles, while Grape Ape tastes of berries and grapes, Gelato has fruity flavors with a hint of ice or cream, you could even feel some butterscotch in it.
The buds of Gelato are no doubt great looking and in some aspects similar to Grape Ape, they bloom in dark purple hues and are illuminated by fiery orange hairs and a shiny white coating of trichomes.
Check out my full Grape Ape strain review & grow info
Grape Ape vs Northern Lights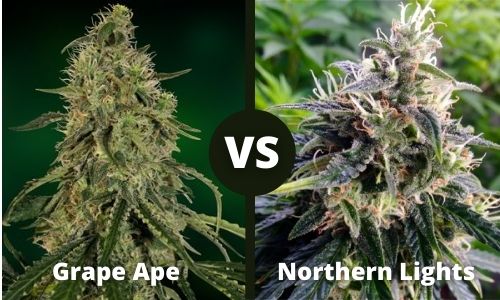 Contrary to Grape Ape, Northern Lights is a very heavy Indica strain developed by crossing Afghani with Thai.
THC content is a little lower than Grape Ape, around 15-22%, but the stronger Indica genetics make it ideal when you need to unwind or just get couch-locked, with its euphoric effects that settle in firmly throughout the body, relaxing the muscles and mind.
The smell of Northern Lights is of Afghani skunk, mixed with fresh woody and earthy smell that also seems reminiscent of pine trees, with hints of fruit and citrus.
All these unique smells can also be felt through in the taste, with smokers getting a sweet and tangy hit on the inhale, and a nice hashy and earthy taste on the exhale.
Check out my full Northern Light strain review & grow info
Grape Ape vs Blue Dream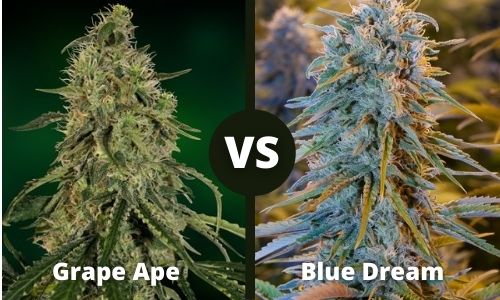 Contrary to Grape Ape with its strong Indica genetics, Blue Dream is a 90% Sativa-dominant cross of Blueberry and Haze.
The high it produces is balanced and comfortable, with loads of cerebral stimulation and full-body relaxation, aided by its decently high THC levels of around 18%, however, the low CBD content may produce some anxiety in new users.
The smell and taste of Blue Dream tend to be of sweet berries with a touch of tart, while Grape Ape also smells like fruit and berries, but the smell is much sweeter.
The delicious smell of blueberries, sugar, and tart is also long-lasting and stays in the air and in your mouth long after the smoke has gone.
Check out my full Blue Dream strain review & grow info
Grape Ape vs Grand Daddy Purple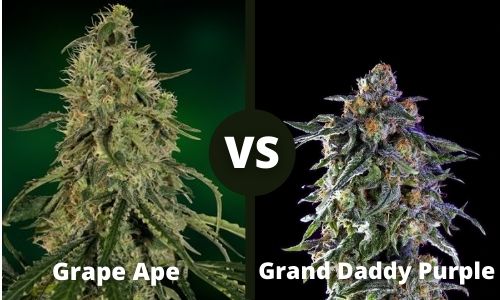 Grape Ape and Grand Daddy Purple are two famous Indica strains from California, and they both share several other characteristics as well.
They both share one of their parent strains, Mendocino Purps, which explains why they also have many similarities.
The smell is very similar to Grape Ape as well, with its sweet berries and grapes, while Grand Daddy Purple has also a deeper taste with subtle hints of skunk, fuel, and earth.
Grand Daddy Purple flowers bloom in shades of deep purple and blue, similar to the nugs of Blue Dream, also coated with a great number of icy trichomes.
The effects tend to be a mix of cerebral euphoria and physical relaxation that leaves users in a blissful state of relaxation, it also helps combat pain, stress, insomnia, appetite loss, and muscle spasms.
Check out my full Grand Daddy Purple strain review & grow guide
Grape Ape vs Bubba Kush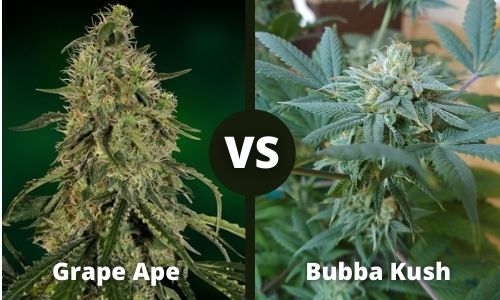 Bubba Kush is one of those legendary Cannabis strains everybody has heard about, and for good reason.
It is also a heavy Indica, just like Grape Ape, that will provide deep relaxation and pain relief, its THC content (15-22%) is a little lower than that of Grape Ape, but is still moderately high nonetheless.
As for flavor, you will find notes of hash, chocolate, and coffee, with a nice sweet undertone that brings it all together.
After consuming it, you will feel your muscles relax while a calm, dreamy euphoria blanket the mind, gets rid of stress, and brings happy moods.
Bubba Kush tends to be easier to grow indoors than Grape Ape due to its short stature and compact buds that will provide abundant harvests even in confined spaces.
The exact genetics of Bubba Kush is not known, but several breeders believe one parent was an OG Kush plant, while the other was an unnamed Northern Lights phenotype brought back from Mardi Gras in New Orleans.
Check out my full Bubba Kush strain review & grow guide
Grape Ape vs Gorilla Glue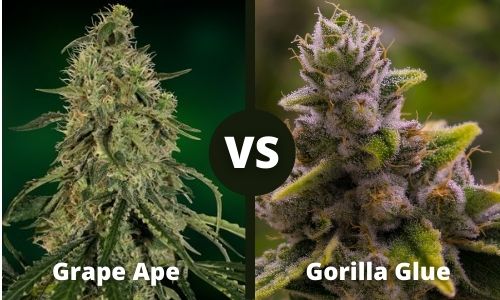 Gorilla Glue is probably one of the strains with the highest THC content of around 25-30%, much higher than Grape Ape which clocks around 18-21%.
The extreme THC content of Gorilla Glue makes it an excellent strain for treating pain, insomnia, and other medical conditions, but novice users should beware since it could produce some paranoia.
Users with a high THC tolerance will definitely enjoy GG4 and the calm, relaxing couch-lock it tends to produce so it is recommended not to consume it during the day if you need to stay productive…
The taste of GG4 is of diesel, coffee, and chocolate with pungent hints of skunk, earth, and wood with some sour apple undertones.
The buds are also densely packed with a covering of trichomes that make it appear as if it were covered in a layer of ice crystals.
Check out my full Gorilla Glue Strain review & grow info
Grape Ape vs Skywalker OG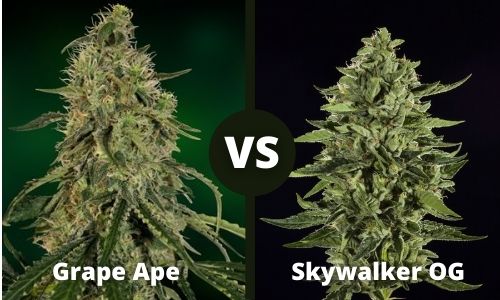 Skywalker OG is an Indica-dominant cross of Mazar, Blueberry, and OG Kush originally bred by Darkheart Nursery with genetics from Dutch Passion Seeds.
It smells of sweet mango, oranges, and cinnamon, with a spicy finish of pepper, earth, and hops.
THC tends to also be much higher than Blue Dream, at around 26% so new users would be wise to approach it with caution…
Skywalker OG is also an excellent strain for when you need to unwind after a stressful day and chill in front of the couch without a care in the world.
The height of Skywalker OG also tends to be quite a body heavy with a pronounced couch lock which makes it an excellent choice if you need something to help you sleep a bit better.