Trainwreck is a potent Sativa strain known for its mind-boggling, cerebral effects on the body that hit you like a train. It is smoked heavily by veterans and beginners alike.
This review is meticulously put together to answer all the questions nagging you about Trainwreck Strain.
In addition, a growth guide is also included to provide you with better insight. So let's dive right in.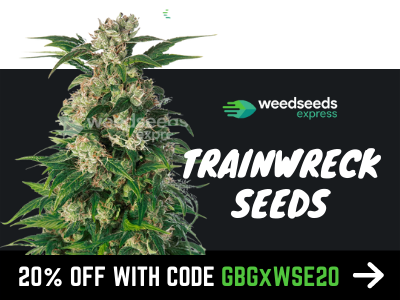 Trainwreck Strain (Key Info)
Effects: Happy, Relaxed, Euphoric
Helps With: Stress, Depression, Pain
Indoor Yield: 500g/m2
Outdoor Yield: 700g/plant
Flowering Time: 10 weeks
Outdoor Harvest Time: Late October
THC Content: 21%
CBD Content: 0.1%
Indoor Plant Height: Tall
Grow Difficulty: Moderate
Genetics: Mexican, Thai, Afghani
Flavors: earthy, pine, pungent
Best place to buy seeds: Seedsman.com
Where To Buy Trainwreck Seeds
Free Cannabis Seeds? Check out my list of the best seed bank promotions – Including FREE Seeds, discount codes, and giveaways!
Where Does Trainwreck Come From?
Trainwreck comes from the marijuana-famous Emerald Triangle in Northern California, also known as the weed capital of America.
Who Created the Trainwreck Strain?
Trainwreck's origin is clouded with mystery.
There are quite a few stories, one being that it was the creation of two Californian brothers back in the late 1970s.
They had to pull it early to keep it undiscovered when a terrible Trainwreck happened in the city of Arcata in California, around their grow site.
Another story states that Trainwreck was "discovered" by Eric Heimstadt in the year 2000.
Unfortunately, Heimstadt never corroborated this claim and died in 2009, so most experts believe this strain existed long before the 21st century.
When Did Trainwreck Come Out?
Experts believe that Trainwreck came out sometime between the late 1970s and early 1980s from Northern California.
How Does Trainwreck Make You Feel?
Trainwreck's effects include an immensely uplifted mood, euphoria, cerebral high, and a nice body buzz that melts into full-body relaxation.
It gives a rush of brain high mingled with sedation.
The buzz makes mundane tasks pretty easy and may be followed by tiredness and a desire to sleep.
Is Trainwreck Sativa or Indica?
Trainwreck is a hybrid with 90% Sativa and only 10% Indica.
When aptly grown, it gives both the sedated feeling of an Indica and the cerebral stimulation of a Sativa, which makes it quite popular.
It is thought to be a mix of three strains: Mexican Sativa, Thai Sativa, and Afghani Indica.
What is Trainwreck THC level?
The THC level in Trainwreck ranges from 18-26%.
Because of its strong potency, it holds one of the top spots on "Strongest Cannabis Strains" lists.
What is Trainwreck CBD level?
The CBD levels in Trainwreck are almost nonexistent, typically even lower than 1%.
Is Trainwreck Strong?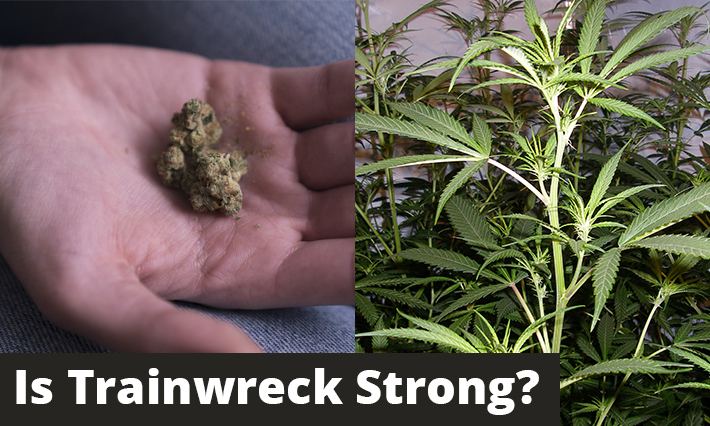 Yes, Trainwreck's high can be intense for some people because of its high THC content.
It is notoriously racy as it can create a vigorous psychoactive effect that can quickly elevate to paranoia.
Consuming too much at once can cause dizziness, anxiousness, and headache.
However, consumption of appropriate amounts provides a high cerebral activity that you can use productively.
Is Trainwreck Top Shelf?
Yes, Trainwreck is top shelf, and its potency is higher than average.
However, not all Trainwreck strains can be top-shelf as some are grown poorly without considering nutrient and temperature requirements, which adversely affects quality.
Therefore, it is advisable to either grow this potent Sativa yourself or buy from a reliable dispensary.
Is Trainwreck Exotic?
No, Trainwreck is not considered exotic.
An exotic cannabis strain is rare or possesses unique qualities, which is not the case of Trainwreck, which possesses quite common characteristics and can be found easily.
What Does Trainwreck Taste Like?
Trainwreck tastes like a concoction of various flavors, sweet yet spicy with notes of lemon, pine, and earth.
This mix gives off a satisfying semi-spicy or even peppery tang effective in boosting energy and waking you up.
What Does Trainwreck Smell like?
Trainwreck has a complex scent of lemon-lime menthol-pine, which is an immediately identifiable and distinguishing aroma.
Does Trainwreck Smell Like Gas?
Some people relate Trainwreck's smell to that of gas because both are quite pungent. They invade the sinuses for hours on end and only seem to intensify over time.
Why is Trainwreck So Popular?
Known for its energizing, mood-improving qualities and unique taste and scent, Trainwreck is quite popular amongst the masses as a great daytime strain.
It is a hybrid of Indica and Sativa and gives off very few negative effects.
It is also easy to cultivate, which adds to its popularity.
Trainwreck Grow Info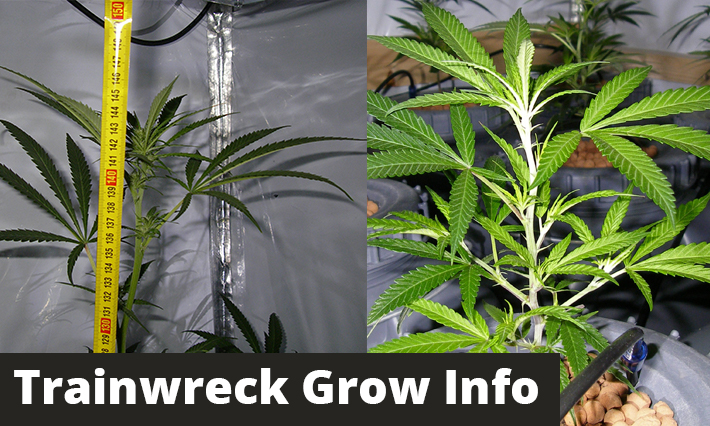 Trainwreck is a medium to easy strain to cultivate and typically follows the same growing process as other strains.
It grows well both indoors and outdoors, which makes it a convenient choice for novice cultivators.
Since it has Sativa dominant genetics, it is advisable to keep it at a moderate temperature of 75 degrees during light periods.
Temperature can fall to about 50 degrees when growing outdoors. The plants of this strain can grow fairly tall, and a single plant grown in a hydro can yield up to 500 grams in a square meter.
You can also take a look at our step-by-step guide to growing cannabis, which completely applies to this strain.
Trainwreck Grow FAQs
How Much Does Trainwreck Yield?
When growing indoors, this strain yields up to 18 ounces of weed per square meter planted.
However, when grown outdoors, the yield can rise up to about 25 ounces per plant.
Is Trainwreck Easy To Grow?
Yes, Trainwreck strain is relatively easier to grow because of its versatility.
It can be grown either from seeds or clones, as long as the place of cultivation is warm and dry.
When grown outside, it should be protected from frost, which can prove detrimental to leaf health.
How Long Does Trainwreck Take To Grow?
The typical flowering time for Trainwreck plants is 8 to 10 weeks.
How Tall Does Trainwreck Grow?
Plants of this strain are quite tall, growing up to an enormous height of 15 feet.
Therefore, if you intend on growing it indoors, make sure your space won't run out.
Is Trainwreck Mold Resistant?
Trainwreck is not completely mold-resistant.
High levels of moisture promote mold growth, and thus it should be kept at a 60% humidity level during the vegetative stage.
Reduce the level by up to 5% per week until it is at 40%.
Clones can grow even in 95% humidity, but it is best to keep them at a lower level.
When Should You Harvest Trainwreck?
Trainwreck is usually harvested by the end of October or the beginning of November because it is a late harvesting plant.
Does Trainwreck Turn Purple?
Yes, Trainwreck does indeed turn purple.
A cross between Trainwreck and Mendocino Purps gives this strain.
It is more resistant to mold, gives off larger yields, provides highly euphoric sensations, and is great for cultivating outdoors.
How Does Trainwreck Compare To Other Strains?
Let's take a look at how Trainwreck compares to other popular marijuana strains:
Trainwreck vs. Sour Diesel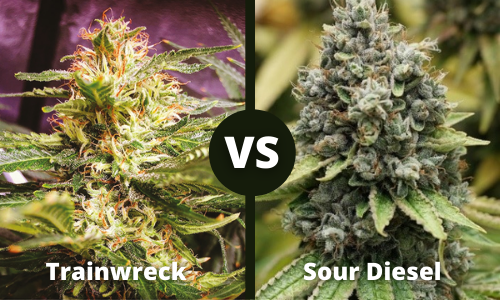 Sour Diesel and Trainwreck both enhance happiness and energy levels due to higher THC levels (up to 26%).
When compared, Sour Diesel gives off a stronger level of euphoria and relaxation and promotes focus, whereas Trainwreck increases creativity.
Both are almost equally effective in relieving pain and depression.
Sour Diesel is a cross between Chemdawg, Northern lights, and skunk no. 1 and gives off pungent flavors with an earthy tang.
Both strains can produce large yields and are quite tall, although Trainwreck is about 5 feet taller.
Check out my full Sour Diesel Strain Review 2021 (+ Grow Guide)
Trainwreck vs. Jack Herer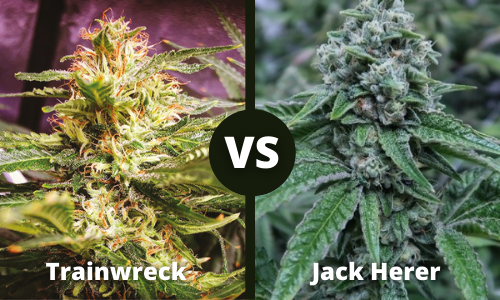 Jack Herer is a spicy, pine-scented strain and a 55% Sativa hybrid.
Both it and Trainwreck boost creativity, mirth, and clear-headedness.
Jack Herer is less potent than Trainwreck, with typically an 18% THC level.
Both these strains are great for morning consumption, but Jack Herer has more energizing effects.
Trainwreck usually tastes earthly and pine and is pungent, whereas Jack Herer is not and tastes woody instead.
Both Jack Herer and Trainwreck reach up to 16 feet in height and thus require larger spaces for cultivation.
Trainwreck vs. Green Crack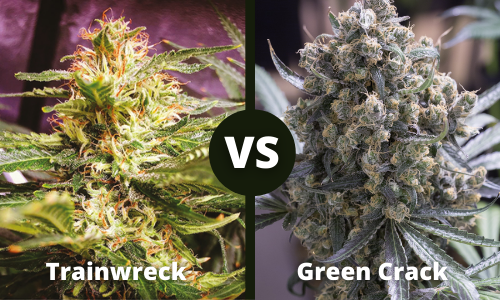 Green Crack differs in flavor from Trainwreck as it is sweet with undertones of citrus when Trainwreck is not.
It comes from Skunk#1 and is not a hybrid like Trainwreck. Green Crack does not have any relaxing or euphoric effects and typically only increases energy, happiness, and focus.
Both these strains cause dry eyes and mouth but can relieve stress and depression in almost equal amounts.
Green Crack has a lesser flowering time (less than eight weeks) than Trainwreck and performs exceptionally well outdoors.
Check out my full Green Crack Strain Review (& Grow Guide)
Trainwreck vs. Durban Poison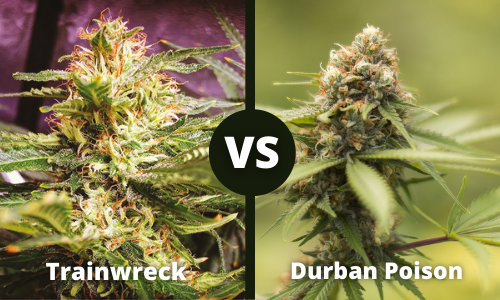 Both these strains are high-quality Sativas and have an earthy and pine flavor, although Durban Poison is sweet and Trainwreck is pungent.
Durban Poison is better at improving creativity and happiness than Trainwreck but does not induce relaxing feelings of sedation.
Durban Poison originated in South Africa and, like Trainwreck, grows great both indoors and outdoors.
Both these strains have similar THC levels (high up to 25%) and boast induction of high psychoanalytical activity.
Check out my full Durban Poison Strain Review (& Grow Guide)
Trainwreck vs. Blue Dream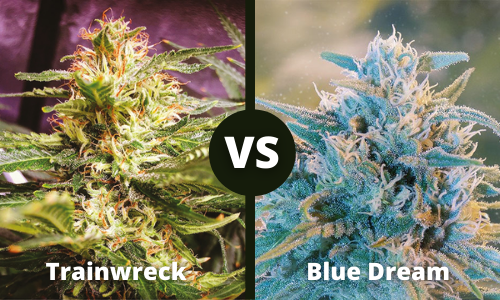 Blue Dream is a mixture of Blueberry and Haze and has a sweet blueberry flavor which differs from the pungent piney one of Trainwreck.
Both are highly potent and improve productivity, happiness, energy level, and cerebral stimulation, but Trainwreck has a higher THC level.
Blue Dream is a 50/50 Indica/Sativa hybrid strain and almost as easy to grow as Trainwreck.
Both strains thrive both indoors and outdoors, have almost equal flowering time and yield, but Trainwreck is taller in height.
Check out my full Blue Dream Strain Review (& Grow Guide)
Trainwreck vs. Northern Lights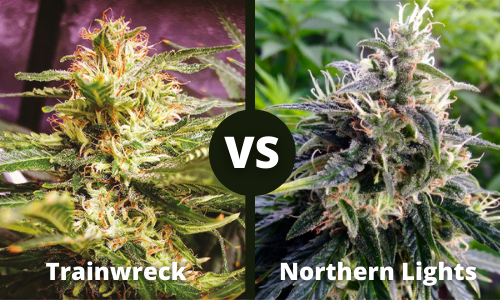 Northern Lights and Trainwreck both have an earthly and pine taste, but Northern Lights is sweet, which Trainwreck is not.
Trainwreck is a strong Sativa dominant strain, whereas Northern Lights is Indica with stronger effects such as relaxation, sleep induction, and stress relief.
Both strains are equally effective in relieving depression and stress and are heavily packed with THC content (up to 22% for Northern Lights).
Northern Lights yield up to 50-60 g per plant on average, which is more than Trainwreck.
Both strains are easy to cultivate with similar flowering times.
Check out my full Northern Lights Strain Review (& Grow Guide)