Sundae Driver is one strain that lives up very well to its name, striking the perfect balance of relaxation and happiness. Most users report feeling "easy like Sunday morning," as the classic song says.
In this article, we discuss where the Sundae Driver strain originates, its characteristics, cannabinoid content, taste, and effects, as well as give some details on how to grow this well-balanced hybrid strain.
Buying Seeds Online? Don't get scammed! Check out my in-depth guide on the best seed banks to order from that are 100% safe and reliable.
Sundae Driver Strain (At a glance)
Effects: Relaxed, Happy, Giggly
Helps With: Stress, Anxiety, Pain
Indoor Yield: 9 oz. per square meter
Outdoor Yield: 10 oz. per plant
Flowering Time: 7 – 9 weeks
Outdoor Harvest Time: Mid-October
THC Content: 21%
CBD Content: 1%
Indoor Plant Height: Tall
Outdoor Plant Height: N/A
Grow Difficulty: Easy
Genetics: Grape Pie, Fruity Pebbles OG
Flavors: Grape, Sweet, Berry
Best place to buy seeds: Seedsman
Where To Buy Sundae Driver Seeds
>Sorry, not available.
Sundae Driver Strain History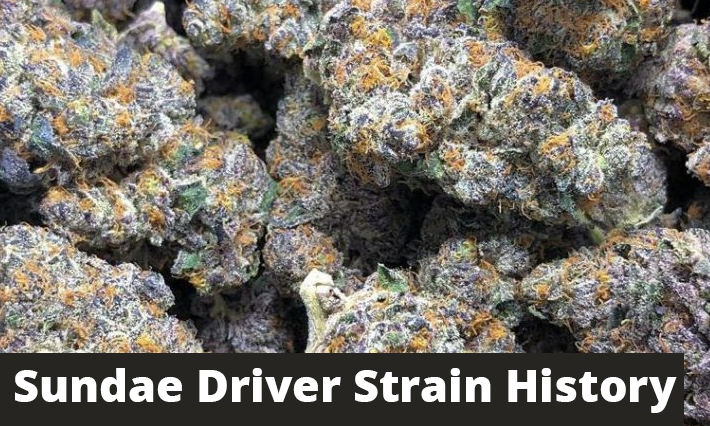 Below, we answer some of the most common questions about the history of Sundae Driver.
What Is Sundae Driver?
Sundae Driver is a dessert strain of marijuana that originated in Colorado.
As a 50/50 Sativa/ Indica cross, Sundae Driver achieves a remarkable balance between a relaxing Indica effect with the smiling, giddy, laughter that comes with a quality Sativa.
What Does Sundae Driver Mean?
Sundae Driver is a type of cannabis that is a play on words.
It's named Sundae because it is considered what cannabis consumers call a dessert strain – those types of bud known for their delicious taste.
Sundae Driver gets its name from being a strain that gives a laid-back, relaxing Sunday afternoon/ evening vibe.
When Was Sundae Driver Strain Created?
The common online Consensus is that Sundae Driver was created in 2018.
This timeframe makes sense because this highly sought-after Colorado dessert strain likely took a few years to perfect.
Colorado legalized cannabis in 2015, and three years later, Sundae Driver came onto the west coast marijuana scene.
Where Does Sundae Driver Come From?
The talented Colorado-based growers and breeders and Cannarado Genetics developed the Sundae Driver strain.
It's a 50/50 hybrid of Fruity Pebbles OG and Grape Pie, giving it a deliciously sweet berry flavor and a feeling that is the best of both worlds.
What Strain Is Sundae Driver?
Sundae Driver is a 50/50 hybrid dessert strain.
Its stable genetics come from Fruity Pebbles OG and Grape Pie strains, which have impressive lineages in their own rights.
Sundae Driver will leave a tasty, sweet berry flavor on your tongue, and will have your body tingling while making you smile from ear to ear.
Sundae Driver Strain Characteristics
Let's take a look at some of the most common questions about Sundae Driver's strain characteristics.
How much THC is in Sundae Driver?
Depending on where you purchase Sundae Driver products, flower typically contains between 16% and 21% THC.
Of course, the cannabinoid content of any strain typically changes in different regions.
How much CBD is in Sundae Driver?
Sundae Driver is a strain with very low CBD content.
Most users report a CBD content of 0%, and always less than 1% when purchasing Sundae Driver in dispensaries.
What Are The Effects Of Sundae Driver?
This dessert strain gets its name for taking an easy-going Sunday afternoon drive (as a passenger, of course).
Sundae Driver most often leaves consumers feeling relaxed while uplifted, talkative, tingly, giddy, and feeling little to no pain in higher doses.
Sundae Driver is great for conversation and uplifting your spirits in lower doses, and works well as a natural pain reliever and sleep aid in higher doses.
What Terpenes Are In Sundae Driver?
The sweet flavors of tasty berries and other fruits mean the most common terpene in Sundae Driver is limonene.
Sundae Driver also has hints of myrcene and caryophyllene, giving it subtle hints of earthiness.
Is Sundae Driver Strong?
Sundae Driver is not the most potent cannabis strain on the market, with a THC content that caps at around 20%.
However, many users report feeling intensely relaxed and even sleepy when consuming higher than average amounts of Sundae Driver.
Is Sundae Driver Top Shelf?
True 50/50 hybrids are rare, and evenly balanced dessert hybrids are even rarer.
The perfectly balanced effects and delicious dessert flavors make Sundae Driver a top-shelf strain.
Is Sundae Driver Indica Or Sativa?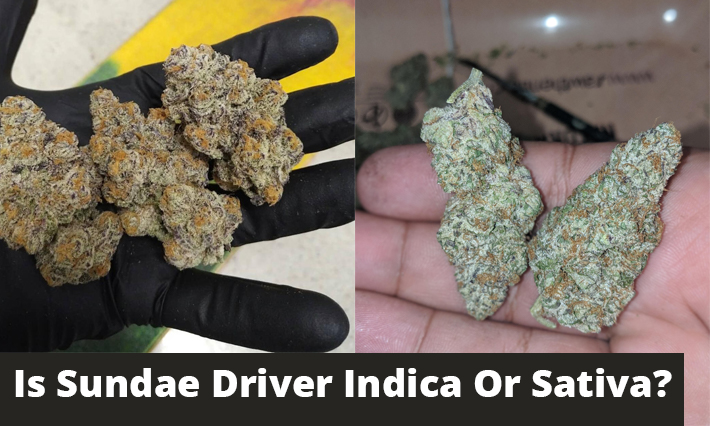 Sundae Driver is both an Indica and a Sativa.
This stain is one of the few true 50/50 hybrids, with a premium cross of Fruity Pebbles OG and Grape Pie.
Is Sundae Driver Exotic?
After winning a High Times Cannabis Cup Award in its debut of 2018, Sundae Driver has been popular ever since.
While Sundae Driver products are not that difficult to find in stores, true seeds are not always easily obtained.
Sundae Driver Grow Info
Below, we answer some of the most common questions about growing Sundae Driver.
Is Sundae Driver Hard To Grow?
Thanks to its Purple Genetics from the Grape Pie origin strain, Sundae Driver plants can survive at lower evening temperatures.
It is a plant that tends to produce more hermaphrodites than other strains.
For this reason, it is recommended that you keep a close eye on your Sundae Driver plants and keep the females separate from the males.
Can You Grow Sundae Driver Outside?
Yes, growers have successfully grown Sundae Driver outside. This strain's plants typically perform their best in moderate climates – not too hot, and not too cold.
Achieving the perfect balance is exactly what this 50/50 hybrid strain is known for.
How Tall Does Sundae Driver Get?
This strain originates from two varieties that typically grow very tall, and so does Sundae Driver.
Sundae Driver produces plants that have delightfully-looking green and purple buds that are very dense in trichomes and can grow up to six feet tall or more.
How Long Does Sundae Driver Take To Germinate?
Sundae Driver seeds take longer than average to germinate. Many growers report having to wait over a week for their Sundae Driver seeds to germinate before being able to plant them.
However, the average germination time for Sundae Driver is 5-6 days.
Is Sundae Driver An Autoflower?
Because Sundae Driver is a newer strain of only about 3 years old, many breeders and growers are still stabilizing this strain's seeds.
For this reason, autoflower Sundae Driver seeds can be difficult to find.
How Long Does Sundae Driver Take To Flower?
Indoor growers report that Sundae Driver typically takes 7-9 weeks to flower. Like most purple strains, fully matured plants can take longer than average, so it's best to not rush your plants out of the vegetative state.
Otherwise, they might not be fully formed and risk becoming hermaphrodites.
How Long Does It Take To Grow Sundae Driver?
After planting fully germinated Sundae Driver seeds, most growers can harvest in about two and a half months.
Naturally, this is dependent on many factors – like the seeds, growing medium, climate, skill of the grower, and so on.
When To Plant Sundae Driver?
When planting Sundae Driver outside in the northern hemisphere, you'll want to plant no later than early August.
In colder climates, Sundae Driver should be planted in Mid-July.
How To Harvest Sundae Driver?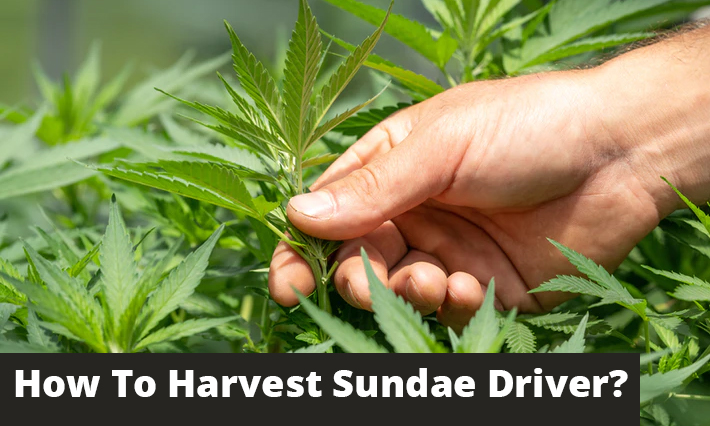 In colder climates, Sundae Driver is best harvested in Mid-October to avoid frost.
Outdoors, this hearty, well-balanced strain can yield skilled growers up to 10 ounces per plant and even more.
How Much Are Sundae Driver Seeds?
Because this is a relatively new strain, the price of Sundae Driver seeds varies greatly.
A pack of Sundae Driver seeds sells for $10-15 in places like Colorado but can cost significantly more on the east coast.
Who Has The Best Sundae Driver Seeds?
Because Sundae Driver is a west coast strain, it is recommended to obtain seeds of this strain from a reputable west coast seed bank.
Websites like Pacific Seed Bank, Seedman, and Green Point Seeds are all great places to start when searching for your perfect Sundae Driver Seeds.
Bottom Line
Sundae Driver is a dessert hybrid with a fruity, sweet, berry flavor that offers a memorable flavor, well-balanced 50/50 hybrid effects, and not much downside.
If you are lucky enough to obtain Sundae Driver seeds, you will enjoy the feeling of your relaxed yet upbeat body and the delicious berry flavor on your tongue.
When growing Sundae Driver, be sure to separate the females and grow in a moderate climate if outdoors.