Short on time? Here is my quick Growers Choice Seeds Review for 2022:
Growers Choice Seeds are a bit of a mixed bag. Their seeds are high-quality and competitively priced. They also offer worldwide shipping and a germination guarantee. However, they have a small strain collection, accept limited payment methods and their TrustPilot score shows they have work to do in terms of customer service.
If you'd rather buy from a seed bank that has fast shipping to the US, and excellent customer service, then I would recommend using ILGM or Weed Seeds Express.
Continue reading this Growers Choice Seeds review to discover the pros and cons of ordering from them, and to see how they stack up against the best seed banks to order from.
Growers Choice Pros
Shipping to the US, Canada, Australia & NZ
Competitively priced seeds
High-quality seed genetics Lab-tested strains
Website has lots of information for growers
Germination guarantee
Lots of customer reviews on product pages
Growers Choice Cons
Don't accept credit cards or debit cards
High order minimum ($500) to receive free shipping
Not a huge selection of strains (80)
Poor customer rating on Trustpilot
No free seeds for international orders
Growers Choice Alternatives
This Growers Choice review is part of my seed bank reviews series. I am reviewing popular seed banks to see which ones are worth using and which ones are not.
Here are the results so far…
About Growers Choice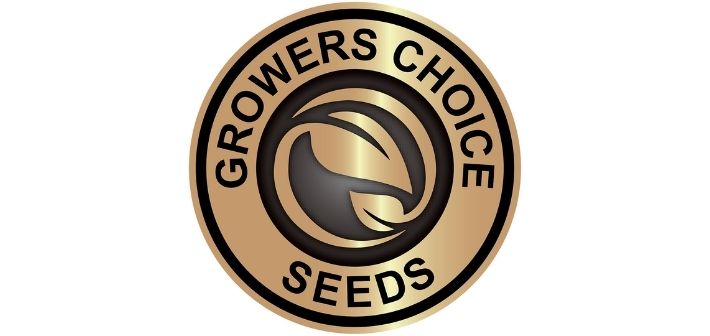 Growers Choice is based out of California and comprised of a team of horticultural and medical experts with more than 20 years of industry experience, making this company one of the oldest around.
According to their "About Us" page, their primary goal is to provide their customers with the highest quality cannabis seeds produced via the best genetics in the industry.
Seems like something we can all get behind, no?
One thing I always appreciate when selecting a seed bank is clear information on where they source their seeds and how they are selected.
Growers Choice is very open about their process of hand-picking, inspecting and testing each seed before packaging and shipping—more on that later.
Another thing I love about Growers Choice is they have a blog they regularly update with industry news, as well as the myriad of uses and health benefits cannabis can provide.
Seed Quality – 5/5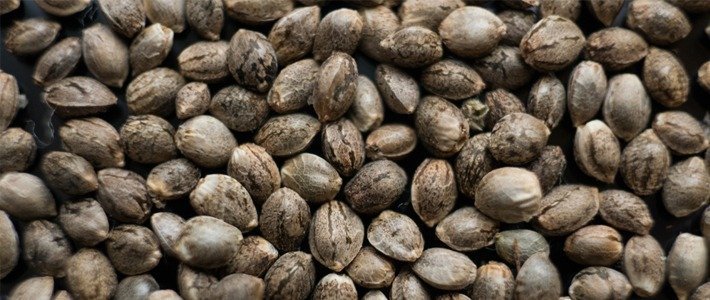 As mentioned previously, it's clear that seed quality is of the utmost importance for Growers Choice.
According to many popular online forums, their product quality is top-notch and most customers report high germination rates, as well as impressive yields.
This is to be expected, as Growers Choice clearly prides itself in having some of the best cannabis genetics in the industry.
Growers Choice offers customers a variety of seeds, including auto-flowering varieties, feminized seeds, and high-CBD medical grade seeds.
Whether you've been growing for years or are new to the game, Growers Choice has your back.
Something I love about Growers Choice, and something that highlights their commitment to their customers even further, is their 90% germination guarantee.
One important note: according to their website, you have to follow their exact germination method in order to be eligible for replacement seeds.
Thankfully, their method is simple, and easy to follow and they lay it out clearly in their "germination guide".
Be sure to follow their instructions step-by-step if you're worried about successful germination, as they require photographic evidence in order to resolve any claims.
Additionally, you only have 60 days from the date of purchase to file a claim so be sure to plant your seeds right away.
Strain Selection – 4.5/5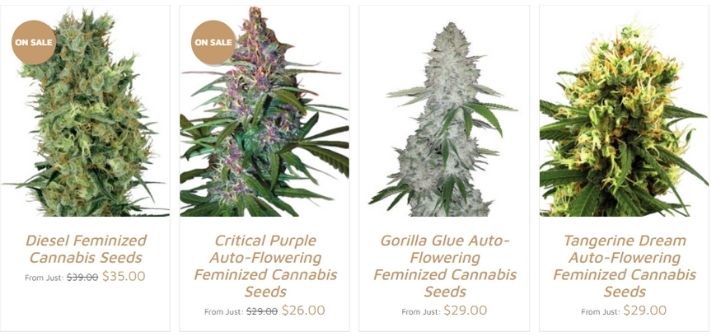 Growers Choice has approximately 40 strains available at any given time, including at least five high-CBD medicinal strains.
For growers who prefer a less hands-on approach, one of Growers Choice many autoflowering strains will be the perfect option.
If you're unfamiliar with autoflowering plants, the term simply means the plant will automatically switch to the flowering stage.
This means you won't have to monitor your plants as closely, plus you'll have a quicker harvest (sometimes even multiple harvests in a single season).
They're also perfect for growers with less space or those who want to be as discreet as possible, as autoflowering plants typically only grow to a couple of feet in height.
All seeds from Growers Choice are feminized (lab-tested and hand-selected), meaning you will waste less time and money having to weed out any pesky male crops.
Overall, while strain selection is somewhat limited, Growers Choice has some of the highest quality genetics around.
For this reason, I've still awarded them four and a half stars.
Customer Service – 4.2/5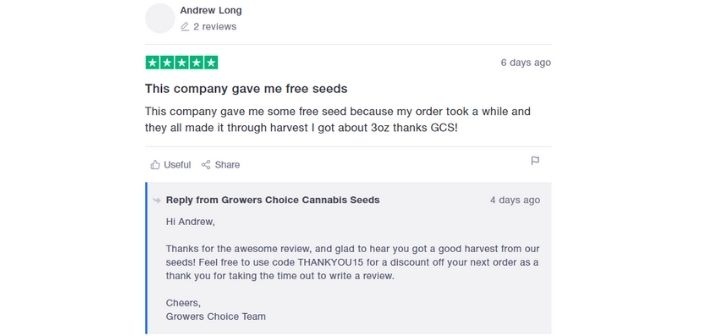 For the most part, customers report a positive experience with Growers Choice customer service.
It seems as though customer service and maintaining positive consumer relations is a top priority for the company, which is great to see.
Growers Choice offers customers several options to contact their customer service department including via website contact form, email, and phone.
Growers Choice Customer Reviews – 4.5/5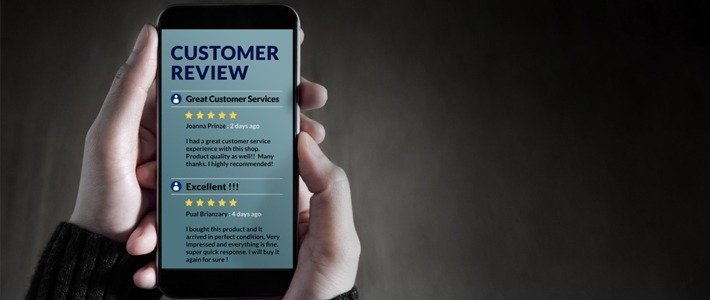 According to many online forums, Growers Choice has rave reviews across the board. Most customers report high yields and an easy grow process with top-notch seeds.
Additionally, their website features reviews for every strain sold.
This is helpful to see as customers can leave strain-specific feedback right on the site so you don't have to seek out third-party forums for more information.
Many customers also reiterate that it's nice to order from a company based in the U.S. when shipping within the States as it eliminates any customs hassles.
Payment Methods – 4/5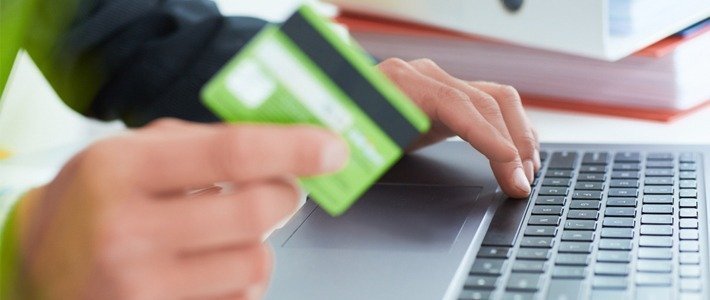 Growers Choice offers a variety of methods of payment including via debit/credit card (Visa and Mastercard only), cryptocurrency (BitCoin, Litecoin, Ethereum), Zelle (U.S. only), and Interac eTransfer (Canada only), and by mail (cashier's/certified check or money order).
Similar to other seed banks, when paying via credit card you will be charged an 8.5% transaction fee.
This is due to the processing fee credit card companies charge and not due to Growers Choice themselves, however, this is one of the higher fees I've seen.
FYI: All orders are charged in USD.
Shipping – 4/5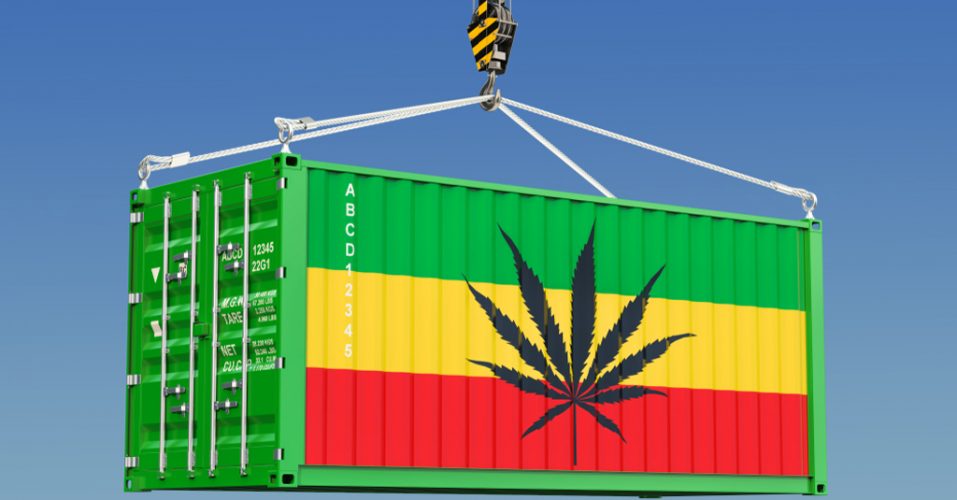 Growers Choice delivers worldwide, and offers free delivery on all orders over $500
If you are shipping to the U.S., all orders will have a flat rate fee of $9.95 and you can expect to receive your order within 7-10 business days.
Orders shipped to Canada will have a flat rate of $14.95 and will arrive within 7-14 business days.
For orders shipped to Europe, Australia, and other countries, shipping is $30 and your order will arrive within 7-25 business days.
In most cases, seeds are shipped in their original packaging to preserve maximum freshness, however, it may be necessary to pack seeds in alternative packaging to ensure safe and secure delivery.
One thing I love about Growers Choice, is orders shipped outside the U.S. can receive additional stealth packaging at no extra charge.
Discretion – 5/5
As mentioned above, seeds are typically left in their original packaging unless Growers Choice deems it necessary to remove them for security purposes.
Free stealth shipping for orders shipped outside the U.S. is definitely an added bonus as well.
Regardless of the shipping method you choose (added stealth or otherwise), your parcel will only display the necessary shipping information.
This means, there won't be a company name or list of contents printed on or attached to your package.
Online reviews confirm all delivered packages are inconspicuous and packed discreetly.
Growers Choice Discounts/Promotions – 3.5/5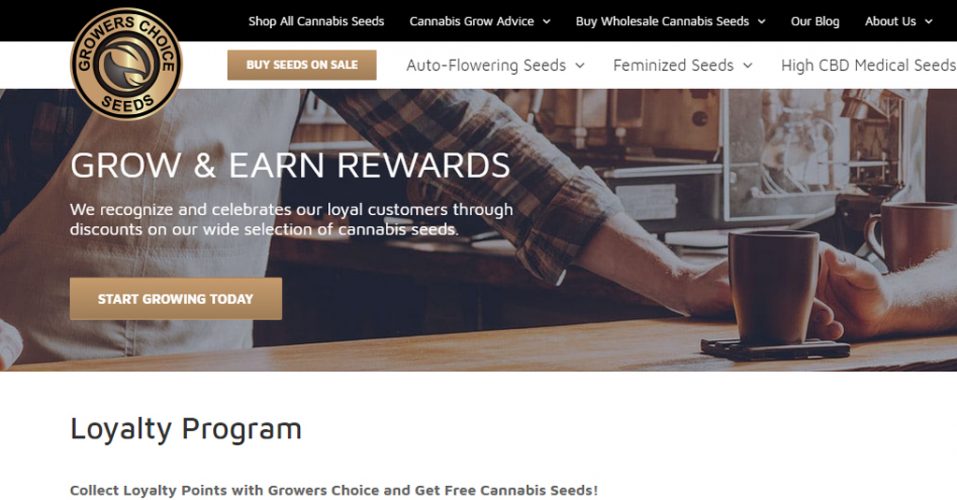 Growers Choice does not offer regular discounts or promotions, like many other seed banks.
However, they do offer a loyalty program—something I always appreciate.
Basically, for every dollar you spend, you receive 10 points. (For example: $100 order = 1,000 points)
After you accumulate 150 points, you can receive a dollar off your next order.
Even simply registering an account will get you 250 points!
You can also receive points by writing reviews of the strains you purchased (250 points per review).
Growers Choice Reliability – 4.5/5
Nearly all online reviews are positive for Growers Choice, with reports of high-quality products and reasonable shipping times.
Its clear Growers Choice takes pride in its work and is committed to offering customs high-quality seeds at an affordable price.
Like all companies, they are not perfect and mistakes may happen from time to time, though it seems customer service is more than happy to help resolve any issues.
FAQs
Where is Growers Choice located?

The Growers Choice headquarters is located in Barcelona, Spain, though they have marketing offices in Canada and the USA as well.
Where does Growers Choice get its seeds?
Growers Choice works with several in-house breeders in Europe, Canada, and the USA.
Are there any discounts for large orders?

Growers Choice does not openly advertise discounts for large orders, though they recommend contacting their wholesale division to inquire about wholesale pricing.
What is the shipping time to the USA?
The average shipping time to the USA is between 7-10 business days.
Growers Choice Seeds Review – Final Thoughts
Overall, Growers Choice is one of my top choices when it comes to seed banks.
With rave reviews, extremely high-quality genetics and strains, and quick, discreet shipping—you can't go wrong with this company.
Have you ordered with Growers Choice? Let me know your experience in the comments!