When it's time to harvest your marijuana plants, you need to ensure that they are indeed ready to be harvested.
A mistake that many new growers make is harvesting their marijuana plants either too early or too late.
[amazon table="11898″]
Both of these situations are not good at all. You need to know how to tell when is the best time to harvest your marijuana.
Ultimately, it all comes down to being able to be precise. One of the most effective ways to tell if your marijuana plants are ready to harvest is by analyzing the trichomes in the plant itself.
This, however, cannot be done with the naked eye, and you need something like a microscope in order to view and analyze the trichomes on marijuana plants properly.
There are dozens of magnifying glasses available for trichomes on the market. In the following guide, we'll take a look at a few of the best on the market, and why you should be investing in them.
Best Magnifying Glass For Trichomes
Best Overall: Formline LED Illuminated Jewelers Loupe/Trichome Scope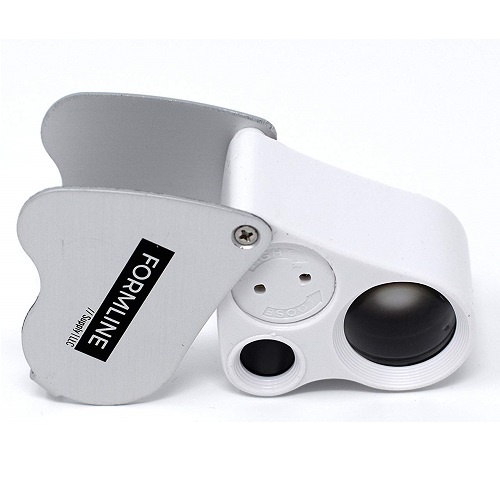 If you're looking for a magnifying glass to use for proper plant identification, then this is the one.
You'll be able to diagnose issues such as pest, disease, and mold problems as well as determine the sex of the plant.
Perhaps one of the most valuable benefits of this Trichome scope is that you will be able to harvest your marijuana at the right time.
Since trichomes are way too small to be seen with the naked eye, you need a magnifier such as this one with either a 30× or 60x lens to determine the optimal time to harvest.
As a bonus, this magnifying glass is lightweight, portable, durable, and pocket-sized as well. So there's no need to carry around a microscope with you.
The good news is that it also works in almost any condition and you'll be able to view it in almost any condition. Thanks to the two bright built-in LED lights, you'll be able to view in various conditions, and batteries are included.
It's got a variety of different uses as well once you unfold and flip the LED on to get a closer view of diamonds, gems, stamps, photos, jewelry, coins, and so on.
Pros
Used to identify plant sex
Lightweight and portable
Built-in LED lights
Cons
Probably not the best for diamond analyzing
Product Specifications
Type: Trichome scope
Magnifier: 60x + 30x lens
Features: Built-in LED lights, Identifies plant sex, Ideal for viewing trichomes and analyzing diamonds, coins, gems etc
Runner-Up: MagniPros 3X(300%) Magnifying Glass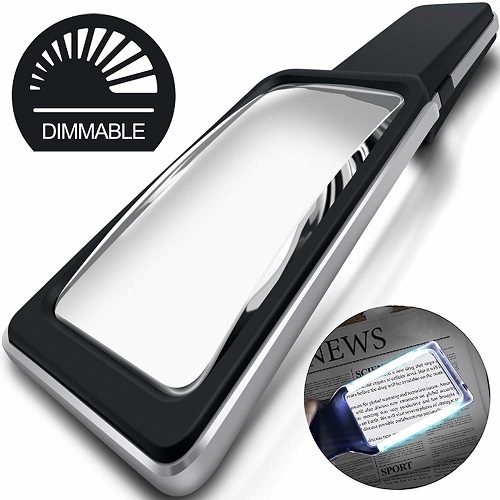 The rectangular shape on this magnifyer is specially designed to stimulate the way things are viewed naturally from left to right.
The magnifying lens covers a large viewing area while keeping your hands still. It also has the ability to magnify objects up to 300%.
Thanks to the crystal acrylic lens, which is made out of optical grade acrylic, it has scratch-resistant, shatterproof, and light glass while providing the same level of clarity.
Ultimately, it magnifies objects without optical distortion. Therefore it makes reading and viewing of refined details in newspapers, books, magazines, electronics, maps, photographs, and so on easy and convenient.
It's also clinically proven to be suitable for anyone who strains their eyes since it magnifies and provides light without glare.
The roller dimmer also provides you with easily adjustable brightness levels with the tap of a finger, allowing you to carry out various tasks.
It's also ergonomic and lightweight thanks to its special design and is only 6.5oz in weight. It also gives you quite a comfortable grip in your hands so you can be used for longer periods of time.
The magnifying glass contains SMD LEDs, which are powered by three AAA batteries that are not included, however they are designed to last for more than 100,000 hours.
Ultimately they provide more even light, and it lasts for over 20 years without overheating. So if you're looking to save money and enjoy long-lasting bright lights, this is definitely the product for you.
Pros
Reduces eye strain
Contains SMD LED lights
Lightweight and ergonomic
Cons
View through lens can be wavy
Product Specifications
Type: Anti-glare multi purpose magnifier
Magnifier: Up to 300 %
Features: Reduces eye strain, energy efficient LED lights, ergonomically designed, Acrylic lens.
Alternative: Carson MicroBrite Plus 60x-120x LED Lighted Pocket Microscope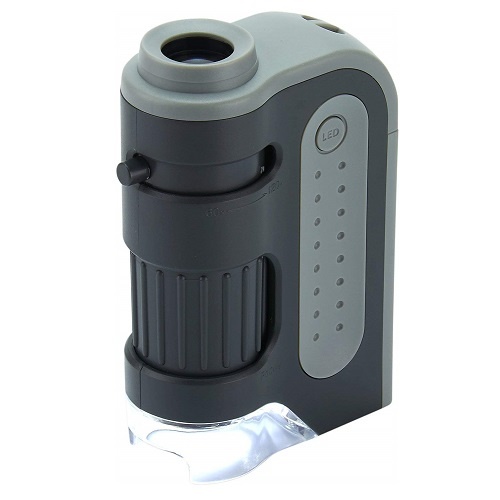 This Carson MicroBrite Plus 60x-120x LED Lighted Pocket Microscope has an aspheric lens system.
When you use an aspheric lens, the light rayz converges at a single focal point resulting in a sharper, clearer, and distortion-free image.
This magnifying glass is designed to offer high magnification, thanks to the LED lights and the aspheric lens system. It's also compact and portable enough to perform with just a single AA battery that is not included.
This is more of a pocket microscope; however, it does have a powerful 60x – 120x magnification range. It also provides superior optics thanks to the acrylic lens.
Pros
LED lights
Aspheric lens
Pocket microscope
Cons
Product Specifications
Type: Pocket microscope
Magnifier: 60x-120x
Features: Molded aspheric lens, lightweight, compact and portable, bright LED lights.
Alternative: Hydrofarm AEM40 Active Eye, 40x Magnification Microscope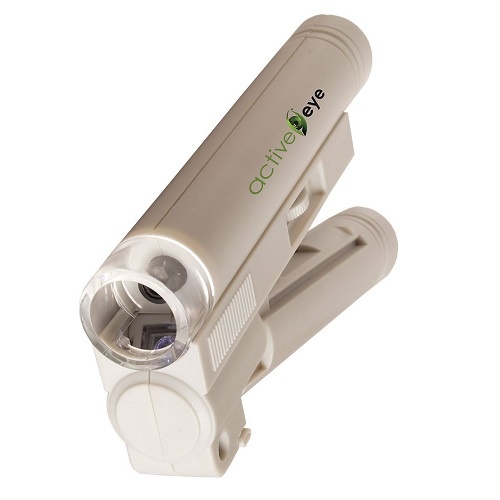 The Hydrofarm AEM40 Active Eye, 40x Magnification Microscope, is an active eye microscope. With this microscope, you can easily identify diseases, pests as well as different plant species.
Ultimately, it provides suitable solutions to the usual problems concerning pests and plants. It also offers targeted and optimal illumination. Batteries are included, and so is a case to make it compact and lightweight as possible.
Pros
Active eye magnification
Lightweight and compact
40x magnification
Cons
Product Specifications
Type: Active eye magnifier
Magnifier: 40x
Features: Lightweight, compact, active eye magnification, targeted illumination
Alternative: Beemoon Jewelry Magnifier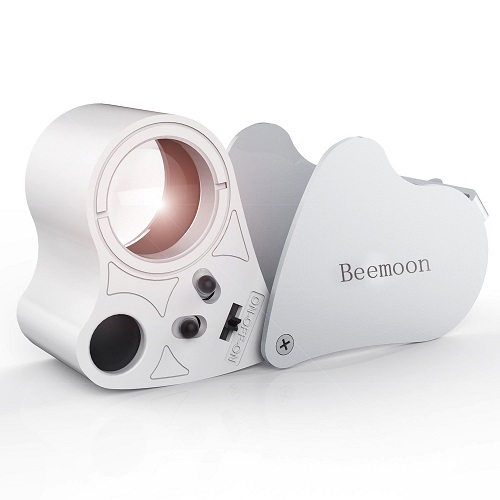 The Beemoon Jewelry Magnifier has a wide application. Ultimately this makes it easier for you to distinguish and view objects clearer.
It also has a bright LED light ideal for shining the right amount and angle of light for any task.
It is also quite lightweight and durable as it's made from aluminum and plastic housing. It also has a handy carrying bag that comes in the package.
Ultimately, it is ideal for industrial purposes, coins, stamp collectors, medical science, the circuit board, and the printing industry, etc.
This magnifier is elegant and well-made since it is 360° free twisted. It also has an aluminum and steel frame, which makes it quite robust. The built-in battery offers fixed support, and the LED lights save energy.
Pros
Built-in battery
360 degree free twisted design
Robust
Cons
Product Specifications
Type: Jewelry magnifier
Magnifier: 30x-60x
Features: Elegantly made, Foldable design, LED lights, dual lens, portable and light.
Magnifiers For Rrichomes FAQ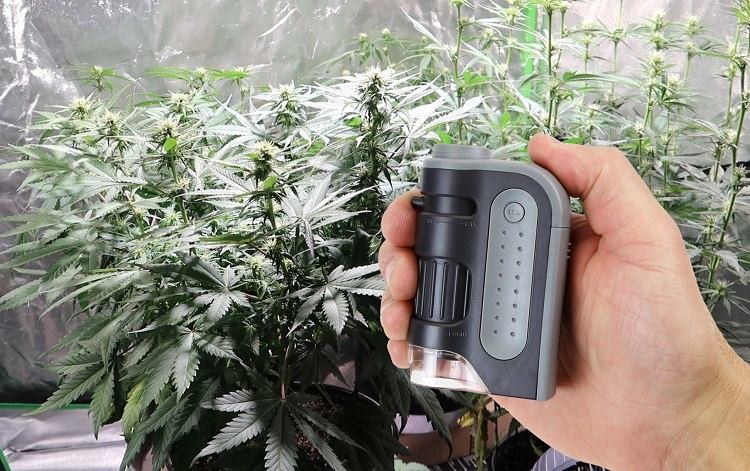 What Magnification Do You Need To See Trichomes?
Trichomes are known as the glitter buds on marijuana plants. If you see trichomes appearing white and cloudy under a microscope, this means that it's probably to harvest.
While this method is not perfect, it's still the best. However, the reality is that in order to have increased accuracy, you need more than just eyeballs to view and analyze trichomes since they are so tiny.
The best way to do this is by using a trichome magnifier. In order to properly view and analyze trichomes, you need to have a magnification range of anywhere between 30 times to 60 times.
What Do You Check Trichomes With?
When it comes to viewing and analyzing trichomes, there are often many ways to do so.
While some people choose to use handheld devices, others choose smartphones, endoscopes, USB microscopes, and stereo microscopes. While all these methods are effective, some are more accurate than others.
Handheld magnifiers are probably the easiest to use since they have the widest viewing angle; however, they don't zoom in close enough.
Some magnifiers also have a small lens built-in that has better capabilities of zooming in, and this makes it convenient.
Jewelers' loupes are affordable and also quite effective. Ultimately, they give you a pretty good look at the state of your trichomes and you can also put them up to the camera of your smartphone and take pictures like the ones you often see on the web.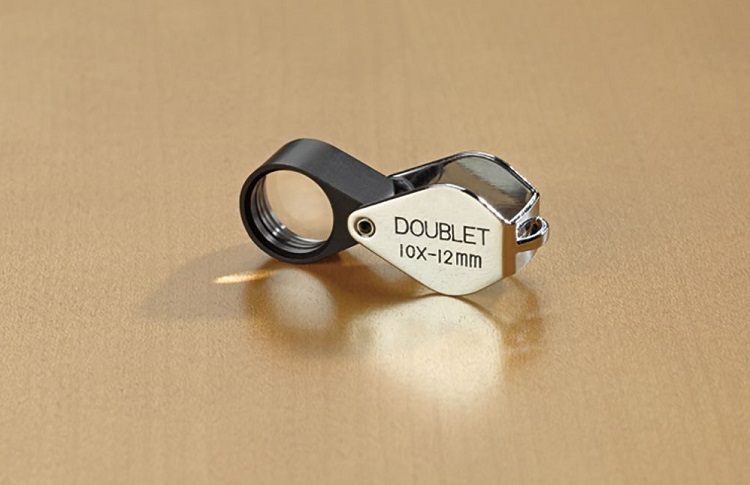 Thanks to the zoom feature on cameras, it makes trichomes easy to spot and view more clearly. These loupes are fairly easy to use and are also made from durable materials.
Smartphones are a suitable choice and very convenient since most people already own one. Another great benefit of smartphones is that picture quality is much better on your phone.
Pocket microscopes get the name because they are small and also relatively cheap they can be used in conjunction with a smartphone or on their own.
Ultimately, you can use it when taking pictures with a smartphone, and it's also easy to focus on the piece of the plant that you are aiming for.
There are also larger pocket microscopes that give you some pretty clear pictures. However, it can be frustrating to use when you're trying to inspect something like trichomes on a cannabis plant.
Endoscopes are not ideal for inspecting cannabis. However, they are easy to use, ultimately, though it's not ideal to use if you are trying to figure out if your marijuana is ready for harvesting.
USB microscopes were state-of-the-art at some point in time, however, they've also cumbersome because they had to be connected to a laptop or computer.
Nowadays, however, smartphones have OTG, and this basically means that you can connect to USB devices just the way you would with the laptop.
A smartphone combined with a USB microscope is the ideal way to analyze trichomes. However, your smartphone must have the OTG feature to make use of this capability.
Using a stereomicroscope to analyze trichomes is quite a bold move; however, they are really cool to use in a nerdy kind of way. But one of the disadvantages is that they are also ridiculously expensive.
What Should Trichomes Look Like At Harvest?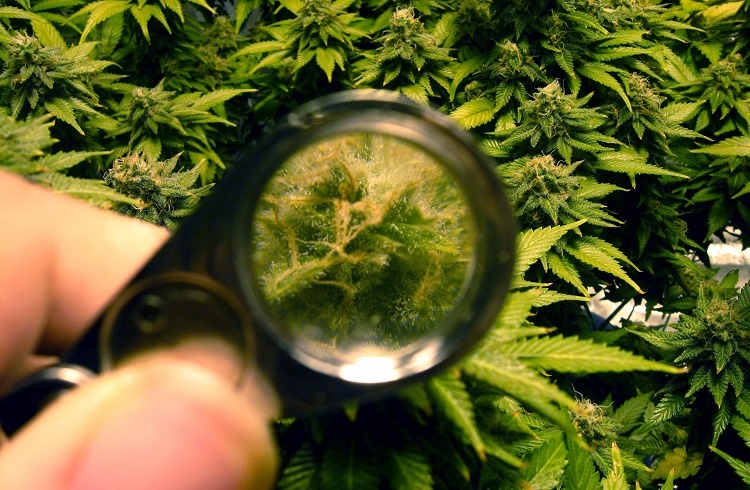 In order to determine the best time to harvest your marijuana, you need three things. Firstly, you need the knowledge of when to harvest. You also need eyes for visual inspection and a magnifying tool.
There are two main techniques that you may use when it comes to deciding when to harvest your marijuana.
The first method is known as the pistil; however, it's not as accurate as the trichomes method. However, it is a good place to start as you can just look at the buds and get a general idea.
The majority of pistils or hairs on the marijuana plant should stick out straight. Ultimately, what this means is that they are not ready to harvest, and your plant still has many weeks ago.
If you noticed half of the white hairs starting to darken and curl in, this means that you still have several weeks to go before it reaches the adequate levels of THC to be harvested.
Ultimately, when 60 to 70% of the hairs have darkened, you are welcome to harvest it. Essentially, trichomes are the glitter buds that are seen on marijuana plants.
Once you start noticing a cloudy white appearance on the buds using a microscope, that means it's time to harvest.
Conclusion
When you've worked long and hard to tend to, love, and care for your marijuana, the last thing you want is to ruin the fruits of your labor by harvesting too early or too late.
Therefore it is absolutely crucial that you learn exactly how to view and analyze trichomes so that you know exactly when to harvest your marijuana plants.