Short on time? here is my quick Amsterdam Marijuana Seeds review for 2022
Amsterdam Marijuana Seeds (AMS) offer worldwide shipping and a solid germination guarantee with their top-shelf seeds. However, most people will find their seed prices expensive, and shipping to the USA and Canada is sluggish,
If you'd rather use a seed bank that has lightning-fast shipping to the USA and Europe, then I recommend using ILGM or Weed Seeds Express
Continue reading this Amsterdam Marijuana Seeds review to discover the pros and cons of ordering from them, and to see how they stack up against the best seed banks to order from.
Amsterdam Marijuana Seeds Pros
Free shipping
Every order is guaranteed (even if it's seized at customs)
High-quality products and a highly engaged customer service team
Amsterdam Marijuana Seeds Cons
Does not truly ship worldwide
Reports of long shipping times
Discretion is not always apparent
Amsterdam Marijuana Seeds Alternatives
This Amsterdam Marijuana Seeds review is part of my seed bank reviews series. I am reviewing popular seed banks to see which ones are worth using and which ones are not.
Here are the results so far…
About Amsterdam Marijuana Seeds Seeds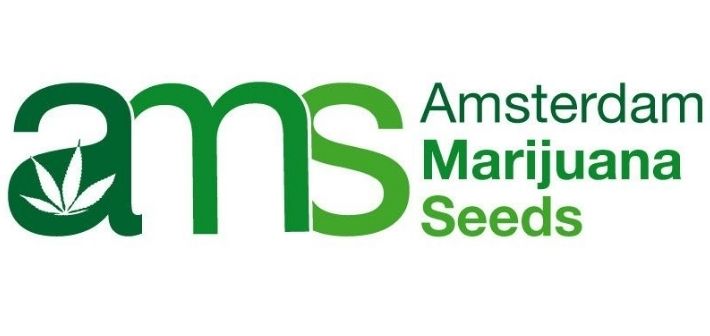 Amsterdam Marijuana Seeds was founded in Amsterdam in 2002 by a man who goes by name of "Joe Green".
Joe has been growing marijuana for more than 20 years and has experience in all aspects of the cannabis industry.
Nowadays, the AMS empire is still based out of Amsterdam, though has quickly become one of the largest online seed banks.
AMS aims to serve both large-scale growers and hobby connoisseurs, meaning they have something for just about everyone.
Seed Quality – 4/5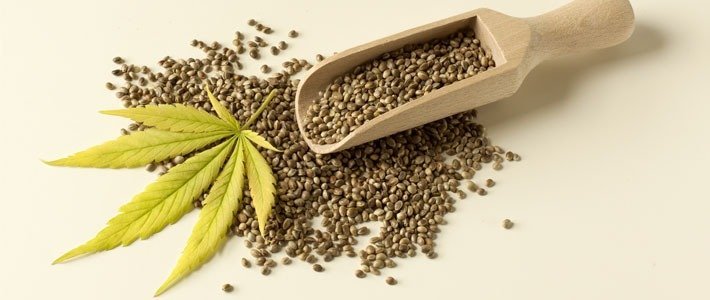 According to many online forums, AMS' seed quality is very high and customers report large yields and strong, healthy, abundant plants.
It's clear AMS is passionate about providing high-quality products for their customers, and each strain's page features reviews via TrustPilot, so customers can read honest feedback in real-time.
Of course, there are a few negative reviews mixed in with the positive.
Most negative reviews I found had to do with germination, though that can easily be affected by the method which the customer used.
Overall, most customers report being highly satisfied with their seeds and with their overall purchase.
Strain Selection – 4/5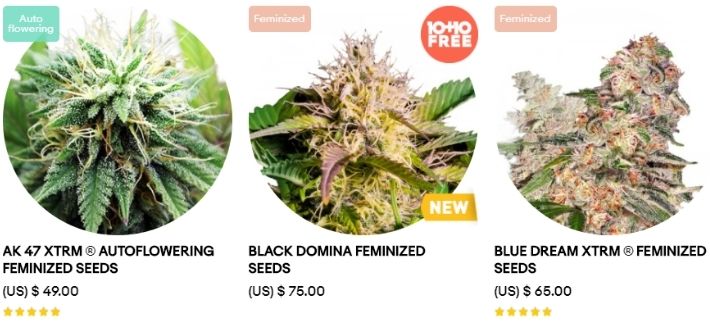 AMS has a wide variety of strains to choose from, more than 120 to be exact!
Amsterdam Marijuana Seeds' website categorizes strains so growers can easily find exactly what they're looking for.
You can search for strains via a variety of criteria including seed type (regular, feminized, auto-flowering), strain type (Indica, Sativa, hybrid), climate (indoor, outdoor), THC level, plant size, plant yield, level of growing difficulty and flowering time.
Search as specifically as you want to find the perfect strain to meet your needs.
AMS also has a variety of combo packs to choose from, so you can get several popular strains at a discounted price.
Choose from renowned strains including Blue Dream, Pineapple Express, Girl Scout Cookies, Northern Lights, White Widow, and more!
Customer Service – 4/5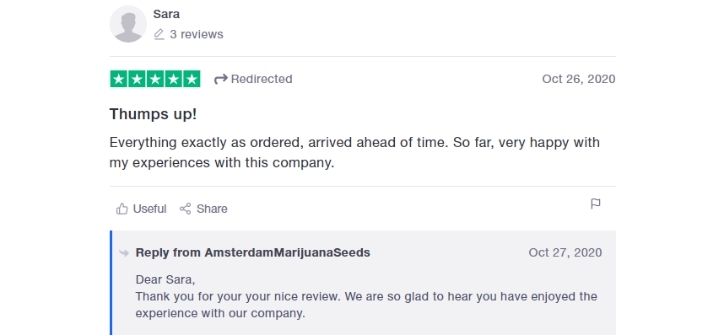 Overall, most customers report AMS as having a responsive and considerate customer service team.
On many online forums, any negative feedback or complaints/concerns were addressed immediately by AMS, and customers were offered some way to solve the problem.
Plus, AMS does guarantee their products so should an issue arise, I would advise you to get in touch with AMS as quickly as possible to allow them an opportunity to work with you to find a resolution.
Amsterdam Marijuana Seeds Customer Reviews – 4/5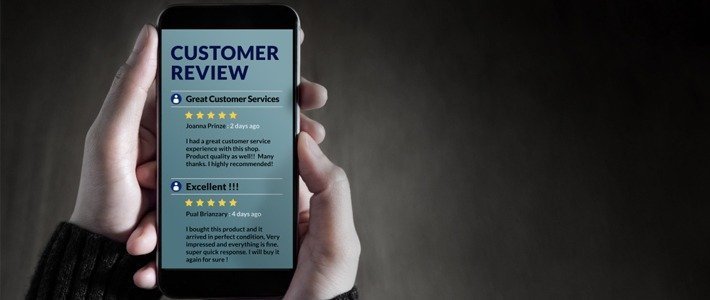 Reviews for AMS are primarily positive, with their average rating on TrustPilot hovering around 7/10.
Most reviews I found were overwhelmingly positive and most customers had high praise for AMS.
AMS is also very responsive on several online forums, addressing customer complaints, concerns, and praise in a responsive and friendly manner.
Many seed banks do not engage on these forums, something I think further discredits many banks.
AMS clearly cares about the overall customer experience and works hard to promptly resolve any issues that arise.
Payment Methods – 4/5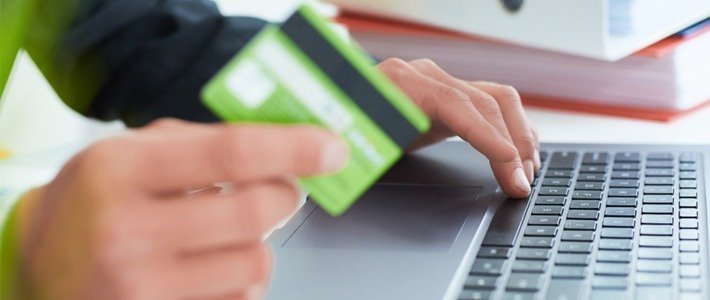 AMS offers customers several different payment methods to choose from including via credit/debit card (Visa and Mastercard only), bank transfer, Western Union, Bitcoin and cash.
According to Amsterdam Marijuana Seeds' website, BitCoin is the preferred method and is processed the quickest, about one hour after the order is placed.
The other aforementioned payment methods typically are processed within 48 hours.
Bank transfers can take up to three or four business days to clear, depending on the country the transfer is issued from.
Cash obviously will take the longest to be processed, as you will have to rely on the speed of the international airmail carrier.
One thing I appreciate about AMS' payment method page is it also lay out the overall anonymity of each payment method.
This is another reason BitCoin is the preferred payment method (for both AMS and customers), as each transaction is completely anonymous.
Credit/debit card and bank transfer transactions are the least anonymous, as the transaction will post to your account.
This being said, any charge made by AMS will be discreet and will not include anything about marijuana in the charge description.
Overall, AMS' payment methods are on par with similar seed banks' options.
Shipping – 4.5/5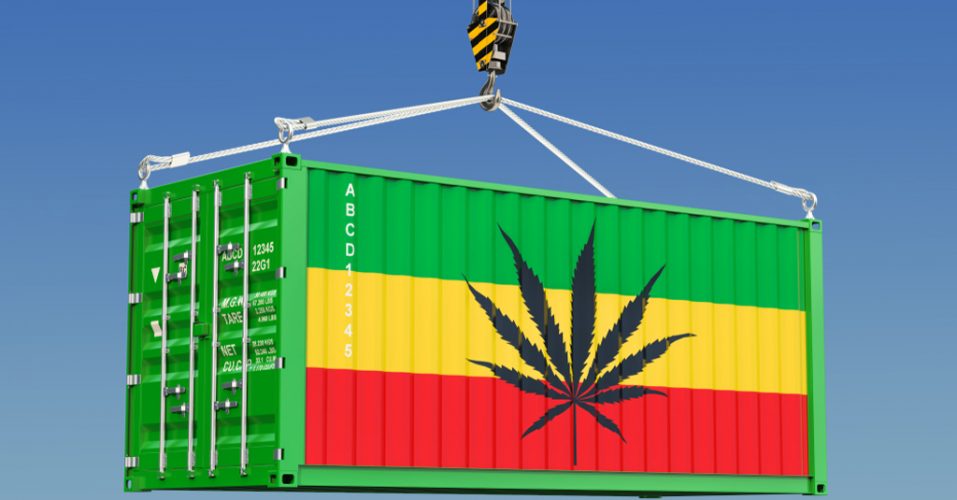 My favorite thing about Amsterdam Marijuana Seeds is they offer free shipping to most countries worldwide.
According to their site, they do not ship to countries with extremely strict customs regulations.
The list of countries they do not ship to can be found here.
AMS is one of the few European seed banks that ship to Australia. However, they won't guarantee shipping and I've read about many orders being seized at customs.
Orders shipped within Europe can be expected to arrive within 9-15 business days, and orders shipped outside of Europe typically arrive in 15-21 business days.
This being said, AMS does allow 21 business days for each order to arrive, so they ask you not to contact about reshipment until those 21 days have passed.
If you do not receive your order within those 21 business days, Amsterdam Marijuana Seeds will resend your order for free.
I appreciate this gesture from AMS because many seed banks charge extra for guaranteed shipping.
Some online reviews report long shipping times, though as mentioned above if you wait more than 21 business days for your order, simply contact AMS and they will likely work to resolve the situation as quickly as possible.
Additionally, according to their website, AMS will also reship any orders confiscated by customs.
Simply take a picture of the envelope and confiscation letter you receive and AMS will resend your order.
This is a nice perk as most seed banks do not take responsibility for orders seized at customs.
One important note, AMS states customers have 60 days from the date of shipment to claim the package as lost or seized (provided the allotted 21 business days have passed).
So if you do not receive your seeds be sure to contact AMS as soon as possible.
Because AMS does not ship completely worldwide like most seed banks, yet still offers free guaranteed shipping I've only docked half of a point.
Discretion – 3.5/5
According to AMS' website, each order is packed as discreetly as possible. Packages are unmarked and show no signs of what's inside.
Some reviews question AMS' discretion and reports of seeds not being very concealed are out there, however, these orders did still make it through customs so AMS must be doing something right.
As mentioned above, AMS does guarantee their orders even if seized by customs so it would make sense that discretion is of the utmost importance to the company (simply from a money standpoint).
The only discrepancy I would like to point out is that many seed banks offer various levels of discreet shipping, often including a "gift" of some sort where the seeds can be hidden from view.
Because AMS offers free shipping, they do not offer any upgraded levels of shipping for their customers (which can be seen as both positive or negative).
Amsterdam Marijuana Seeds Discounts/Promotions – 2.5/5

AMS does not outwardly advertise many discounts or promotions, unlike most seed banks I've reviewed.
Their FAQ page mentions that orders do come with free seeds, but more information is not readily available on their site.
There are reviews that mention customers receiving a bonus or free seeds with their orders, but AMS seems to keep this under wraps unless you search in-depth into each strain page, where some mention of free seeds exists.
This is a little inconsistent with the rest of their site, so it seems AMS does not want customers to bank on free seeds or to rely on promotions when ordering from them.
Amsterdam Marijuana Seeds does have a sale tab on the top of their site where you can find popular seeds at a discounted price and possibly receive extra seeds with your order, though again it's not readily advertised.
Amsterdam Marijuana Seeds Reliability – 4/5

As mentioned previously, the majority of AMS' customers report being highly satisfied with their products and overall shopping experience.
Those who were unsatisfied and posted negative reviews often received a response from AMS almost immediately with steps to resolve the problem.
In most cases, such as orders not arriving or orders being seized by customs, AMS will send out a replacement.
Overall, AMS seems to be one of the more reliable online seed banks out there.
FAQs
Where are Amsterdam Marijuana Seeds located?
AMS is based out of—you guessed it—Amsterdam.
Where do Amsterdam Marijuana Seeds ship from?
As far as I can tell, AMS ships from Amsterdam.
What is the shipping time to the USA?
Orders typically arrive within 15-21 business days.
Where do Amsterdam Marijuana Seeds get their seeds?

AMS works with a variety of breeders to obtain some of the best strains on the market.
Does Amsterdam Marijuana Seeds offer any discount codes?

It does not appear AMS offers any discount codes and promotional information is not readily available on their site, though customers do report receiving free seeds with their orders.
Final Thoughts
All in all, Amsterdam Marijuana Seeds is a good choice for all levels of growers, especially those on a budget.
With free shipping and a highly responsive customer service team, AMS is steadily building a solid reputation for itself in the cannabis industry.
Have you ordered Amsterdam Marijuana Seeds? Let me know your experience in the comments!