If you're worried about ordering seeds online and getting busted, I'm here to tell you that you really shouldn't be.
In this article, I'll explain what happens when your seeds get seized, and how you can reduce your chances of the same thing happening to you.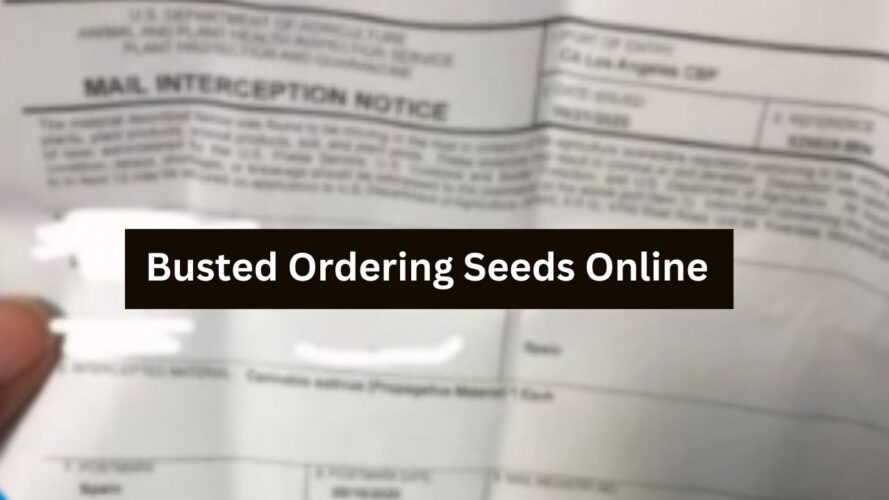 What Happens When You Get "Busted" Ordering Seeds Online (My Experience)
Ok, so here's my story about getting "busted" for ordering seeds online.
I placed an order online with Seedsman (a Barcelona-based seed bank) for a pack of 5 seeds and after about a month they still hadn't arrived, which is actually not that unusual for Seedsman (sigh…)
I don't usually order my seeds from Seedsman, as they can have long shipping times, but they had some strains that I wanted to try and couldn't find anywhere else.
So I emailed them and they told me to wait a couple more weeks, as the package might simply be delayed.

However, a few days later, I received a letter in the mail, just like this one: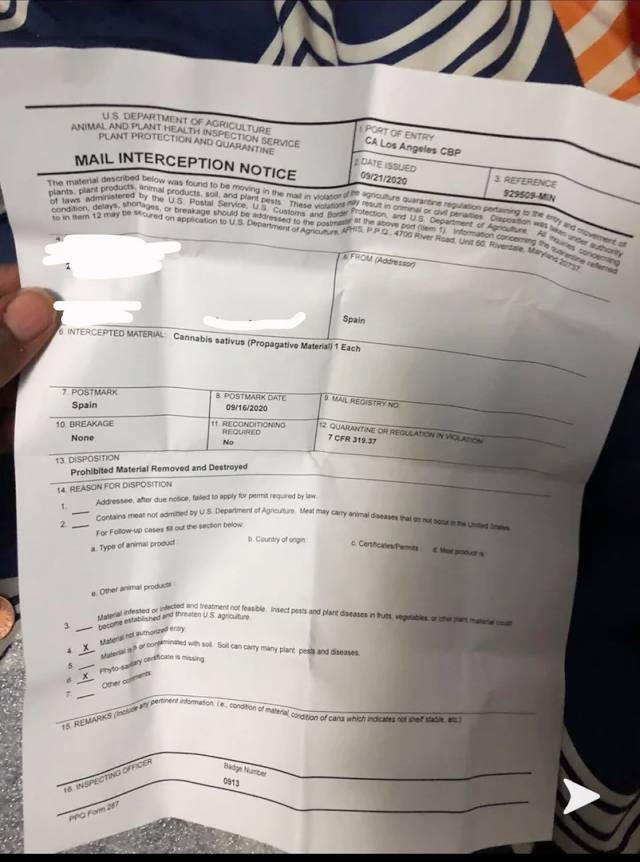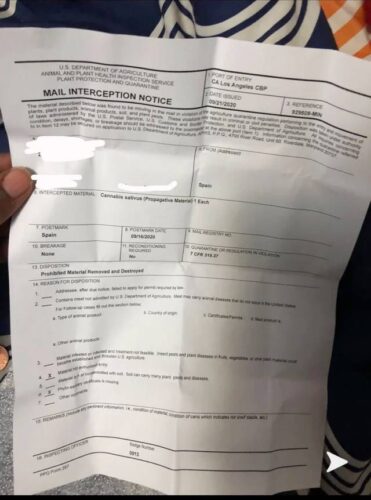 The letter basically told me that they had found some 'material' in the mail that was
in violation of the agriculture quarantine regulation pertaining to the entry and movement of plants, plant products, animal products, soil, and plant pests"

U.S Department Of Agriculture
The letter went on to say that they could prosecute me for this violation, and they had taken the decision to dispose of the 'material'.
I was told that I could appeal to the postmaster If I wanted them back (yeah, right)
I'd read about the possibility of this happening, so I wasn't overly bothered.
In fact, I threw the letter into the bin almost immediately (although I wish I'd framed it for my grow room)

When this happened, I was living in a state where it was legal to grow (Colorado) so I wasn't concerned about the prospect of tipping the authorities off to the fact that someone was obviously growing cannabis at the address the seeds were destined for.

However, If I was living in an illegal state like Georgia or Texas, I might have made plans to get rid of any growing evidence.
Is It Illegal To Order Cannabis Seeds Online?
The first thing to make crystal clear here is that I'm no lawyer. It's important to do your own research and only take risks that you are comfortable with.
However, based on my research, it's not illegal to order cannabis seeds online or possess them. It's only when you start growing them that legal restrictions come into play (depending on the laws where you live)
The United States passed the Farm Bill in 2018 that removed hemp seeds as a controlled substance. This allows them to be sold, transported, and possessed, as long as their THC level Is below 0.3%.
Cannabis seeds are also below this 0.3% THC threshold, so they are treated exactly the same in the eyes of the law.

The Drug Enforcement Administration (DEA) even admitted this.

Here's what they told a lawyer who requested clarification on whether cannabis seeds were illegal or not.
Marijuana seeds that have a delta-9-tetrahydrocannabinol concentration of not more than 0.4 percent on a dry weight basis meets the definition of "hemp" and thus is not controlled under the CSA. Conversly, marijuana seeds having a delta-9-terahydrocannibonol concentration of more than 0.3 percent on adry weight basis is controlled in schedule 1 under the CSA as maijuana

Drug Enforcement Administraion (DEA) (source)
You won't find this quote anywhere on their website, as they don't want to actively encourage people to buy cannabis seeds.
However, it's clear that in the eyes of the DEA, Marijuana seeds are equal to hemp seeds and are therefore not considered illegal.
How to make sure your seeds don't get seized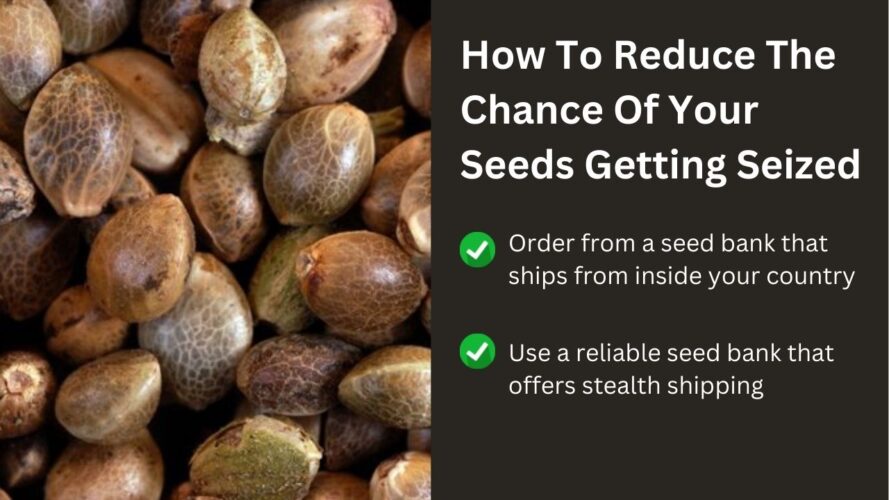 So, even though I don't really care about the letter (because I don't think ordering seeds online is illegal) I don't want to get another one.
The last thing you want to do is to start annoying the authorities when they have already warned you.

It's also annoying when your seeds get seized, as you have to wait more time to begin your grow.
So here's what I do, and what I recommend anyone does if you don't want your seeds to get seized.
1. Use a seed bank that ships from WITHIN your country
This is my most important tip by far.
If you order your seeds from an international seed bank, your seeds are going to have to pass through customs, where they are under much more scrutiny.
Most custom agencies know what's up, and are keeping an eye out for small CD-sized packages arriving from Amsterdam or Spain.
However, domestic shipping companies like UPS don't have the same power to just open one of your packages if they think it's suspicious.
They would have to have a very good reason to do so, and most times, they won't.
United States – I live in the US, so I order from seed banks that can ship from WeedSeedsExpress or ILGM, which both ship out of California.

United Kingdom – If you live in the UK, you would want to order your seeds from MSNL, which ships from Gloucester.

Canada – If you live in Canada, I'd recommend ordering from a seed bank like Crop King Seeds, which ships seeds from Vancouver.
Australia and New Zealand – If you live in Australia or New Zealand, it's a bit more tricky. There aren't really any good seed banks there that ship domestically, and the ones that do are incredibly dodgy. In this case, I would recommend ordering a small number of seeds from a reliable European seed bank. Herbies Seeds are one of the few European seed banks that still ship to Australia and New Zealand, but they now charge $25 to insure the package.
2. Use A Reliable Seed Bank (…Duh)
This one might seem obvious, but if you use a seed bank that has a website that looks like it was built in the 90s, hard-to-find contact information, and no customer reviews, then you shouldn't expect your seeds to arrive safely (if at all)
Good seed banks will provide stealth shipping as standard and not make you pay a crazy premium for it. They'll also have responsive customer service and be willing to replace any lost seeds for free.
If a seed bank looks shady, don't use it
Final Thoughts
Ordering cannabis seeds online can be a little intimidating if you've never done it before.

However, you really shouldn't be worried about the feds kicking down your door if your seeds ever get seized in the mail.
In most states and countries, cannabis seeds are not technically illegal to ship or possess. This is because they only have tiny amounts of THC, and can't get you high just by eating them.
It's only when you plant seeds and start growing them that the laws in your state or country will apply.

If your seeds are seized, then the most you can expect is a scary formal letter trying to encourage you not to do it again.
I hope this article was helpful and alleviated some of your fears.
Have you ever been busted for ordering seeds online?

Let me know in the comments

James.