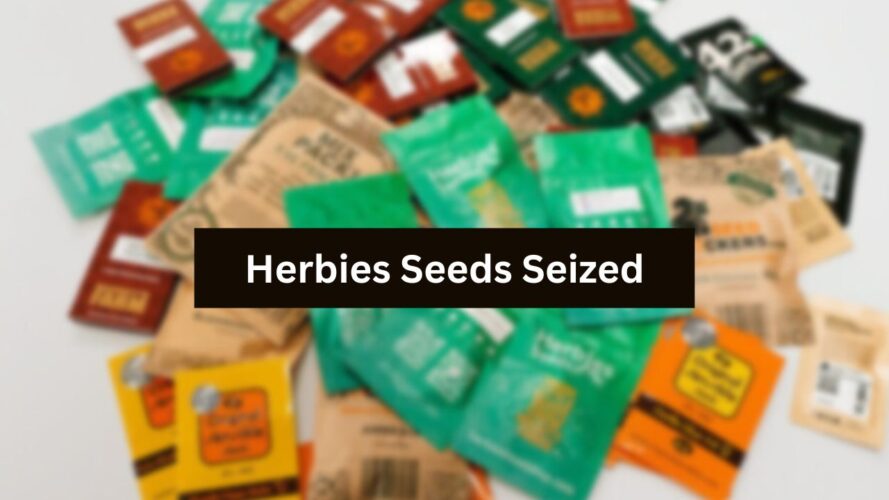 Have your seeds from Herbies been seized recently?
If you live in Australia, there's a good chance they have been.
I've been in this situation myself before, so I know how frustrating (and worrying) it can be.
So what should you do?
This article will explain why Herbies seeds are sometimes seized, and what you can do about it.
Why did your Herbies seeds get seized?
Herbies recently released a statement saying that they were facing significant difficulties with orders that were shipped to New Zealand and Australia, with customs seizing many of the packages.
Herbies have told customers from Australia and New Zealand that due to these customs issues, they are increasing the expected wait times to 25 days.

If your seeds have still not arrived after 25 days, you can contact Herbies and they will replace them free of charge.
Frustratingly, for all future orders, they have also introduced a new 15-euro insurance option for any orders that are shipped to New Zealand or Australia.
If you accept the fee, then your seeds will be insured and you will be refunded.
However, if you don't accept the fee then Herbies will not replace the seeds.
Should You Be Worried?
I've been buying seeds online for many years and have had seeds seized from various different seed banks.
It's really no big deal, as long as you are using a reliable seed bank that guarantees delivery.
Most countries do random spot checks on international mail, so even if your package has been discretely packaged, there's still a chance your seeds will get seized.
If this is your first time having some seeds seized, then you're probably nervous and think that the government is going to kick your door down any second.
But you really shouldn't be…
US, Australian, and EU customs won't usually make a fuss over seeds, and cannabis seeds are not controlled substances in most countries because they contain such a tiny amount of THC (They're basically classed the same as hemp seeds)

Most of the time, they just send a letter saying they destroyed your seeds.
What should you do when Herbies seeds get seized?
Don't panic! simply contact Herbies and ask them to arrange to resend your seeds free of charge.
9 times out of 10 your second package will arrive just fine.
Do Herbies Seeds Get Seized More Often than seed banks?
Looking at forums, it looks like Herbies seeds get seized a lot.
However, it seems that most seed banks have been having issues delivering seeds to Australia and New Zealand.
Popular European seed banks like ILGM and WeedSeedsExpress recently stopped shipping seeds there due to customs issues.
Herbies is actually one of the few European seed banks that still ship to Australia.
How to prevent Herbies seeds from getting seized
Here are some tips to prevent your seeds from getting seized when using Herbies:
Always use the stealth shipping option. This guarantees that your seeds will arrive in a discrete package.
If it's your first time ordering from Herbies, then order a small number of seeds, or place two orders. This way, if one gets seized, the other will most likely get through, and you won't have to wait to start your growth.
Final Thoughts
It can be really nerve-wracking the first time you have seeds seized by customs.

Just stay calm and remember:
A) Customs don't really give a shit as they have bigger fish to fry
B) They just destroy them and at most send you a letter
C) Herbies will resend more seeds.

Seized seeds are very common. That's why it's so important to use a seed bank that guarantees delivery.