In this Herbies Seeds Review, I'll tell you what they do right, what they need to improve, and how they stack up against other seed banks.
My Quick Herbies Seeds Review
Overall, Herbies Seeds is a solid seed bank to use, but they're definitely not suited to everyone.
Their seeds are high-quality and they guarantee at least 70% germination.
They are one of the few seed banks that allow you to buy a single seed instead of 5-10 multi-packs. This means if you're planning a smaller grow, you're not forced to buy more seeds than you need.
They also send you some pretty awesome free gifts when you buy seeds from them, including grinders, rolling papers, shearers, and glass pipes.
Unfortunately, their shipping to the USA is slow (10-12 days) compared to seed banks like WeedSeedsExpress (4-5 days) but they have told me that they are working on improving this.
However, if you're from Australia or New Zealand, Herbies is one of the few European seed banks that still ship there. Just expect to wait up to 25 days for your seeds to arrive.
Herbies Seeds Discount Code:

You can get 5% off your entire order by using the discount code GBG at checkout.
Continue reading this Herbies Seeds review to discover the pros and cons of ordering from them, and to see how they compare to the best seed banks to order from.
Herbies Pros:
Worldwide shipping
Various payment method options
Quick shipping to US and UK
Comes in discreet packaging
"Stealth" option available
High TrustPilot Rating
Herbies Cons:
Slow customer service
Doesn't hand-select seeds
No cash payments
Herbies Seeds Alternatives
This Herbies Seeds review is part of my seed bank reviews series, where I am reviewing all of the best seed banks to see which ones are worth buying from.

Here are the results so far:
About Herbies Seeds
Founded over 20 years ago, Herbies Seeds has been dedicated to giving its customers high-quality cannabis seeds longer than most companies have been around.
Starting as a small shop with ambitious dreams, Herbies quickly grew as one of the world's most popular cannabis seed retailers.
Now, with more than 800,000 customers from across the globe, Herbies Seeds' reputation has stretched worldwide.
Herbies ensures quality and clarity, providing detailed product descriptions and all the information you would need about their seeds.
They boast carefully selected seeds, total privacy, and even next-day delivery.
Seed Quality – 4/5
Herbies Seeds prides itself on its carefully selected, top-tier cannabis seeds.
They guarantee that their seeds stay in cool, dry places and at safe temperatures, and are delivered in damage-proof, secure packages.
Though, Herbies does admit that it doesn't have a hand in the selection, breeding, or production process which does bring slight hesitation for me– I much prefer when the companies are directly involved.
Still, Herbies seeds do come from seed banks that guarantee that at least 70% of the seeds in your pack will germinate properly to create a satisfactory product.
If you do have an issue with your seeds, Herbies recommends filling out a Quality Claim Form to help you get your money back (though this does seem a bit laborious).
Strain Selection – 5/5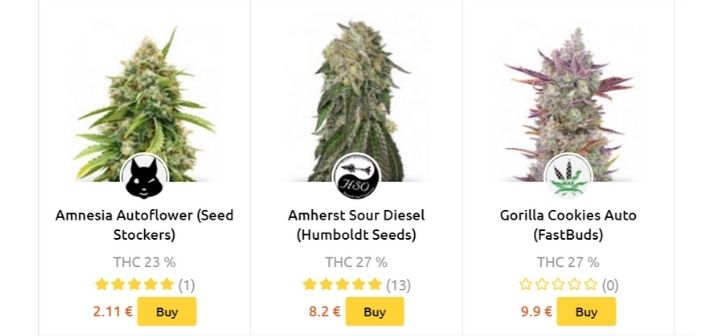 Just how many strains do Herbies Seeds provide?
2,318.
That's right: this cannabis seed company has over 2,000 different strains for you to choose from, each one different from the next.
There's nothing I love more than a good seed selection, and Herbies Seeds offers one of the largest selections I've come across yet.
Herbies Seeds offers feminized seeds, auto-flowering, high-THC, and even strains for beginners.
Simply put, no matter what you're looking for, you'll find a quality seed that appeals to you through Herbies Seeds impressive strain selection.
Customer Service – 3/5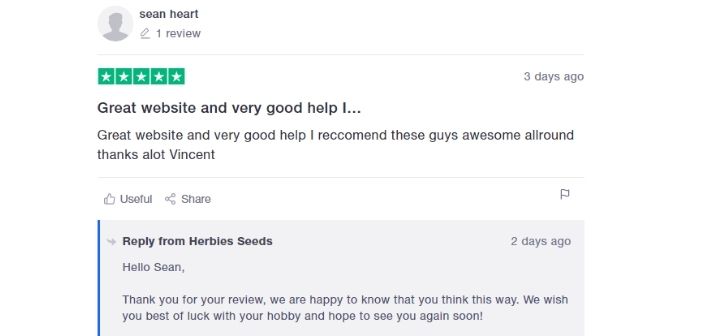 Herbies Seeds is one of the websites where as soon as you log on, BAM, there's a chat window with a virtual customer service agent waiting to help.
This can be extremely helpful for those with specific questions and weeding out the helpful information from not.
However, it can also be slightly distracting trying to navigate the site with this not-real customer service agent popping up left and right.
When emailed directly, I never actually got a response from Herbies, though they seem to be actively responding to their customers on other platforms.
Others online have reported fast response times and friendly service, and their promotional discounts could make any potential customer excited.
All in all, Herbies could improve a bit in their customer service sphere, switching gears from digital consultants to real-life representatives.
Herbies Seeds Reviews – 4.5/5
One thing is for sure: there's no shortage of positive reviews when it comes to Herbies Seeds.
According to TrustPilot, Herbies Seeds has received almost 3,000 reviews, with a 4.5/5 star review overall.
Herbies makes their reviews easy to read and accessible right on their site, so you can effortlessly see what others have had to say about their cannabis seeds.
Almost everybody remarks on Herbie's reliability and quality of seeds, aligning with the company's values.
Every one of their reviews–even the few negative ones–has specific responses written by Herbie's associates, letting me know that they do listen to their customers, regardless of their individual experiences.
Many reviews have been amended from lower ratings to higher ratings after issues were resolved, also leading me to believe that they have an active relationship with their consumers.
Payment Methods – 5/5
No matter how you want to pay, Herbies Seeds allows for it.
From debit to credit cards, bank transfer payments, and even Bitcoin transfers, you can purchase your favorite seeds in whatever way makes you feel most comfortable.
The only payment method they don't currently accept is straight cash payments.
However, I have always relied on their secure debit card methodology without any issue.
All card payments are made in euros, as the company is based in Spain, so make sure the currency exchange rate on your card is up-to-date for proper transactions.
All Bitcoin payments, on the other hand, are completely secure and anonymous: what's better than that?
Shipping – 5/5
My favorite thing about Herbies is that no matter where you are, they'll ship to you.
Herbies Seeds offers worldwide shipping from every corner of the globe. 
Herbies are one of the few seed banks that ship to Australia, but you'll have to pay for insurance and wait up to 25 days to receive your seeds.
If you're in the US, you will receive your seeds within 5-8 days, with those in Europe receiving theirs in a quick 5 days only.
Any international orders will likely take a bit longer, closer to 7-10 days simply due to the longer distances; however, the seeds will show up just as securely as if you were right in Spain.
Herbies promises to process your order within 24 hours of you placing it and paying for it to help ensure a speedy delivery process.
Every order comes in a discreet DVD case to help avoid any suspicion and deliver a stress-free shipment.
To guarantee ultimate safety and security, you can also choose to ship your seeds using the site's "stealth" option.
Stealth packages have the seeds removed from their original packaging and placed in nondescript Ziplock baggies, disguised as an everyday purchase to prevent unwanted attention.
Discretion – 5/5
Discretion is the name of the game for Herbies Seeds if you haven't noticed.
With the option of having your seeds sent stealthily, you can rest assured that your purchases will arrive problem-free.
Along with the stealth option, paying completely anonymously through Bitcoin helps to ensure a traceless, safe purchase that you can trust.
Your seeds arrive in discreet packaging, even keeping those in your household unaware of the beauty you've purchased.
No matter what you buy or where you live, I love that Herbies places such importance on discretion and security: you can truly buy without stress.
Discounts/Promotions – 5/5
Every day, Herbies Seeds offers impressive discounts and promotions for its customers.
something I check regularly.
The company has a clever discount program that provides 5% off orders over 100 euros, 10% off orders over 200 euros, and 15% off orders over 400 euros, always keeping you rewarded.
I also love the number of free seeds that Herbies offers within practically every purchase: you get free seeds with every order over 20 euros!
They even offer promotional discounts that change over time; currently, they're offering free Gorilla Glue seeds with every purchase.
These are just a few of the different discounts and promotions they offer, too.
If you're worried about not being able to afford your high-quality cannabis seeds, Herbies Seeds has you covered, always providing discounts to help you get just what you need.
Reliability – 4/5
Herbies Seeds prides itself on its reliability and quick service.
No matter where you are on the globe, Herbie promises you'll receive your seeds in less than two weeks' time.
If you have issues with your packages, you can reach out to Herbies customer service team for help, though I have noticed a lag in response from their team.
It's difficult to be dissatisfied by Herbies and its high-quality seeds, but it appears that they work with their customers directly if issues do arise– it just may take a little bit of time.
Common Questions
Before I wrap up this review, I've answered a few common questions you may have about Herbies Seeds.
Where is Herbies Seeds Located?
Herbies Seeds is currently located in Alicante, Spain. However, as was mentioned, they ship worldwide.
Are Herbies Seeds Safe?
Yes! Herbies Seeds are all quality-checked and inspected to ensure safety and the best product possible. For me and many others, Herbies has always been the go-to option.
Where Does Herbies Seeds Get Their Seeds?
Herbies receive their seeds from high-quality breeders across the globe. They ship all of their seeds within the original packaging so you know exactly where they're coming from (unless you choose the stealth option).
Summary
It's hard to not love Herbies Seeds. This company provides such a comprehensive selection of cannabis seeds that I'm finding new favorites every time I start clicking around.
Herbies knows how to treat cannabis seeds well and give their customers just what they need.
Occasionally, you may have an issue or two with their automated customer service, but as soon as your seeds arrive, you'll likely never shop anywhere else.