Autoflower strains are hugely popular in the growing community due to the fact that they're easy to grow and flower super fast.
Who wouldn't want faster bud?
If you've made the decision to buy an Auto-flowering strain, the next step is to find the absolute best Autoflower seed bank to buy your seeds from.
In this article, I'll look at what makes a good Auto-flower seed bank and recommend some of the best seed banks for autos.
I'd also highly recommend that you read my best seed banks to order from guide, where I explain the best seeds banks to order from period (not just for autos)
Ready? Cool. Let's get started…
Best Autoflower Seed Bank?
Short on time or can't be bothered reading through my long-winded comparison?
No worries, here are the best 5 Autoflower seed banks ranked 1-3
Seedsman
ILGM
MSNL
What Makes A Good Autoflower Seed Bank?
1. Large selection of Autoflower strains
A good seed bank for Autoflowers will have a lot of strains to choose from.
I usually like to shop in one place if I can help it as it saves me having to fill out registration forms each time.
Most seed banks also offer a loyalty program too, so buying from the same place each time will save you money.
2. Good information about each strain
I like to know as much as possible about each strain before buying it.
I want to know how tall it's expected to grow, what it tastes like, what it smells like, and what effects it has.
A good auto seed bank should tell you everything you need to know on the product listing page.
3. Lots of user feedback
I LOVE seeing user feedback about strains.
It gets me really pumped to try a new strain if I see someone else has had a good experience with it.
Equally, if it's not quite as good as the seed bank said it is, I want to know before I buy.
4. Price
This one is pretty self-explanatory – I want to pay a reasonable price for my auto seeds.
Obviously, the seeds have to be high quality too.
Ok, with these 4 criteria laid out, let's see how the top seedbanks compare for auto seeds.
1. Auto Strain Selection
| | | |
| --- | --- | --- |
| Seedbank | # of Autoflower Strains | Score |
| #1. Seedsman | 704 | 5/​5 |
| #3. ILGM | 11 | 2/5 |
Seedsman definitely comes out on top here with a massive 704 different auto strains.
MSNL comes in second with 29 different strains of autos, while ILGM has only 11 autos to choose from.
2. User Feedback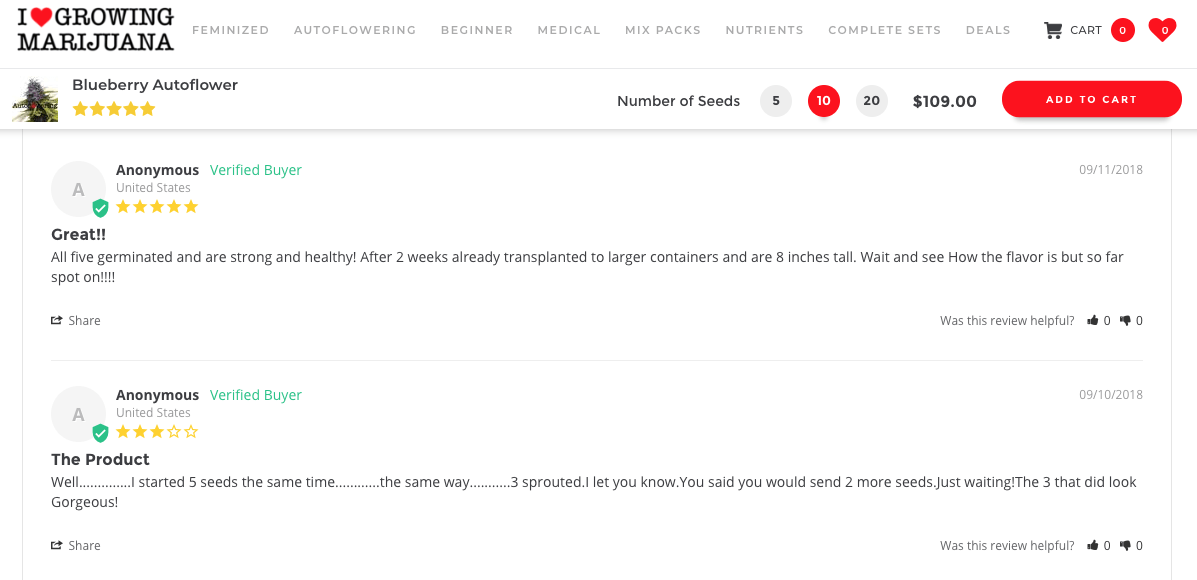 Fortunately, most of the top Seed banks provide a good amount of user reviews.
ILGM impressed me the most with the sheer number of reviews that they have for each strain ( usually over 100! ) and the rest of the bunch have more than enough to help you make your decision!
3. Information About Each Strain
Every seed bank I looked at provides the information you need about each of the strains available.
However, a particular mention again goes to ILGM who have to use awesome video reviews and show someone actually tasting it.
4. Price
Price is a hard one to test as prices can change often with promotions etc.
However, these are the prices for the same strain of northern lights autos at the time of writing.
As you can see, Seedsman is significantly cheaper than the others.
Final Thoughts
So there we have it.
If you're looking for a good seed bank for autos, Seedman is the place to go.
Their huge selection of autos and low pricing is too hard to resist.
Although there are definitely some unique auto strains I'd like to try out on the others too!
That's it for this article, I hope you found it useful 🙂
Please also make sure you check out my seed bank reviews page for a full list of the seed banks that I've reviewed.