Short on time? Here's my Neptune seed bank review for 2022
Neptune Seed Bank provides unique, high-quality strains from over 100 innovative breeders. They also have excellent customer service and a large selection. However, they need to fix their slow website and establish a germination rate guarantee.
If you'd rather buy from a seed bank that has fast shipping to the USA, and a solid germination guarantee, then I would recommend using ILGM or Weed Seeds Express.
Continue reading this Neptune Seed Bank review to discover the pros and cons of ordering from them, and to see how they stack up against the best seed banks to order from.
Neptune Seed Bank Pros
Over 100 Unique Growers
1,929 Seed Options
Affordable Seeds
Excellent Customer Service
Tracking Numbers with Shipping
Neptune Seed Bank Cons
Poorly Designed Website
No Germination Rate Guarantee
Lack of Customer Reviews
Neptune Seed Bank Alternatives
This Neptune Seed Bank review is part of my seed bank reviews series. I am reviewing popular seed banks to see which ones are worth using and which ones are not.
Here are the results so far…
Is Neptune Seed Bank Safe?
Yes, Neptune Seed Bank is safe to buy from!
They are a totally legitimate, verified seed bank that has been recognized numerous times by cannabis publications as one of the top seed banks based in America.
They have 27 reviews on TrustPilot with an overall score of 3.7/5 stars.
Many of the reviews on them rave about their customer service, quick shipping, and high-quality seeds.
Reviews that mentioned problems received responses from Neptune who was looking to fix them.
Of course, 27 reviews aren't that many.
If you want a seed bank with even more positive reviews, so you can know for sure that they are quality, try MSNL.
Like Neptune Seed Bank they have worldwide shipping and top-notch strains, but they also have over 3,200 reviews on Trustpilot, with an extremely impressive overall score of 4.2 /5 stars.
History & Reputation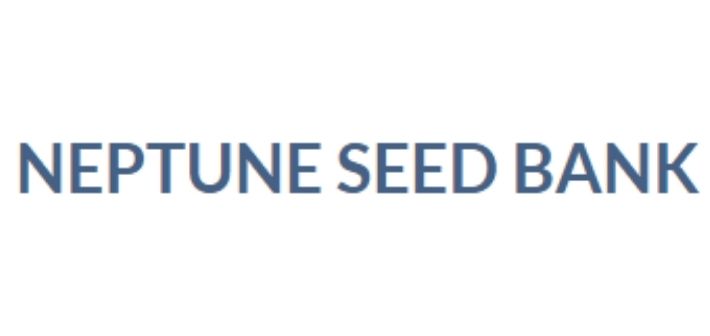 There is very little information on the history of Neptune Seed Bank, other than that they were founded and are currently based in the USA.
They have accumulated a loyal following of customers over the years, and have developed relationships with over 100 talented breeders.
Because of this, they've earned themself an excellent reputation in the cannabis cultivating community.
Seed Selection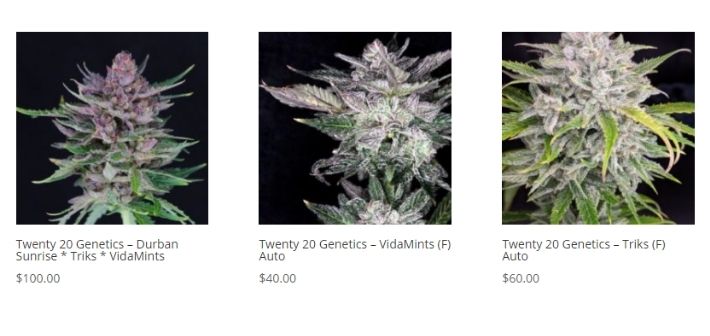 Neptune Seed Bank offers a vast variety of seeds, with 1,929 options to choose from sourced from over a hundred unique, innovative breeders.
Whether you're looking for autoflowering, feminized, CBD, or medicinal strains, Neptune Seed Bank has something for you.
They have premium and affordable options, plenty of Sativa, Indica, and hybrid seeds, and highly-potent strains.
They also work with renowned breeders like Pacific Northwest Roots, Geist Grow, Dungeon Vault Genetics, Purple City Genetics, and Cannabis by Corey.
If you feel overwhelmed by the number of seeds that Neptune Seed Bank offers, and want to check out a seed bank that's a little smaller in scale but still quality, consider visiting Paradise Seeds.
They are a boutique cannabis shop with a small selection of about 40 seeds, but every seed they offer is of the utmost quality, with most of their strains being award winners.
Seed Quality
Neptune Seed Bank works only with the best breeders, who create completely unique strains that you'll have trouble finding at other seed banks.
Their seeds are high-quality across the board, however, because they work with so many breeders it's hard for them to regulate things like the germination rate of their seeds.
They offer no gemination rate guarantee and no refunds on seeds that don't germinate but instead urge customers to contact their seed's breeder directly.
They do offer to facilitate the conversations between the breeder and customer and to work for the customer to get them a refund.
However, they make no promises.
If it's important to you that your purchase is protected with a germination rate guarantee then you should check out I Love Growing Marijuana.
They have a 100% Germination Guarantee which is unrivaled by any other seed bank.
You quite literally won't find a germination rate guarantee better than theirs.
They're able to offer a 100% Germination Guarantee because they not only sell extremely high-quality seeds they also provide free seeds with every order.
Seed Prices

Because Neptune Seeds has so many breeders, their seeds vary widely in how much they cost.
Some packs cost less than $10 per seed while some cost around $20 per seed.
For the most part though, Neptune Seed Bank's prices are reasonable.
If you don't want to spend a lot of green on your green, there will still be excellent options available for you.
Neptune Seed Bank Sales, Discounts & Promotions
Neptune Seed Bank's customers rave bout their deals and freebies.
You can find their discounted seeds under the "Deals" section of their website where you can view "Last Chance" seeds, "Clearance" seeds, "Best Selling" seeds, and "On Sale" seeds.
They also offer freebie seeds with many of their regular seed packs.
Payment Methods
Paying Neptune Seed Bank is a breeze because they accept a wide variety of convenient and discrete payment methods including:
Credit Cards
Debit Cards
Cash
Bitcoin
They accept all of the most popular seed bank payment methods except for wire transfers.
However, since they also accept cash and Bitcoin, people who want to pay in a discrete way will still have a method to do so.
Pacific Seed Bank Customer Service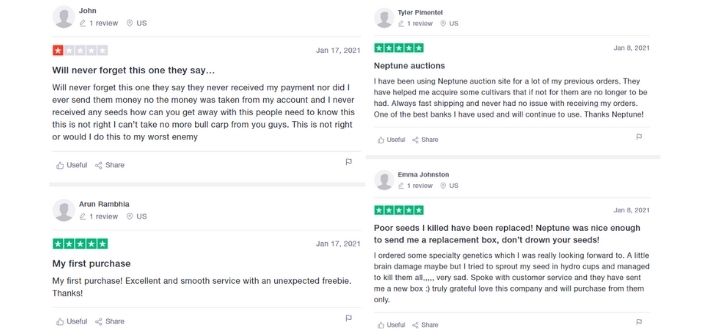 While Neptune Seed Bank's number one priority is providing high-quality, unique strains to their customers, their second priority is providing their customers with an excellent shopping experience.
That's why they have speedy shipping, offer discounted seeds, and genuinely encourage customers to reach out if they have any problems.
One review stated, "Since I started ordering from this bank I have met the gentleman who runs it several times and can honestly say that he actually gives a shit about his customer base.
Every time I have purchased I have always gotten set up with some amazing freebies (much better than the extras I have received from Attitude in the past), and his shipping is fast and discreet.
You won't be sitting there a month later wondering if they have been sent yet."
While Pacific Seed Bank has excellent customer service, the seed bank that sets the standard for customer service in the industry is I Love Growing Marijuana.
They provide fast, friendly responses to customer queries, and always put customer satisfaction first.
Website Design
Neptune Seed bank has an unimpressive website.
It's not so bad that it seems like your computer will get a virus just from clicking on it like some other seed bank's websites, but it's poorly organized and very low tech.
They have one bar that you can click on that includes all of the links to the other pages of their website.
However, some of the links, like the "feminized" and "autoflowering" tabs lead to nothing.
Overall, you can find your way around their website, but it's generally unimpressive.
For a company so preoccupied with quality customer service, I was disappointed in them.
Reviews of Pacific Seed Bank
Overall, Neptune Seed Bank has received positive reviews online.
They've been reviewed by numerous cannabis blogs and publications, and are regularly rated as one of the top US-based seed banks.
They have over 27 reviews on TrustPilot with a score of 3.7 / 5 stars.
However, while their reviews are largely positive, they do have a lack of customer reviews online which does leave some grey area in regard to the quality of their seeds and service.
If you're looking for a seed bank with even more positive reviews, so you know they are as good as they say they are, check out banks like I Love Growing Marijuana and MSNL both of which have impressive TrustPilot scores and are award-winning seed banks.
Shipping
One of the things that Neptune Seed Bank is most well-known for is its speedy, affordable shipping to clients all over the world.
They ship through UPS to almost every country in the world, except for those that the US has trade embargoes with.
Shipping Options
STANDARD SHIPPING $6 – It will usually take between 5-10 days within the continental USA. No estimate is given for places outside the USA. A tracking number is automatically emailed once the label is scanned.
DISCRETE SHIPPING $12.00 – This option is double packaged and is shipped priority. Typically your package will arrive at the destination within 2-3 business days. A tracking number is automatically emailed once the label is scanned.
SIGNATURE SHIPPING $20.00 – This option is double packaged, ships priority, and requires a signature for delivery. This option is perfect if the package is being delivered to an area where packages are frequently stolen. A tracking number is automatically emailed once the label is scanned.
GUARANTEED SHIPPING $25.00 – This option is double packaged and is shipped priority. Usually, it will arrive at the destination within 2-3 business days. If your package is lost in transit it will be reshipped with no questions asked. A tracking number is automatically emailed once the label is scanned.
Of course, take all of these shipping estimates with a grain of salt since Neptune Seed Bank did announce that their shipping has recently been delayed by COVID-19's impact.
Because of this, they advise customers to get upgraded shipping options to ensure that their packages are delivered in a timely manner.
Neptune Seed Bank Review
With speedy worldwide shipping, top-notch breeders with unique, innovative strains, and excellent customer service, Neptune Seed Bank has a lot going for it.
However, they need to update their website, accumulate more reviews, and get a germination guarantee before they'll rank amongst the best seed banks in the world.