Dinafem Seeds is a well-known and impressive seed bank. They have award-winning strains, renowned customer service, and an easy-to-use website. However, they lack decent promotions and don't currently ship to America.
Are there better seed banks to use?

In my opinion, yes. If you'd rather buy from a seed bank that has fast shipping to the USA, and offers regular promotions, then ILGM or Weed Seeds Express are the the seed banks I use most regularly.
Continue reading this Dinafem Seeds review to discover the pros and cons of ordering from them, and to see how they stack up against the best seed banks to order from.
Dinafem Seeds Pros
Security Certificate
First Spanish Seed Bank to Specialize in Feminized Seeds
Award-Winning Strains
89 Strains to Choose From
3-Month Replacement Guarantee
Dinafem Seeds Cons
Currently in Legal Trouble
Little to No Promotions or Discounts
Does Not Ship to America
Are There Better Seed Banks To Use?
Let's take a quick look at how Dinafem Seeds compares to the many other seed banks I've reviewed
Best Customer Service

Best Customer Service

4.7/5

#1. ILGM

Awesome Customer Service
100% Germination Guarantee
Fast Shipping To USA (4 days)
FREE Shipping
Guaranteed Delivery
Don't ship to Canada or the UK

4.7/5

New Seed Bank

New Seed Bank

4.6/5

#2. Weed Seeds Express

Fast US Shipping (5-15 days)
90% Germination Guarantee
Excellent Customer Service
Low Prices
Regular Promotions
New Seed Bank

4.6/5

Best Seed Prices

Best Seed Prices

4.5/5

#3. Seedsman

Best seed prices & promotions
HUGE strain selection
Worldwide Shipping
Limited germination guarantee
Free seeds
Slow US & Canada Shipping
Average customer service

4.5/5

Best IN UK

Best IN UK

4.4/5

#4. MSNL

Fast US & Canada Shipping
Low priced seeds
Free seeds with every order
Decent customer service
Good promotions
No germination guarantee

4.4/5

Best In Canada

Best In Canada

4.3/5

#5. Crop King Seeds

Best Candian Seed Bank
Decent customer service
Fast Shipping To Canada (2 days)
80% Germination Guarantee
Expensive seeds
Not many promos or discounts

4.3/5

4.2/5

#6. Paradise Seeds

95% germination Guarantee
Strong Reputation
Responsive customer service
25 Cannabis Cups Since 1999
Don't Ship To The US
Limited Strain Selection

4.2/5

4/5

#7. Herbies Seeds

70% Germination Guarantee
Fast Shipping To US & UK
Large Strain Selection
Slow Customer Support
No Cash Payments

4/5

Autos Only

Autos Only

3.9/5

#8. Fast Buds

98% germination Guarantee
Great For Autoflower Strains
Good customer service
Affordable Autos
Don't Ship To US or Canada
Only Stock Autoflower Strains

3.9/5

3.9/5

#9. Gorilla Seeds

Large strain selection
Good reviews from customers
Worldwide shipping
No germination guarantee

3.9/5

3.9/5

#10. Attitude Seeds

Large strain selection
Good reputation
Worldwide shipping
Low cost seeds
No germination guarantee

3.9/5

3.8/5

#11. Sensi Seeds

Famous reputation in Europe
Large selection of strains
Don't ship to US or Canada
No germination guarantee
Can't pay with Bitcoin

3.8/5

3.8/5

#12. MJ Seeds Canada

Fast Canada Shipping
80% Germination Guarantee
Lots of Promotions
Expensive Shipping
Lack of Reviews

3.8/5

3.7/5

#13. Sensible Seeds

Over 3000 Strains
Good Customer Service
Affordable Seeds
Price Match Guarantee
Source Seeds from Other Banks and Breeders
No Germination Guarantee

3.7/5

3.7/5

#14. Sannies Seeds

High-Quality Strain Selection
Fast Shipping
Good Customer Service
Few Customer Reviews
Can't Pay with Credit Card
No Germination Guarantee

3.7/5

3.6/5

#15. Growers Choice

90% Germination Guarantee
competitive seed prices
Fast Shipping to US & Canada
Limited payment options
Poor customer service

3.6/5

3.5/5

#16. Greenhouse Seeds

Good reputation with customers
Low cost seeds
Limited payment options
Don't ship to the US
No Germination guarantee

3.5/5

3.4/5

#17. Blimburn Seeds

Low prices
Decent return policy
Dos Not Ship To US
No regular promotions
Limited Payment Options

3.4/5

3.4/5

#18. Serious Seeds

Award-Winning Seeds
Loyal Fan Following
Germination Guarantee
Not many promotions
Don't Ship To USA, Australia or Germany
Expensive

3.4/5

3.4/5

#19. AMS

Worldwide shipping
Germination guarantee
Not many promotions
Expensive seeds
Slow US & Canada Shipping

3.4/5

3.3/5

#20. Neptune Seed Bank

Over 100 Unique strains
1,929 Seed Options
Affordable Seeds
Poorly Designed Website
No Germination Rate Guarantee
Lack of Customer Reviews

3.3/5

3.3/5

#21. Attitude Seed Bank

Largely Positive Reputation
Provides Some of the Top Strains in the World
Thousands of Seeds
No Germination Guarantee

3.3/5

3.2/5

#22. Vancouver Seed Bank

Recognized as One of Canada's Best Seed Banks
Over 200 Strains
Potent, High-Quality Strains
Lack of Customer Reviews
Lack of Discounts and Promotions
Lack of Payment Methods

3.2/5

3.1/5

#23. BC Bud Depot

35+ Cannabis Awards
90% Germination Rate Guarantee
515+ High-Quality Strains to Choose Frome
Few Customer Reviews
Extremely Expensive
Lack of Promotions

3.1/5

3.1/5

#24. Highgrade Seeds

Top-Notch Strains
Worldwide Shipping
Lack of Reviews
No Germination Guarantee
Lack of Payment Options

3.1/5

3/5

#25. Rhino Seeds

Price Match Guarantee
Lack of Reviews Online
No Germination Rate Guarantee
Slow International Shipping

3/5

3/5

#26. i49 Seed Bank

Discrete, Affordable Shipping in the US
Selection of over 400 Seeds
80% Germination Guarantee
Unhelpful Customer Service Department
Negative Reviews on Seed's Quality
Expensive Prices

3/5

2.9/5

#27. CannabisSeeds.com

Very Cheap Prices
47 Top-Notch Strains
Lack of Reviews
Low Germination Rate
Not many payment options

2.9/5

2.9/5

#28. True North

Large strain selection
Cheap seeds & good promotions
Poor customer service
Many negative customer reviews
No germination guarantee

2.9/5

2.8/5

#29. Expert Seeds

High-Quality Strains
31+ Quality Strains to Choose From
Easy-to-Navigate Website
Few Reviews
Complaints About Seeds Not Germinating
No Germination Guarantee

2.8/5

2.8/5

#30. GTA Seed Bank

Top-Notch Quality Strains
750+ Strain Varieties
Worldwide Shipping
Awful Website
No Germination Guarantee
Limited payment Options

2.8/5

2.8/5

#31. Pacific Seed Bank

FREE Stealth Shipping
Bad Customer Service
No Delivery Guarantee
Few Discounts and Deals

2.8/5

2.8/5

#32. Dinafem Seeds

Security Certificate
First Spanish Seed Bank to Specialize in Feminized Seeds
Award-Winning Strains
Currently in Legal Trouble
Little to No Promotions or Discounts
Does Not Ship to America

2.8/5

2.7/5

#33. Elev8 Seeds

Good customer service
Lack of Customer Reviews
No Germination Guarantee
Expensive Seeds

2.7/5

1.9/5

#34. Dutch Seeds

Many reports of seeds not delivered
Poor germination rates
No germination guarantee
Bad customer service

1.9/5

1.2/5

#35. Australian Seed Bank

Autoflowering and Feminized Seeds
Average to Affordable Prices
Quality Strain Offerings
Lack of Customer Reviews
No Verification
Lack of Reputation

1.2/5

0/5

#36. BC Seeds

0/5
Is Dinafem Seeds Safe?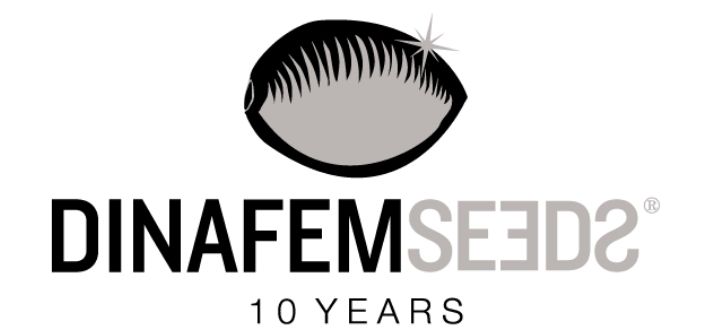 Yes, Dinafem Seeds is safe to buy from!
They hold a security certificate which allows them to encrypt information exchanged on their website, so all of the information you input for your purchase is safe and confidential.
Quality-wise they are also safe to buy from, with mostly positive reviews. On SeedFinder Dinafem Seeds has a 7.83/10 rating with a "green" listing which means that SeedFinder can absolutely recommend them.
Dinafem Seeds also has a 3.9/5 star rating on TrustPilot from over 130 reviews.
People commented on the high quality of their seeds, their speedy shipping, and their excellent customer service.
If you want even more verification from other customers that the seed bank you are buying from is legitimate, try MSNL.
They have over 3,200 reviews on Trustpilot, with an incredible overall score of 4.2 /5 stars.
History & Reputation
Dinafem is a giant in the marijuana seed world, with an impressive reputation, award-winning strains, and excellent customer service.
They are based in Spain, however, they have several distributors across Europe.
They were founded in 2005 and made a name for themselves as the first company specializing in feminized seeds in the entire country of Spain.
Over the years they have received myriad rewards and positive recognition from countless customers.
Operation Warning
Unfortunately, if you are interested in buying from Dinafem Seeds, you may have to wait a bit.
Currently, on their website, they have a notice that states, "Dear customers, We are very sorry to inform you that, against our will, we are now unable to engage in any commercial activity. We are working round the clock to resume normal activity as soon as possible, but we still don't know when we'll be able to operate normally. We'll keep you informed of any developments. Thank you very much for your trust."
It's safe to assume that somewhere, they got into some kind of legal trouble.
Seed Selection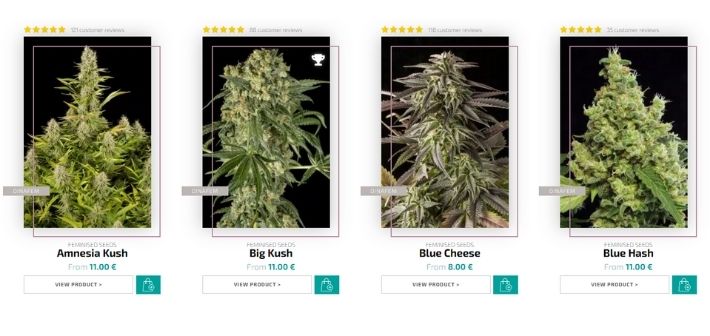 Dinafem Seeds carries 89 strains, including feminized, autoflowering, and CBD seeds.
They sell their own seeds and seeds from famous breeders like Barney's Farm, Dutch Passion, and Sensi Seeds.
Dinafem's own best-selling strains include White Widow, Critical Jack, and, of course, Moby Dick.
This selection while sizable is smaller than most seed shops carry.
If you want even more strains to look through then try shopping at a seed superstore like Seedsman which has thousands of strain options for affordable prices.
Strain Spotlight: The Moby Dick
Dinafem Seed's most popular strain is Moby Dick.
This Sativa-dominant strain has received over 10 awards, including the 2nd Prize for Indoor Professional at the Weedkend Cup in 2017, 1st prize in the Outdoor Category at Copa El Punto in 2007, and Best Sativa at SummerCup in 2011.
This low maintenance strain yields impressive crops with potent, sticky buds.
This strain is so strong its effects are almost psychedelic.
This white whale may take you down, but you'll have a hell of a ride smoking it.
Seed Quality
If there is anything that Dinafem is known for, it's the quality of their strains.
Not only are there genetics incredible, but also the care Dinfem puts into keeping them high-quality.
Dinafem Seeds takes quality seriously, with a highly meticulous selection, storage, and packaging process.
This process involves only selecting the best seeds, removing impurities, storing the seeds in silica gel-filled glass containers with a thermo-hygrometer that monitors the seed's environment, and packaging the seeds in Eppendorf tubes.
Germination Guarantee
Dinafem offers a 3-month replacement guarantee on seeds that don't germinate. Even if your defunct seeds came from one of the breeders that they work with, they'll replace the seeds with their own just to speed up the administrative process for the sake of their customers.
All you have to do is get in touch with Dinafem Seed's customer service department, indicate what your order number was, and explain the germination method that you used.
If you did not use an adequate germination method, then they may request that you send them a picture of the seeds so they can verify that the problem lays with the seeds.
If they find that the problem does, they will replace the seeds as quickly as possible.
This germination guarantee rivals the most impressive germination guarantee in the industry which belongs to I Love Growing Marijuana.
ILGM has an incredible 100% germination guarantee.
Seed Prices
Dinafem Seeds has average to high seed prices, which makes sense considering the incredible quality of their seeds.
Below you can see how the prices of their seeds compare with the prices of some of the best and most recognized seed banks in the industry.
White Widow Feminized Price Comparison
According to this price comparison, Dinafem Seeds has the second-lowest price for 10 feminized White Widow seeds.
The seed bank with the absolute lowest price is Seedsman, which makes sense considering that it is a seed superstore.
I Love Growing Marijuana has the highest price, however, it should be noted that they do give you 10 extra seeds for free with the 10 that you buy. Therefore, per seed, I Love Growing Marijuana actually has the lowest price.
Promotions and Discounts
There are almost no promotions on Dinafem Seed's website.
However, apparently, if you sign up for their newsletter, you can receive some special offers directly to your inbox.
Payment Methods
Dinafem Seeds offers some discrete and convenient payment methods.
The payment methods they accept include:
Cash
Credit Card
Bank Transfer
Bitcoin
For people who want a convenient way to pay they can use a credit card, while those who value privacy and secrecy can use Bitcoin or cash.
Dinafem Seeds Customer Service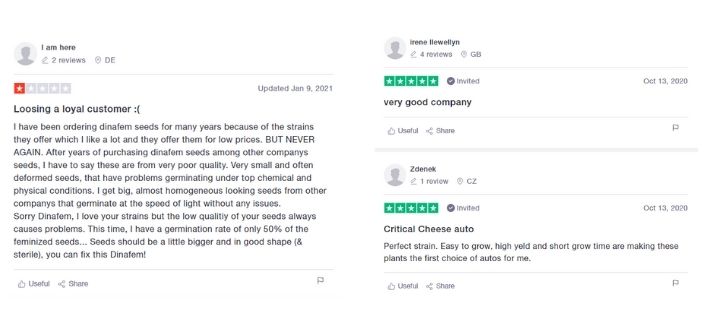 One of the things that stands out the most from Dinafem's reviews is compliments on the seed bank's incredible customer service.
Dinafem has a responsive customer service team that has been known to go the extra mile to help with customer issues.
They even replace bad seeds from breeders that Dinafem carries, free of charge.
Dinafem's customer service team takes their mission of providing high-quality seeds seriously.
Website Design
Dinafem Seeds has a cleanly designed website that feels professional – not like it's going to give your computer viruses.
I can't say the same about a lot of other seed bank's websites.
They even have a blog with tons of helpful information about growing cannabis.
Their blog really shows how committed the company is to helping you have the best growing experience possible.
The website is available in many different languages, including English, Spanish, Italian, Dutch, and French, so customers can access and navigate it from around the globe.
Dinafem Seeds even has a helpful FAQ section to answer all of the questions customers could possibly concoct.
Shipping
There is a lot to love about Dinafem Seeds' shipping.
Dinafem packages orders in discrete plain brown envelopes.
Each order is guaranteed to arrive and comes with its own tracking number.
However, Dinafem does not ship worldwide.
They will not send seeds to the USA, Argentina, Australia, or South Africa.
If you are unluckily in one of these countries, check out a high-quality seed bank that does ship worldwide like I Love Growing Marijuana.
Shipping Options
Delivery costs and times depend on the delivery method and where they are being shipped.
Depending on where you live, orders may take anywhere from 48 hours to 30 days to reach you.
Unfortunately, because Dinafem Seeds cannot send out orders right now, shipping cost and time estimates are not verifiable.
Dinafem Seeds Review
With excellent customer service, high-quality award-winning seeds, and a convenient, safe ordering system, it's no wonder why Dinafem Seeds is considered to be one of the best seed banks in the industry.
Their main downside is that they do not offer shipping to some big countries like the US and Australia.
They also are currently not operating so you can't order seeds from them.
Until Dinafem Seeds gets back up and running, check out these other seed banks that are considered to be some of the best in the world.