Short on time? Here's my MJ Seeds Canada Review for 2022:
MJ Seeds Canada seems like a decent Canadian seed bank to order from. They have a wide variety of popular strains, worldwide shipping, and good customer service. However, the lack of customer reviews on their website and the limited selection of strains make me hesitant to buy from them.

if you live in Canada and are looking for a reliable seed bank, I'd still recommend going with Crop King Seeds over MJ Seeds.
Continue reading this MJ Seeds Canada review to discover the pros and cons of ordering from them, and to see how they stack up against the best seed banks to order from.
MJ Seeds Canada Pros
80+ Seeds to Choose From
Ships Worldwide
Remarkably Fast Shipping
Discreet Delivery
Easy-To-Access Customer Service
Lots of Payment Options
MJ Seeds Canada Cons
Lack of Information
Lack of Reviews
Expensive Shipping
MJ Seeds Alternatives
This MJ Seeds review is part of my seed bank reviews series. I am reviewing popular seed banks to see which ones are worth using and which ones are not.
Here are the results so far…
Is MJ Seeds Canada Safe?
Yes, MJ Seeds Canada is safe to buy from.
However, the lack of reviews of them online makes gauging their seeds' quality, their shipping reliability, and the helpfulness of their customer service difficult.
In other words, this is a legitimate seed business, but in buying from them you are taking on some risk since there is so little verification about the company.
History & Reputation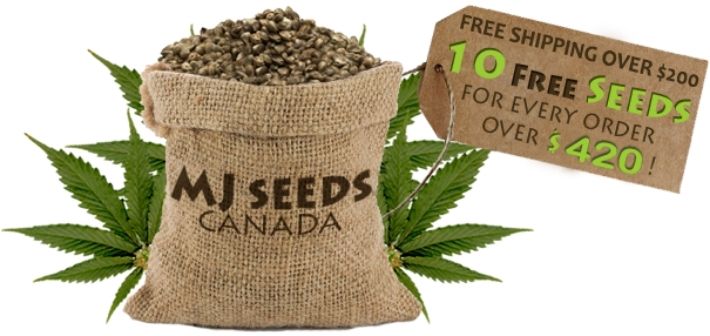 MJ Seeds Canada was started in 2009 in Vancouver, British Columbia which is home to some of North America's best seed banks.
They ship to customers all over the world, providing discreet, fast delivery.
They have a fairly large selection of strains that includes some of the world's most popular varieties.
MJ Seeds' reputation is still developing.
They are currently listed as "gray" on SeedFinder which means that the site has not accumulated enough information on them and therefore can't verify their quality.
In other words, if you buy from them you are taking on some risk.
If you are looking for a seed bank that ships worldwide, carries top-notch cannabis strains, and has verified reviews, try MSNL. They have over 3,200 reviews on Trustpilot, with an overall score of 4.2 stars out of 5.
Seed Quality
MJ Seeds Canada boasts that they carry some of the most popular strains in the world, and ship out only high-quality seeds.
They guarantee a minimum of 80% germination success rate for their seeds if you use the Cup of Water and Paper Towel method.
Unsure what those methods are?
No problem, they also include germination instructions.
80% is a very strong germination guarantee, especially considering that some seed banks don't even include a guarantee.
The seed bank with one of the strongest germination guarantees on the market is I Love Growing Marijuana which has a 100% germination guarantee and even includes free seeds with each order to ensure the most seeds possible germinate.
Seed Selection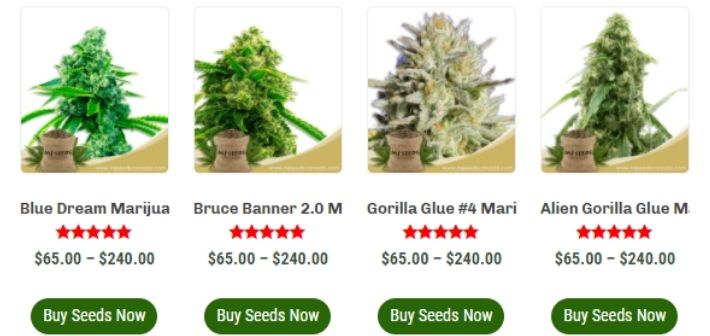 MJ Seeds Canada has a very strong seed selection, with 80+ seeds to choose from.
You can choose between regular, feminized, autflowering, and medical seeds, along with seeds specifically for indoor, outdoor, hydroponics, and aeroponics weed growing.
Some of their most popular strains are White Widow, Fucking Incredible, and Kali Mist.
80+ strains, in my opinion, is more than enough options, especially when your strains are as strong as the ones that MJ Seeds Canada carries.
However, if you want even more options you can check out a weed super-store like Herbies Seeds or Seedsman which have thousands of strain varieties.
Seed Prices
The prices of MJ Seeds Canada's products are in the low to average range.
If their seeds are as high quality as they say they are then they are a total bargain.
If they aren't, you're paying more than you have to for not-so-good seeds.
White Widow Price Comparison
Seedsman clearly has the best-priced seeds, but because they are a seed superstore they are able to charge less for their seeds.
I Love Growing Marijuana has the highest price, but they also are running a deal right now where if you by 10 white widow seeds you get 10 free, which would make them the cheapest per a seed by far.
MJ Seeds Canada Sales, Discounts, & Promotions
MJ Seeds Canada has some pretty impressive sales, discounts, and promotions that they run year-round.
One promotion is that they offer free shipping for anyone who spends more than $200 on seeds.
They also offer free seeds to people who spend more than $420 on seeds.
With this deal, you get 5 additional feminized seeds for feminized seeds orders and 10 additional regular seeds for regular seeds orders.
If you grow marijuana for medical purposes you can also contact them about the heavy discounts they have for patients across Canada.
Payment Methods
MJ Seeds Canada has a wide variety of payment methods that they accept. You can pay with:
Cash
Money Orders
Interac E-Transfers
PayPal
Bitcoin
Visa
MasterCard
Cash is the safest most private way to pay and it has the benefit of them throwing in a few extra seeds for cash payments.
To pay with cash put your money in an envelope and mail it to the address provided at checkout.
Bitcoin is another great, private way to pay for your seeds that will ensure no cannabis related-charges show up on your cards.
They accept credit cards but discourage paying with one since they then have to apply a 10% processing service fee to your order.
MJ Seeds Canada Customer Service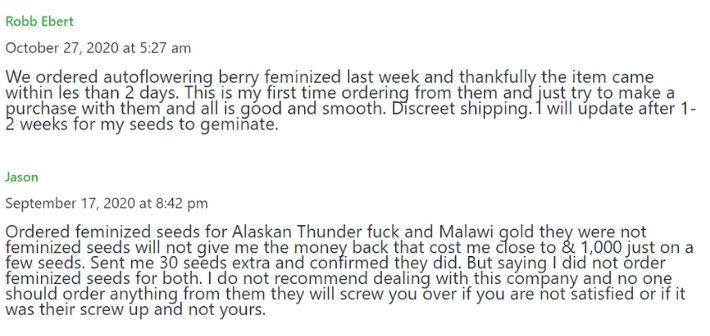 They have a very straightforward ordering process and an easy-to-use, informative website.
The best thing about MJ Seeds Canada's customer service is their responsiveness to emails, calls, and chats.
They typically respond to emails within a few hours, answer chats immediately, and are available during business hours for phone calls.
One of the things that they consistently emphasize on their website is their great customer service and responsiveness to queries.
Of course, since there is a lack of reviews on their customer service, it's hard to say if its really as good as they claim, but to try it out, why not give them a call?
The industry standard for great cannabis customer service is I Love Growing Marijuana.
They provide fast, friendly responses to questions and do everything they can to keep customers happy.
Shipping
The aspect of their business that MJ Seeds Canada boasts the most about is their super speedy worldwide shipping.
In particular, because they are in Canada, MJ Seeds Canada has incredibly fast shipping to North America.
They provide discreet, guaranteed delivery.
Seeds are shipped stealthily in parcels that make
no mention of cannabis or even the MJ Seeds Canada brand.
Your seeds may be shipped in anything from toys to birthday cards to keep them from being detected.
Shipping Cost
Depending on where you are in the world and what shipping option you choose it could cost anywhere from $20 – $40 for MJ Seeds Canada to ship your seeds, which is pretty expensive for cannabis seed shipping.
If you don't want to pay for shipping, MJ Seeds Canada includes free shipping for orders over $200.
Shipping Times
As soon as MJ Seeds Canada receives your payment, they will work on shipping your order, sending it out within 24 hours of receipt of payment.
It can take anywhere from 1 -3 weeks for your order to be delivered to you, but keep in mind, because of mail delays as a result of COVID-19, it may take even longer.
Guaranteed Delivery
If you choose the $20 or $40 shipping options than your delivery is guaranteed.
These options come with tracking and insurance.
About 5 – 10 % of their orders are seized by customs going into countries.
By choosing guaranteed delivery you ensure that MJ Seeds Canada will be notified if that happens, and ship you new seeds at no cost to you.
MJ Seeds Canada Review
With high-quality popular strains, excellent customer service, and speedy shipping, there is a lot to love about MJ Seeds Canada.
Or rather, a lot that you will love if all the promises they make are true.
However, at this time, because of a lack of reviews and lack of information, it's hard to tell if this seed bank is really as good as it promises to be.