Short on time? Here's my Highgrade seeds review for 2022
Highgrade Seeds has an impressive collection of high-quality seeds, lots of promotions, and affordable worldwide shipping. However, they don't have a germination guarantee, accept few payment methods, and don't have many online reviews.
If you'd rather buy from a seed bank that has a germination guarantee and offers more payment options then I would recommend using ILGM or Weed Seeds Express
Continue reading this Highgrade Seeds review to discover the pros and cons of ordering from them, and to see how they stack up against the best seed banks in the world.
Highgrade Seeds Pros
95+ Top-Notch Strains to Choose From
Feminized, Autoflowering, and Standard Seed Selection
17 Years of Experience
Worldwide Shipping
Discrete Shipping
Easy to Navigate Website
Highgrade Seeds Cons
Lack of Reviews
No Germination Guarantee
Only Accepts Cryptocurrency Payments from Outside North America
Highgrade Seeds Alternatives
This Highgrade Seeds review is part of my seed bank reviews series. I am reviewing popular seed banks to see which ones are worth using and which ones are not.
Here are the results so far…
Is Highgrade Seeds Safe?
Yes, Highgrade Seeds is safe, they are a totally legitimate seed bank.
However, what's not verified is the quality of their products and service.
Most positive reviews on SeedFinder raved about their customer service while negative reviews were often from customers who ordered seeds but never received them.
If the lack of positive, verified reviews on Highgrade Seeds makes you feel hesitant to buy from them, then try out a more established seed bank like MSNL.
They have over 3,200 reviews on Trustpilot, with an impressively high overall rating of 4.2 / 5.
History & Reputation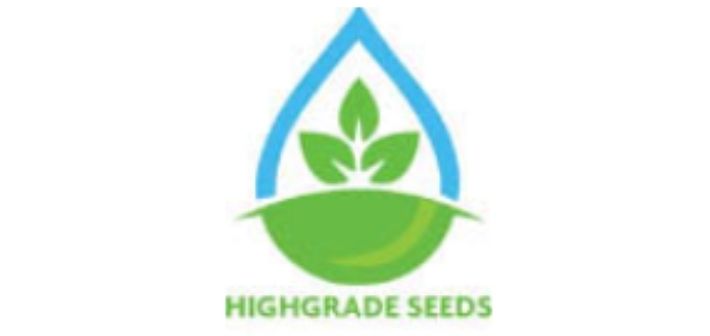 Based in Canada, Highgrade Seeds has been in business for almost 2 decades, since 2003.
Their goal all along has been to offer a selection of some of the best cannabis seeds in the world at low prices, with great customer service.
In particular, they focus on offering cannabis seeds to medical patients who rely on them to treat ailments like nausea and pain.
Seed Selection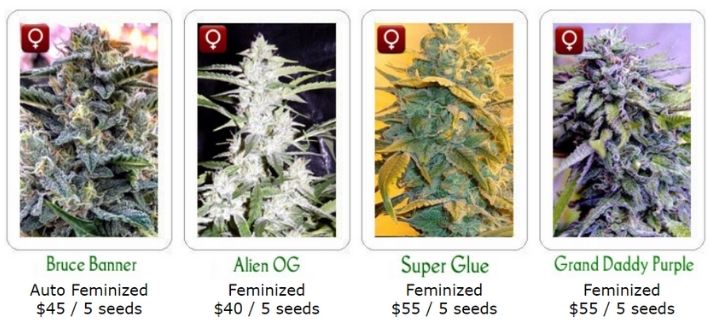 Highgrade Seeds offers 95+ strain options, including Feminized, Standard, Autoflowering, Sativa, Indica, Purple/ Blue, and Hybrid strains.
All of their offerings are high-quality, top-notch cannabis strains. Some of their bestsellers are Bruce Banner, Super Glue, White Tahoe Cookies, Cherry Pie, and Godfather OG.
If 95+ options don't impress you, and you want even more seeds to choose from, check out a weed super-store like Herbies Seeds or Seedsman which have thousands of strain varieties, all for notably affordable prices.
Seed Quality
Highgrade Seeds is extremely selective about what strains they breed.
Their specialty is seeds that can be used for medicinal purposes so it's imperative to them that the strains they are producing are highly potent and high yielding.
Before they ship seeds out they inspect them to make sure there are no deformities.
However, they do not offer a germination guarantee which can be hugely indicative of quality.
If it's important to you that the bank you buy from has a germination guarantee, then check out I Love Growing Marijuana.
Not only do they have a 100% Germination Rate Guarantee, they also include free seeds with each order to ensure the most possible germination.
Seed Prices
Highgrade Seeds has very fair, affordable prices.
When it comes to the cost of their seeds, their prices are low to average when compared to other seed banks on the market.
Purple Haze Price Comparison
 Highgrade Seeds 5 Feminized Purple Haze Seeds: $55
 I Love Growing Marijuana 5 Feminized Purple Haze Seeds: $89
 Weedseedsexpress 5 Feminized Purple Haze Seeds: $62.09
 Herbies Seeds 5 Feminized Purple Haze Seeds: $28
The seed bank with the most expensive Purple Haze seeds is I Love Growing Marijuana, while Herbies Seeds has the cheapest by far.
Of course, I Love Growing Marijuana does have a 100% Germination Rate Guarantee, and gives you free seeds with each order so you are still getting a lot of green for your green, while Herbies Seeds is known for occasionally selling low-quality, low-producing seeds.
Meanwhile, Highgrade Seeds is very middle-of-the-pack with their pricing. Their price is low, but not so low that it makes you question the quality of the seeds.
Highgrade Seeds Seed Bank Sales, Discounts, & Promotions
Highgrade Seeds is always offering free seed deals. Some of their deals are listed below:
Spend $100+ Get 1 Set of Free Seeds
Spend $150+ Get 2 Sets of Free Seeds
Spend $200+ Get 3 Sets of Free Seeds
Spend $250+ Get 4 Sets of Free Seeds
Free Set of 10 Hawaiin Kona Seeds on All Orders Under $100
If their bounty of free seed offers wasn't enough, they also offer free shipping within North America on all orders.
Payment Methods
Highgrade Seeds offers numerous safe and discrete ways to pay.
You can pay with:
Money Orders (US & Canada Only)
Cash (US & Canada Only)
Bitcoin
Litecoin
Ethereum
XRP
Interac (Canada Only)
Of course, if you don't live in the US or Canada you are pretty limited in how you can pay because they only accept cryptocurrency payments, like Bitcoin, Litecoin, Ethereum, and XRP from your country.
The upside of cryptocurrency payments is that they are completely discrete.
If you live in the US and Canada you have lots of safe payment options to choose from.
It's disappointing they don't also accept credit card payments for convenience purposes, but credit card companies tend to withhold payments from seed banks, so it's understandable why.
Highgrade Seeds Customer Service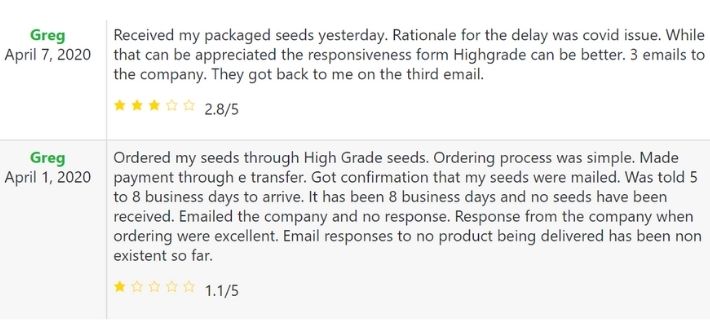 Highgrade Seeds has largely received positive reviews on its customer service, with many praising the team for quick responses, being extremely helpful, and generally great to correspond with.
Of course, there is also a segment of reviews that skewers the team for not responding to queries in a timely or helpful manner.
The Highgrade Seeds' website is extremely easy to navigate and provides all of the information you need to make an informed purchasing decision.
Is it high-tech? No. But it gets the job done.
Shipping
Highgrade Seeds delivers to every country worldwide.
They guarantee delivery, and if your package is not delivered they will 100% replace it free of charge which is a huge deal because the vast majority of seed banks don't offer a shipping guarantee that is that strong.
Before being shipped, the seeds are evaluated to see if they are deformity-free, packed up in crush-proof packaging, and discretely shipped.
Shipping Cost
The cost of shipping for Highgrade Seeds is:
FREE shipping on all North American orders
FREE shipping on all international orders over $100
$15 shipping fee for international orders under $100
It doesn't get much cheaper than free.
Only having a $15 shipping fee on international orders under $100 also isn't too shabby, with most seed banks charging somewhere in the $20 – $30 range for shipping to other continents.
Shipping Times
It can take anywhere from 1 – 3 weeks for your seeds to be shipped to you.
Highgrade Seeds doesn't specify the exact length of time.
It should also be noted that they are currently having shipping issues and delays because of COVID-19.
If you want to check in on your order, you can use this Order Status form.
Highgrade Seeds Review
With an incredible selection of high-quality cannabis strains, affordable worldwide shipping, and impressive deals for getting free seeds, Highgrade Seeds is an excellent bank to buy from.
However, before I would rank them amongst the top seed banks in the world, they need to work on getting more reviews, accepting more payment methods from customers outside North America, and establishing a germination rate guarantee.