Canuk Seeds is a popular Cannabis seed bank based in Ontario, Canada. They offer a large variety of different seeds under their Canuk Seeds brand.
However, I've heard a few concerning stories about them recently, so I wanted to investigate and see if they were a safe seed bank to use.
If you'd rather buy from a seed bank that has fast shipping, good customer service, and excellent customer reviews, then I would recommend using ILGM or Weed Seeds Express.
Continue reading this Attitude Seed Bank review to discover the pros and cons of ordering from them, and to see how they stack up against the best seed banks to order from.
Quick Canuk Review
Canuk Seeds impresses at first sight with its large selection of seeds.
Prices are also reasonably low, especially for bulk seeds and there are also some good promotions and specialty seeds.
However, shipping can be expensive, particularly for those outside the US and Canada.
There are also many concerning reviews that say orders did not arrive and that customer service is non existent.
Canuk also don't offer a germination guarantee, which should be a red flag on its own. All these factors make it difficult to recommend Canuk Seeds.
Canuk Seeds Pros
Good promos for Canadian customers.
Good discounts for crypto payments.
Worldwide shipping
Large selection of seeds
Free seeds with every order
Canuk Seeds Cons
Need to register to buy seeds
No credit card payments
Shipping insurance only for US and Canada
Shipping insurance to US and Canada not always effective.
Difficult to open customer service tickets
Are There Better Seed Banks To Use?
Let's take a quick look at how Canuk Seeds compares to the many other seed banks I've reviewed
Best Customer Service

Best Customer Service

4.7/5

#1. ILGM

Awesome Customer Service
100% Germination Guarantee
Fast Shipping To USA (4 days)
FREE Shipping
Guaranteed Delivery
Don't ship to Canada or the UK

4.7/5

New Seed Bank

New Seed Bank

4.6/5

#2. Weed Seeds Express

Fast US Shipping (5-15 days)
90% Germination Guarantee
Excellent Customer Service
Low Prices
Regular Promotions
New Seed Bank

4.6/5

Best Seed Prices

Best Seed Prices

4.5/5

#3. Seedsman

Best seed prices & promotions
HUGE strain selection
Worldwide Shipping
Limited germination guarantee
Free seeds
Slow US & Canada Shipping
Average customer service

4.5/5

Best IN UK

Best IN UK

4.4/5

#4. MSNL

Fast US & Canada Shipping
Low priced seeds
Free seeds with every order
Decent customer service
Good promotions
No germination guarantee

4.4/5

Best In Canada

Best In Canada

4.3/5

#5. Crop King Seeds

Best Candian Seed Bank
Decent customer service
Fast Shipping To Canada (2 days)
80% Germination Guarantee
Expensive seeds
Not many promos or discounts

4.3/5

4.2/5

#6. Paradise Seeds

95% germination Guarantee
Strong Reputation
Responsive customer service
25 Cannabis Cups Since 1999
Don't Ship To The US
Limited Strain Selection

4.2/5

4/5

#7. Herbies Seeds

70% Germination Guarantee
Fast Shipping To US & UK
Large Strain Selection
Slow Customer Support
No Cash Payments

4/5

Autos Only

Autos Only

3.9/5

#8. Fast Buds

98% germination Guarantee
Great For Autoflower Strains
Good customer service
Affordable Autos
Don't Ship To US or Canada
Only Stock Autoflower Strains

3.9/5

3.9/5

#9. Gorilla Seeds

Large strain selection
Good reviews from customers
Worldwide shipping
No germination guarantee

3.9/5

3.9/5

#10. Attitude Seeds

Large strain selection
Good reputation
Worldwide shipping
Low cost seeds
No germination guarantee

3.9/5

3.8/5

#11. Sensi Seeds

Famous reputation in Europe
Large selection of strains
Don't ship to US or Canada
No germination guarantee
Can't pay with Bitcoin

3.8/5

3.8/5

#12. MJ Seeds Canada

Fast Canada Shipping
80% Germination Guarantee
Lots of Promotions
Expensive Shipping
Lack of Reviews

3.8/5

3.7/5

#13. Sensible Seeds

Over 3000 Strains
Good Customer Service
Affordable Seeds
Price Match Guarantee
Source Seeds from Other Banks and Breeders
No Germination Guarantee

3.7/5

3.7/5

#14. Sannies Seeds

High-Quality Strain Selection
Fast Shipping
Good Customer Service
Few Customer Reviews
Can't Pay with Credit Card
No Germination Guarantee

3.7/5

3.6/5

#15. Growers Choice

90% Germination Guarantee
competitive seed prices
Fast Shipping to US & Canada
Limited payment options
Poor customer service

3.6/5

3.5/5

#16. Greenhouse Seeds

Good reputation with customers
Low cost seeds
Limited payment options
Don't ship to the US
No Germination guarantee

3.5/5

3.4/5

#17. Blimburn Seeds

Low prices
Decent return policy
Dos Not Ship To US
No regular promotions
Limited Payment Options

3.4/5

3.4/5

#18. Serious Seeds

Award-Winning Seeds
Loyal Fan Following
Germination Guarantee
Not many promotions
Don't Ship To USA, Australia or Germany
Expensive

3.4/5

3.4/5

#19. AMS

Worldwide shipping
Germination guarantee
Not many promotions
Expensive seeds
Slow US & Canada Shipping

3.4/5

3.3/5

#20. Neptune Seed Bank

Over 100 Unique strains
1,929 Seed Options
Affordable Seeds
Poorly Designed Website
No Germination Rate Guarantee
Lack of Customer Reviews

3.3/5

3.3/5

#21. Attitude Seed Bank

Largely Positive Reputation
Provides Some of the Top Strains in the World
Thousands of Seeds
No Germination Guarantee

3.3/5

3.2/5

#22. Vancouver Seed Bank

Recognized as One of Canada's Best Seed Banks
Over 200 Strains
Potent, High-Quality Strains
Lack of Customer Reviews
Lack of Discounts and Promotions
Lack of Payment Methods

3.2/5

3.1/5

#23. BC Bud Depot

35+ Cannabis Awards
90% Germination Rate Guarantee
515+ High-Quality Strains to Choose Frome
Few Customer Reviews
Extremely Expensive
Lack of Promotions

3.1/5

3.1/5

#24. Highgrade Seeds

Top-Notch Strains
Worldwide Shipping
Lack of Reviews
No Germination Guarantee
Lack of Payment Options

3.1/5

3/5

#25. Rhino Seeds

Price Match Guarantee
Lack of Reviews Online
No Germination Rate Guarantee
Slow International Shipping

3/5

3/5

#26. i49 Seed Bank

Discrete, Affordable Shipping in the US
Selection of over 400 Seeds
80% Germination Guarantee
Unhelpful Customer Service Department
Negative Reviews on Seed's Quality
Expensive Prices

3/5

2.9/5

#27. CannabisSeeds.com

Very Cheap Prices
47 Top-Notch Strains
Lack of Reviews
Low Germination Rate
Not many payment options

2.9/5

2.9/5

#28. True North

Large strain selection
Cheap seeds & good promotions
Poor customer service
Many negative customer reviews
No germination guarantee

2.9/5

2.8/5

#29. Expert Seeds

High-Quality Strains
31+ Quality Strains to Choose From
Easy-to-Navigate Website
Few Reviews
Complaints About Seeds Not Germinating
No Germination Guarantee

2.8/5

2.8/5

#30. GTA Seed Bank

Top-Notch Quality Strains
750+ Strain Varieties
Worldwide Shipping
Awful Website
No Germination Guarantee
Limited payment Options

2.8/5

2.8/5

#31. Pacific Seed Bank

FREE Stealth Shipping
Bad Customer Service
No Delivery Guarantee
Few Discounts and Deals

2.8/5

2.8/5

#32. Dinafem Seeds

Security Certificate
First Spanish Seed Bank to Specialize in Feminized Seeds
Award-Winning Strains
Currently in Legal Trouble
Little to No Promotions or Discounts
Does Not Ship to America

2.8/5

2.7/5

#33. Elev8 Seeds

Good customer service
Lack of Customer Reviews
No Germination Guarantee
Expensive Seeds

2.7/5

1.9/5

#34. Dutch Seeds

Many reports of seeds not delivered
Poor germination rates
No germination guarantee
Bad customer service

1.9/5

1.2/5

#35. Australian Seed Bank

Autoflowering and Feminized Seeds
Average to Affordable Prices
Quality Strain Offerings
Lack of Customer Reviews
No Verification
Lack of Reputation

1.2/5

0/5

#36. BC Seeds

0/5
Who Are Canuk Seeds?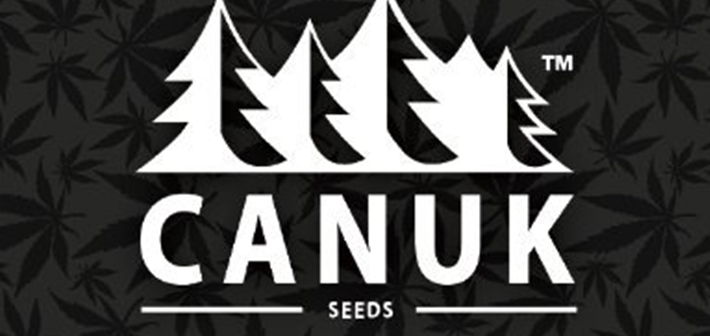 Canuk Seeds are a Canadian company with headquarters in Canada and the UK.
Their business is selling Cannabis seeds from a large variety of genetics under their own brand Canuk Seeds.
They claim to have years of experience, but nowhere do they mention when exactly the company was founded.
Also, if you look online for reviews you won't be able to find many that date too far back, making it more difficult to know exactly how long they have been in business.
Canuk Seeds also prides itself on its huge selection of seeds, which when you look at it is really impressive, however real life reviews are important to know and judge the quality of those seeds.
Strain Selection & Quality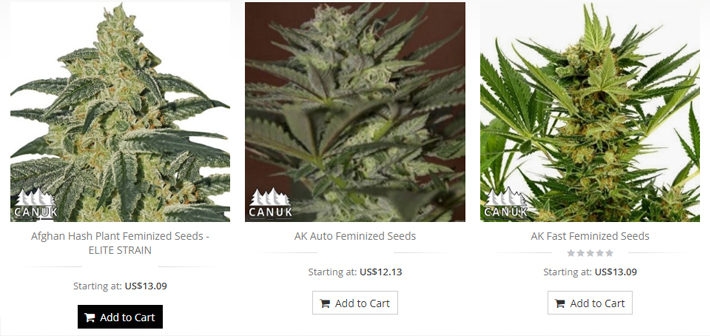 As previously mentioned, the strain selection is indeed quite large, with most Cannabis strains you can think of being easy to find on their website.
One notable missing service is a good germination warranty, especially with so many negative reviews online, it would give some peace of mind when buying seeds.
They do mention that all seeds are tested for viability and germination rates, however they don't really mention what those numbers are.
However, for more peace of mind I would encourage you to also take a look at other seed banks, like ILGM or Attitude Seed Bank which have much better reviews.
Shipping
They do offer worldwide shipping which is quite good.
However, shipping costs are also steep, which makes them difficult to recommend.
Contrary to several companies which offer free domestic shipping, or even free shipping to both the US and Canada, Canuk Seeds is happy to charge you 20 dollars even for Canadian orders which are shipped from inside the country.
If you look at the shipping costs for other countries they also seem particularly excessive, with Africa at the top of the list with a whooping 180 dollars in shipping costs.
All orders are also shipped discreetly with only your name and the return address on the envelope to reduce suspicion.
There is also the option for stealth shipping, giving the customer the choice to order another item like a t-shirt or mug with the seeds for added stealth and also to remove the seeds from their original packaging.
Orders are also fully trackable online at www.canadapost.com
What is not so good is the fact that there are also several online reviews indicating that the products never arrived and customer service was unresponsive when trying to get in touch with them.
Customer Service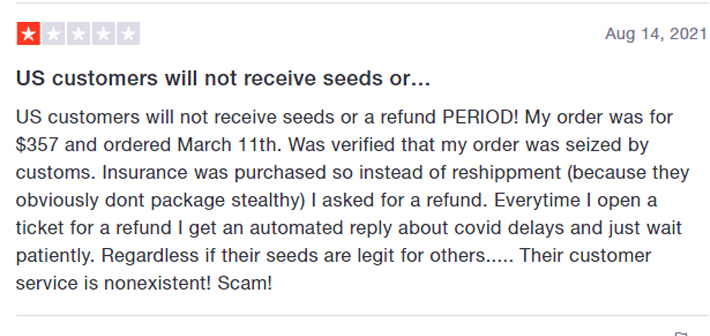 From what you can read on the website, customer service doesn't seem to be difficult to contact, even stating they can be reached via phone, email or the contact form on their website.
Nevertheless, the stories you can find online in reviews are much different, with customer service ignoring or just closing item tickets, or just not answering.
The customer service horror stories are abundant and varied, but most of them seem to finish with an automated response from customer service bots.
Payment Methods
One thing that really caught my attention was the lack of a clear option to process credit card payments, since in the FAQ they mention that credit card payments are accepted, but when you try to make an order there is no clear way to do so.
Other payment options available are International Money Orders or Cashier checks, wire transfer inside the US, cash via envelope, bank transfers and crypto.
It's important to point out that they do offer some interesting discounts when trying to pay through cryptocurrency, however not all people will find it easy to do so.
Customer Reviews
Customer reviews online for this site are appalling, from orders that never made it to their destination, to seeds that never sprouted to completely unresponsive customer service.
The number of negative reviews which are easily found online make it impossible for me to recommend this seed supplier.
You would be much better off by going to seed suppliers I have personal good experience with like ILGM or Attitude Seed Bank.