Pacific Seed Bank is a popular European Seed bank with distribution centers in the US and Canada.

But are they a good seed bank to order from?
My Quick Pacific Seed Bank Review
Pacific Seed Bank has an impressive selection of seeds, a solid germination rate guarantee, speedy worldwide shipping, and an easy-to-use website.
However, their poor customer service and pretty terrible reviews mean I simply can't recommend them.
If you'd rather buy from a seed bank that has excellent customer service ( and reviews ) then I would recommend using ILGM or Weed Seeds Express
Continue reading this Pacific Seed Bank review to discover the pros and cons of ordering from them, and to see how they stack up against the best seed banks that ship to the USA
Pacific Seed Bank Pros
Easy to Navigate Website
FREE Stealth Shipping
20+ Years of Cannabis Industry Experience
Tracking Code With Each Order
Offer CBD, Feminized, and Autoflowering Strains
Loyal Fan Following
Inexpensive US Shipping
Pacific Seed Bank Cons
No Delivery Guarantee
Bad Customer Service
Takes a While to Respond to Customer Questions
Few Discounts and Deals
Expensive Shipping for Countries Other Than the US
"Grey" Rating on SeedFinder
Pacific Seed Bank Alternatives
This Pacific Seed Bank review is part of my seed bank reviews series. I am reviewing popular seed banks to see which ones are worth using and which ones are not.
Here are the results so far…
Pacific Seed Bank Alternatives
This Pacific Seeds review is part of my seed bank reviews series, where I review popular seed banks to see which ones are worth using.
I wouldn't recommend buying from Pacific Seed Bank, as they have pretty mixed reviews, slow customer service, and few guarantees.

Here are the best Pacific Seed Bank alternatives:
ILGM – A Dutch seed bank with an excellent reputation for customer service and a 100% germination guarantee. They also have fast shipping to the US.
Seedsman – A UK seed bank with a huge selection of strains at very low prices. Some of the cheapest seeds you will find online
Weed Seeds Express – A new seed bank with good customer service, delivery guarantees, and an easy-to-use website.

Crop King Seeds – A well-established Canadian seed bank that has fast domestic shipping and 24/7 live chat.
MSNL – Another UK seed bank with a huge selection of strains and lots of discounts and promotions. Free seeds with every order.
You can check out a full list of the seed banks I've reviewed below:
Is Pacific Seed Bank Safe?
Yes, Pacific Seed Bank is safe to buy from.
Rest assured that they are absolutely a legitimate seed bank. What I can't guarantee is that the experience you have with them will be a quality one.
There are a lot of negative reviews out there about Pacific Seed Bank. They have a startlingly low score on Trustpilot, only earning 2.2 /5 stars from 405 reviews.
Of course, good reviews on Pacific Seed Bank exist, and they have a loyal fan following, but it seems like experiences with them widely range so they are not necessarily "safe" to buy from because you're taking on some quality risk.
If it's important to you that the seed bank you buy from has lots of positive reviews, so you know your experience will be a good one, try MSNL.
They have worldwide shipping and top-notch strains just like Pacific Seed Bank, but they also have over 3,200 reviews on Trustpilot, with an impressively high overall score of 4.2 /5 stars.
History & Reputation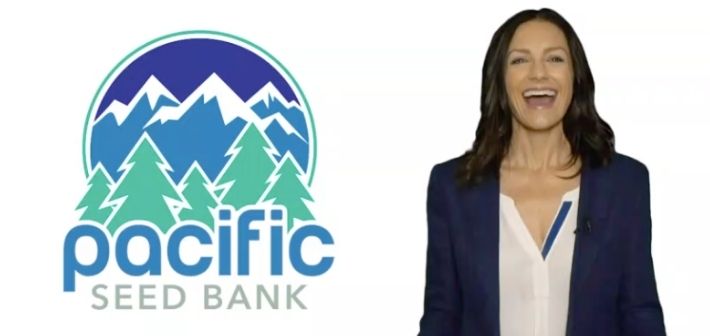 Pacific Seed bank has branches all over the world, including offices in Amsterdam, Canada, and Los Angeles, which is great news for buyers in North America and the EU because that means: faster shipping!
Pacific Seed Bank is run by horticultural specialists, medical professionals, and business aficionados who have over 20 years of experience working in the cannabis industry, and have spent decades hunting down the best strains available.
Their goal is to become the go-to seed bank for beginner and advanced growers alike, carving out a space for themselves in the marijuana industry.
To help attract new growers, and aid the cultivation efforts of advanced cannabis growers, they provide educational marijuana materials through their website and blog.
Seed Selection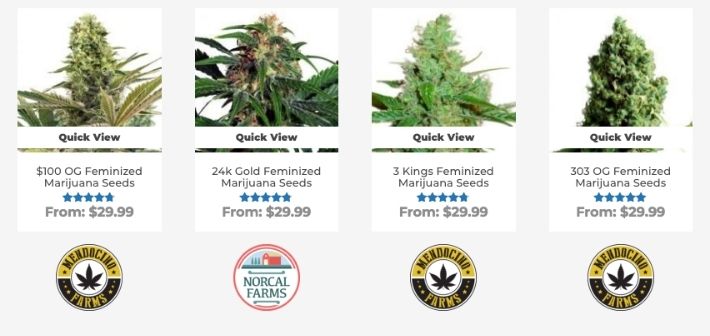 Pacific Seed Bank carries over 750 strains of marijuana, a collection that is always expanding and updating. They source from a handful of breeders, including Mendocino Farms, Norcal Farms, Dutchman Seeds, Original Kush Seeds, and DNA Crew.
You can purchase from a wide selection of feminized, autoflowering, and CBD seeds.
If for some reason 750 options are too little for you, check out a weed super-store like Herbies Seeds or Seedsman which have thousands of strain varieties.
If you want even fewer seeds to sort through because you like the idea of visiting a "boutique" cannabis shop, Paradise Seeds has a small selection of about 40 seeds, however, every single strain they offer is high-quality, and most of their strains are award winners.
Feminized Seeds
Pacific Seed Bank has a vast selection of feminized seeds, with 510 strains to choose from.
They sell 100% feminized seeds that create space-effective plants, big buds, and highly potent cannabis.
Some of Pacific Seed Bank's most popular feminized seeds include Sour Diesel, Purple Kush, Skywalker OG, Amnesia Lemon, and Blue Cheese.
Autoflowering Seeds
With 210 autoflower seed options, Pacific Seed Bank definitely has an autoflowering strain for you, whether you're looking for something to help you medicinally, a strain with a high THC content, a tall grower, or whatever else.
Their most popular autoflowering seeds are Jack Herer, Platinum Kush, NYC Diesel, Yumboldt, and Tangerine, all of which have great reviews and admirably high potencies.
CBD Seeds
Looking for something to help you manage pain and other medical issues?
Check out Pacific Seed Bank's selection of 52 feminized CBD strains, all of which were purposefully bred for medicinal use.
Pacific Seed Bank's most popular and highly-rated CBD strains are ACDC, Hawaiian Dream, Shark, Harlequin, and Blueberry.
Seed Quality
Pacific Seed bank believes in the quality of their seeds.
They've worked hard for decades to accumulate a network of trusted breeders and top-notch strains.
To show how much they believe in their seed's quality, Pacific Seed Bank offers a 90% Germination Guarantee.
If 90% of your seeds don't germinate then they will offer you replacement seeds for free.
The catch with that is that it has to be over 2 seeds they are replacing, and Pacific Seed Bank has a notoriously hard to work with customer service department, which I'm sure is a pain to go through to get the replacement seeds.
To ensure that you're set up to take full advantage of their seed's quality and high germination rate, Pacific Seed Bank provides germination advice, information, and detailed steps to guide you along the cannabis cultivation process.
90% is an impressively high germination guarantee, in fact, it's one of the most impressive guarantees on the market.
However, it's hard to beat I Love Growing Marijuana's 100% Germination Guarantee.
Not only do they guarantee that all your seeds will sprout, and have a renowned customer service department that will work with you to replace seeds if they don't, they also include free seeds with each order to ensure the most possible seeds germinate.
Seed Prices
Pacific Seed Bank has fairly average if not sort of high prices compared to other seed banks online.
Most of Pacific Seed Bank's seeds are in the 10 seeds for $99 range.
However, although their prices are average, the fact that they don't offer a lot of discounts or deals unlike many other big seed banks definitely makes them a more expensive choice.
Sour Diesel Feminized Price Comparison
According to this price comparison, Pacific Seed Bank has the most expensive Sour Diesel while Seedsman has the least expensive option.
Seedsman is a weed superstore, with notoriously low prices, so that makes sense.
I Love Growing Marijuana has a price that's similar to Pacific Seed Bank's, however, you have to keep in mind that they also offer free seeds with each order and have a 100% Germination Guarantee, so you're getting way more seeds for your buck.
Pacific Seed Bank Sales, Discounts & Promotions
Pacific Seed Bank has a lack of discounts and special offers, especially compared to other big seed banks on the market, like Seedsman and I Love Growing Marijuana, which are famous for their consistent, rotation promotions.
They do offer some payment method related deals, like 3 free extra seeds if you pay by mail.
Also, if you buy in bulk you can contact their wholesale division for discounts and other free offers.
If you sign up for their newsletter then you immediately receive a 10% off coupon and are entered in a raffle to win $100 worth of free marijuana seeds.
These deals, while nice, are unimpressive compared to what other seed banks offer.
Payment Methods
Pacific Seed Bank gives you the options to either pay in a discrete way online, to pay by mail, or to pay using Zelle, which is an option only available to US residents.
Pacific Seed Bank accepts:
Zelle
Bitcoin
Litecoin
Ethereum
Certified Check
Money Order
While I definitely appreciate that they offer great discreet and convenient payment options like Bitcoin and money orders, it is a bit frustrating that they don't accept cash or VISA credit cards.
Of course, a lot of seed banks right now are turning away from accepting credit card payments because credit card companies regularly block or withhold payments to cannabis companies.
Pacific Seed Bank used to accept credit card payments, so their decision to no longer do so probably was based on being frustrated about payments that didn't go through in the past, which not only burns them but also the customer who made those payments.
As soon as your payment is received, either online or in the mail, then Pacific Seed Bank will process and ship your order.
They made sure to clarify that bank transfers and mail payments are solely the responsibility of the customer, if they didn't receive them they are not liable for them.
Their whole payment process received a 3.44 / 5-star rating from over 114 votes which aren't great but also isn't terrible.
I'm assuming most of the issues with the payment process occurred from working with Pacific Seed Bank's less than helpful customer service team.
Pacific Seed Bank Customer Service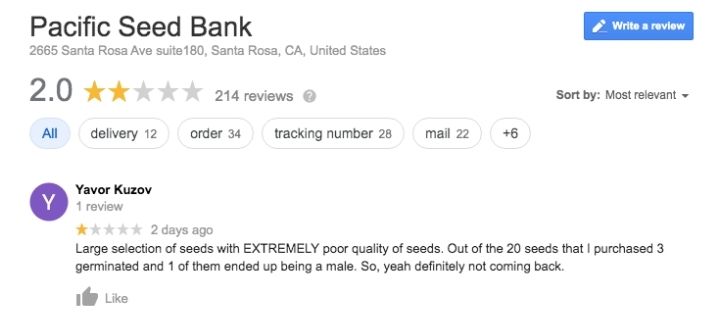 One of Pacific Seed Bank's biggest weaknesses is its poorly rated customer service team.
They have been criticized for being unhelpful and slow to respond to customer queries, taking far too much time to answer simple questions.
There have even been multiple reviews that even mentioned receiving no confirmation with orders, which is just basic business.
People don't want to sit around wondering if their payment went through and their order is actually being shipped to them.
If you call Pacific Seed Bank, you may get an immediate answer, but it's more likely that you'll be put on hold for an extended period of time before you give up and hang up.
They do provide you with a lot of avenues to reach them on their Contact Us page including a chatbot, a number, an email, and a contact form.
It seems like they are trying to improve their customer service practices, which makes sense since they have so many negative reviews commented on them, but they still have a long way to go.
If you want to buy from a seed bank with great customer service, try I Love Growing Marijuana.
They have some of the best customer services in the industry, providing fast, friendly responses to customer questions, and always putting customer satisfaction first.
Website Design
Pacific Seed Bank has an excellent website. It's cleanly designed, organized, and easy to navigate.
They provide you with numerous cannabis categories and filters to help you narrow down the many displayed options to strains that will fit all of your needs.
Once you click on "Feminized Marijuana Seeds," "Autoflowering Marijuana Seeds," and "CBD Marijuana Seeds" you can filter through the strains based on what's most popular, what medical benefits they can have, how high their THC content is, the type of marijuana, how tall they'll grow, and even their taste and aroma.
Their filtering system allows you to find exactly what you are looking for, and discover new possible strains along the way!
The Pacific Seed bank website also provides additional marijuana cultivation information on their website and blog which is helpful for beginner and advanced growers alike.
Overall, their website is very impressive, providing you will all the information you need to buy from them, make an educated decision about what strain you want to purchase, and germinate and grow their seeds once you have them.
Reviews of Pacific Seed Bank
The online reviews of Pacific Seed Bank are not very impressive.
For example, they only have 2.2/ 5 stars from 405 reviews on Trustpilot.
Many individuals complained in their reviews about the seed's disappointing quality, the unhelpful or lack of responses they received from the customer service department, and even not receiving seeds that they purchased, which is a huge red flag.
Of course, scattered through those reviews were some die-hard Pacific Seed bank fans who fully commended and supported the company, but they were the minority.
On SeedFinder Pacific Seed Bank is listed as "gray" which means that Seedfinder does not have enough information on Pacific Seed Bank to recommend them to consumers.
The information that Seedfinder did have earned them a rating of 6.33 /10 on product quality, 4.88/10 on the speed of delivery, and 2.0 /10 on customer service, which is pretty bad.
Overall, the reviews of Pacific Seed Bank online are not great and are definitely a valid reason to be skeptical of the company.
If you're looking for seed banks that do have great reviews, awesome customer service, speedy delivery, and top-notch seed quality, check out banks like I Love Growing Marijuana and MSNL.
Shipping
One of the definite advantages of buying from Pacific Seed Bank is their shipping.
No need to scour their website to see if your country is listed as an acceptable seed destination, Pacific Seed Bank ships to every country worldwide.
Of course, in doing so they do take some risk so they made sure to specify on their website that they will not be held accountable for any breaches of laws or regulations as a result of the shipping you cannabis seeds, so just be aware of your country's policies.
An incredible perk of having your seeds shipped by Pacific Seed Bank is that they offer tracking codes with each shipment.
Having a tracking code is like having insurance on your seeds, it's a great to way to ensure that your package actually makes it to you, or to see what happened to your package if it's held up or seized somewhere else.
Their packaging is also on point.
They prioritize safety: your safety and your seed's safety.
Every order of seeds is shipped discreetly in an unbranded package or envelope.
The seeds are carefully placed within medical-grade glass vials with lots of padding so that no seeds are damaged during the shipping process.
Shipping Cost
The shipping costs of Pacific Seed Bank greatly vary, depending on where in the world you live.
They offer a flat rate based on your country.
Whether you buy 40 seeds or 5 seeds, these are the rates that they charge.
Their shipping costs are:
US – $9.95
Australia – $30
Europe – $30
Other – $30
Obviously, the shipping costs for US residents are phenomenal.
$9.95 is lower than most banks charge to ship seeds, and considering the fact that you also get discrete packaging, a tracking number, and fast delivery, their shipping is a total deal.
On the other hand, if you live in any other country Pacific Seed Bank's shipping costs are sort of high, with many seed banks charging somewhere in the $20 range to ship seeds.
Of course, you're also getting discrete packaging and a tracking number, but it's still a little overpriced.
Something to keep in mind though if you are thinking of buying in bulk is that if you order over $500 worth of seeds then you get free delivery.
If you want free shipping, but don't want to buy in bulk, I Love Growing Marijuana offers free shipping to the US, UK, Australia, and New Zealand.
Shipping Times
Within 24 hours of receiving your payment, Pacific Seed Bank will ship you your seeds.
The longer it takes to receive and be able to actually confirm your payment, the more time you'll have to wait to get your seeds which is why electronic options like Zelle can be better for payment.
Their shipping times based on the country are:
USA Delivery Time – 5 to 7 business days
Australia Delivery Time – 7 to 25 business days
Europe Delivery Time – 7 to 25 business days
Other Delivery Time – 7 to 25 business days
These are fairly speedy delivery times, particularly if you live in the US. If you want a speedier option for shipping to Canada, try Crop King Seeds, and if you want a speedier EU option, check out MSNL.
Unfortunately, Pacific Seed Bank does note on their website that if it's a time of year when there are a lot of mail delays, these delivery times could be greatly extended, and obviously because of the COVID -19 pandemic, there should be significant mail delays.
Discreet Shipping
All seeds are shipped in a medical-grade glass vial within an unbranded envelope or packaging.
If that's not discrete enough for you, you can also ask for extra discrete shipping, which is totally free and they have multiple options.
Their discreet shipping options are specifically designed to bypass customs inspections.
Of course, if you are really worried about customs snagging your seeds, I Love Growing Marijuana may be a better seed bank option for you.
If your seeds are confiscated, all you have to do is send ILGM an email with proof that your seeds were taken, and they will send you a while new order free of charge.
Common Pacific Seed Bank Questions
What is Pacific Seed Bank?
Pacific Seed Bank is a cannabis seed bank. It's run by individuals with more than 20 years of cannabis industry experience, who have spent decades finding the best breeders to work with and strains to sell.
They sell 750 varieties of top-notch autflowering, feminized, and CBD strains.
Where is Pacific Seed Bank Located?
Pacific Seed Bank is located all around the world, with offices in the Netherlands, America, and Canada.
They ship their seeds worldwide, with particularly fast and inexpensive shipping to USA residents.
Is Pacific Seed Bank Safe?
Yes, Pacific Seed Bank is safe to buy from.
They are a legitimate, verified cannabis seed bank, although the actual quality of their seeds and customer service have received mixed reviews online.
Pacific Seed Bank Review
With a top-notch and vast selection of high-quality seeds, worldwide speedy, stealthy shipping, a high germination rate guarantee, and an excellent website with additional cannabis cultivation educational materials, Pacific Seed Bank has a lot going for it.
Unfortunately, its poor customer service and terrible reviews hold it back from being rated amongst the best seed banks.