BC Bud Depot has built up a strong reputation in the cannabis community, so I wanted to see how they stacked up against other seed banks.

In this BC Bud Depot review, I'll tell you the pros and cons of ordering seeds from them.
My Quick BC Buds Depot Review
BC Bud Depot has a fantastic reputation as a breeder.
They've won lots of awards, have an excellent selection of high-quality strains, and worldwide shipping. They also guarantee delivery.
However, their seeds are quite expensive compared to other seed banks and they don't offer many promotions. I also find it frustrating that none of the strains on the website have customer reviews, making it hard to gauge their quality.

On top of that, they don't offer any germination guarantee, meaning you're on your own if your seeds fail to sprout.

If you would rather buy from a Canadian seed bank that offers a solid germination guarantee, Crop King Seeds is worth a look.
However, if you live outside of Canada, seed banks like ILGM and Weed Seeds Express provide a 100% germination guarantee and super fast shipping.
Continue reading this BC Bud Depot review to discover the pros and cons of ordering from them, and to see how they stack up against the best seed banks to order from.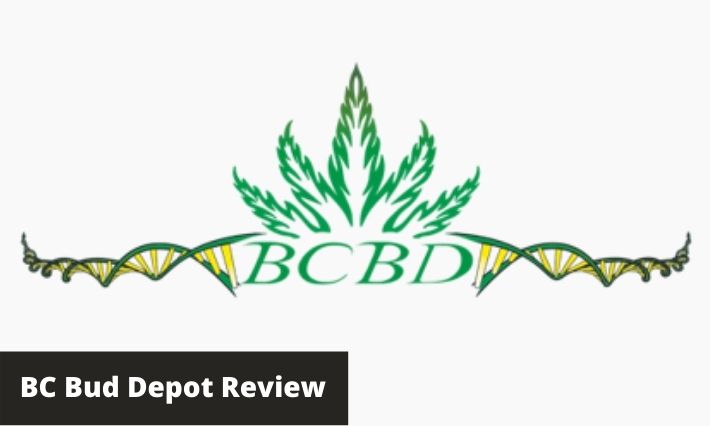 BC Bud Depot Pros
35+ Cannabis Awards
90% Germination Rate Guarantee
515+ High-Quality Strains to Choose From
Shipping Guarantee
SSL Certificate Integration
BC Bud Depot Cons
Few Customer Reviews
Extremely Expensive
Lack of Promotions
BC Bud Depot Alternatives
This BC Bud Depot review is part of my seed bank reviews series. I am reviewing popular seed banks to see which ones are worth using and which ones are not.
Here are the results so far…
Is BC Bud Depot Safe?
Yes, BC Bud Depot is safe to buy from, they are a legitimate cannabis seed bank.
In fact, BC Bud Depot is not only legitimate but well-established and world renowned, offering numerous award-winning strains.
They have many policies in place, including a shipping guarantee, a germination guarantee, and a quality guarantee, which if they follow through with will protect your purchase.
Their website also has an SSL certificate integration, which protects monetary transactions, adding an extra level of encryption.
However, as well-known as BC Bud Depot is, they have very few customer reviews and ratings online.
Most of their press comes from the awards they have won or strain-specific coverage in growing forums, which are great for assessing the quality of their strains, but lets us know very little about their customer service and how they operate as a business.
If it's important to you that the seed bank you buy from has customer reviews to verify the quality of their service check out MSNL.
They have worldwide shipping and top-notch seeds just like BC Bud Depot, however, they also have over 3,650 reviews on Trustpilot with an impressively high overall score of 4.1 / 5 stars.
History & Reputation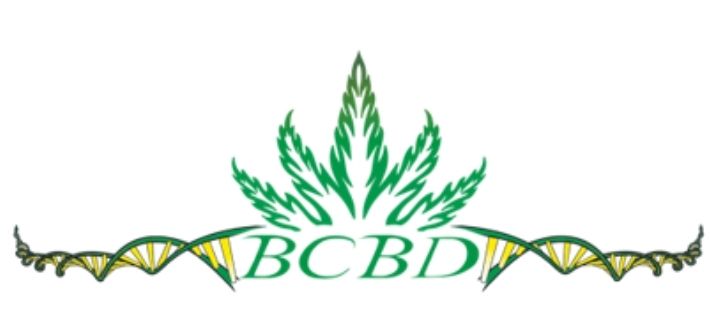 BC Bud Depot was founded two decades ago in British Columbia, Canada with the goal to produce some of the best marijuana seeds available and provide them to the world through fast, discrete, and affordable shipping.
It takes them years of hard work and research to develop each strain, each of which have to go through an extremely selective process before they are added to the BC Bud Depot catalog.
Through years of hard work, BC Bud Depot has earned itself a positive reputation, however, it's really the awards that they've won that prove the quality of their seeds.
They've collected 35+ awards including being voted the "Best Seed Bank" by the Grow Up Awards in 2019, winning the "#3 Sativa Cup" in the Canadian Cannabis Awards of 2017, and winning the "#1 Indica Cup" in the High Times Cannabis Cup in 2014.
Because of these award wins, and their strains being highlighted by cannabis cultivators on marijuana growing sites like Grow Diaries, BC Bud Depot has built up an impressive reputation for themself.
The only chink in their reputation's armor is their lack of customer reviews.
Seed Quality
BC Bud Depot has made it clear that their priority is quality.
They assert that they have some of the best cannabis strains in the world, which they honed from years of breeding and research.
Based on the 35+ awards they've received from recognizable groups in the cannabis industry like the Canadian Cannabis Awards, High Times Cup, and the Cali Cup, it seems that they've accomplished their goal, creating incredible strains with high potency and yield levels.
The seeds undergo strict tests for quality assurance and are each handpicked and tossed by experts before being carefully packaged and shipped.
BC Bud Depot stands behind the quality of their seeds, offering a 90% germination rate guarantee.
They also provide a germination guide on their website and blog to ensure that customers get the most out of their seeds.
As impressive as BC Bud Depot's germination guarantee is, the best germination guarantee on the market belongs to I Love Growing Marijuana.
They have a 100% germination rate, which is unrivaled by any other seed bank in the industry.
Their high germination rate in large part is due to the high quality of their seeds and the free seeds they provide with every single order.
Industry Awards
One of the most notable things about BC Bud Depot is all of the awards they have won, totaling over 35 from recognizable cannabis groups and within intensely competitive global competitions.
Below are some of the most impressive awards that they have won over the last 2 decades.
2004 High Times Cannabis Cup: #1 Indica Cup
One of BC Bud Depot's all-time best sellers is their powerful BC God Bud.
It was recognized by the High Times Cannabis Cup as the best Indica in the world in 2004 and has been recognized by BC Bud Depot's loyal following of customers as one of their best strains ever since.
It packs a powerful punch with its high potency, strong aroma, and dank flavor, all of which are unrivaled by almost any other Indicia on the Planet Earth.
The buds produced by BC God Bud seeds are satisfyingly dense and coated in crystals.
This out of this world strain will give you an out of body experience with its pleasant yet sedative effects.
2015 Top 10 Strains of the Year: Top Strain
Having trouble sleeping because of insomnia, chronic pain, or anxiety? Let Night Nurse put you to sleep!
This heavily sedative strain is potently powerful.
The incredible body and head high it creates earned it a place among the Top 10 Strains of 2015.
This three-way hybrid crosses the already powerful strains of BC Hashplant x Harmony x Fire OG Kush male to create a completely unique Indica that will blow all of the other Indicas you've tried out of the water.
This strain is particularly good for medical use, with a beautifully balanced cerebral and body high that you will relish until this strain inevitably knocks you out.
Producing dense, sticky flowers filled with trichomes, these seeds will not disappoint.
2015 Kush Cup: #1 Overall Cup
When it comes to BC Bud Depot strains, it doesn't get more classic than Original Blueberry.
This impressive strain produces a notably euphoric high that is pleasant and long-lasting.
However as an Indica dominant strain, with 80% Indica and 20% Sativa, although this strain provides you with buzzy euphoria, it also has relaxing sedative effects that will keep you calm and provide medicinal benefits.
Sporting thick purple stems, this dense and stout plant had red, purple, and blue hues that are absolutely gorgeous. The blue hues and the fruity taste of these buds are what earned it the name "Original Blueberry."
Not only did it win the #1 Overall Cup in the 2015 Kush Cup, but it also was the 2nd place winner in the Private Growers Category at the 2011 Treating Yourself Medical Cup.
2015 Bio Cannabis Cup: #1 Indica Cup
This extremely flavorful strain will be God's Gift to you, providing you with relaxing but simultaneously euphoric effects. It's incredible effects, paired with its pungent aroma, and amazing taste were what earned it the #1 Indica Cup at the 2015 Bio Cannabis Cup.
This hybrid crossed the genetics of Grand Daddy Purps and OG Kush for its impressively powerful effects.
Mirrored by its high potency, is the dank pungent aroma that wafts off its heavy, crystal-ladened buds.
The smooth and sweet taste of this bud is so good you won't want to breathe it out.
The clear yet heady high that will ensue after smoking it perfectly balances euphoric and medicinal properties, gifting you with both motivation and relaxation.
Seed Selection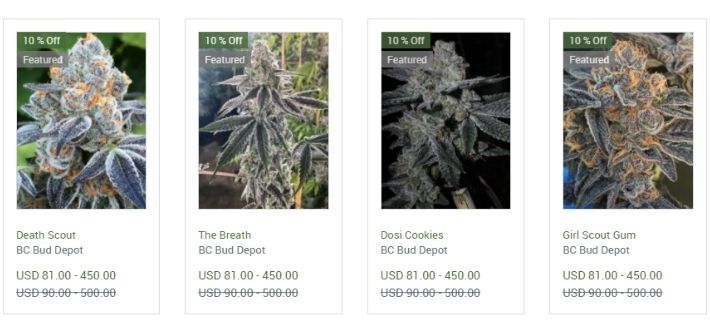 You can purchase Feminized, Autoflowering, and High CBD seeds from BC Bud Depot.
On their home page, they have tabs that will lead you to their Feminized Seeds, High CBD Seeds, BC Bud Depot Seeds, DNA Genetics Seeds, Limited Edition Seeds, and Scorpion Crew Seeds.
In total, they have 515+ seeds in their catalog, although they are always introducing new strains, or pulling low performing ones from their selection.
Helping customers find the correct seed for them, they offer a price filter within the seed tabs, you can search for seeds based on tags, and they always have a featured seeds section.
Their featured seeds right now include fan favorites and new releases like BC God Bud, Tangie Cookies, The Cake, Star Cookies, and Star Fruit.
If you want even more options than 515+ strains, then check out weed superstores like Herbies Seeds or Seedsman which offer thousands of strain varieties at affordable prices.
If you would rather have fewer options, and more of a boutique seed bank experience, then try a smaller seed bank with top-notch, award-winning seeds like MSNL which has half the seeds that BC Bud Depot does, or Paradise Seeds, which has a limited supply of only about 49 seeds.
Seed Prices
One of the major downsides of BC Bud Depot is that they have very high prices.
Of course, you are paying for quality and their seed's high germination rates, but even compared to other high-end brands, BC Bud Depot's prices are excessively high.
Sour Diesel Feminized Price Comparison
As you can see based on this price comparison, BC Bud Depot has the most expensive seeds, costing almost $6 more per seed than the next highest price from I Love Growing Marijuana.
However, I Love Growing Marijuana has a higher germination rate than BC Bud Depot, and provides free seeds with every order, making their seeds way more affordable than BC Bud Depot's.
Of course, the seed bank with the lowest price per seed is Seedsman.
Because they are a cannabis superstore, with thousands of strain options, they have some of the most affordable prices on the market.
BC Bud Depot Sales, Discounts & Promotions
BC Bud Depot occasionally holds sales on their websites, and sometimes offers promotions and giveaways through their social media pages.
Sales may take off anywhere from 10 – 20% of the listed prices of seeds on their website, while giveaways often result in customers getting free seeds.
Overall, however, I wasn't that impressed by BC Bud Depot's promotions, sales, and discounts, especially considering how high their prices are.
Other premium seed banks with higher than average prices, like I Love Growing Marijuana, typically have lots of promotions and sales so that people buying on a budget can still afford some of their strains.
The selection of actually affordable strains at BC Bud Depot is very limited.
Payment Methods
BC Bud Depot accepts numerous convenient and discrete payment methods.
Those methods include:
VISA Credit Cards (pre-paid and postpaid)
Mastercard (prepaid and postpaid)
VISA Debit Cards
Mastercard Debit Cards
Cash
Bitcoin
You can pay with a credit or debit card online or over the phone.
Every order is completely secure, and the payment will show up discreetly on your bank statement.
I appreciate how BC Bud Depot offers the best convenient payment methods, credit and debit cards, and the best anonymous payment methods, Bitcoin and cash.
BC Bud Depot Customer Service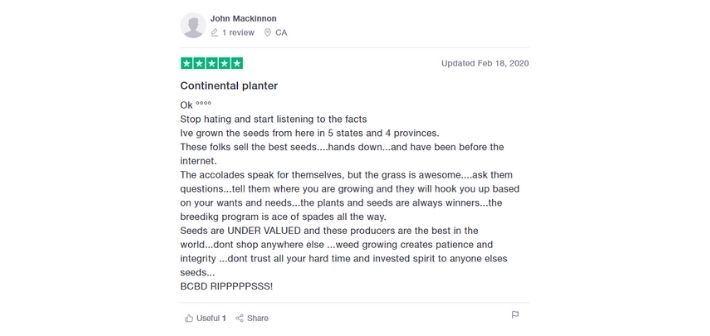 BC Bud Depot has any easy to reach customer service department, available all days of the week via telephone (+1-888-402-2283) or email info@bcbuddepot.com.
They urge customers to contact their customer service department with any queries, from payment to growing questions.
However, overall very little is known about BC Bud Depot's customer service since there are so few direct customer reviews.
If customer service is important to you, the seed bank that sets the industry standard for customer service is I Love Growing Marijuana.
They guarantee complete customer satisfaction which they provide throw replying to customer questions in a speedy and helpful manner, giving customers free seeds when they have issues, and handing out helpful growing tips.
Website Design
BC Bud Depot has a clean and easy-to-navigate website with plenty of helpful information and tabs that will lead you directly to the strains you're interested in.
Overall, their approach to web design is very no-frills and straightforward.
On their website, BC Bud Depot has a Cannabis Blog which features articles on their new strains, special discounts, and also awards that they have won.
The blog also has a handful of articles that provide customers with growing and germination tips.
By including helpful cannabis cultivating tips, BC Bud Depot goes the extra mile to ensure customer satisfaction with their seeds.
Social Media
BC Bud Depot had 4 social media accounts that they use to post about strains, promotions, and company news.
They have:
BC Bud Depot Instagram with 10,000 followers
BC Bud Depot Youtube with 487 followers
BC Bud Depot Twitter with 366 followers
BC Bud Depot Facebook with 5,026 followers
The impressive followings they have developed on each account reveals how loyal their customers are.
Shipping
BC Bud Depot ships their cannabis seeds to every country in the world.
They send seeds in discrete packages that make no mention of marijuana on the outside.
Each parcel has a Delivery Guarantee.
If your package is not delivered then BC Bud Depot will replace your order, which is a huge deal, because one of the biggest problems with ordering from an online seed bank is never receiving your seeds from them because they get seized or lost in the mail.
Shipping Cost
They have two rates for shipping.
One is the default shipping rate which is $5.
The other is the express shipping rate which is $35.
The express shipping is much faster than the default shipping rate, however, whether it's actually worth $30 more is up to you.
Shipping Times
Once your order is processed within 24-48 hours of receiving it then it will be sent directly to the packaging department and on to the shipping department.
Default shipping will arrive in 9-10 business days while express shipping arrives in half the time.
However, there may be shipping delays as a result of events like holidays and worldwide pandemics.
Discrete Packaging
All BC Bud orders are stealthily packaged with no mention of marijuana on their outside, the company BC Bud Depot, or even your exact details.
The seeds are placed in a crush-proof stealth container, which is then placed inside a padded envelope.
On the off-chance that your seeds are seized, BC Bud Depot has a Delivery Guarantee you can cash in on them to get them to resend your order free of charge.
BC Bud Depot Review
With an incredible selection of 515+ strains, oodles of awards, worldwide shipping, and a high germination rate guarantee, BC Bud Depot has a lot going for it.
However, it needs to earn more customer reviews and have more attainable prices before it will be ranked among the best seed banks in the world.