It's clear why Vancouver Seed Bank is considered one of the best seed banks in Canada, with high-quality strains, an impressive selection of seeds, and excellent customer service. However, it would be nice to see more customer reviews on their strains, as well as more promotions.
Are there better seed banks to use?
Outwith Canada, Seedsman or MSNL are two Seedbanks that ship to Canada that provide a better overall service. However, if you're looking to buy from a Canadian seed bank, Crop King Seeds and Vancouver are pretty evenly matched.
Continue reading this Vancouver Seed Bank review to discover the pros and cons of ordering from them, and to see how they stack up against the best seed banks to order from.
Vancouver Seed Bank Pros
Recognized as One of Canada's Best Seed Banks
Over 200 Strains
Potent, High-Quality Strains
Affordable Prices
Discrete Payment Methods
Vancouver Seed Bank Cons
Lack of Customer Reviews
Lack of Discounts and Promotions
Lack of Payment Methods
Lack of Transparency
Are There Better Seed Banks To Use?
Let's take a quick look at how Vancouver Seed Bank compares to the many other seed banks I've reviewed
Best Customer Service

Best Customer Service

4.7/5

#1. ILGM

Awesome Customer Service
100% Germination Guarantee
Fast Shipping To USA (4 days)
FREE Shipping
Guaranteed Delivery
Don't ship to Canada or the UK

4.7/5

New Seed Bank

New Seed Bank

4.6/5

#2. Weed Seeds Express

Fast US Shipping (5-15 days)
90% Germination Guarantee
Excellent Customer Service
Low Prices
Regular Promotions
New Seed Bank

4.6/5

Best Seed Prices

Best Seed Prices

4.5/5

#3. Seedsman

Best seed prices & promotions
HUGE strain selection
Worldwide Shipping
Limited germination guarantee
Free seeds
Slow US & Canada Shipping
Average customer service

4.5/5

Best IN UK

Best IN UK

4.4/5

#4. MSNL

Fast US & Canada Shipping
Low priced seeds
Free seeds with every order
Decent customer service
Good promotions
No germination guarantee

4.4/5

Best In Canada

Best In Canada

4.3/5

#5. Crop King Seeds

Best Candian Seed Bank
Decent customer service
Fast Shipping To Canada (2 days)
80% Germination Guarantee
Expensive seeds
Not many promos or discounts

4.3/5

4.2/5

#6. Paradise Seeds

95% germination Guarantee
Strong Reputation
Responsive customer service
25 Cannabis Cups Since 1999
Don't Ship To The US
Limited Strain Selection

4.2/5

4/5

#7. Herbies Seeds

70% Germination Guarantee
Fast Shipping To US & UK
Large Strain Selection
Slow Customer Support
No Cash Payments

4/5

Autos Only

Autos Only

3.9/5

#8. Fast Buds

98% germination Guarantee
Great For Autoflower Strains
Good customer service
Affordable Autos
Don't Ship To US or Canada
Only Stock Autoflower Strains

3.9/5

3.9/5

#9. Gorilla Seeds

Large strain selection
Good reviews from customers
Worldwide shipping
No germination guarantee

3.9/5

3.9/5

#10. Attitude Seeds

Large strain selection
Good reputation
Worldwide shipping
Low cost seeds
No germination guarantee

3.9/5

3.8/5

#11. Sensi Seeds

Famous reputation in Europe
Large selection of strains
Don't ship to US or Canada
No germination guarantee
Can't pay with Bitcoin

3.8/5

3.8/5

#12. MJ Seeds Canada

Fast Canada Shipping
80% Germination Guarantee
Lots of Promotions
Expensive Shipping
Lack of Reviews

3.8/5

3.7/5

#13. Sensible Seeds

Over 3000 Strains
Good Customer Service
Affordable Seeds
Price Match Guarantee
Source Seeds from Other Banks and Breeders
No Germination Guarantee

3.7/5

3.7/5

#14. Sannies Seeds

High-Quality Strain Selection
Fast Shipping
Good Customer Service
Few Customer Reviews
Can't Pay with Credit Card
No Germination Guarantee

3.7/5

3.6/5

#15. Growers Choice

90% Germination Guarantee
competitive seed prices
Fast Shipping to US & Canada
Limited payment options
Poor customer service

3.6/5

3.5/5

#16. Greenhouse Seeds

Good reputation with customers
Low cost seeds
Limited payment options
Don't ship to the US
No Germination guarantee

3.5/5

3.4/5

#17. Blimburn Seeds

Low prices
Decent return policy
Dos Not Ship To US
No regular promotions
Limited Payment Options

3.4/5

3.4/5

#18. Serious Seeds

Award-Winning Seeds
Loyal Fan Following
Germination Guarantee
Not many promotions
Don't Ship To USA, Australia or Germany
Expensive

3.4/5

3.4/5

#19. AMS

Worldwide shipping
Germination guarantee
Not many promotions
Expensive seeds
Slow US & Canada Shipping

3.4/5

3.3/5

#20. Neptune Seed Bank

Over 100 Unique strains
1,929 Seed Options
Affordable Seeds
Poorly Designed Website
No Germination Rate Guarantee
Lack of Customer Reviews

3.3/5

3.3/5

#21. Attitude Seed Bank

Largely Positive Reputation
Provides Some of the Top Strains in the World
Thousands of Seeds
No Germination Guarantee

3.3/5

3.2/5

#22. Vancouver Seed Bank

Recognized as One of Canada's Best Seed Banks
Over 200 Strains
Potent, High-Quality Strains
Lack of Customer Reviews
Lack of Discounts and Promotions
Lack of Payment Methods

3.2/5

3.1/5

#23. BC Bud Depot

35+ Cannabis Awards
90% Germination Rate Guarantee
515+ High-Quality Strains to Choose Frome
Few Customer Reviews
Extremely Expensive
Lack of Promotions

3.1/5

3.1/5

#24. Highgrade Seeds

Top-Notch Strains
Worldwide Shipping
Lack of Reviews
No Germination Guarantee
Lack of Payment Options

3.1/5

3/5

#25. Rhino Seeds

Price Match Guarantee
Lack of Reviews Online
No Germination Rate Guarantee
Slow International Shipping

3/5

3/5

#26. i49 Seed Bank

Discrete, Affordable Shipping in the US
Selection of over 400 Seeds
80% Germination Guarantee
Unhelpful Customer Service Department
Negative Reviews on Seed's Quality
Expensive Prices

3/5

2.9/5

#27. CannabisSeeds.com

Very Cheap Prices
47 Top-Notch Strains
Lack of Reviews
Low Germination Rate
Not many payment options

2.9/5

2.9/5

#28. True North

Large strain selection
Cheap seeds & good promotions
Poor customer service
Many negative customer reviews
No germination guarantee

2.9/5

2.8/5

#29. Expert Seeds

High-Quality Strains
31+ Quality Strains to Choose From
Easy-to-Navigate Website
Few Reviews
Complaints About Seeds Not Germinating
No Germination Guarantee

2.8/5

2.8/5

#30. GTA Seed Bank

Top-Notch Quality Strains
750+ Strain Varieties
Worldwide Shipping
Awful Website
No Germination Guarantee
Limited payment Options

2.8/5

2.8/5

#31. Pacific Seed Bank

FREE Stealth Shipping
Bad Customer Service
No Delivery Guarantee
Few Discounts and Deals

2.8/5

2.8/5

#32. Dinafem Seeds

Security Certificate
First Spanish Seed Bank to Specialize in Feminized Seeds
Award-Winning Strains
Currently in Legal Trouble
Little to No Promotions or Discounts
Does Not Ship to America

2.8/5

2.7/5

#33. Elev8 Seeds

Good customer service
Lack of Customer Reviews
No Germination Guarantee
Expensive Seeds

2.7/5

1.9/5

#34. Dutch Seeds

Many reports of seeds not delivered
Poor germination rates
No germination guarantee
Bad customer service

1.9/5

1.2/5

#35. Australian Seed Bank

Autoflowering and Feminized Seeds
Average to Affordable Prices
Quality Strain Offerings
Lack of Customer Reviews
No Verification
Lack of Reputation

1.2/5

0/5

#36. BC Seeds

0/5
Is Vancouver Seed Bank Safe?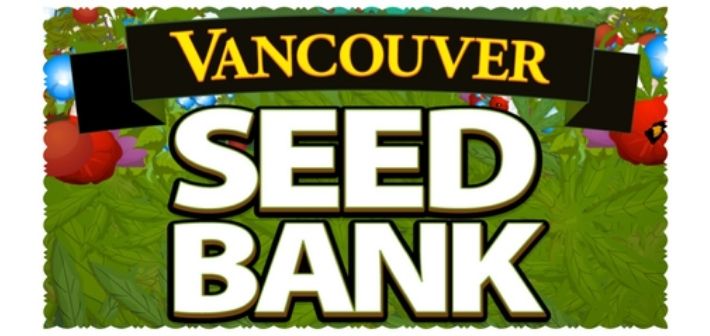 Yes, Vancouver Seed Bank is a verified, legitimate seed bank!
With a germination guarantee, shipping guarantee, SSL certificate, and recognition from numerous cannabis publications as one of Canada's best seed banks, Vancouver Seed Bank is absolutely a safe place to buy seeds from.
However, because they lack customer reviews online, the consistency of their service and seed's quality is unknown. Vancouver Seed Bank only has a 3.3/5 star rating on TrustPilot from 4 reviews.
They also only have a 6.6/10 rating on SeedFinder with a "gray" listing which means the website does not have very much info about this seed bank.
If their lack of customer reviews makes you feel hesitant to buy from them, try a cannabis seed bank with more, positive customer reviews like MSNL.
Just like Vancouver Seed Bank, they have worldwide shipping, hundreds of seeds to choose from, and high-quality strains, but they also have over 3,200 reviews on Trustpilot, with an impressive overall score of 4.2 /5 stars.
History & Reputation
Vancouver Seed bank has close to no information about their history on their website, however, we do know some tidbits that shed light on their founding.
The business was started in 2006 and since then has built up an impressive reputation for itself in the cannabis industry.
With over 14 years of cannabis business experience, it's safe to say they know what they are doing.
They aren't just interested in growing cannabis, they are interested in growing their business, branching into new areas like magic mushrooms, and adapting to industry changes.
Because of their constant improvements and changes, they are largely regarded as one of the best seed banks in Canada.
This general information shows that Vancouver Seed Bank is a quality place to buy from.
However, if it makes you nervous to purchase from a seed bank with so little information about its origins, check out fully transparent banks like Paradise Seeds and I Love Growing Marijuana.
Seed Selection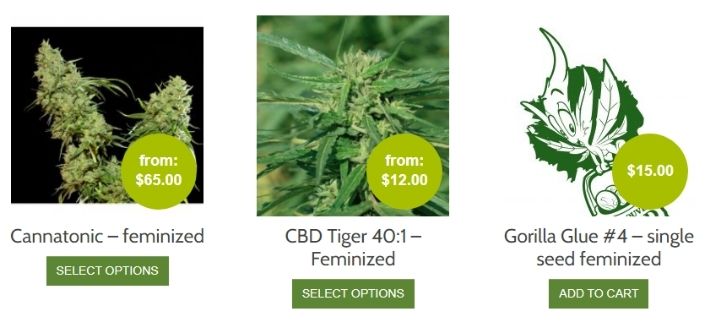 Vancouver Seed Bank has an impressive selection of feminized, non-feminized, and autoflowering seeds.
Whether you're looking for Sativa or Indica, outdoor or indoor, advanced or beginner, or any other kind of seeds, Vancouver Seed Bank has an option that will satisfy you.
In total, Vancouver Seed Bank has over 200 strains to choose from.
Some of their most famous seed brands include Ancestral Seeds, Dr. Atomic, Great White North, Magic Cactus, Shroom Guy, Sweet Seeds, and Jordan of the Island.
If the amount of options Vancouver Seed Bank offers feels overwhelming to you, then you can check out a smaller seed bank like I Love Growing Marijuana which carries around a hundred strains, or even Paradise Seeds which carries around 40 strains.
All of the strains carried by these seed banks are high quality which takes the guesswork out of buying from them.
If you want even more options to look through because the fun of buying cannabis seeds for you lies in trying to decide which strain you want, check out a seed superstore like Seedsman which has thousands of strain options.
Top-Selling Seeds
Below are descriptions of some of Vancouver Seed Bank's best strains.
These mind-blowing and potent strains are why Vancouver Seed bank has such an impressive reputation.
Auto Great White Shark Feminized: This deliciously flowery and sweet strain is known for its happy and calming effects. One hit and you'll be giggling, happy, and relaxed.
Auto Amnesia Feminized: This potent Sativa strain delivers a cerebral high. It has excellent yields with dense buds that have an earthy, hazy aroma.
Auto Hindu Kush Feminized: This strain produces potent, resinous buds with an overpoweringly hash-like taste. These seeds vigorously grow, producing sticky, dank kush.
Chemdawg Feminized: This Sativa-dominant strain has a high THC content, a strong smell, and incredible effects that will bowl you over.
Seed Quality
Vancouver Seed Bank is known for carrying high-quality cannabis seeds for affordable prices.
Their expert team of breeders and researchers pick out only the best strains to offer.
All of their seeds go through strict tests and control procedures to make sure that they meet the Vancouver Seed Bank quality standards.
Germination Guarantee
A sign of a great seed bank is them offering a germination guarantee since that means that they actually believe in their product.
Vancouver Seed Bank offers a fairly impressive 80% germination guarantee.
If 80% of the seeds you purchase from Vancouver Seed Bank do not germinate then they will send you new seeds.
The only stipulation with this is that when your seeds didn't germinate you were following their germination methods.
If you didn't follow their methods, you will not receive a seed refund.
While Vancouver Seed Bank's germination guarantee is impressive, there is no beating I Love Growing Marijuana's 100% germination guarantee.
It is the best germination guarantee offered in the industry.
They're able to offer it because they only carry high-quality seeds and give free seeds with every order.
Seed Prices
Although Vancouver Seed Bank offers some of the best strains available, all of their prices are very reasonable.
Buyers looking for premium seeds and affordable seeds will both find great options on Vancouver Seed Bank's website.
Through Vancouver Seed bank, you can get high-quality seeds without high prices.
OG Kush Price Comparison
As you can see in this price comparison, Vancouver Seed Bank has very middle-of-the-road prices, being within $10 of Weed Seeds Express and Sensible Seeds.
They are way cheaper than I Love Growing Marijuana, which makes sense considering that I Love Growing Marijuana tends to have high prices since they have such excellent seeds and provide free seeds with every order.
If you don't want to spend a lot of green on your green, Vancouver Seed bank is a great option
Vancouver Seed Bank Sales, Discounts & Promotions
One of the downsides of Vancouver Seed Bank is that they rarely offer discounts and promotions.
At the time this guide was published, they only had one promotion: "Use grow2021 for a discount at checkout." That's the only information they provide on the discount though so buyers don't even know what they are getting with it until they use it.
Payment Methods
Vancouver Seed Bank offers a few discrete payment methods. Some of the payment methods they accept include:
Email transfer
Money order
Bitcoin
The lack of payment methods they accept is frustrating, especially for people who wanted to use a more convenient method like a credit card to pay.
However, it is understandable that Vancouver Seed Bank doesn't want to deal with credit card companies consider how they hassle seed banks.
Vancouver Seed Bank Customer Service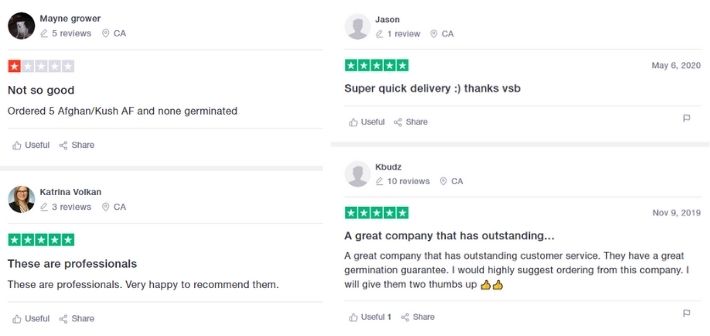 One thing that reviews always mention about Vancouver Seed Bank is their excellent customer service department.
You can reach them through calling, emailing, or using their Contact Form.
They promise to get back to customers within 24 hours. As they stated on their website, they just want to help because "If you aren't happy we aren't happy."
They want customers to be 100% satisfied, and if they are not they are eligible for a full refund or to exchange one product for another, be it similar or not.
Shipping
You won't be disappointed by Vancouver Seed Bank's shipping.
This Canadian seed bank ships worldwide, with speedy, guaranteed, discrete shipping for an affordable price.
Shipping Options
There are three shipping options that Vancouver Seed Bank offers.
Standard Shipping ($5): Ships within Canada without a tracking number. Ships with normal packages and will arrive within the week.
Xpresspost with Tracking Number ($16.00): The order is shipped using express shipping through Canada's mail system. It will have a tracking number included with it.
International shipping ($7): Ships to any country other than Canada. It can take up to 14 days for a package to arrive.
Stealth Shipping
To make sure that your seeds arrive, they are packed discreetly in a package that makes no mention of marijuana or seeds on the outside.
The seeds are packed in a crush-proof container sealed in a padded envelope, and then hidden in a random object like a pen, T-shirt, or CD.
Shipping Guarantee
You don't have to worry about paying for seeds that never arrive because Vancouver Seed bank has a 100% Shipping Guarantee.
If your seeds don't arrive, which they note rarely happens, then you will receive a full refund for your entire order.
Vancouver Seed Bank Review
With a 100% shipping guarantee, 80% germination guarantee, and a selection of 200+ high-quality strains, Vancouver Seed Bank has a lot going for it.
However, their lack of customer reviews, payment methods, and promotions keep them from being ranked amongst the best seed banks in the world.
Nevertheless, they are definitely one of the best seed banks in Canada.