Although at first glance Australian Seed Bank may seem like a great bank to buy from, they simply redirect you to other seed bank's websites to purchase them. This is super shady and I would therefore definitely not recommend trying your seeds there.
So which seed bank should you use then?
Unfortunately, the best Seed Banks for Australians to order from are international. I've looked at a few "Australian" seed bank websites and they all look very suspect. Yes, it might take a bit longer for your seeds to arrive, but ILGM guarnatees their shipments to Australia and has a great track record.
Continue reading this Australian Seed Bank review to discover the pros and cons of ordering from them, and to see how they stack up against the best seed banks to order from.
Australian Seed Bank Pros
Autoflowering and Feminized Seeds
Average to Affordable Prices
Quality Strain Offerings
Shipping Guarantee
Stealth Shipping
Australian Seed Bank Cons
Lack of Customer Reviews
No Verification
Lack of Reputation
Lack of History
No Strain Organization on Website
Are There Better Seed Banks To Use?
Let's take a quick look at how Australian Seed Bank compares to the many other seed banks I've reviewed
Best Customer Service

Best Customer Service

4.7/5

#1. ILGM

Awesome Customer Service
100% Germination Guarantee
Fast Shipping To USA (4 days)
FREE Shipping
Guaranteed Delivery
Don't ship to Canada or the UK

4.7/5

New Seed Bank

New Seed Bank

4.6/5

#2. Weed Seeds Express

Fast US Shipping (5-15 days)
90% Germination Guarantee
Excellent Customer Service
Low Prices
Regular Promotions
New Seed Bank

4.6/5

Best Seed Prices

Best Seed Prices

4.5/5

#3. Seedsman

Best seed prices & promotions
HUGE strain selection
Worldwide Shipping
Limited germination guarantee
Free seeds
Slow US & Canada Shipping
Average customer service

4.5/5

Best IN UK

Best IN UK

4.4/5

#4. MSNL

Fast US & Canada Shipping
Low priced seeds
Free seeds with every order
Decent customer service
Good promotions
No germination guarantee

4.4/5

Best In Canada

Best In Canada

4.3/5

#5. Crop King Seeds

Best Candian Seed Bank
Decent customer service
Fast Shipping To Canada (2 days)
80% Germination Guarantee
Expensive seeds
Not many promos or discounts

4.3/5

4.2/5

#6. Paradise Seeds

95% germination Guarantee
Strong Reputation
Responsive customer service
25 Cannabis Cups Since 1999
Don't Ship To The US
Limited Strain Selection

4.2/5

4/5

#7. Herbies Seeds

70% Germination Guarantee
Fast Shipping To US & UK
Large Strain Selection
Slow Customer Support
No Cash Payments

4/5

Autos Only

Autos Only

3.9/5

#8. Fast Buds

98% germination Guarantee
Great For Autoflower Strains
Good customer service
Affordable Autos
Don't Ship To US or Canada
Only Stock Autoflower Strains

3.9/5

3.9/5

#9. Gorilla Seeds

Large strain selection
Good reviews from customers
Worldwide shipping
No germination guarantee

3.9/5

3.9/5

#10. Attitude Seeds

Large strain selection
Good reputation
Worldwide shipping
Low cost seeds
No germination guarantee

3.9/5

3.8/5

#11. Sensi Seeds

Famous reputation in Europe
Large selection of strains
Don't ship to US or Canada
No germination guarantee
Can't pay with Bitcoin

3.8/5

3.8/5

#12. MJ Seeds Canada

Fast Canada Shipping
80% Germination Guarantee
Lots of Promotions
Expensive Shipping
Lack of Reviews

3.8/5

3.7/5

#13. Sensible Seeds

Over 3000 Strains
Good Customer Service
Affordable Seeds
Price Match Guarantee
Source Seeds from Other Banks and Breeders
No Germination Guarantee

3.7/5

3.7/5

#14. Sannies Seeds

High-Quality Strain Selection
Fast Shipping
Good Customer Service
Few Customer Reviews
Can't Pay with Credit Card
No Germination Guarantee

3.7/5

3.6/5

#15. Growers Choice

90% Germination Guarantee
competitive seed prices
Fast Shipping to US & Canada
Limited payment options
Poor customer service

3.6/5

3.5/5

#16. Greenhouse Seeds

Good reputation with customers
Low cost seeds
Limited payment options
Don't ship to the US
No Germination guarantee

3.5/5

3.4/5

#17. Blimburn Seeds

Low prices
Decent return policy
Dos Not Ship To US
No regular promotions
Limited Payment Options

3.4/5

3.4/5

#18. Serious Seeds

Award-Winning Seeds
Loyal Fan Following
Germination Guarantee
Not many promotions
Don't Ship To USA, Australia or Germany
Expensive

3.4/5

3.4/5

#19. AMS

Worldwide shipping
Germination guarantee
Not many promotions
Expensive seeds
Slow US & Canada Shipping

3.4/5

3.3/5

#20. Neptune Seed Bank

Over 100 Unique strains
1,929 Seed Options
Affordable Seeds
Poorly Designed Website
No Germination Rate Guarantee
Lack of Customer Reviews

3.3/5

3.3/5

#21. Attitude Seed Bank

Largely Positive Reputation
Provides Some of the Top Strains in the World
Thousands of Seeds
No Germination Guarantee

3.3/5

3.2/5

#22. Vancouver Seed Bank

Recognized as One of Canada's Best Seed Banks
Over 200 Strains
Potent, High-Quality Strains
Lack of Customer Reviews
Lack of Discounts and Promotions
Lack of Payment Methods

3.2/5

3.1/5

#23. BC Bud Depot

35+ Cannabis Awards
90% Germination Rate Guarantee
515+ High-Quality Strains to Choose Frome
Few Customer Reviews
Extremely Expensive
Lack of Promotions

3.1/5

3.1/5

#24. Highgrade Seeds

Top-Notch Strains
Worldwide Shipping
Lack of Reviews
No Germination Guarantee
Lack of Payment Options

3.1/5

3/5

#25. Rhino Seeds

Price Match Guarantee
Lack of Reviews Online
No Germination Rate Guarantee
Slow International Shipping

3/5

3/5

#26. i49 Seed Bank

Discrete, Affordable Shipping in the US
Selection of over 400 Seeds
80% Germination Guarantee
Unhelpful Customer Service Department
Negative Reviews on Seed's Quality
Expensive Prices

3/5

2.9/5

#27. CannabisSeeds.com

Very Cheap Prices
47 Top-Notch Strains
Lack of Reviews
Low Germination Rate
Not many payment options

2.9/5

2.9/5

#28. True North

Large strain selection
Cheap seeds & good promotions
Poor customer service
Many negative customer reviews
No germination guarantee

2.9/5

2.8/5

#29. Expert Seeds

High-Quality Strains
31+ Quality Strains to Choose From
Easy-to-Navigate Website
Few Reviews
Complaints About Seeds Not Germinating
No Germination Guarantee

2.8/5

2.8/5

#30. GTA Seed Bank

Top-Notch Quality Strains
750+ Strain Varieties
Worldwide Shipping
Awful Website
No Germination Guarantee
Limited payment Options

2.8/5

2.8/5

#31. Pacific Seed Bank

FREE Stealth Shipping
Bad Customer Service
No Delivery Guarantee
Few Discounts and Deals

2.8/5

2.8/5

#32. Dinafem Seeds

Security Certificate
First Spanish Seed Bank to Specialize in Feminized Seeds
Award-Winning Strains
Currently in Legal Trouble
Little to No Promotions or Discounts
Does Not Ship to America

2.8/5

2.7/5

#33. Elev8 Seeds

Good customer service
Lack of Customer Reviews
No Germination Guarantee
Expensive Seeds

2.7/5

1.9/5

#34. Dutch Seeds

Many reports of seeds not delivered
Poor germination rates
No germination guarantee
Bad customer service

1.9/5

1.2/5

#35. Australian Seed Bank

Autoflowering and Feminized Seeds
Average to Affordable Prices
Quality Strain Offerings
Lack of Customer Reviews
No Verification
Lack of Reputation

1.2/5

0/5

#36. BC Seeds

0/5
Is Australian Seed Bank Safe?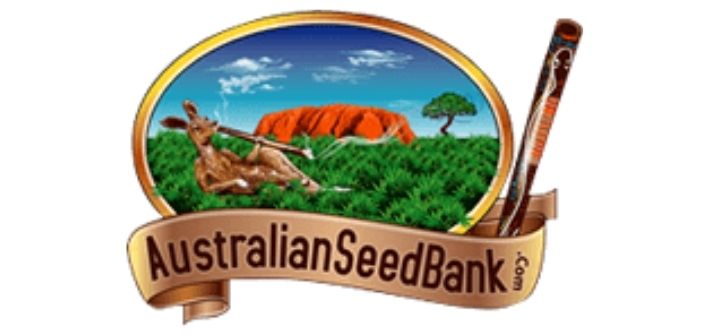 Australian Seed Bank is probably safe to buy from, however, it's no totally clear how legitimate they are.
On their website, they claim that "Your privacy is our Number One concern. Please feel safe browsing our online catalog."
However, they don't provide any information on why you should feel safe buying from them.
There also is a total lack of customer reviews for Australian Seed Bank online and a lack of recognition from cannabis publications.
Overall, you are probably fine buying from them, but you are taking a risk in regard to their seed's quality, customer service, and the safety of your purchase.
If you want to buy from a seed bank that is verified as legitimate and safe, try MSNL.
They have over 3,200 reviews on Trustpilot, with an impressive overall score of 4.2 /5 stars.
Reputation: Australia's Official Cannabis Seed Bank
On their website, Australian Seed Bank declares themselves the official cannabis seed supplier of Australia.
This claim sounds awesome, and is powerful enough to lull buyers into a sense of security until you google "Australian Seed Bank."
Someone needs to tell Australian Seed Bank that a lot of other seed banks are vying for the title of "Australia's official cannabis supplier."
Their claim is mimicked by numerous other cannabis seed banks like Aussie Seed Bank which calls itself "Australia's only legit seed bank," Australian Marijuana Seeds which calls itself "Australia's official seed bank," and OZ Seeds which calls itself "Australia's best seed bank."
All of these claims make it clear that these banks are likely giving themselves a title that in reality doesn't exist and has no backing.
History
Being "Australia's official cannabis seed supplier" and "Australia's only legitimate seed bank" are only a couple of claims that Australian Seed Bank makes on their website.
They explain that they have been in business for over 18 years which would be shocking considering the lack of reviews on them.
If they have been in business for that long, remaining so unknown on the web was truly an insane feat.
They explain that in their history they "have never had a single lost or confiscated package" which would be truly miraculous considering the fact that they ship worldwide.
They make a lot of claims about the quality of their seeds as well, detailing their intense breeding process, and the incredible conditions they keep their seeds in to keep them fresh.
If it makes you nervous to buy from a seed bank that has a largely murky history, and that makes such dubious claims about itself, check out fully transparent banks like Paradise Seeds and I Love Growing Marijuana.
Seed Selection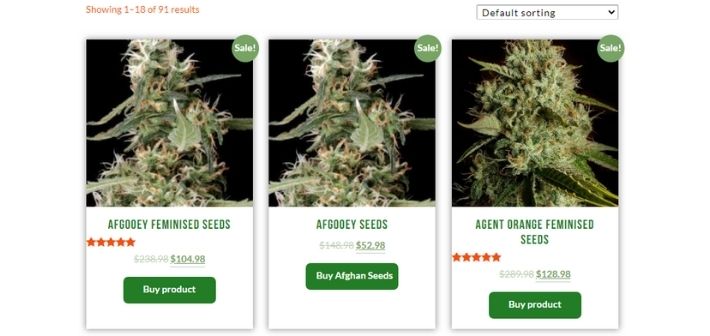 Australian Seed Bank carries over 90 strains which is a fair amount.
Enough that you'll definitely find something that suits you, but not enough that you'll be overwhelmed by the options.
They have feminized, autoflowering, Sativa, Indica, and Hybrid seeds.
If 90+ options doesn't seem like enough for you, then check out a seed superstore like Seedsman which has thousands of strain options for affordable prices.
Marijuana Seedshop
All of Australian Seed Bank's seeds are sold through the website marijuanseedshop.com which is extremely confusing considering nowhere on Australian Seed Bank's or Marijuana Seedshop's websites do they acknowledge any connection between the two banks.
Overall, it just really gave me a shady feeling that they redirect you to an entirely different website.
Seed Quality
Australian Seed bank advertises that they work hard to make sure all of their strains are fresh and always in stock.
Of course, since it's Marijuana Seedshop that actually supplies the seeds it's not totally clear how they do this.
They explain that they have seed vaults around the globe to make sure that every strain they breed will "survive for many future generations.
Our favorite seed vault is in Norway because of the permafrost environment and constant temperature, to ensure long-term survival."
This weirdly specific detail adds some legitimacy to their claims since it would be a bizarre thing to make up, but of course, there is no proof that their mythic Norway seed vault exists.
Germination Guarantee
Despite how much Australian Seed Bank raves about the quality of their seeds, they do not offer a germination guarantee. In my opinion, the most telling sign that a seed bank is great is them offering a germination guarantee since that means they actually believe in their seeds.
The seed bank with the most impressive germination guarantee in the industry is I Love Growing Marijuana.
They have an unbeatable 100% germination guarantee which they achieved through offering only the highest quality seeds and giving free seeds with every order.
Seed Prices
Australian Seed Bank has low to average prices for their seeds.
Below you can see a price comparison of 10 Sour Diesel feminized seeds from Australian Seed bank, versus the prices of some of the best seed banks in the world.
Sour Diesel Feminized Price Comparison
As you can see from this price comparison, Australian Seed bank has very average prices, with the third least expensive seeds.
Or rather, it SEEMS like they have the third least expensive seeds.
In reality, when you click "Buy Seeds" on Australian Seed Bank's website, where the seeds are listed as $79.98, it takes you to Marijuana Seedshop's website where you have to scroll through their seed offerings, only to find the price is actually $110.
That price means that Australian Seed Bank has the most expensive seeds of the 5 banks we are comparing, which is unjustifiable considering that I Love Growing Marijuana has high-quality seeds, a germination guarantee, and gives free seeds with every order.
Payment Methods
Australian Seed bank offers a variety of discrete and convenient payment methods.
Some of the payment methods they accept include:
Cash
Bitcoin
Bank Wire
Credit Card
It's nice they include cash, bitcoin, and wire transfer for people who want to privately and discretely pay them for the seeds.
They also offer credit card for people who want a more convenient payment option.
Australian Seed Bank Customer Service
Australian Seed Bank says that they put customers first, trying to enable customers to have the most positive shopping experience possible.
You can contact them through a Contact Form, and the promise to respond in a timely manner since they are there for their customers 24 hours a day.
They have a Q&A section on their website but a lot of the questions have not been answered.
They also have an active blog with interesting articles about cannabis to help their customers.
Since there are little to no customer reviews on Australian Seed Bank, it's hard to say whether they actually have great customer service.
If it's important to you that the seed bank you buy from has good customer service then buy from I Love Growing Marijuana.
They set the industry standard for customer service with a renowned customer service team that delivers quick, helpful replies to inquiries.
Website Design
It's a good thing that Australian Seed Bank doesn't have that many seeds because there is no easy way to sort through their seed offerings.
You can have their 90+ seeds sorted alphabetically, by popularity, from lowest to highest price, from highest to lowest price, by average rating, or by latest.
They don't have any convenient sections for their offerings like Feminized, Autoflowering, CBD, Sativa, Indica, Hybrid, etc. which most seed banks have to make shopping easier.
You can look seeds up in their search bar, but that means you have to know what you are getting before you start shopping.
Shipping
Australian Seed Bank guarantees shipping, asserting that they have never lost a package or had any packages confiscated because of their stealth shipping method.
They ship in Australia and worldwide.
Shipping Options
Shipping in and outside of Australia costs $27.29. You get a tracking number with this shipping options so you can monitor your package's journey to you.
This is the only shipping option that is offered which is annoying because it's fairly expensive compared to other seed bank's shipping prices.
Australian Seed Bank Review
Little makes sense about this seed bank.
Are they partners with Marijuana Seedshop?
Do they actually have the best seeds in Australia?
Why are there no reviews on them?
Overall, I would give them a negative review and urge you to check out other seed banks that have verified high-quality seeds and customer service.