This is my honest review of the Dutch seed bank ILGM (I Love Growing Marijuana)
In this ILGM review, I'll tell you about my experience ordering from them, the pros and cons of using them, and how they compare to other top seed banks.
My Quick ILGM Review
I Love Growing Marijuana (ILGM) is probably one of my favorite seed banks to use right now, but they are definitely not perfect.
The main reason I use them is that they offer fast and free shipping to the USA (4-5 days on average)
More importantly, they send the seeds from their warehouse in California, meaning less worrying about seeds getting seized by US customs.
I also appreciate their friendly and responsive customer service, which from my experience is essential when you're ordering delicate cannabis seeds online.
In addition to this, ILGM offers a very rare 100% germination guarantee, and will even give you discounts on your next order if your plants fail due to grower error.

Pro tip: I like to bulk buy my seeds from ILGM by making use of their 10 free seeds offer, which basically saves 50% on each order.

All that said, ILGM is definitely NOT right for everyone…

If you're on a super tight budget, ILGM seeds are more expensive than other seed banks (although you get a premium service) and they also don't ship to the UK, Australia, New Zealand, Canada, or Thailand.
If you're on a tight budget, or you live in any of the countries that ILGM doesn't ship to, then I would recommend using Herbies Seeds. These guys allow you to buy 1 seed at a time (rather than the typical 5 packs) and ship to pretty much every country in the world.
Continue reading this ILGM review to get a full list of the pros and cons of using this online seed bank, and how they compare to the best seed banks that ship to the USA
I'll also share the best ILGM promo codes with you.
ILGM Pros
Awesome Customer Service
Excellent FREE Seeds Offer
Fast 5-day Shipping to the US
Popular FREE Grow Bible
FREE Standard Shipping
Guaranteed Delivery
Discreet Packaging
VIP Program
10% Bitcoin Discount
High germination rate
ILGM Cons
Don't ship to Canada
Don't ship to the UK
Don't ship to Australia
Don't ship to New Zealand
Slightly expensive Seeds
$25 to track shipments
ILGM Coupon Codes & Promotions
As I've already mentioned, ILGM's seeds are not the cheapest, so If you're considering buying your seeds from this seed bank, here are the best coupon codes and promotions so you can save money on your order…
Who Is ILGM For? (My Advice)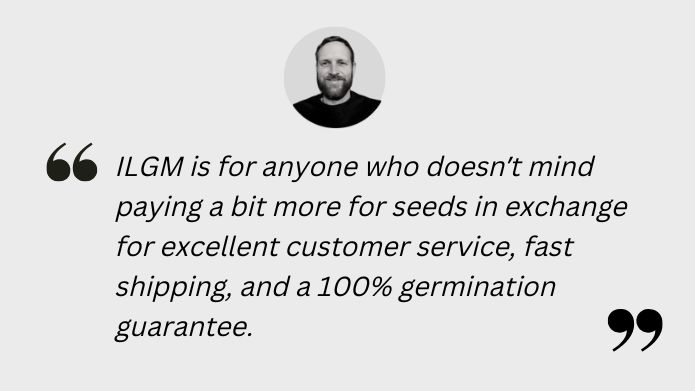 Who is ILGM For?
ILGM is for anyone who doesn't mind paying a bit more for seeds in exchange for excellent customer service, fast shipping, and a 100% germination guarantee.
If you've ever used a seed bank that took weeks to reply to your email (if at all) you'll understand how valuable good customer service is.
Who ILGM is NOT For…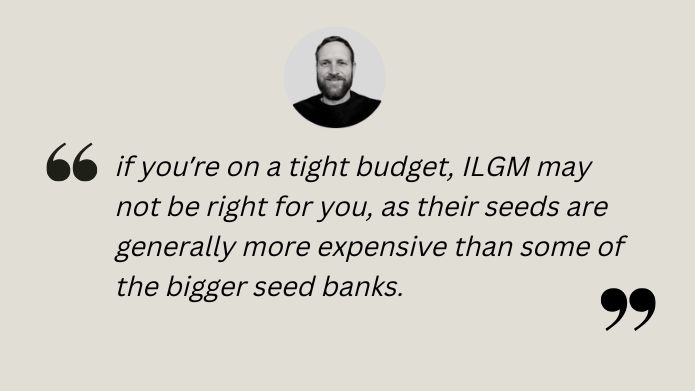 So if you're on a super tight budget, ILGM may not be right for you, as their seeds are generally more expensive than some of the bigger seed banks.
If you're on a tight budget, I would recommend checking out MSNL, which has a large selection of cheap seeds, and lots of promotions to reduce the cost even further. However, just keep in mind that it might not have the best customer service.
ILGM also doesn't ship to the UK or Canada, so if you live in one of those countries, you'll want to choose a seed bank that does. Seedsman and Weed Seeds Express both ship to the UK and Canada
ILGM Alternatives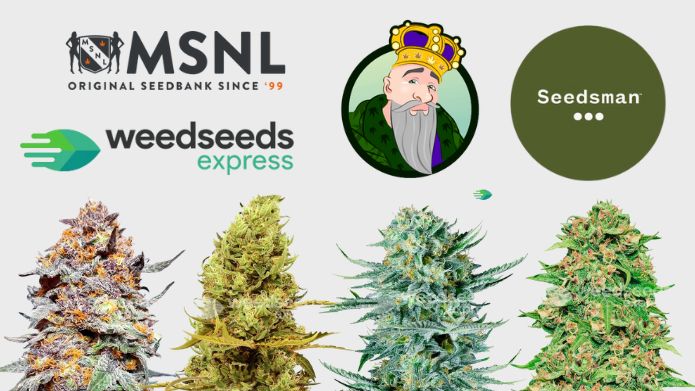 This I Love Growing Marijuana review is part of my seed bank reviews series, where I am testing all of the most popular online seed banks to sort the good from the bad.

For me, ILGM comes out on top due to its responsive customer service, fast shipping, and 100% germination guarantee. However, there are a few other seed banks that I also rate highly.

Weed Seeds Express is a new seed bank that has modeled itself on ILGM and does a great job at it. However, they only offer a 90% germination guarantee. I would recommend using this seed bank as they have some excellent promotional offers
MSNL – I've been using MSNL more and more recently. They have improved their shipping times to the USA (now 5 days) and are also one of the few seed banks that accept PayPal. They also stock far more strains than ILGM.
Seedsman – doesn't have the customer service that ILGM does, but they have a HUGE selection of strains, and their seeds are usually much cheaper than ILGM's. Shipping times are also a bit slow but if you don't mind waiting you can save a considerable amount.
Crop King Seeds is a good alternative to ILGM if you live in Canada and need your seeds FAST. They have a good selection of strains and 24/7 live chat, but I find their prices to be pretty expensive. Not recommended for anyone outside Canada.
You can check out a full list of the seed banks I've reviewed below:

My Experience Ordering From ILGM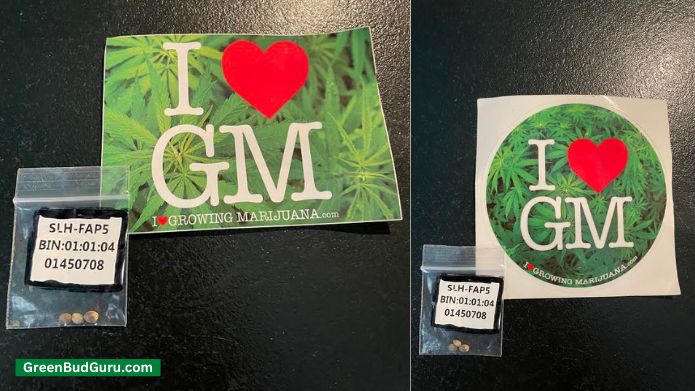 ILGM was one of the first online seed banks that I used. I was a big fan of Robert Begmans grow blog and was excited when he decided to start selling seeds.

Their shipping back then was pretty slow compared to now but the seeds still arrived in around 14 days. My first order went smoothly, with a 100% germination success rate. Each seed sprouted in 2-3 days using the paper towel method.

With my second order, a few of the seeds looked a bit immature, and only 7 out of 10 popped. I reached out to ILGM and they replaced them instantly.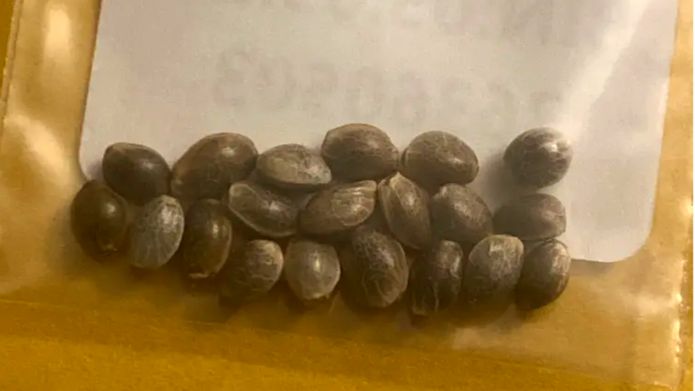 Since then, I've had very few problems ordering seeds from ILGM.

I love the fact that they ship their seeds from a distribution center in California, meaning you don't have to worry about your seeds getting stopped by customs.
Here are a couple some ILGM results…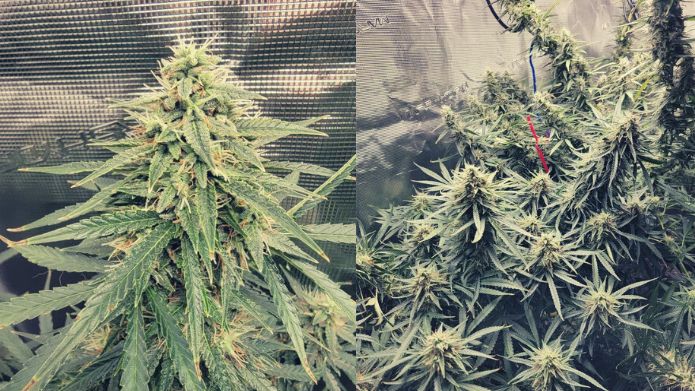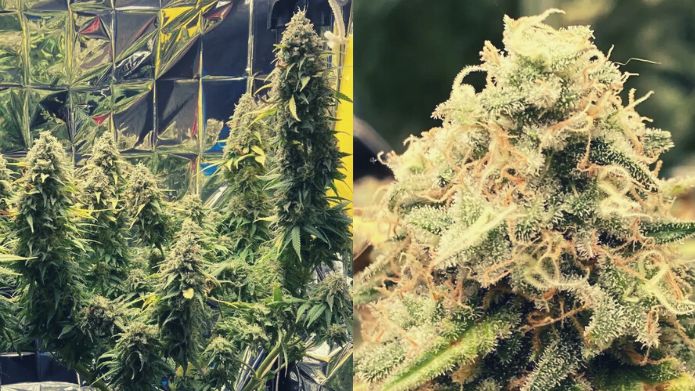 About ILGM
Let me tell you all about ILGM and how it got started.

ILGM started as a grow blog in 2012. Its creator (Dutch biologist Rober Bergman) shared tips and tricks to help new growers. The popularity of the blog exploded and Bergman eventually released a free grow bible, to teach new growers how to get the best results from their crops.
After a while, Bergman and his friends decided that they wanted to start selling high-quality seeds from hand-selected breeders. Not only that, they wanted to create a reliable seed bank with the same customer service you would expect from your local bookshop.
They pride themselves on their high-quality genetics, excellent customer support, fast shipping, and industry-leading germination guarantees.
Strain Selection & Genetics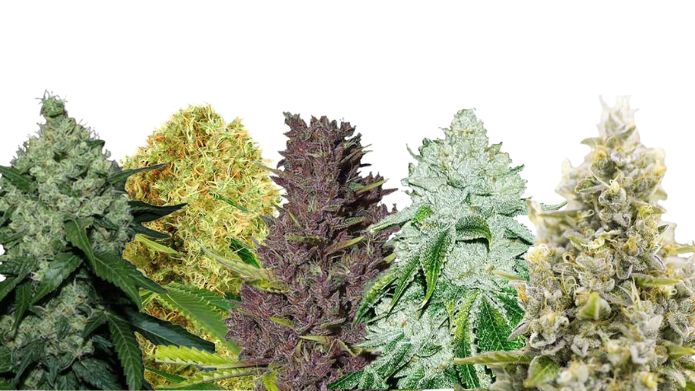 As of right now, ILGM currently stocks between 70-80 different strains.
Although this isn't a huge number of strains compared to large seed banks like Seedsman or MSNL, the quality is undeniable. You just need to take a look at the customer reviews on each strain to realize how good these genetics are.
Feminized Seeds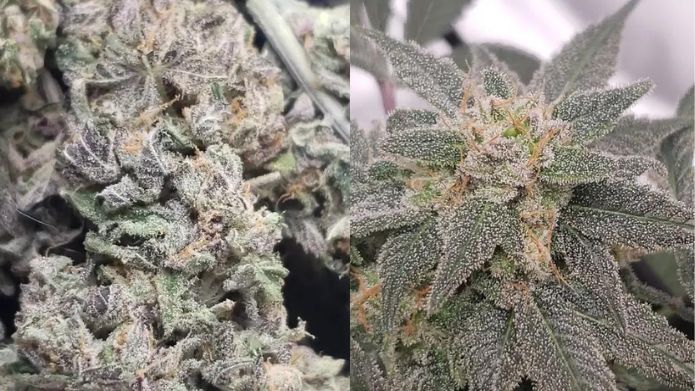 Every single strain that ILGM stocks is feminized. They don't stock regular strains that have a 50/50 chance of being male. While this undoubtedly makes their seeds more expensive, it also saves customers the headache of ordering packs and having the majority be males.

Some of ILGM's most popular feminized seeds are:
GG4 Feminized
White Widow Feminized
Super Skunk Feminized
Super Silver Haze Feminized
Bruce Banner Feminized
Durban Poison Feminized
Autoflower Seeds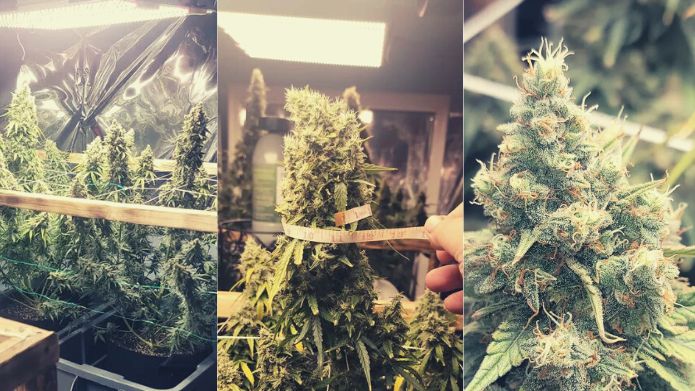 They also stock over 38 Autoflower strains that are perfect for beginners looking to remove some of the guesswork from growing cannabis.
Some of their most popular autos are:
Blueberry Autoflower
Northern Lights Autoflower
CBD Kush Autoflower
Super Skunk Autoflower
White Widow Autoflower
Bergman's Gold Leaf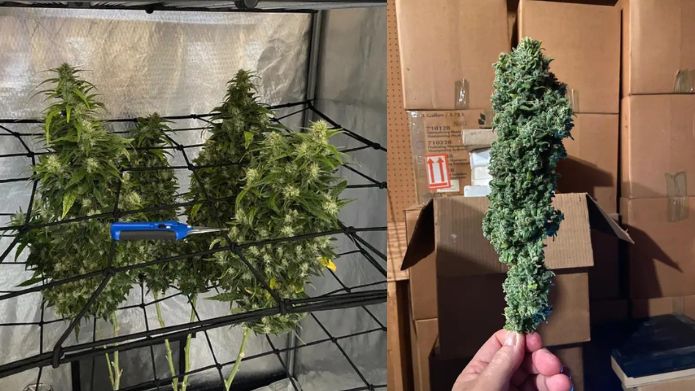 Bergman's Gold Leaf is an awesome strain created by Bergman himself. It's a hybrid auto-flower that's 60% India and 40% Sativa. It produces large yields that smell delicious and are high in THC (21%) I love the high that this strain provides. It's very uplifting
Keep in mind that you might have a bit of difficulty trying to grow this strain indoors. It's known to reach heights of over seven feet tall. I'd recommend planting these bad boys outside where you have enough space.
Expensive Seed Prices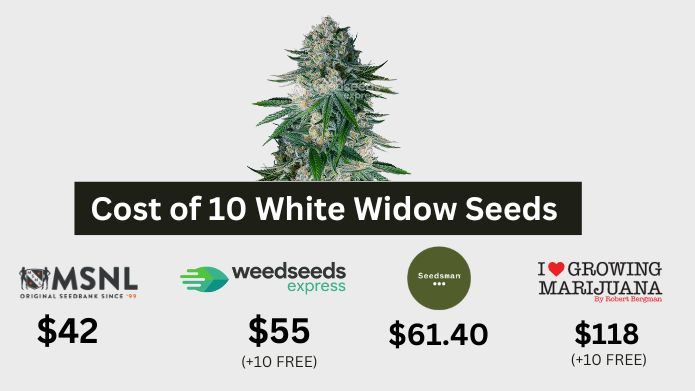 For me, one of the very few negatives of this seed bank is its seed prices. Compared to its competitors, ILGM sells its seeds at some of the highest prices on the market.
For example, while MSNL sells 10 White Widow seeds for around $42, ILGM sells 10 White Widow seeds for $118. However, ILGM also gives you 10 free seeds when you buy ten, so the actual value of 10 White Widow seeds is $59. Even with the 10 free seeds, they are still considerably more than MSNL, and not everyone will want to buy 20 seeds in one order.
I still believe ILGM represents good value for money though, as their quality genetics, fast shipping speeds, germination guarantee, and customer service are all priced into this cost.
Payment Methods
Credit card
Debit card
Bitcoin
Bank transfer
Cash
Check
They accept Bitcoin which allows you to buy your marijuana seeds in total anonymity. With Bitcoin, you also get an extra 10% off of your entire order for doing so. Nice!
You can also set up an electronic payment or bank transfer to wire the money straight from your account.
If you're concerned about privacy, this is the next safest option.
In the case that you only have checks or cash, this is acceptable too.
ILGM allows you to mail your cash to them directly, and there have been no reports of stolen or lost money thus far. So, while it sounds a little iffy, ILGM seeds guarantee it is safe.
Finally, you can pay with your trusty old VISA credit card or debit card.
Keep in mind that this may cause issues with your bank as the transaction is international. ( their headquarters are in the Netherlands).
To avoid frustration, give your bank a call and let them know that you'll be making these purchases on your credit card ahead of time.
If it still gets flagged, it's likely due to the cannabis aspect.
One of their most popular deals is their buy 10 get 10 offer. That's right: you buy ten ILGM seeds and you get ten seeds for free.
Grow Kit Bundles
ILGM offers high-quality grow kit bundles, too.
They have everything you need to get you started on growing your perfect cannabis plant.
Inside the bundles, you'll find 20 cannabis seeds, Bergman's plant food, and Bergman's plant protector. (We'll discuss that product more later.) But, not every grow kit has the same type of cannabis seeds inside them.
You have a choice between five different grow kit bundles.
The Grow Kit for Beginners offers 20 Autoflowering, Feminized White Widow seeds. The White Widow Grow Kit, though, offers 20 Feminized White Widow seeds.
You can also buy the Gold Leaf Grow Kit, which contains Bergman's Gold Leaf seeds. If you've never had this strain, the grow kit is a great place to start.
The High Yield Grow Kit has 20 Big Bud Feminized seeds to help get a bigger yield than usual. The Medical Grow Kit contains 20 Harlequin Feminized seeds.
Harlequin is a high-CBD strain that's sought-after for its soothing medical effects.
Mix Packs


Purchasing Mix Packs are another great way of saving money.
Plus, you get to experiment with some different seed strains. Mix Packs are seeds for 20 to 50% off of their original price, and you get a mix of three different premium strains in one.
In every mix pack, you have three strains available in packs of either 15 or 30 seeds.
You can either have five seeds of each strain or ten, depending on what you want to start with. Both options are reasonably priced and have options for growers of all types.
This seed bank has over 30 options of Mix Packs to choose from, but my favorite has always been the Fruity Kush Mix Pack.
Its mix of fruity, citrusy strains are delicious on the tongue and create a great smoke.
Customer Service
ILGM has perfected a lot of things, one of them being customer service.
Often, especially with high-traffic websites, you're left high and dry when it comes to responses from customer service agents.
But, with ILGM, I filled out their contact form and received an email back within 30 minutes– I couldn't believe it.
This seed bank places huge importance on the way its customers perceive them. So, in general, they strive to respond to all emails, questions, and inquiries within 24 hours.
If you have a question but don't need it answered by ILGM, you can post it on their forum for other cannabis seed lovers to answer and help you out. After all, that's how the site started in the first place!
Germination Guarantee
ILGM's 100% Germination Guarantee shows how much they believe in the quality of their product.
Many online seed banks won't even offer germination guarantees because of the unpredictability of their strains.
ILGM, though, can work intimately with cannabis seeds during the selection and breeding process. Because of this, they know that their germination rate will be solid.
With this confidence, ILGM ensures that your seeds are going to germinate. As simple as that.
To ensure proper germination, ILGM provides you with six recommended growing steps. They claim that these six steps are the key to having your cannabis seeds flourish.
But, if you try these six steps with your marijuana seeds and still nothing happens, Robert and the team have your back.
All you have to do is let them know what happened and that you've tried the recommended steps. Then, they will work with you directly to help you return your seeds and get brand-new ones at no cost.
It's also important to note how much ILGM caters to first-time or beginner growers. Cannabis cultivation, in general, is not easy.
So, the fact that they offer these rare guarantees even with such new customers only proves their quality further.
Simply put, they wouldn't offer that promise unless they were supplying the highest quality seeds and were not confident in their germination rate.
This goes to show that not only is ILGM a reliable company, but they truly care about their customers, too.
Are Customers Happy?


ILGM, like many other seed banks, recently had its TrustPilot account shut down due to violating their "drugs policy" (you suck, TrustPilot)
However, before their account was shut down, they had an awesome TrustPilot score of 4.7/5 with well over 10,000 positive ILGM reviews.
All negative reviews were responded to, which just gives you the sense that these guys care about their reputation.
Shipping
I Love Growing Marijuana ships to the United States, Western Europe, Australia, and New Zealand. They'll even ship to Georgia, where it's still illegal to grow.
However, they do NOT ship to Canada or the UK.
This sucks, so if you are based in one of those countries, I would recommend Seedsman or Crop King.
For those of you living in the US and other Western European countries, stealth shipping will be completely free. In Australia and New Zealand, shipping is free on orders over $150. If it's under, your shipping fee will be a hefty $25.
If you live in Australia or New Zealand and want to avoid the massive shipping fees, simply stock up! Buy everything that you need at once and, hopefully, you won't have to pay for shipping.
But, if that's just too much, MSNL, Sensi Seeds, and Royal Queen Seeds all have much lower shipping costs.
Shipping Times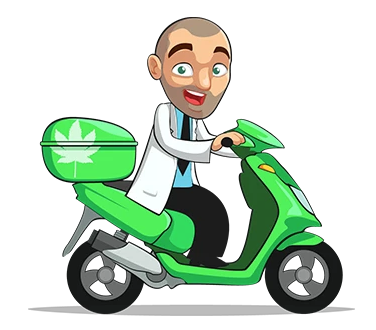 ILGM has a US-based warehouse, so they can ship to US addresses very quickly, with an average delivery time of between 4 and 6 days. Packages don't have to go through customs and, thus, arrive without hassle.
Worldwide, you can expect to get your marijuana seeds within 6 to 12 days depending on conditions.
Standard shipping does not come with tracking, unfortunately. But, you can pay an extra fee at checkout to have the luxury of knowing where your seeds are.
Delivery Guarantee
Many seed banks don't guarantee that your seeds will arrive.
However, with ILGM, delivery is not a concern.
They promise that if you don't get your marijuana seeds within 25 days, they will re-send you your seeds at no extra cost.
Make sure you let them know within 90 days that you haven't received your seeds. They send out replacements pretty quickly.
If your marijuana seeds are damaged during shipping, simply take a photo and hang on to them. Customer service will work with you to send you new, pristine seeds.
Even if you write the wrong address when purchasing, they will re-send you your seeds for free.
Stealth Shipping
To keep everything safe, protected, and discreet, ILGM offers stealth shipping options.
Stealth shipping means that your product is packaged in non-suspicious, everyday containers. They don't give any sign that cannabis products are inside.
Along with this, your bank statement is protected too. ILGM uses carefully worded nomenclature so that your bank doesn't flag it.
Stealth shipping is always free and always provided. This means you can order with total confidence and peace of mind, every time.
Nutrients & Plant Care


Growing marijuana takes more than marijuana seeds and water, and ILGM understands that firsthand.
That's why they provide various types of nutrients and plant care for all stages of your cannabis plant's life. This provides the most comprehensive growing experience possible.
These fertilizers are all sold individually or as a pack. While it's up to you, I'd suggest buying them altogether.
This saves money and you always have what you need.
​Bergman's Seedling Fertilizer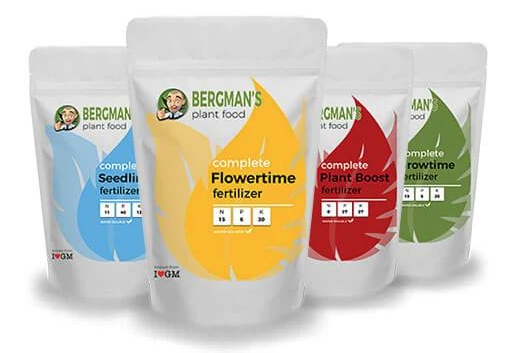 As the name suggests, this is your first-step fertilizer. Bergman's Seedling Fertilizer is designed to be used right as you first begin planting.
You can use it in both hydroponic and soil, though, you will want to make sure your soil is nice and moist for best results.
This fertilizer is full of phosphorus and potassium. These two ingredients are integral in getting your seeds nourished and strong
In this fertilizer, the balance of nutrients is N = 11, P = 40, K = 13.
Bergman's Growtime Fertilizer
During cultivation, your cannabis plant is going to go through a state of vegetation. During this time, you will want to add your Bergman's Growtime Fertilizer.
This fertilizer works directly with the soil to give your plant added nutrients. Not only will it help your plants grow big and strong, but it can also help increase yield, too.
The balance of nutrients in the Growtime fertilizer is N = 19, P = 5, K = 20.
Bergman's Plant Booster
As your plants begin to flower, or even right before it, it's time to use Bergman's Plant Booster.
This Plant Booster is made to give your buds more developing time. This also helps the flowers become as potent and concentrated as possible.
In the plant booster, the balance of nutrients is N = 0, P = 27, K = 27.
Bergman's Flower time Fertilizer
During flowering, you can add Bergman's Flowering Fertilizer to give your buds an extra dose of potassium and nitrogen. ILGM recommends adding this to your soil once every week.
This fertilizer works to help flowers flourish, give strength to the plant, and stimulate growth. Your plants will love it.
Bergman's Flowertime Fertilizer has a nutrient balance of N = 15, P = 6, K = 30.
Bergman's Plant Protector
You can't always protect your plants the way you might want to. To help give you added peace of mind, Bergman's Plant Protector is the perfect product. (I love this product for outdoor growing.)
This three-pack of 20ml. bottles contain formulas designed to protect your plants from any outdoor pests. Whether that's bugs or mold, these little bottles can help provide an added layer of security.
Growing Guides
As I discussed at the beginning, ILGM originally began as a cannabis grower's portal. It was a place dedicated to sharing information and helping others learn about marijuana.
While they're focused on selling marijuana seeds today, they still provide a lot of growing resources. These resources are incredibly helpful for both newbies and cannabis connoisseurs.
To continue to have full access to these educational resources, I'd suggest making an account. Having a customer account lets you track purchases, save strains, and even make wishlists.
Grow Bible For Beginners

For everything you'd want and need to know about growing marijuana, Robert Bergman's Grow Bible is the perfect source.
Every person on the website can download a copy of Bergman's Grow Bible for free. This way, everyone can fully understand the plant they have in front of them.
Blog


Along with Bergman's book, ILGM seed bank also offers an extensive blog full of what you'd want to know about the world of marijuana. Written by cannabis professionals, these blog posts are a great, quick read.
There are various grow guides also available in the education section of the blog. These help you better understand the strains and the best ways to take care of them.
You can also learn about different growing techniques, strains, and even fertilizers. For virtually every question you have about cannabis, this blog has the answers.
ILGM Forum
To keep in touch with cannabis growers and cannabis lovers across the world on ILGM's popular forum. Here, people can post information or ask questions about their cannabis seeds. They're also welcome to have discussions surrounding marijuana in general.
It's an open, friendly place that's keen to learn and is perfect for those joining the community. Full of experts, you know you're getting the right advice.
Not only is the forum open to everyone and active, but it is free, too.
ILGM FAQs
In this section, I've answered some of the most commonly asked questions buyers have about I Love Growing Marijuana. If you have any more, please let me know in the comments.
What Is ILGM?
ILGM, short for I Love Growing Marijuana is a Dutch cannabis seed bank. It originated as a popular cannabis blog but then started selling its own marijuana seeds. They are now a highly rated seed bank based in Amsterdam.
Where Is ILGM Located?
I Love Growing Marijuana (ILGM) HQ is located in Amsterdam, Netherlands. However, they have warehouses in the US, which gives them the ability to ship seeds to US customers within 4 days.
Is ILGM Safe?
Yes, I Love Growing Marijuana (ILGM) is 100% safe to use. They are a legit seed bank and one of the top-rated marijuana seed banks in the world.
Where Does ILGM Get Their Seeds?
Robert Bergman and ILGM breed their own strains as well as work with hand-picked breeders to stock some of the highest quality strains on the market.
Who is Robert Bergman?
Robert Bergman is an experienced marijuana cultivator, cannabis blogger, and founder of ILGM. He has over 25 years of growing experience.
Is I Love Growing Marijuana Legit?
Yes! ILGM is a 100% legit seed bank and is completely safe to order from. ILGM has been selling cannabis seeds for more than 7 years and has a great reputation in the cannabis community for its excellent customer service and germination guarantee.
Does ILGM Ship To Canada?
No. Unfortunately, ILGM does not currently ship to Canada or the UK. However, they do ship to the USA and most of mainland Europe.
Are ILGM Seeds Good?
Yes. ILGM seeds are very good. All ILGM seeds are bred in-house. This means you are buying your seeds from the source and not a third party. ILGM seeds have excellent germination rates and glowing customer reviews.
Is ILGM Legal?
Yes. ILGM is 100% legal. They are a registered European company based in the Netherlands. Most countries and states do not criminalize buying cannabis seeds online. However, it's important to check the laws in your country or state before buying seeds online.
Who is Janie from ILGM?
Janie is ILGM's strain review specialist. She is popular among customers for her enticing youtube strain reviews. Be warned, they make you want to smoke, a lot!
Does ILGM Ship-To Illegal States?
Yes, ILGM will ship seeds to states where it is illegal to actually grow cannabis. However, In their terms and conditions, they specifically state that it is the responsibility of the buyer to check state laws before placing an order.
Does ILGM Have Good Genetics?
Yes, ILGM has excellent genetics. Most of their strains are created in-house and back up their genetics with a 100% germination guarantee.
Does ILGM Give Freebies?
Yes. ILGM gives away 10 free seeds when you order 10 seeds on many of their most popular strains. However, ILGM seeds tend to be quite expensive, so ordering 10 seeds will usually cost over $100.
Where does ILGM Ship From?
For European orders, ILGM ships their seeds from their HQ in Amsterdam. However, they also have a warehouse in the USA which allows them to ship seeds to US customers much faster.
Why is ILGM So Expensive?
ILGM seeds are a little more expensive because you get a service that other seed banks don't offer. As well as high-quality strains, ILGM offers a 100% germination guarantee, fast shipping, and excellent customer service.
Conclusion
I hope you found this review of ILGM useful. Here's a quick summary…
Overall, ILGM is an excellent seed bank, with a great selection of high-quality strains. When you buy seeds from ILGM, you get a 100% germination guarantee, fast 4-5 day shipping, and excellent customer service. Yes, their seeds might be a little expensive, but you get what you pay for.
Let me know what you think about ILGM in the comments!