Short on time? Here's my quick Elev8 Seeds Review for 2022
Elev8 Seeds has an incredible selection of high-quality seeds, excellent customer service, and a top-notch website. However, their lack of shipping options, germination guarantee, and expensive prices are a little off-putting.
If you'd rather buy from a seed bank that has fast international shipping and a 100% germination guarantee, then I would recommend using seedbanks like ILGM or Weed Seeds Express.
Continue reading this Elev8 Seeds review to discover the pros and cons of ordering from them, and to see how they stack up against the best seed banks to order from.
Elev8 Seeds Pros
Stylish, Easy-to-Navigate Website
Responsive, Helpful Customer Service Team
Provide Growing Tips
Ships to the US and Canada
Discreet Delivery
Elev8 Seeds Cons
Lack of Customer Reviews
No Germination Rate Guarantee
Expensive
Lack of Promotions
Need to Update Parts of Their Website
Elev8 Seeds Alternatives
This Elev8 Seeds review is part of my seed bank reviews series. I am reviewing popular seed banks to see which ones are worth using and which ones are not.
Here are the results so far…
Is Elev8 Seeds Safe?
Yes, Elev8 Seeds is safe to buy from! They are a legitimate cannabis seed bank. However, there are very few customer reviews on them online, which makes verifying the quality of their products and services difficult.
What they do have, which some may argue is even more telling of the business's legitimacy, is covered in some notable cannabis publications.
They were featured in Dope Magazine and one of their strains, Dosi Sherbert, was named one of the Top 10 Cannabis Strains of 2018 by High Times Magazine.
The only customer reviews I was able to find on them were on their own website, which was all four or five stars but obviously, they can monitor what reviews they share.
If it's important to you that the bank you buy from has lots of customer reviews, try MSNL.
They have over 3,200 reviews on Trustpilot, with an impressively high overall score of 4.2 /5 stars.
History & Reputation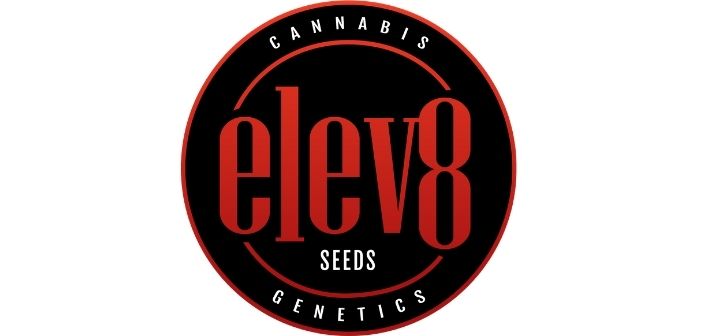 Elv8 Seeds was founded with the mission to provide the best genetics in seed form to those who know the value of world-class genetics.
For years, Elev8 Seeds sought the world's best cannabis genetics, building relationships with talented breeders and researching various cannabis strains.
Now, after experimenting with different strains, testing out medical marijuana seeds in side-by-side comparisons, and having each strain undergo an extremely selective process, they have a catalog that features only the highest quality seeds.
They would even label their seeds "the top 1%" on the market.
Seed Quality
Matt, one of the founding scientists of Elev8 Seeds explained, "Some people breed strictly for yield.
Others cross strains just because.
We research the flavor and the high, we read forums and grow reports.
When I have the idea that two strains will complement one another well, I try to locate the strains; I want to breed something I'm excited about and I'll enjoy smoking."
It's not just about creating a new, innovative strain for Elev8 Seeds, it's about creating a product that will actually produce highly potent, high-yielding marijuana. Elev8 Seeds did not just want to be "another online seed bank."
They view their strains as far above the "mediocre offerings" of most seed banks online.
Each strain goes through years of breeding, taking hundreds and hundreds of dollars and countless attempts to perfect.
Before the strains are added to Elev8 Seeds' catalog they go through a rigorous selection process that tests their quality, potency, and how much cannabis they yield.
There's no question about it: Elev8 Seeds has some of the best quality seeds on the market.
However, what they don't have is a germination rate guarantee which is extremely surprising.
Germination rate guarantees can be indicative of the actual quality of a bank's seeds.
If they are willing to guarantee that their seeds will germinate at high levels, then they are standing behind that quality, so it's odd that Elev8 Seeds, who goes on and on about the quality of their own seeds, doesn't mention a germination rate guarantee anywhere on their website.
If it's important to you that the seed bank you buy from has a germination rate guarantee then check out I Love Growing Marijuana.
They have a 100% Germination Guarantee and provide free seeds with every single order to ensure that the most seeds possible germinate.
Seed Selection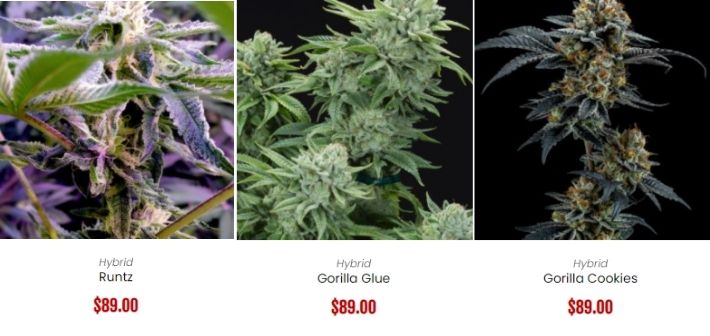 You can view their incredible selection of seeds in Elev8 Seeds Catalogue or on their website under the "Shop" tab. You can purchase Indica,  Sativa, or Hybrid strains.
They offer:
7 Indica strains
26 Hybrid strains
6 Sativa strains
In total, they have 39 strains to choose from, offering a boutique cannabis shopping experience.
Some people prefer the boutique cannabis shopping experience since they know that every seed they are looking at is high-quality, and so that they don't have to sort through pages of seeds to find out what they want.
However, some customers prefer having a lot of options so they can find exactly what they are looking for at a price that works for them.
Dosi Sherbert
One of Elev8 Seed's most famous strains is Dosi Sherbert. This strong yet mellow Indica strain was named one of the Top 10 Cannabis Strains of 2018 by High Times Magazine.
Elev8 seeds specialty is backcrossing elite clone-only strains to stabilize them in seed-form, which they did to create this strain crossing 2 Scoops (Grape Sherbert x Orange Sherbert) and Dosi Sherbert.
Because of its fruity background, this strain has a sweet smell and taste that resembles candy and fruity ice cream, which has earned it the label of being one of the best-tasting strains on the market.
Harlequin
Another notable strain that Elev8 Seeds sells is Harlequin, which has been called one of the strongest CBD strains ever grown.
It typically has a 5:2 CBD to THC ratio with 4-7% THC and 8-16% CBD.
Even more impressive than its CBD content is its impressive genetic lineage.
It was derived from Colombian Gold, Thai and Swiss landrace strains, and a Nepali Indica.
This smooth Sativa strain mellows out anxiety and dulls pain while providing you with a burst of energy.
Its earthy yet slightly sweet flavor will have you coming back for another toke, while its relaxing, sedative effects will beat back any nausea, pain, or anxiety you were feeling.
This is a noteworthy strain for anyone who uses marijuana to take advantage of its medicinal effects.
Seed Prices
Something to keep in mind about Elev8 Seeds is that yes, they have some of the best marijuana strains out there, but their prices reflect that.
Compared to other online seed banks, Elev8 Seeds definitely has some of the highest prices that I've seen.
Gorilla Glue Price Comparison
Elev8 Seeds 6 Gorilla Glue Feminized Seeds – $117 ($19.50 per seed)
Weedseedsexpress 5 Gorilla Glue Feminized Seeds – $55.45 ($11.09 per seed)
Seedsman 5 Gorilla Glue Feminized Seeds – $57.61 ($11.52 per seed)
MSNL 10 Gorilla Glue Feminized Seeds – $103.50 ($10.35 per seed)
As you can see by this price comparison Elev8 Seeds has the most expensive Gorilla Glue Feminized seeds, almost doubling the price of the least expensive Gorilla Glue Feminized seeds, which came from MSNL.
Whether their prices are ludicrous, or worth paying is up to you. MSNL has famously quality seeds, so the fact that the seeds they are providing are so much cheaper than Elev8 Seeds' makes me question why Elev8 Seeds' prices are so high.
$19.50 per seed seems like way too much, especially considering that they offer no germination guarantee or free seeds with the order, unlike other higher-end seed companies like I Love Growing Marijuana.
Elev8 Seeds Sales, Discounts & Promotions
Despite their high prices, Elev8 Seeds doesn't have many promotions.
They have a Photo of the Month Contest, and some offers they send out through their Elev8! Newsletter, but otherwise, zilch.
They do occasionally put seeds on discount though, as high as 50% off, which is wonderful for people who want to get top-quality seeds but not pay Elev8 Seeds' exorbitant prices.
If you love the idea of shopping at a cannabis seed bank with lots of promotions, check out places like Seedsman or I Love Growing Marijuana which are famous for their standard and rotating promotions that you can find on their websites.
Photo of the Month Contest
If you get featured in Elev8 Seeds' Photo of the Month contest then you can win free seeds.
All you have to do is post a picture of cannabis that you grew from their seeds on your Instagram, use the hashtag #elev8seeds, and then notify them that you made the post.
You could win a whole pack of free seeds!
Payment Methods
Elev8 Seeds offers a large variety of discreet and convenient payment methods.
Elev8 Seeds accepts:
Credit Cards
Cash
Check
Money Order
Bitcoin
Ethereum
If you pay with a credit card you have to use MESH.
Unfamiliar with MESH? No problem, Elev8 Seeds encourages customers to contact them with any payment method questions.
If you decide to pay with cash, check money order, or a cashier's check, mail it to their PO box at 4742 42nd Ave SW #191 Seattle, WA 98116. As soon as they receive it they will send you an order confirmation number.
Overall, paying Elev8 Seeds for your order is a convenient, easy, discrete process, with payment method options that will appease everyone.
The number of options that they offer is wonderful, along with their pledge to provide any help customers may need with paying through their easy-to-reach customer service department.
Elev8 Seeds Customer Service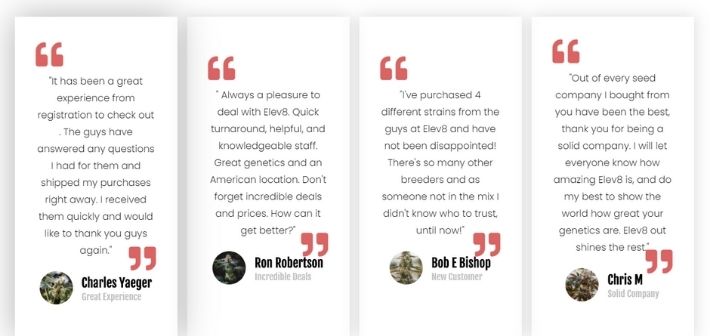 All of the Reviews on Elev8 Seed's website rave about the company's customer service.
People commented on the company responding to queries in a timely and helpful manner, and even replacing seeds that were lackluster or damaged.
The company encourages customers to reach out to them, either through their Contact Form, email at orders@elev8seeds.com, the phone number provided on their site, or through a private message on Instagram @elev8genetics.
They guarantee complete customer satisfaction, quickly responding to questions in a helpful way, and often providing free seeds and growing tips to customers.
Website Design
Elev8 Seeds has an easy-to-navigate stylishly designed website.
They even created a snazzy Elev8 Seeds Catalogue that highlights their offerings with in-depth descriptions.
You can tell that Elev8 Seeds put a lot of time into constructing their website, however, they clearly haven't been updating it.
For example, they had a link to their Facebook but it didn't work.
They also had a Contact link at the bottom of their website you could reach by clicking the words "We reply within 24hrs" but it was broken and didn't link anywhere.
Otherwise, their website was impeccably designed, and overall one of the best seed bank websites I've seen.
Growing Help
They have a Growing Tips section of their website which is very helpful.
They include guides on How to Germinate Seeds, How to Sex Marijuana, How to Pot Seeds After Paper Towel Germination, How to Pick Your Mother Plant, and Indoor vs. Outdoor Growing.
They also have a Youtube Channel with a handful of videos that explain some of their strain offerings and how to grow them.
Shipping
One of the downsides of Elev8 Seeds is that they have a very limited shipping range, only directly delivering to the US and Canada.
You can buy their seeds if you live in the EU, but you have to purchase them indirectly from Mary's Seeds.
Each order is discreetly and safely packaged and has a tracking number so you can keep tabs on the shipping journey it takes to your home.
Overall, they are very meticulous and careful about shipping orders.
Shipping Cost
Elev8 Seed's shipping costs are:
US: Flare Rate of $15
Canada: Flat Rate of $23
These prices are pretty average, and it's nice that they offer a flat rate.
They don't offer free shipping promotions though, which is disappointing.
They offer free shipping to the US, UK, Australia, and New Zealand.
Shipping Times
Elev8 Seeds is extremely vague about how long it takes them to ship packages.
The only information they provide on shipping times is that they "strive to ship out within 3 business days of payment processing, plus mail time, depending on where you live."
Elev8 Seeds Review
With high-quality seeds, excellent customer service, and a sleek, easy-to-navigate website, Elev8 Seeds has a lot going for it.
However, its lack of promotions, shipping options, and a germination rate guarantee hold it back from being ranked amongst the best seed banks.