This is my honest review of the Seed Bank Weed Seeds Express.
In this Weed Seeds Express review, I'll tell you if this new seed bank is worth using, or if there are better seed banks to order from.
My Quick Weed Seeds Express Review
Weed Seeds Express is the new seed bank on the block.
While they don't have much of a reputation yet, they seem to tick all the right boxes.

WSE offers a 90% germination guarantee and guarantees that your seeds will arrive safely. Their shipping to the US is pretty fast, too.

Customer service is very responsive, which my experience tells me is essential for your sanity when ordering seeds online.
I love their website too, which has a great selection of strains, with lots of customer reviews.

The only downside I can see to Weed Seeds Express is that they are a new seed bank and don't have a long track record, but this wouldn't put me off.
Weed Seeds Express Discount Code:
Get 20% off your entire order with GBGxWSE20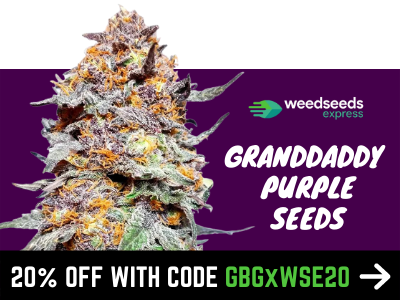 Continue reading this Weed Seeds Express Review for a full list of the pros and cons and to see how they stack up against the best seed banks to order from.
Weed Seeds Express Pros
High Quality Seeds

Excellent

Discounts & Promotions
Over 100 Different Strains
Responsive Customer Service
Fast Worldwide Shipping
FREE Seeds with Every Order
Discreet Delivery
Easy-to-Use Website
Weed Seeds Express Cons
New Seed Bank

Not a Ton of Reviews

Quite Expensive Shipping
Weed Seeds Express Alternatives
This Weed Seeds Express Review is part of my seed bank reviews series where I've been testing all of the most popular seed banks to see how they compare.
Weed Seeds Express is right up there with some of the best seed banks I have reviewed so far.

Here are the best alternatives to Weed Seeds Express:
ILGM – This is one of my favorite seed banks to use and the one that Weed Seeds Express has modeled itself on. They offer a 100% germination guarantee compared to WSE's 90%. Their customer service and shipping times are also lightning fast.

Seedsman – UK seed bank with way more strains than Weed Seeds Express. Their strains are also usually a lot cheaper than WSE, and they have more promotions. However, their shipping and customer service is a little slow.
Crop King Seeds – This is a decent option if you live in Canada and want your seeds fast, as they are based there. They have quality strains and 24/7 live chat. However, they can be quite expensive.
You can check out a full list of the seed banks I've reviewed below:
Is Weed Seeds Express Safe?
You'll be glad to know that WeedSeedsExpress is legit and totally safe to buy from.
Of course, they are very new on the seed bank scene, so they haven't quite built themselves a solid reputation yet.
Online reviews on sites like Trustpilot have yet to cap 100, but the reviews that do exist are overwhelmingly positive, with customers raving about the quality of the seeds and customer service they experienced.
If you feel like being overly cautious, waiting for some more reviews to roll in may be a good idea before buying from WeedSeedsExpress.
In the meantime, you can buy from awesome established seed banks like Paradise Seeds, which has been in business for almost 30 years.
History & Reputation
WeedSeedsExpress may be the new bank on the block, but its story technically started 15 years ago, when its founders, a group of friends, came together to share their passion for cannabis, breeding new strains and sharing growing advice with each other.
Recently, 3 of those friends decided to share the results of years of collaboration with the world, so they created WeedSeedsExpress.
Their founding mission, as people who have had good and bad experiences with seed banks, is to create a cannabis customer experience that leaves people 100% satisfied.
WeedSeedsExpress resides in Haarlem, a city in the Netherlands that was nicknamed "Little Amsterdam."
It shares many of the traits of Amsterdam and has a blooming, rich cannabis culture.
Within their first few months of business, WeedSeedsExpress has already built up an impressive reputation for itself.
It's gaining new customers at a rapid rate through word of mouth and rave reviews about its customer service and seed quality.
If you consider yourself a seed bank connoisseur and want to scope out what this rising star seed bank has to offer, this is the perfect time to try it out and get the scoop on its seeds.
Of course, because it's so new, there is still some risk involved with purchasing from Weed Seeds Express, just because there haven't been that many reviews yet to confirm that it is up to par with all the promises its website makes.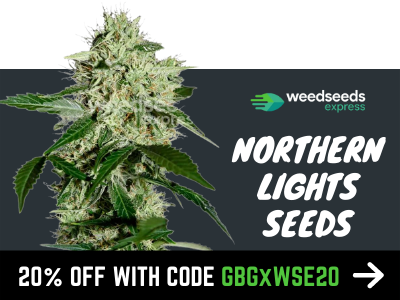 Seed Quality
WeedSeedsExpress carries a wide variety of popular cannabis strains along with some of its founder's own genetic creations.
It has over 100 seed varieties, that encompass numerous price points, ease of cultivation levels, and potencies.
Of course, if you are looking for even more variety you can try a seed superstore like Seedsman who has thousands of strains to choose from.
Personally, I think that 100 is the perfect number of strains for a seed bank to carry, because you are guaranteed to find something you like, but aren't overwhelmed with options.
WeedSeedsExpress does anticipate increasing their collection of strains over time though, but because they are a new shop, and they put each new seed through rigorous testing, their number will float around 100 for now.
Each seed that WeedSeedsExpress sells comes from its carefully cultivated network of breeders.
They guarantee seed quality on their website and even reported an impressive germination success rate of 93% which is one of the best rates a seed bank can have.
Of course, while this is a great germination rate, ILoveGrowingMarijuana still has one of the best ones with a 100% germination rate guarantee.
Whether WeedSeedsExpress's high germination rate and claims of quality prove to be true will depend on the trend of reviews on them that develops.
So far, they have been overwhelmingly positive.
Seed Quality Testing Process
When seeds arrive at WeedSeedsExpress's Haarlem headquarters they are immediately placed in climate-controlled storage in dark, sterile, moisture-free cabinets.
Then, 20 seeds are taken from each new batch and are tested for fertility and germination capabilities using the soaking method and paper towel method.
If they pass WeedSeedsExpress's quality standards then they are shipped out to customers as quickly as possible, within 8 hours of orders being received.
WeedSeedsExpress prioritizes quick shipping since sitting around can impact a seed's ability to grow.
They hope that their rigorous testing procedures and quality assurance process will guarantee that their seeds produce top-notch cannabis.
Seed Selection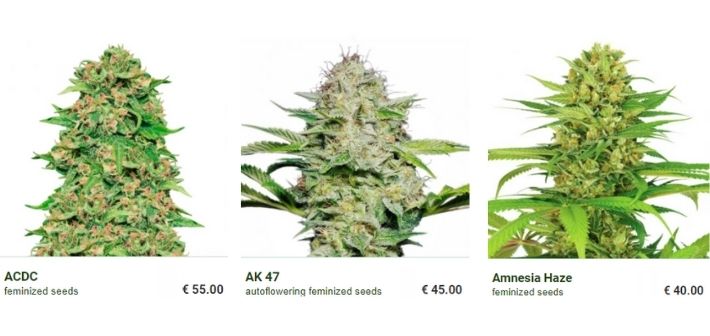 WeedSeedsExpress has a wide variety of strains and cannabis categories.
Their website provides different cannabis categories and filters so you can easily peruse their 100 strains to find exactly what you are looking for.
You can browse seeds that are Indica strains, Sativa strains, hybrid strains, Kush strains, sour strains, cheese strains, blueberry strains, skunk strains, or haze strains.
They also offer the filters of feminized seeds, regular seeds, Autoflowering seeds, indoor growing seeds, outdoor growing seeds, beginner-friendly seeds, high yielding seeds, low-odor seeds, small plants seeds, mold-resistant seeds, and fast-flowering seeds.
Their best-sellers so far have been:
They don't offer mixed packs yet, which is disappointing because that means you definitely have to research their strains before purchasing.
They do provide detailed information about each strain on their website and you can easily access reviews of each strain by scrolling down on their individual pages.
Of course, right now the number of reviews rarely tops 20, so even if everyone seems to love that strain, it's not guaranteed that it's quality.
Autoflowering Seeds
If you are looking for auto-flowering seeds WeedSeedsExpress has 19 options to choose from.
Their auto-flowering seeds have been significantly less popular than their feminized seeds, however, they still have a great selection.
You can choose between high-yield auto-flowering seeds, fast auto-flowering seeds, premium auto-flowering seeds, affordable auto-flowering seeds, auto-flowering seeds with high CBD content, auto-flowering seeds with high THC contents, and more!
Feminized Seeds
The most popular seeds that Weed Seeds Express offers are their feminized seeds.
Almost all of their bestsellers are feminized seeds and they have an impressive 68 options to choose from.
They promise that all of their feminized seeds are top-notch quality, which based on the reviews that have rolled in so far, seems to be true.
Sexxpot Feminized Seeds
If you love being high while you have sex then Sexxpot is definitely the strain for you.
Sexxpot is one of Weed Seeds Express's most popular seeds with 26 reviews and a rating of 4.5/5 stars.
This Indica strain relaxes your mind and body while simultaneously releasing stimulating effects, functioning as an aphrodisiac.
Whether you have sex drive issues, or just want to make things more interesting in the bedroom, this strain is guaranteed to improve your sex life.
This strain has an impressive 14% THC content which will dampen inhibitions while still sharpening your senses, clearing the way for your body to experience total euphoria.
For men and women, this weed enables you to have an orgasm more easily.
With simple cultivation requirements and a short flowering time of 7-9 weeks, this is a wonderful strain for beginner growers.
Seed Prices
WeedSeedsExpress definitely has fairly priced all of their seeds.
Of course, some premium seeds are more expensive, like Sirius Black is $117.19 for 10 seeds.
However, they also have great affordable options, like Bubblegum which is only $58.59 for 10 seeds.
With their wide-ranging prices and varieties, they have a strain for everyone.
WeedSeedsExpress Sales, Discounts & Promotions
Making WeedSeedsExpress's prices even more affordable is the constant sales, discounts, promotions, and free seeds that they offer which allow you to get more bud for your buck.
Rotating Promotions
WeedSeedsExpress has constant rotating promotions like "get 15% off your whole order."
To access the promotions and discounts they are currently offering, scroll to the bottom of their page and click "Coupons and Discount."
Seeds for Sale Tab
WeedSeedsExpress also always has a handful of specific seeds that are on sale.
You can find the seeds that are on sale by clicking on the red "Seeds for Sale" tab on their website.
Seeds under this tab are listed with deals that range from being 10% to 15% off, to even buy 10 get 10 free deals.
Newsletter Discounts
You can also access the site's promotions by signing up for their newsletter.
To sign up, simply scroll to the bottom of WeedSeedsExpress's home page and enter your email address into their sign-up box.
Not only will you have access to WeedSeedsExpress's website promotions but also promotions that are specific to their newsletter.
To sweeten the deal, WeedSeedsExpress even sends 25 free sample seeds each week to the people who either sign up for their newsletter or like their Facebook page.
Free Seeds
Not only does WeedSeedsExpress send free seeds to people who sign up for their newsletter or who like their Facebook page, but they also include free seeds with every order they ship out.
Every. Single. Order.
You'll get an additional 10% of the seeds you order added on to help you achieve the highest germination rate possible.
With an already high germination rate of over 90%, the extra seeds are the icing on this cannabis cake.
Payment Methods
WeedSeedsExpress offers a range of payment options, making it easy for customers to purchase from them.
You can pay with:
Bitcoin
Cryptocurrencies
Wire Transfers
Cash
Credit Cards
The fastest most secure way to pay is through Bitcoin, but other cryptocurrencies and cash also provide you with a strong degree of privacy.
If you pay with cash it should arrive at WeedSeedsExpress within 5 days from most parts of the world.
They will then ship your order out 8 hours after receiving the payment.
If you pay with a card the charge will discreetly appear on your bank statement with no mention of cannabis.
Return Policy
You can return orders to WeedSeedsExpress within 14 days of their delivery.
To initiate returns contact customer service who will send you a form to fill out with order and shipping information.
Once they receive the return at WeedSeedsExpres, they will issue you a refund for the full price of the merchandise and shipping costs within 2 business days.
However, if your order arrives damaged, or is incorrect, you don't have to go through that whole process.
Instead, contact customer service, describe the issue, you may need to provide an image, and then they'll send a replacement in no time.
This return policy is unusual for a seed bank to have and really shows how committed WeedSeedsExpress is to providing great customer service.
WeedSeedsExpress Customer Service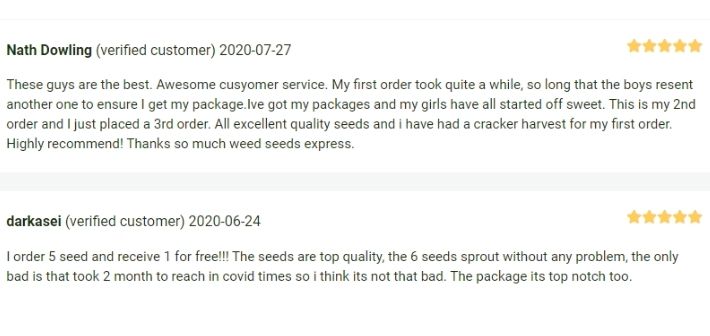 Something regularly commented on in the reviews of WeedSeedsExpress is that their customer service is excellent.
Great customer service is central to WeedSeedsExpress's mission. After all, part of the founder's inspiration for starting WeedSeedExpress was being fed up with dealing with scammy online seedbanks with terrible customer service and bad seed genetics.
They wanted to start a seed bank that they would be happy to buy from, which is why they prioritize 100% customer satisfaction.
Of course, although WeedSeedsExpress promises an excellent customer service experience, and many of the reviews of the company support that assertion, there aren't enough reviews yet to really validate whether that claim is true.
On the other hand, everyone knows that unhappy customers are far more likely to leave a review than satisfied customers.
Because of this, having fewer reviews may indicate that WeedSeedsExpress is actually doing a good job.
Since the few reviews they do have are so positive, that would be believable, but still, only time will tell.
Their customer service team is available to take questions any day of the week between 7:00 – 23:00 UTC.
Whether you have a question about your specific order, need advice for picking out a weed strain, or just want to chat about cannabis, they are open for calls.
Website Usability & Shopping Experience
Because WeedSeedsExpress prioritizes customer service so much, it's no surprise that their website is so user-friendly.
It's clean, professional-looking, and informative.
Most importantly though, it's easy to use.
WeedSeedsExpress separates the different strains they offer into categories and offers numerous search filters like seed type, strain type, price, bestsellers, THC levels, CBD levels, yield size, and plant height.
Each strain has a detailed description that also includes a photo so you can see what their buds should look like.
Their website is kept up-to-date so every strain you see is in stock, which may not seem like a big deal, but if you've ever experienced the disappointment of trying to buy seeds from another bank, only to find them out-of-stock, you know it is.
The site even auto-adjusts so that the prices it shows reflect your location's currency so no need to use a currency converter calculator while you browse.
It should be noted though that unlike other cannabis seed banks, like ILoveGrowingMarijuana, WeedSeedsExpress does not provide specific marijuana growing instructions.
This is inconvenient, but they have to do it to stay in compliance with the laws in all of the countries they ship to.
Plus, you can find all of the helpful growing guides you need on GreenBudGuru, for growing cannabis indoors, outdoors, and beyond.
Reviews of Weed Seeds Express
WeedSeedsExpress has a 4.7/5 star rating on Trustpilot. It only has 96 reviews, but the reviews are overwhelmingly positive.
94% were "excellent", while only 4% were "poor" or "bad."
They are a new company so they don't have a ton of reviews, but the trend that's present seems to be good!
Especially when you take into consideration that people are more likely to leave negative reviews than positive ones.
Weed Seeds Express Germination Guarantee
Not only does WeedSeedsExpress promise to provide you with quality seeds, but they also have a high germination rate guarantee of over 90%.
Not willing to settle for a germination rate guarantee that is higher than most seed bank's on the internet, they also add 10% extra seeds to your order to make sure you can grow 100%.
This guarantee ties into their goal to achieve 100% customer satisfaction.
Shipping
One of the best things about WeedSeedsExpress, right after their incredible customer service, is the fast worldwide shipping that they offer.
They deliver to almost every country worldwide, including Europe, America, and Canada, but there are a few that due to trade embargoes and restrictions they can't reach.
After receiving your payment your order is guaranteed to be shipped within 8 hours to your destination.
Shipments arrive via post instead of through a courier which means there should be fewer interruptions in transit.
Shipping Cost
WeedSeedsExpress offers free shipping on most orders.
What isn't free is their very handy track and trace shipping option, which allows to track your package as it's shipped across the world.
If your order is over 100 euros, it's included for free, or you can pay 7.50 euros to add it to your shipment.
Track and trace are required in some countries to increase the likelihood of successful delivery.
Track and trace are available for all countries except Canada and Australia because of their mail systems' limitations.
However, if you live in either of those countries and want to track your shipment, they encourage you to contact customer service to try to work out a solution.
Shipping Times
WeedSeedsExpress prioritizes fast delivery, with the goal of getting your package to you as quickly as possible. After they receive your order they will ship your package within 8 hours. Previously, they guaranteed delivery in 5 – 15 days, but because of COVID-19 mail delays, that's no longer possible.
Their COVID-19 shipping estimates based on your region are:
Europe: 10 – 20 business days
Canada: 20 – 30 business days
United States: 15 – 16 business days
Australia: 15 – 26 business days
International: 15 – 26 business days
While their track and trace shipping estimates are:
Europe: 3 – 12 business days
Canada: No Tracking
United States: 5 – 15 business days
Australia: No Tracking
International: 5 – 15 business days
Because of how much quicker the shipping is, and the added benefit of package security, track and trace is a great shipping option if you buy from WeedSeedsExpress.
That is if you aren't in Australia or Canada. If you live in Canada and are eager to receive your seeds, try a Canadian-based seed bank like Crop King or True North Seed Bank for faster shipping times.
Delivery Guarantee
WeedSeedsExpress offers a delivery guarantee on all orders.
This guarantee states that if your order is not received within 21 business days of when it was sent, WeedSeedsExpress will send you a one-time free shipment to replace the entire order at no cost to you.
They explain that 99/100 times the second shipment is received without issue, but if it isn't, feel free to call customer service to figure out how to work it out.
As always, their priority is helpful and productive customer service.
Discreet Delivery
WeedSeedsExpress uses stealth shipping on all orders.
All orders fit in a mailbox and are sent as a regular post with nothing related to cannabis on them.
They claim that because of their stealth shipping, 95% of their shipments arrive without any problems.
Packages sent outside of Europe even include extra stealth packaging at no charge to you.
It's become the standard for seed banks to offer stealth shipping since that's a great way to guarantee that seeds actually get where they are supposed to.
Common Weed Seeds Express Questions
What is Weed Seeds Express?
Weed Seeds Express is a new online seed bank that was founded by 3 friends. Although it's a new seed bank it's already gained loyal customers worldwide.
Where is Weed Seeds Express Located?
Weed Seeds Express is based in the Netherlands in Haarlem, also known as "Little Amsterdam." The city has a rich cannabis culture that's been around for a very long time and is home to numerous famous Netherlands' "coffee shops" and seed banks.
Is Weed Seeds Express Legit?
Yes, WeedSeedsExpress is totally legit.
They are a new company, so they don't have many reviews posted about them yet.
This means that the quality of their seeds and service is somewhat still up in the air, but because the reviews that are posted about them have been largely positive, you can buy from them with good faith.
Does Weed Seeds Express Ship to America?
Yes! They not only ship to America, but they also ship all over the world. There are very few, select countries they don't ship to due to trade embargoes or other mail restrictions.
Final Thoughts – Weed Seeds Express Review
Overall, my impression of WeedSeedsExpress was positive, but this seed bank definitely needs some time to develop and grow before I would rank it among the best seed banks in the world.
Their worldwide shipping, incredible customer service, excellent promotions and deals, and great strain selection are all positives that stood out to us.
Take a chance on this new seed bank if you want to, or wait a while to see if the reviews that pour in about it confirm all of the amazing promises they make on their website.
This is definitely a seed bank to keep an eye on.