Short on time? Here's my quick Serious Seeds Review for 2022:

Serious Seeds carries a small, selective assortment of award-winning seeds. They have a loyal fanbase and a good germination guarantee. However, their seeds are a little expensive, and they don't ship to the US.
If you need a seed bank that will ship to the USA, then I'd recommend ILGM or Weed Seeds Express.
Continue reading this Serious Seeds review to discover the pros and cons of ordering from them, and to see how they stack up against the best seed banks to order from.
Serious Seeds Pros
Automatic Discounts on Bulk Orders
Discreet Delivery Option
Based in the Netherlands
Loyal Fan Following
Informative Website
Serious Seeds Cons
Don't ship to the USA
Don't Ship TO Australia
Don't Ship To Germany
Don't accept Bitcoin or Money Orders
Small Selection of strains
Expensive seeds
Serious Seeds Alternatives
This Serious Seeds review is part of my seed bank reviews series. I am reviewing popular seed banks to see which ones are worth using and which ones are not.
Here are the results so far…
Is Serious Seeds Safe?
Yes, Serious Seeds is safe!
This seed bank has been recognized as legitimate by numerous cannabis companies, receiving more than a hundred awards since they started doing business 26 years ago.
They also have a loyal fan following with over 6,500 likes on their Facebook page.
Despite how long they've been in business, you'd be hard-pressed to find actual customer reviews on Serious Seeds.
Although that may seem a little sketchy, especially considering that even brand-new cannabis companies like WeedSeedsExpress have dozens and dozens of reviews, I can guarantee you that this seed bank is in fact legitimate.
History & Reputation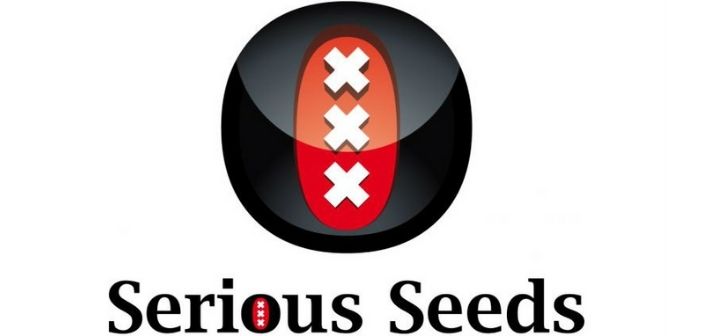 Serious Seeds has been selling seriously great cannabis strains since 1995 when it was founded by Simon, a renowned cannabis geneticist.
Simon was slow to come around to marijuana, never smoking it until 1986 when he discovered how wonderful it could be during his travels in Africa.
From then on he started collecting seeds, growing his own plants, and developing new cannabis strains by crossing old ones.
Simon fully fell in love with cannabis, quitting his job as a high school biology teacher to go work at Sensi Seeds.
Soon after, in 1994, Simon teamed up with two Americans and won awards for his strains AK-47 and Chronic at the High Times Cannabis Cup that year.
He went solo the next year in 1995 and founded Serious Seeds.
In 1995 Serious Seeds' strain Kali Mist won a High Times Cannabis Cup through Greenhouse coffee shop.
The next year, in 1996, another Amsterdam coffeehouse that Serious Seeds sources to, De Dampkring, won the Overall Cup at that year's Cannabis Cup with the Serious Seeds' strain White Russian.
Since its strong start, Serious Seeds has won over a hundred cannabis awards.
Many of those awards were actually won from customers growing Serious Seeds' retail seeds, which Serious Seeds cites as proof that their motto, "Everybody Can Grow a Winner With Serious Seeds!" is true.
Serious Seeds and Magus Genetics
In 2012 Serious Seeds acquired the Dutch seed bank Magus Genetics, resulting in 4 of Magus Genetics' specialty strains being sold by Serious Seeds.
Simon from Serious Seeds commented on the acquisition, "We regard this as a perfect marriage of two small, but outstanding Dutch high-quality seed banks with fine selections of unique and highly individual cannabis seed strains. Magus Genetics' six superb strains do wonderfully fit into our menu."
Both companies prided themselves on offering only a handful of high-quality, homogeneous seeds.
They both stood by not releasing seed strains until they felt 100% assured that the strain they were working on would be one of the best ones available on the market.
Although financially that may result in less income for them, they don't care.
When they do release a strain customers clamor to get it since they know that it will be something truly special.
Simon acquired Magus Genetics from his friend Gerrit, who because of family and health issues wanted to get out of the seed business.
He was able to adopt 4 of Gerrit's award-winning strains, Warlock, Biddy Early, Double Dutch, and Motivation which are currently available at Serious Seeds.
Seed Quality
What really makes Serious Seeds stand out from other seed banks is that they only sell award-winning seeds.
When you review Serious Seeds' inventory there isn't a dud in the bunch. Every strain they sell is uniquely wonderful.
They have some of the most potent, powerful quality seeds on the market, which is why they are willing to offer a germination guarantee
They don't skimp on testing and don't cut corners. It takes years, sometimes decades, for them to develop a strain.
Unlike other seed banks, they don't merely tweak strains and then rename them as a totally different strain.
They work hard on their strains, and that work has not gone unnoticed.
Customers and cannabis professionals rave about Serious Seeds' offerings.
Seed Selection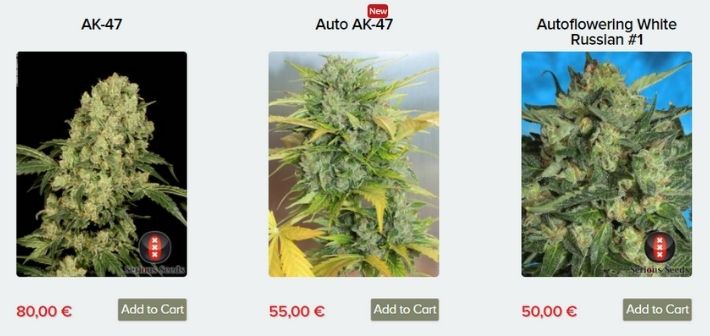 With only 18 seed offerings, Serious Seeds' selection certainly isn't large, but it is deep.
Every single strain that they sell is guaranteed to blow your other plants out of the soil, these are some seriously good quality seeds.
The seeds that Serious Seeds offers right now are:
AK-47
Biddy Early
Bubble Gum
Chronic
Kali Mist
KaliBubba
White Russian
Warlock
Double Dutch
Motivation
Serious 6
Autoflowering White Russian #1
Serious Happiness
Serious Kush
CBD-Chronic
CBD-enriched Warlock
Strawberry-AKeil
Every single one of the strains that Serious Seeds carries has either been created by them or Magus Genetics through years of work to ensure their quality, high potency, and impressive germination rates.
Of course, if you want more options, there are other seed banks that you can look to.
I Love Growing Marijuana is a nice medium-sized seed bank that carries about a hundred strains.
If you want even more seeds to look through, you are, first of all, definitely in the wrong place.
Try a weed superstore like Seedsman, which carries literally thousands of strains.
AK-47
This Sativa strain got its name from its association with being a "one-hit-wonder" because if you take one hit of AK-47 you will be blown away.
It's so potent, that after its release it gained a reputation for causing visitors to pass out in Amsterdam coffee shops.
With amazing strength levels, a long-lasting pleasant high, and easy grow requirements, this strain has been recognized for its brilliance by cannabis professionals and consumers alike through the bestowment of awards.
So many awards. 27 to be exact.
That's right, this unbelievably good strain has taken home 27 cannabis awards, including being the strain with the highest THC percentage of all entries at the Cannabis Cup in 1999.
It keeps on winning too, being one of the best strains you can buy online right now.
Serious Happiness
You'll be seriously happy that you purchased these Serious Happiness seeds.
Combining Serious Seeds' two powerfully potent strains, Warlock and AK-47, this superb strain will make you feel euphoric, providing you with a sweet, long-lasting buzz that balances a pleasant body high with an incredible head high.
The taste is delicious, with sweet, fruity, and sometimes spicy tones.
You'll not only feel happy while smoking this strain but also while growing it.
Serious Happiness has an incredible hybrid structure for indoor growing.
Its branches are perfectly spaced out and grow dense, big buds with few leaves.
Serious Happiness has won numerous awards, including 3rd prize in the "Sativa/ Grower" category at the IC-420 Cup 2015 in Amsterdam, and the Special Award for Most Productive variety at the Master Seedscup 2016.
Serious Kush
Crossing Serious Seeds' world-famous White Russian strain with a clone of OG Kush, Serious Kush balances OG Kush's supreme dankness with the myriad crystals of White Russian.
You'll love this strains' unique kush flavor and potency, and enjoy its relaxing sedating effect.
This strain is particularly great for medical marijuana patients who use cannabis for pain relief or sleep problems.
This award-winning strain took home a 3rd place award in the category of Indica/ Grower at the IC420 Cup in 2016 in Amsterdam.
In June 2018 it was voted European Plant of the Year in the category of Indica by Soft Secrets Magazine.
Seed Prices
If you are looking for a bargain, this is not the seed bank for you.
They carry some of the best seeds in the world, so naturally, their prices reflect that.
Of course, they do have a couple of affordable seeds.
You can get 6 feminized Biddy Early seeds for 35 euros which is an absolute steal.
On the other side of that price spectrum though, if you want 6 feminized AK-47 seeds, that's going to cost you 80 euros.
The overwhelming majority of their seeds sit at around 70 euros, for 6 feminized seeds or 11 regular seeds.
Of course, Serious Seeds is providing you with quality marijuana, their slightly-high prices reflect how high their products get you.
Not to mention, their germination guarantee adds value to their seeds.
Buying from a seed bank without a germination guarantee means you are risking wasting your money, while with Serious Seeds you know it's money well spent.
Serious Seeds Sales, Discounts & Promotions
While this seed bank has some amazing seed options, they are seriously lacking in the sales, discounts, and promotions department, especially when you compare them to other top-notch seed banks.
This can very frustrating for seed buyers who really want to buy from them, but consider their seeds to be out of their price range.
They do provide some order discounts, and free seeds if yours don't germinate, but overall this area of Serious Seeds' business needs improvement.
Order Discounts
While Serious Seeds has no ongoing and rotating promotions and never puts seeds on sales, they do provide a discount if you spend a certain amount of money on their site.
If you spend an amount equal to or above 500 euros they will give you a 10% discount off your whole order volume.
If you spend an amount equal to or above 1000 euros they will give you a 20% discount off your whole order volume.
The discount is automatically added to your order when you purchase the seeds, which is convenient, but unless you are buying in bulk, you probably won't get to use it.
Payment Methods
Serious Seeds offers a variety of payment methods. You can pay with:
Credit Cards
Bank Transfers
Cash
iDEAL
They do not accept:
Most people who buy cannabis seeds online like to use Bitcoin because of the complete privacy it provides, so it's very disappointing that Serious Seeds does not offer that payment option.
If you want to get around Serious Seeds' payment restrictions you can order from a seed reseller that carries their products, but then you would miss out on Serious Seeds' germination guarantee.
Serious Seeds Customer Service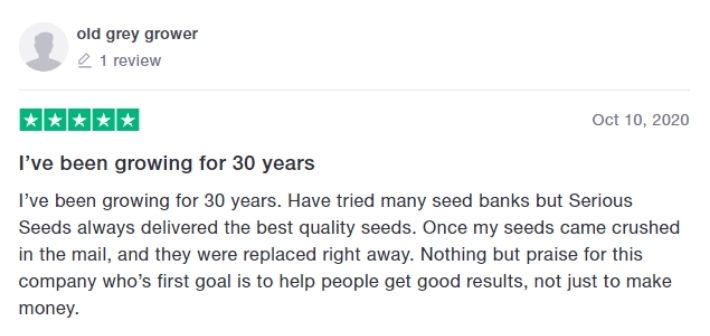 Serious Seeds clearly cares about their customers.
They aren't just in it to make money, Serious Seeds was created to develop some of the best marijuana strains in the world, and they don't settle for anything less.
They want to ensure that if you buy from them, you're satisfied, which is why they have such an impressive germination guarantee.
It's rare for a seed bank to completely guarantee their seed's germination so Serious Seeds' promise to replace all seeds that you aren't satisfied with free of charge is nothing to sneeze at.
Overall, Serious Seeds has a solid base of dedicated customers who rave about their seeds and love the company.
Website Usability & Shopping Experience
Although the Serious Seeds' website has a simple, low-tech design, it's fairly easy to navigate and provides you with lots of helpful information.
You can search through the strains by clicking on tabs for Indica, Sativa, Hybrid, Autoflowering, Medical, Limited Edition, Awards Won, and so on.
They provide a FAQs section for answering common questions, an in-depth About Us section to let you know all about the company's history, and a Contact page so you can easily reach out to them with questions.
While it's definitely not the cleanest or prettiest website, it gets the job done.
Reviews of Serious Seeds
Serious Seeds only has 2 Trust Pilot reviews both of which are immensely positive.
Otherwise, it was hard to find any reviews on them.
Obviously, they have award-winning cannabis seeds, and a loyal following with over 6,400 likes on their Facebook page, but not having reviews can make trusting a company difficult.
It's especially unusual that they don't have reviews considering how old they are, but if you are going to trust anything, trust awards I guess.
Serious Seeds Germination Guarantee
Serious Seeds has an impressive Germination Guarantee.
They guarantee that their seeds are all quality with extremely high germination rates.
If you have any issues with the seeds, you can contact Serious Seeds and get free replacement seeds for each seed that does not germinate.
Keep in mind, that to access this offer you need to keep the serial number of the package that your seeds came in.
When you get your seeds be sure to store them somewhere safe in case you need to use their germination guarantee.
Shipping
One of the biggest flaws of Serious Seeds is their shipping limitations.
They ship to every country in the world except the United States, Germany, and Australia.
If you're based in America, I would recommend using ILoveGrowingMarijuana.
For the people that Serious Seeds does ship to, congratulations!
You have access to one of the world's best seed banks.
To ship their seeds, Serious Seeds packs them in transparent airtight tubes that they tape to a booklet.
The booklet has the Serious Seeds logo on it, the name of the strain that you purchased, and a symbol for regular or feminized so that you can confirm they got your purchase correct.
The back of the booklet has the company's information and the serial number which is very important to hold onto if you want to cash in on Serious Seeds' germination guarantee later on.
Shipping Cost
Serious Seeds offers fairly inexpensive shipping in either standard, stealth, or registered mode.
Their options are:
Standard Shipping: 5 euros
Stealth/Safe Shipping: 5 euros
Registered Shipping: 15 euros
Stealth and Registered Shipping: 15 euros
However, if your order exceeds 80 euros, standard and stealth shipping are free, which is a nice perk.
For standard shipping, your order is sent as a normal letter in the mail.
It will not have anything to do with Serious Seeds on the outside however it also won't be tracked so the risk of delivery lies with the customer.
For stealth/safe shipping, orders are repacked and hidden reducing the risk of seeds being caught in transit, however, again, the risk of delivery lies with the customer.
Registered shipping gives your order a tracking number so it can't get lost in the mail.
This is a great option for people who want to ensure that they get their seeds.
Safe and registered shipping gives your order a tracking number and sends it in stealth mode which is the best way to make sure that your seeds actually get to you.
It is annoying that Registered Shipping and Stealth and Registered Shipping cost so much, but it's worth investing in if you buy a lot of seeds from Serious Seeds.
Shipping Times
In normal times, your order would only take 1-2 weeks to arrive at your door after being placed.
However, Because of shipping delays due to COVID-19, orders can take as long as 6 weeks to be delivered.
Of course, you should also factor in the amount of time it will take for your payment to be processed.
Credit card payments are typically processed within one business day, money sent by mail takes up to 5 days to reach Serious Seeds, while bank transfers can take 7-10 days to process.
The COVID-19 shipping delays are obviously incredibly frustrating, but unfortunately, almost all seed banks are having to deal with them right now.
Common Serious Seeds Questions
What Is Serious Seeds?
Serious Seeds is a Netherlands seed bank that was established in 1995.
Since then it has won over a hundred awards for its superb strains.
They are a small seed bank, with a tiny selection of seeds, but each strain they carry is guaranteed to knock your socks off.
Its mission is, "to develop easy to grow, stable and homogenous genetics for medicinal and recreational smokers", which they definitely deliver on.
Where Are Serious Seeds Located?
They are located at 1239 1440 BE Purmerend Netherlands.
Being one of the longest-established seed banks in the Netherlands, Serious Seeds has relationships not only with other top-notch Netherlands seed banks and cannabis professionals but also with some of the best coffee shops in Amsterdam.
Are Serious Seeds Legit?
Yes, Serious Seeds is totally legit! They've been in business since 1995, have a loyal following of customers, and have won over a hundred cannabis awards.
Do Serious Seeds Ship to America?
No, Serious Seeds does not ship to America.
They ship to every country in the world except the US, Australia, and Germany.
To see our recommendations for American, Australian, and German buyers, check out the end of this review!
Summary
Serious Seeds is an awesome seed bank to buy from, with award-winning strains, wonderful customer service, and an impressive germination guarantee.
Of course, the seed bank does have numerous downsides, like their lack of selection, lack of payment options, and lack of countries they ship to.
This is an incredible seed bank – if you can find a good payment option for buying from them, and live in a country they actually ship to.