Good seed banks are few and far between.
There are just so many factors that can make or break your experience with them.
Some seed banks have great quality seeds and super fast shipping, but then have awful customer service that leaves you wanting to smash up your bong collection.
A good seed bank should tick all of the boxes, not just a few.
In this article, I'm going to be taking a close look at the popular seed bank I Love Growing Marijuana (ILGM) to see how it measures up
This ILGM review will cover everything from seed quality, accessibility and discretion, to customer service and special promotions.
Check out my full list of the best seed banks to order from here
ILGM Review – Quick summary
Seed Quality

Strain Selection

Customer Service

Customer Reviews

Payment Methods

Shipping

Discretion

Discounts / Promotions

Reliability
Pros of ILGM Seedbank
Seeds are very high quality and guaranteed to germinate
Delivery is guaranteed or they will ship them again for free
FREE shipping to US, Canada and Western Europe
Shipped in discreet packaging
VIP program offers access to special strains, discounts, and other perks
Specially selected seeds and grow packs for beginners
Accepts Bitcoin, ensuring your purchase is anonymous and untraceable
Awesome video reviews of strains
Loads of free resources available directly from the website
Also ships to New Zealand and Australia
Awesome Forum on website to talk with fellow growers
Cons of ILGM Seedbank
$25 fee to ship to Australia or New Zealand if your order is under $150.
$25 fee if you want your shipment tracked
ILGM Best Selling Seeds:
ILGM has a very high quality standard across their products, but below we've listed some of their most popular strains available:
Seed Bank Leaderboard
This ILGM Review review is part of my best seed bank review series.
My goal is to give growers honest reviews with real data.
I want to make sure everyone is as informed as possible when they buy seeds.
Here's my table so far.
ILGM Review
I Love Growing Marijuana began as a blog by grower Robert Bergman.
Bergman started growing over 25 years ago at home with just a few plants.
His operation then expanded in a major way to seed labs and plantations.
No longer interested in large-scale production, he decided to start sharing his insights with fellow growers via his blog.
The blog blew up so he pulled in breeders and ILGM became a seed bank.
Robert is very passionate about growing marijuana and enjoys sharing that passion with others.
Seed Quality – 5/5

One of the things that sets ILoveGrowingMarijuana.com apart is that the site author, Robert Bergman, hand selects the seeds to ensure their quality.
This is a big deal because Robert brings about 25 years of growing experience to his selection process.
The quality of the seeds ILGM sell is guaranteed.
If your seeds don't germinate, i.e. they don't sprout and start growing, you get your money back.
It's that simple.
They just wouldn't offer that promise unless they were supplying the highest quality seeds.
Strain Selection – 3/5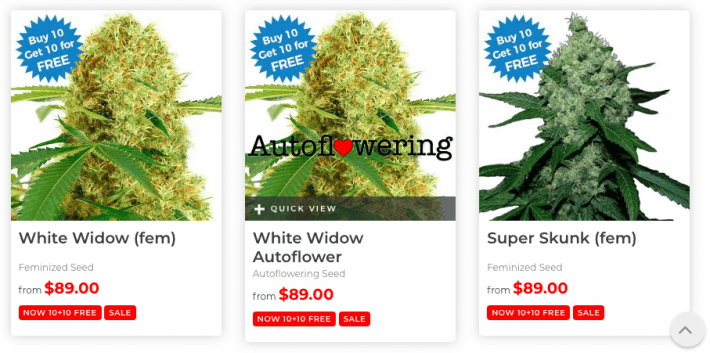 UPDATE: Over the past year or so they've probably added 40-50 additional strains so they're definitely improving on their total selection.
This is maybe the one area where ILGM falls a little short…
I Love Growing Marijuana doesn't have the largest selection of strains compared to giant seedbanks like Seedsman.
I think the site currently sells around 70-80 different strains, which is more than enough for most growers.
And they include all the categories of strains you would expect to see – Feminized, Autoflowering, Fast Flowering, and Regular.
Just keep in mind that you may need to use a larger seedbank like Seedsman now and again if you're trying to find a particular strain.
Customer Service – 5/5
I must admit, I don't have to rely on the customer service from ILGM very often because frankly, they almost always get it right the first time.
However, when I have had to contact them, they are always super friendly, fast, and helpful.
Any questions you have are answered promptly which is a big plus when dealing with seed banks ( many of them don't reply at all! )
This is especially important when you are a beginner.
They make you feel comfortable and confident right from the start with their 24/7 support system.
You can also turn to the popular forum if you want to discuss a particular with fellow growers.
Customer Reviews – 5/5

Once thing I LOVE about the ILGM website is that each strain usually has loads of reviews from growers
This is pure gold, as it allows you to see what other growers thought of growing or consuming the strain – before you buy it.
Additionally, on Reseller Ratings, ILGM receives very high marks. 9.8/10 with nearly 350 reviews is impressive.
I have to agree with the sentiments of these reviewers.
They remark again and again about the speed of delivery, the quality of the seeds, and the customer service
What more could you ask for from a seed bank?
Payment Methods – 4.5/5
ILGM make it very easy to pay for your seeds and offer step-by-step instructions for each payment type.
It couldn't be more simple or clear.
You can pay via bank transfer, bank deposit, credit card, cash, check, or Bitcoin.
Using Bitcoin is a great option because it's 100% anonymous and they offer a 10% discount on all Bitcoin orders.
However, I usually just use a standard credit card.
If you want to use to most untraceable option, you can actually mail them cash and they will fill your order.
Shipping – 5/5
ILGM ships to the US, Canada, Western Europe, Australia, and New Zealand.
Shipping is always FREE to the US and Europe.
It's also free to Australia and New Zealand if you spend over $150.
If less than that, shipping is $25.
You can also expect a $25 fee if you want a trackable shipment.
I've never had this happen, but if your order doesn't arrive for any reason they will ship you another one free of charge.
Discretion – 5/5
Ilovegrowingmarijuana's commitment to discretion is one of the reasons I love shopping with them.
If you want to pay without a trace, you can easily do so.
With cash or Bitcoin purchases your anonymity is secured.
If you opt to pay with a credit card, you can rest assured that your statement will not say anything about marijuana.
Side note, since ILGM is in Holland you should call your credit card company ahead of time and let them know you will be making an international charge.
They won't ask you what you're buying or anything like that.
It will just make sure they approve the charge when it hits and not think it's fraudulent.
The icing on the cake is their "stealth" packaging. It's not labeled "contains marijuana seeds" or anything ridiculous like that.
No one will know what is inside so you can feel comfortable with a delivery being left on your front porch until you get home.
ILGM Discounts / Promotions – 5/5


I regularly take a look at the special deals section of the website to see if I can snag up some great seeds at a reduced price.
You can get discounts by buying certain combinations of products.
They also offer buy 10, get 10 free on some strains – nice!
And one good way to save green on your green is to use Bitcoin when you pay.
That gets you 10% off any order, any time. On top of all that, you can sign up for their VIP program and get access to deals not available to others.
ILGM Reliability – 5/5
Whenever I order from ILGM my seeds arrive pretty quickly.
ILGM process orders as soon as they are received and usually send them out the same day.
Most orders arrive in less than a week.
Like I mentioned before, they guarantee delivery.
If your seeds don't arrive in a week or so, just give them a shout and resolve it in no time.
ILGM FAQ's
Below are the answers to some of the most commonly asked questions about ilovegrowingmarijuana.com
Is ILGM Fake?
Lot's of new growers worry about seedbanks not being legit.
And rightly so!
Ordering seeds online can be stressful.
However, I can guarantee you that these guys are the real deal.
I've been ordering from them regularly for over 2 years 🙂
Where does ILGM ship from?
ILGM ship from Europe and have many customers that order regularly from the USA and Canada.
Where does ILGM get their seeds?
Robert Bergman and ILGM breed their own strains as well as working with hand picked breeders to stock some of the highest quality strains on the market.
Final thoughts
So, you may have guessed by now that I'm a big fan of I Love Growing Marijuana.
It's actually hard to find someone that has something bad to say about them online.
They're just the perfect combination of high seed quality, customer service and reliability.
I've tried a lot of seed banks over the years and ILGM is definitely one of my favourites.
What do you guys think of ilovegrowingmarijuana.com? Let me know in the comments!