Over the years, I've used A LOT of different online seed banks when growing marijuana.
Some good… some very, very bad.
Here are my top 10 best seed banks to order from which also ship to the USA and Canada.
Read on for my thoughts about each seed bank as well as some tips on how to choose the right one for you.
Top 10 Best Seed Banks
Buying cannabis seeds online can be frustrating to say the least…
Poor quality seeds, missing packages and unresponsive customer service is far too common.
Just check out any grower forum and you'll see what I mean.
Some online seed banks seem as though they just don't care!
I've rated each seed bank out of 10 based on several key criteria (explained below ) and included a seed bank FAQs section at the end to answer some of the most commonly asked questions about purchasing seeds online.  We've finally helped narrow down the best of the best.
What to look for in a good seed bank…
When looking for a good seed bank, there are several key criteria that you should to look out for.
IMPORTANT: My top 3 tips when choosing the best online seed bank and buying seeds online
I've purchase A LOT of cannabis seeds online and have gone through many of the frustrations most growers have (missing seeds, crap customer service, non germinating seeds)
Here are my top tips to having a stress free experience buying from an online seed bank:
Ok, with that said, here are my detailed reviews of the top 10 seed banks:
Best Seed Banks To Order from Online + Seed Banks That Ship to USA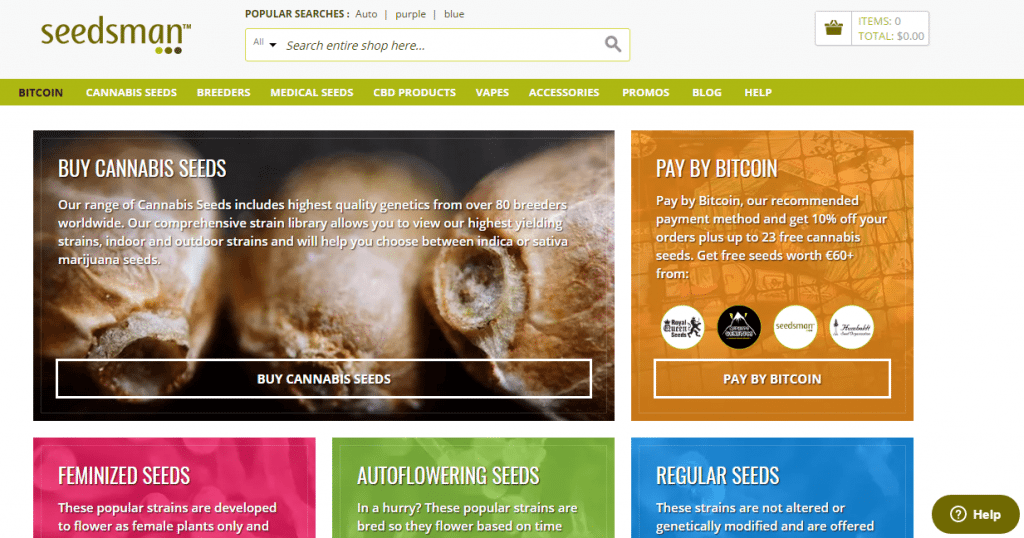 Seedsman seed bank is my number one pick when it comes to the best online seed bank, and the best EU seed bank by far.  They offer worldwide shipping, and are one of the handful of seed banks that ship to USA.  Just because of how expansive their shipping is, you could argue that they are the best online seed brand.
This hugely popular seed bank offers one of the biggest selections of strains online (over 4,000! ) and their seeds have some of the lowest prices I could find online.  Along with this, they feature very high quality breeders who I thoroughly trust.
To add to their low prices, they also have loads of amazing promotions that can dramatically reduce the cost of your order.
The only negative about Seedsman is that their customer service could be a little better. Customer support is something that large businesses always seem to struggle with. When I called their phone number I got an automated service (Argh…) However, they replied to my email within 24 hours so they still manage to take top spot, just.
If you're looking for high quality customer service and don't mind paying a little more for it, then my second pick might be a better option for you.
Check out my full review of Seedsman here
I Love Growing Marijuana seed bank is run by Robert Bergman, a veteran grower with over 25 years of growing experience.
These guys might not have the largest collection ( around 80 different cannabis strains) but they do have some very high quality cannabis strains and awesome customer service.  If customer service is important for you, then this should be the best online seed bank for you.  Along with this, they also offer feminized seeds as well as regular cannabis seeds which is good for anyone looking to grow a hybrid.
Shipping is free for US, Canadian and European orders and delivered in just 10 to 15 days on average.
They guarantee delivery, and will re-ship your seeds if your order doesn't arrive or gets seized.
In the event that your cannabis seeds do not germinate, they will be happy to replace them for free – nice!  Guaranteed delivery should be a must have for any cannabis seed bank!
ILGM's website is super easy to use and can be viewed in English, Spanish, French or Dutch. Every strain on their site has lots of customer reviews and well laid out info about genetics. Simply due to their easy to use website and customer service, they're definitely one of the best online seed brands around.
They also have an active forum with helpful topics for beginners.  Overall I would say ILGM is one of the best online seed banks around!  Definitely check out Robert Bergman and ILGM!
Check out my full review of ILGM here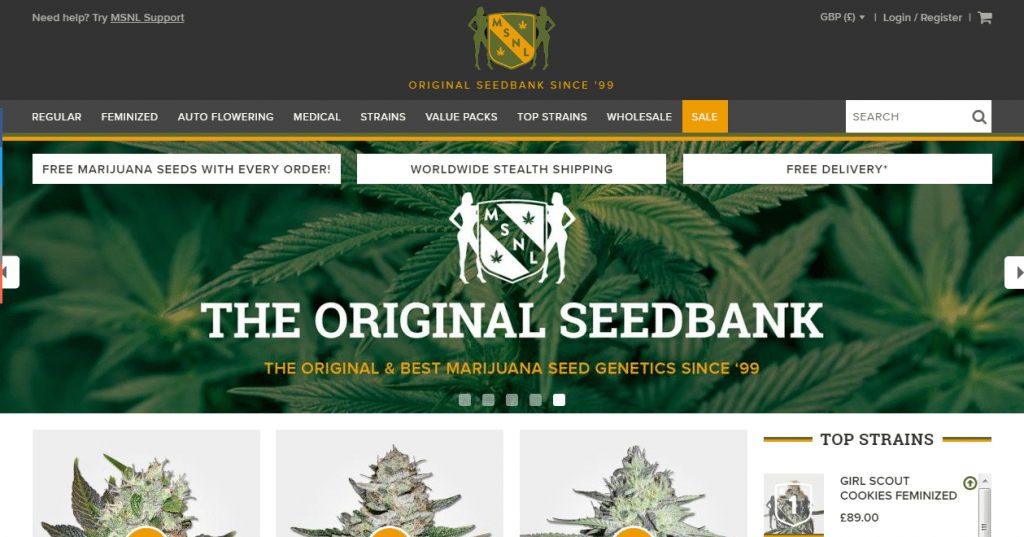 MSNL is another well-established Seedbank that has been around since 1999.
Their refined strains are extremely high quality and raved about in the online cannabis community.
They also offer a great selection of low cost value packs which are perfect for trying different cannabis seeds without spending lots of money.
In general, they tend to be a little more expensive than Seedsman but their strains really make up for the price.  The owners are extremely professional and have been around for over 20 years.  If you're looking for a brand that really focuses on strain quality, then MSNL is the one for you.
Check out my full review of MSNL here.
Growers Choice Seeds seed bank comes highly rated from several best online seed forums and offers a variety of cannabis seeds suitable for every cannabis consumer.
One thing I appreciate about Growers Choice Seeds is their commitment to their products. According to their site, if 90 percent of your seeds do not germinate, they will send a replacement order.
Based on reviews from popular cannabis forums, they back this guarantee and are more than willing to work with you should you be unsatisfied with your order.
All orders are packaged to be as discreet as possible. Most of the time cannabis seeds are left in their original, air-tight packaging. However, in some cases marijuana seeds are removed from their packaging to ensure a safe and secure delivery. Additionally, orders outside the U.S. can receive special "stealth packaging" at no extra charge.
Depending on where you're shipping your package, you can expect to receive your goodies within 7-25 business days. Most customers report being very satisfied with the shipping speed of their order.
Additionally, every order is given a tracking number so you can keep a close eye on your order from the moment it leaves the warehouse until it reaches your doorstep.
Check out my full review of Growers Choice Seeds here

Sensi Seeds seed bank is one of the biggest names in the cannabis seed industry. They have won numerous Cannabis Cup awards and are a renowned brand worldwide.
Though their prices are a bit higher than other cannabis seed banks, you know you are getting some of the best genetics in the world when purchasing from Sensi Seeds.
Most reviews for Sensi Seeds are positive, though some report being unsatisfied with the quality of their cannabis seeds or not receiving their order.
Customer service seems a bit wishy-washy, though it does appear typically they try their best to resolve any issue as quickly as possible.
Every order is packaged in a discreet, unmarked envelope. There are no logos or advertising present on the packaging, making it virtually impossible to tell what is inside.
If you are lucky enough to live within the shipping range for Sensi Seeds, you can expect to receive your order within 2-10 business days from the date your payment is processed, depending on which shipping option you chose.
Check out my full review of Sensi Seeds here.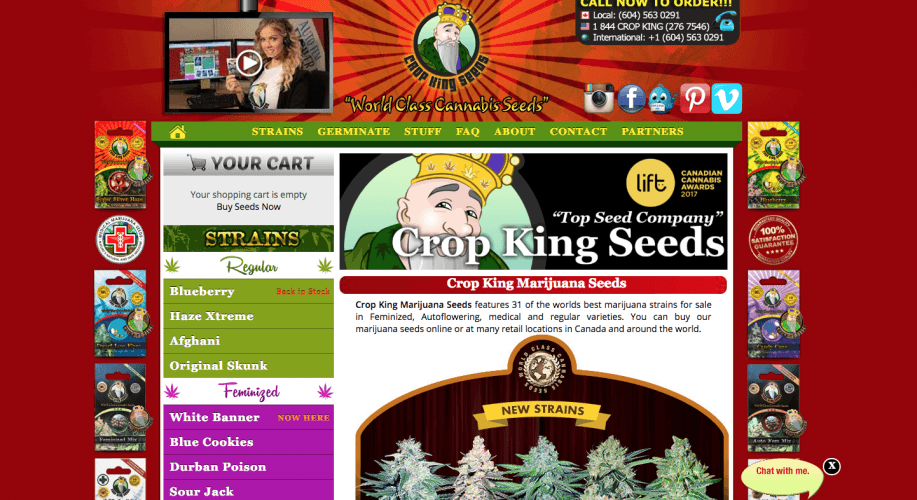 Crop King Seeds seed bank has been in the game for almost 15 years, steadily climbing their way to the top.
Nowadays, they have made quite a name for themselves and you can find the "King" in a multitude of physical and online storefronts.
While offering a slightly smaller seed collection in comparison with other top seed
banks, Crop King Seeds does have an advantage in that they only offer their own personally cultivated strains.
Crop King Seeds have just launched a new website and it is really well laid out and you can use various filters to easily search for a strain perfect for you. Plus, they offer a section devoted to teaching customers how to successfully germinate their new marijuana seeds.
According to reviews on popular online forums, customers either love the "King" or hate him. From what I've read, customer service seems a bit quick to point fingers at the customer rather than own up to any mistake on their end. However, for every negative review there are three that swear by this company for all of their cannabis seed needs.
All orders are shipped in special packaging designed to maintain freshness and be as discreet as possible. Only orders shipped within Canada will be packaged in authentic Crop King Seeds packaging. Cannabis seeds shipped to all other countries will come packaged in various other items, to maintain privacy.  Overall I would say they're one of the best Canadian seed banks in the market today.
Shipping speeds range from 2-7 business days for orders shipped within Canada, and up to two weeks for international orders.
Check out my full review of Crop King Seeds here.
Though relatively new to the game, the founders of Gorilla Seed Bank have more than 40 years of combined experience in the cannabis industry.
While they don't have the biggest seed selection out there, Gorilla does offer some of the best marijuana seeds from some of the most reputable brands.
They also offer competitively low prices on nearly all of their products, something I always take into consideration when purchasing.
The main issue customers report have been small errors with processing payments or seed viability. However, it's clear that customer service is the number one priority for this company, as nearly all reviews on popular online forums also report any issues being resolved promptly and adequately.
Depending on where the order is being sent, shipping times can vary from 1-24 business days. Most orders shipped within the UK will be received within 7 business days.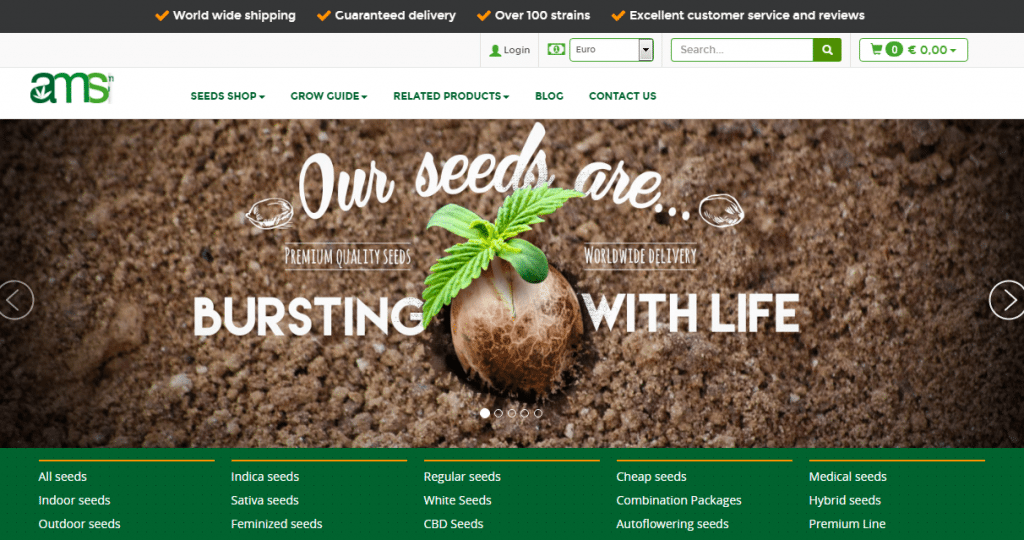 Amsterdam Marijuana Seeds online has been in the cannabis game for 25 years with no sign of slowing down.
Their time in the industry definitely shows in their intuitive and user-friendly website.
Subscribe and you'll get a free growing guide.
With the Netherland's top breeders, you can expect fantastic seed and strain quality.
Their packaging is crush-proof and made to look like regular mail. You may not even recognize your package.
Conversely, being shipped straight from Amsterdam will mean relatively higher prices.
Fortunately, the shipping price may be offset by both their affordable seed options and combo packages.
Check out my full review of Amsterdam Marijuana Seeds here.
True North Seed Bank is a fairly new seed supplier based in Toronto, Canada.
They have a large selection of strains and some very nice discounts and promotions.
If you're a US or Canadian customer, shipping is very fast with orders arriving in an average of 5-14 days.
Although I had no major issues with my order (8/10 feminized seeds germinated) customer feedback on TNSB seems to be quite polarised, and it seems to me that their slightly subpar customer service is the reason for this negative feedback. All cannabis seed banks have issues with marijuana seeds and shipping, but it's how you deal with those issues that sets some seed bank apart.
Attitude is a very popular cannabis seed bank based out of the UK.
They reportedly have some of the best genetics worldwide and offer thousands of marijuana seeds from more than 200 brands, which gives you a huge amount of variety with your future cannabis plants.
Most reviews from popular online forums are positive, though some mention orders being seized by customs.
Most of these customers however, did not pay for discreet shipping, which is something I always suggest.
Another common issue customers report is the quality of marijuana seeds can vary greatly.
Because Attitude sells a variety of marijuana seeds from numerous brands, including feminized cannabis seeds.  It makes sense the lesser known brands may have lower quality products. This is why I always recommend buying seeds from already established and reputable brands.
One thing I always appreciate is saving a little extra money.
Attitude always has a wide variety of promotions running so be sure to take a look before placing your order to ensure you get your money's worth!
Shipping speeds vary based on where the package is being sent.
International orders are typically received between 7 to 10 business days, though can take up to 21 business days.
Seedbank FAQ's
What are the different types of marijuana sold online?
There are three main types of marijuana or cannabis that you'll run into when looking at online stores, below you'll find all the info you need on these three types!:
Regular Cannabis Seeds:
"Regular" cannabis seeds have been around the longest so to some they might be the most prominent.  These regular seeds are available in both the male or female sex, and unfortunately you actually can't tell which sex a seed is or what type of plant will grow from it.  NOTE: ONLY FEMALE SEX SEEDS CAN GROW MARIJUANA.
So why in the world would people buy regular cannabis seeds if you don't even know if you'll be able to grow weed from it?  Well the main reason is because a lot of the old school strains of marijuana were never converted into feminized seeds from regular seeds, so now a days the only way to grow these strains is to use regular cannabis seeds and roll the dice on what type of marijuana seeds you have.  Along with this, these seeds aren't genetically modified, so if your main concern is about getting the most pure and clean strain possible, then these are definitely the way to go.
Furthermore, if you're interested in breeding your own brand new strain of marijuana then of course you'll need male plants to breed with female plants.  But that being said, if you're only here to grow weed, then skip these and read below!
Feminized Marijuana Seeds:
When you're looking for the most reliable marijuana seeds, then you'll have to go with feminized marijuana seeds as they're pretty much the best marijuana seeds available for nearly every reason.
These seeds are genetically altered to ensure that their male chromosomes have been removed – aka these are only female seeds which means they always grow marijuana!  These were originally manufactured for commercial grows, but now they are the go to for home grows as well!
Auto-Flowering Marijuana Seeds:
One of the biggest learning curves involved with growing marijuana is the use of grow lights and lighting schedules.  As you might know, when you're growing marijuana indoors, you need to follow a light schedule by changing the intensity and temperature of your grow lights to help your plants transition from the growing phase to the flowering phase (where bud is actually produced).  This is a huge learning curve and can be quite confusing, but thankfully there's a solution!
If you're attempting to grow weed outside, or don't want to deal with grow light schedules then you should definitely check out auto flowering seeds!  These marijuana seeds don't rely on lighting schedules, and automatically transition from the growth stage to the flowering stage after a certain period of time rather than light schedule.  This makes it a lot easier, and you can skip the need for light scheduling!
What payment methods can I use?
Payment methods are often of concern when shopping around for your marijuana seed needs.  That being said, a good seed bank will offer a number of different ways to pay for your seeds:
Credit/Debit Cards
Most marijuana seed banks take payment with debit or credit cards without any problem.
However, placing an order with standard bank cards can sometimes have issues if don't usually order items from abroad using that card.
This might make other payment methods more appealing.
Personally, I use a credit card, which offers better protection than a stand card when buying online.
I've never had an issue ordering seeds online with my debit or credit cards.
Bitcoin
Bitcoin is anonymous, safe and secure.
It's therefore perfect for this type of transaction and the method of payment that most marijuana seed banks prefer.
Many marijuana seed banks offer incentives to purchase your marijuana seeds with Bitcoin cash, so it's definitely the recommended payment method.
Cash
Paying with cash means that there will be no record of the transaction on your bank account.
However, most seed banks will appear very discretely on your bank statement anyway, and sending cash in the post is risky.  I would never recommend sending cash to any marijuana seed brands.
Paypal
It's very rare for a marijuana seed company to offer a Paypal as a payment option.
This is because Paypal strictly prohibits cannabis seed sales (get with the times PayPal! )
Online Seed banks get blocked from accepting payments once Paypal discovers what they are selling so even the best online seed companies will probably not accept Paypal.
Bank transfer/wire
A standard direct transfer from your bank account to the seed banks account.
A bank transfer usually avoids any fuss with your credit card or bank card being blocked for suspicious activity.
It's fast and secure and many online Seed Banks recommend that you use this method
Cheques
Anoutdated method of payment, but many seedbanks offer this option.
It's fairly secure but takes a long time to process.
There's definitely better ways to pay.
What is the best method of payment for cannabis seeds?
The absolute best method of payment to use with an online seed bank is probably Bitcoin.
It only takes a few minutes to set up and means that all of your transactions are 100% anonymous, safe and secure.
Many seedbanks offer big discounts for payments made with bitcoin, so this is definitely something you should consider.
If like me you don't fancy setting up Bitcoin, then use a standard credit card is the next best option.
American Seed Banks – Not Many USA Based Seed Banks?
The current situation in the US is that although it's usually safe to buy /order seeds online, it's very risky for the seed bank sell them or send them from one state to another due to the different laws in each state.  This can land an American based seed bank into huge federal trouble.  Even if they are based in a state that has legal access to cannabis like Colorado, it's considered a federal crime to ship these over state borders.
This is the reason why it's hard to find a long-established seed bank inside the United States.
Along with this, there are a handful of American based seed banks that look like they sell seeds, but they are only legally allowed to sell THC free seeds, which have no high effect.
Hopefully this will change in the near future.
That being said, all of the online seed banks listed in this article will ship to the USA and Canada, and most offer stealth shipping.  So if you live in the US then you don't have to worry about finding American seed banks, you can actually use any of the seed banks listed at the top of this guide that feature worldwide shipping!
That being said, if you're dead set on finding the best American seed bank, I would simply suggest you take a look at Seedsman.
What will happen if customs open my package?
Current customs laws in America indicates that if your marijuana seed package from abroad does get caught in the mail, you will not be put on any "list".
Instead, the U.S. customs agents will simply toss the cannabis seeds and send you what's left of the package.
They also send an official letter letting you know that your seeds were confiscated.
If this happens to you, simply contact the seed bank with evidence and they will gladly give you a replacement package.  That being said, if you use a company that offers stealth shipping (stealth shipping is meant to disguise the package as something completely non-conspicuous), then a lot of the times you can completely skip this headache.
Important disclaimer: Please note that this is not intended as legal advice
Do I need an account to purchase seeds?
No, most seed banks will allow you to complete checkout as a guest without having to register an account with them.
Does Seed Bank Reputation Matter?
Finding a reliable seed bank is really what this entire guide is about.  Because there are so many new organizations popping up everyday it's hard to find one that is reliable and offers quality products, that also won't disappear as quickly as it appeared.  If you choose any of the banks on the list above, then we have the reputation taken care of for you!
Why Good Customer Service Is Important When Buying Marijuana Seeds Online?
When you're looking for seed banks and especially when you're looking for seed banks that will ship to the USA you might be tempted to pick the first one you find.  But that is a very bad idea!  When you're comparing companies, reliable seed banks are going to be vastly different than those that aren't reliable.  One of the biggest differences is simply their customer service.  And there's going to be a massive difference between the levels of customer service between different seed banks.
The first factor that comes with customer service is discrete shipping.  Because cannabis seeds are on the legal gray line in the United States, you want your shipping to be as discrete as possible so it gets past customers no problem!  Not only will a bank with good customer service ensure that you receive reliable shipping but some will also over additional shipping services such as discretely putting the marijuana seeds hidden inside pens or toys to be as discrete as possible.
Another factor with customer service is the use of loyalty points and systems.  This means that if you're a returning customer you can rack up points which will lead to discounts and free seeds and items!  If a company offers programs such as these, that generally means that they stand behind their marijuana seeds and their service as a whole.  Most breeders if their products are good will stand behind them and offer significant discounts to repeat buyers.
If you choose to go with a bank that doesn't have much reputation, this could very easily be a scam company.  There have been quite a few reports of seed bank companies that create websites, and once they get a large volume of sales then they'll simply close their website without shipping out any marjiuana seeds!  By dealing with a trusted company you don't have to worry about any of this!
The last factor that comes in with customer service is your ability to ask questions or ask for help.  Most reputable seed banks are going to have employees that are there to answer your questions and to assist you with any order issues you might run into.  If the online seed banks you're dealing with doesn't offer any of this, then it might not be a good company to work with!
What Are Things That Bad Seed Banks Will Do?
When you know what to look for, it's actually pretty easy to identify and stay away from bad seed banks.  Here are some common things to be on the lookout for:
Doesn't reply to customer support messages or phone calls, or takes days to respond.
Their website doesn't feature SSL Encryption (Look for the Lock to the left of their domain name)
Doesn't feature a refund policy.
Extremely inconsistent in the quality of their cannabis seeds.  Seed quality should be very similar order after order.
Unsecure packaging.  If any of your packages have rips or look like they have been opened, you should be cautious.
No pages on their website about Legality, Privacy Policy, and Terms and Conditions.  All real businesses should feature these pages, so it can be a big warning sign if they don't have these.
No About Page on their website which gives you a bit of background information on the company.
It's my first grow, which strain should I choose?
Firstly, congratulations on deciding to grow – you're going to love it!
For your first grow, I would recommend choosing a strain that's known for it's "easy to grow" characteristics.
Northern lights is a very popular strain that is exceptionally resilient to many common issues that affect cannabis plants while growing.
They also grow short and have a low odor, which can be beneficial for a number of reasons.
Final Thoughts
Purchasing cannabis seeds online can seem a little daunting at first.
However, buying from a well-respected and reliable seed bank should ease any fears that you have.
The best online seed banks listed in this article will take good care of you and ensure that you receive your cannabis seeds and that you are 100% happy.  If you are in need of recommendations for LED grow lights or what equipment you might need, we also have you covered!  I hope your experience buying marijuana seeds online is as smooth and painless as possible!
Let me know what your favorite seed bank is in the comments below or if you've had any bad experiences!
Happy Growing,
James
Related posts from GreenBudGuru: