Buying cannabis seeds online can be frustrating to say the least…
Poor quality seeds, missing packages and unresponsive customer service is far too common.
Just check out any grower forum and you'll see what I mean.
Some seed banks seem as though they just don't care!
Over the years, I've used A LOT of different online seed banks, and I know how to tell the good ones from the bad.
In this article I'll discuss the best seed banks to order from  – that also ship to the USA and Canada.
I've rated each seed bank out of 10 based on several key criteria, and included a seed bank FAQs section at the end
Best Seed Banks To Order From Online
Short on time? No problem! Here are the best seed banks to order from marked out of 10.
If you want to know more about each seed bank or how I rated them, then keep reading….
How I Rated Them…
When looking for a good seed bank, there are several key criteria that you should to look out for.
Offers worldwide shipping ( including USA & Canada )
Stealthy, discrete shipping
Reliable shipping – most packages arrive on time.
Generous refund policy for missing, damaged or bad quality seeds
Good strain selection
Sale section with discounts
Wide range of buying promotions
Loyalty/reward programs
High quality seeds
Responsive customer service
Good information provided about each seed
Multiple currencies accepted
Multiple payment methods accepted
Customer reviews about each stain
Easy to use website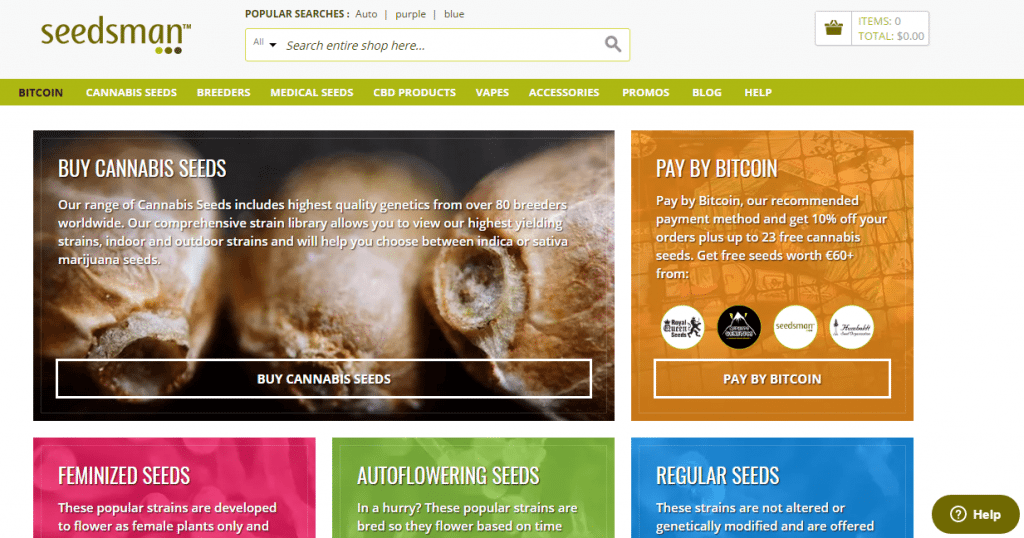 Website:
www.seedsman.com
Location:
Barcelona, Spain
Shipping:
Worldwide
Founded:
2003
Payment Methods:
credit card, debit card, cash, bitcoin, bank wire, cheque, potmoney, money order
Currencies:
USD, AUD, CAD, GBP
Stealth Rating: 10/10
Customer Service: 9/10
Shipping speed: 9/10
Seed selection: 10/10
Prices: 10/10
Website: 10/10
Payment options: 10/10
Seedsman is my number one pick when it comes to online seed banks, and the best EU seed bank by far.
This hugely popular seed bank offers one of the biggest selections of strains online (over 4,000! ) and their seeds have some of the lowest prices I could find online.
To add to their low prices, they also have loads of amazing promotions that can dramatically reduce the cost of your order.
TIP: Pay with bitcoin to get up to 25% off each order!

TIP: Use their stealth shipping option to have your seeds sent with an additional ( non suspicious ) product to add an extra layer of stealth to your package.

TIP: The best way to contact them for support via email, as their phone number is automated.
Website:
www.ilovegrowingmarijuana.com
Location: 
Amsterdam, Netherlands
Shipping:
Worldwide
Founded:
1993
Payment Methods:
bank wire, credit card, debit card, cash, bitcoin,
Stealth Rating: 10/10
Stealth Rating: 10/10
Customer Service: 10/10
Shipping speed: 10/10
Seed selection: 8/10
Prices: 8/10
Website: 10/10
Payment options: 9/10
I Love Growing Marijuana is run by Robert Bergman, a veteran grower with over 25 years of growing experience.
These guys might not have the biggest strain collection ( around 80 different strains) but they have some very high quality strains and awesome customer service.
Shipping is free for US, Canadian and European orders and delivered in just 10 to 15 days on average.
They guarantee delivery, and will re-ship your seeds if your order doesn't arrive or gets seized.
In the event that your seeds do not germinate, they will be happy to replace them for free – nice!
ILGM's website is excellent and can be viewed in English, Spanish, French or Dutch.
Despite the multilingual setup, the site is easy to use and features an active forum with helpful topics for beginners.
Top tip:
ILGM provide a very popular 
FREE Grow Bible
to expertly guide you through your grow.
TIP
: Purchasing in Bitcoin will get you a 10% discount.
TIP:
ILGM have a fantastic
youtube channel
that showcases different strains and it will get you in the mood for growing….and smoking!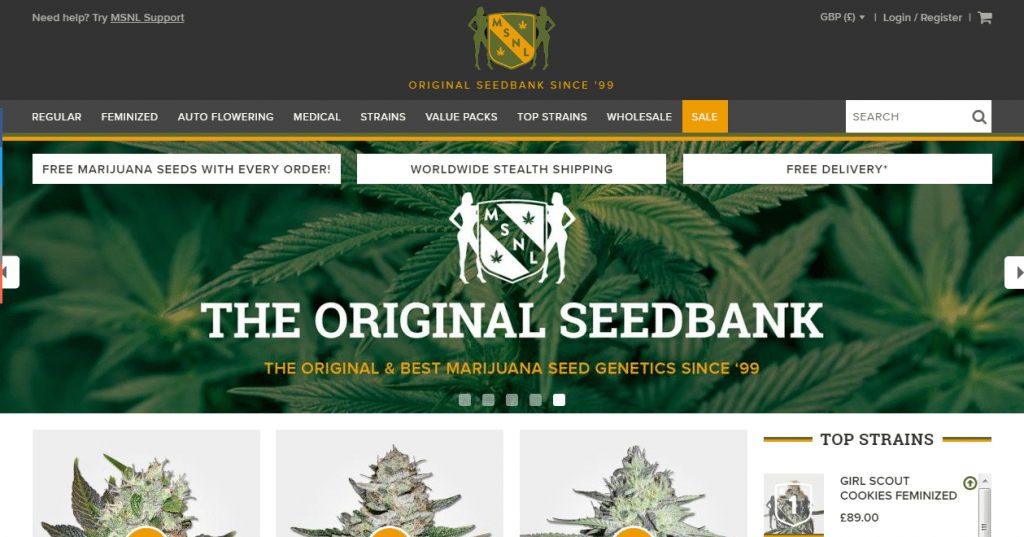 Website:
www.marijuana-seeds.nl
Location:
United Kingdom
Areas Covered by Shipping:
Worldwide
Founded:
1999
Payment Methods:
Credit card, Debit card, cash, cheque, bank wire, money order
Currencies:
USD, AUD, CAD, GBP
Stealth Rating: 10/10
Customer Service: 10/10
Shipping speed: 10/10
Seed selection: 7/10
Prices: 8/10
Website: 10/10
Payment options: 9/10

MSNL is another well-established Seedbank that has been around since 1999.
Their refined strains are extremely high quality and raved about in the cannabis community.
They also offer a great selection of low cost value packs which are perfect for trying different seeds without spending lots of money.
In general, they tend to be a little more expensive than seedsman and have a smaller selection of strains. They also do not accept Bitcoin.
Website:
www.truenorthseedbank.com
Location: 
Canada
Areas Covered by Shipping:
Worldwide
Founded:
1993
Payment Methods:
Credit card (US & Canada only), money order, cash, bank transfer, E-transfer (Canada only), cryptocurrencies (Bitcoin, Litecoin, & Ethereum)
Currencies:
USD, GBP, EUR, CAD
Stealth Rating: 10/10
Customer Service: 7/10
Shipping speed: 10/10
Seed selection: 9/10
Prices: 8/10
Website: 9/10
Payment options: 9/10
Strict quality control is one of the many assets that you'll find with True North Seed Bank.
You'll also find an approachable and accommodating customer service and competitive prices.
Their website's search function lets you precisely filter through their large seed and strain collection.
You'll also get exclusive subscriber deals, insured worldwide shipping and a 7-day return/replacement guarantee.
Shipping is fast. US and Canadian customers can get their orders within a week while international orders typically arrive in 2 weeks to a very rare 21 days.
You'll have numerous methods of payment including several types of cryptocurrencies.
Take note though that credit and debit card transactions will include a 7.5% card processing fee.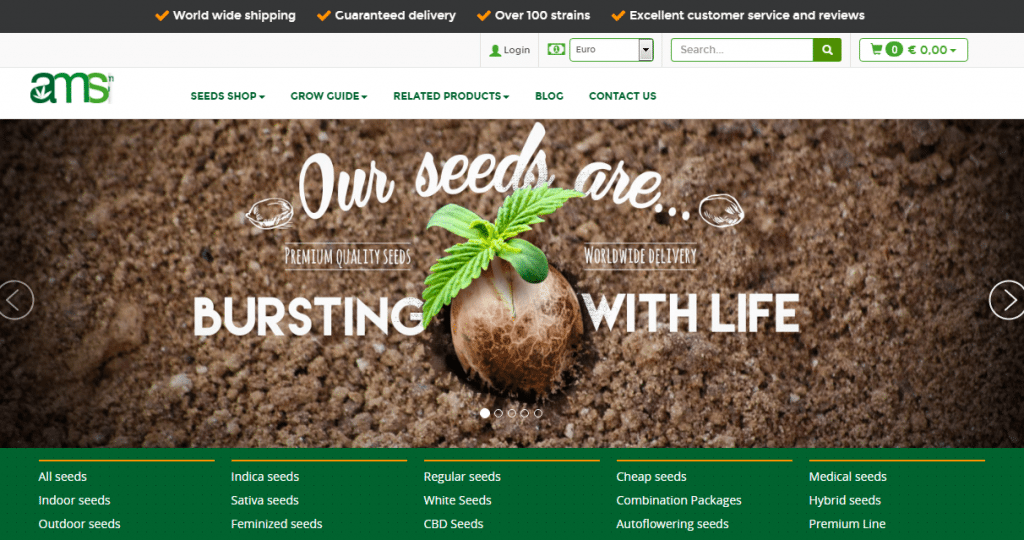 Stealth Rating: 10/10
Customer Service: 10/10
Shipping speed: 10/10
Seed selection: 7/10
Prices: 8/10
Website: 9/10
Payment options: 7/10

Amsterdam Marijuana Seeds has been in the cannabis game for 25 years with no sign of slowing down.
Their time in the industry definitely shows in their intuitive and user-friendly website.
Subscribe and you'll get a free growing guide.
With the Netherland's top breeders, you can expect fantastic seed and strain quality.
Their packaging is crush-proof and made to look like regular mail. You may not even recognize your package.
Conversely, being shipped straight from Amsterdam will mean relatively higher prices.
Fortunately, the shipping price may be offset by both their affordable seed options and combo packages.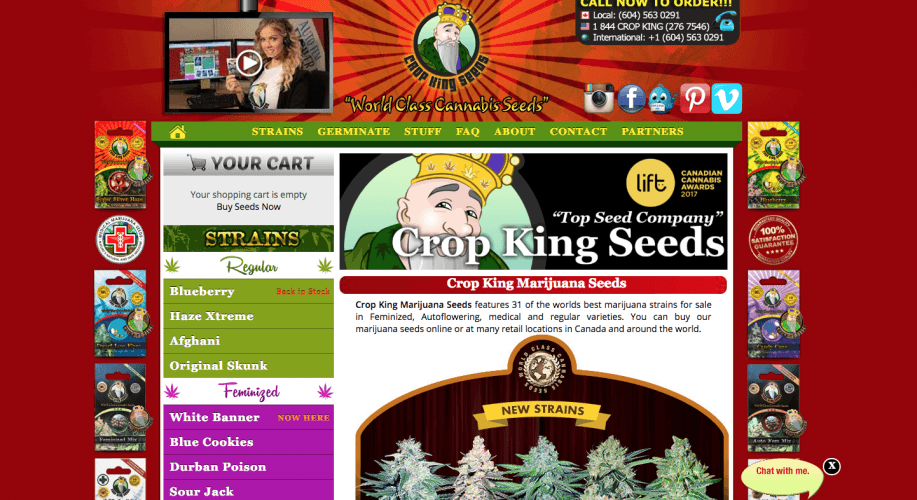 Website:
https://www.cropkingseeds.com/
Location: 
Vancouver, Canada
Areas Covered by Shipping:
Worldwide
Founded:
2012
Payment Methods:
Cash, credit card (Mastercard & Visa), Bitcoin, Interac E-transfers (Canada)
Currencies:
USD, CAD
Stealth Rating: 10/10
Customer Service: 10/10
Shipping speed: 8/10
Seed selection: 8/10
Prices: 8/10
Website: 5/10
Payment options: 6/10
Many growers know Crop King Seeds to be among the very first to air a professional cannabis commercial.
Now, the 6-year old company has over 100 physical stores in Canada, and an accessible online store.
They also have brick and mortar stores in select countries.
Despite a website that looks like it came out of the 90's, search and filtering options are easy to use with over 30 different strains.
Most of these strains are exclusive to Crop King Seeds.
You can insure shipping orders for an additional fee with Crop King Seeds.
Their packages are discreet and even include random stuff such as flashlights or pens for increased stealth.
Seedbank FAQ's
What payment methods can I use?
Most good seed banks offer a number of different ways to pay for your seeds:
Credit/Debit Cards
Most seed banks take payment with debit or credit cards without any problem.
However, placing an order with standard bank cards can sometimes have issues if don't usually order items from abroad using that card.
This might make other payment methods more appealing.
Personally, I use a credit card, which offers better protection than a stand card when buying online.
I've never had an issue ordering seeds online with my credit card.
Bitcoin
Bitcoin is anonymous, safe and secure.
It's therefore perfect for this type of transaction and the method of payment that most seed banks prefer.
Many seed banks offer incentives to purchase your seeds with Bitcoin.
Cash
Paying with cash means that there will be no record of the transaction on your bank account.
However, most seedbanks will appear very discretely on your bank statement anyway, and sending cash in the post is risky.
Paypal
It's very rare for a seed company to offer a Paypal as a payment option.
This is because Paypal strictly prohibits cannabis seed sales (get with the times PayPal! )
Online Seed banks get blocked from accepting payments once Paypal discovers what they are selling.
Bank transfer/wire
A standard direct transfer from your bank account to the seed banks account.
A bank transfer usually avoids any fuss with your credit card or bank card being blocked for suspicious activity.
It's fast and secure and many Seed Banks recommend that you use this method
Cheques
Anoutdated method of payment, but many seedbanks offer this option.
It's fairly secure but takes a long time to process.
There's definitely better ways to pay.
What is the best method of payment?
The absolute best method of payment to use with a seed bank is probably Bitcoin.
It only takes a few minutes to set up and means that all of your transactions are 100% anonymous, safe and secure.
Many seedbanks offer big discounts for payments made with bitcoin, so this is definitely something you should consider.
If like me you don't fancy setting up Bitcoin, then use a standard credit card is the next best option.
Why are there no good US Seedbanks?
The current situation in the US is that although it's usually safe to buy /order seeds online, it's very risky for the seed bank sell them or send them from one state to another due to the different laws in each state.
This is the reason why it's hard to find a long-established seed bank in the country.
Hopefully this will change in the near future.
All of the seed banks listed in this article will ship to the USA and Canada
What will happen if customs open my package?
Current customs laws in America indicates that if your seed package from abroad does get caught in the mail, you will not be put on any "list".
Instead, the U.S. customs agents will simply toss the seeds and send you what's left of the package.
They also send an official letter letting you know that your seeds were confiscated.
If this happens to you, simply contact the seed bank with evidence and they will gladly give you a replacement package.
Important disclaimer: Please note that this is not intended as legal advice
Do I need an account to purchase seeds?
No, most seedbanks will allow you to complete checkout as a guest without having to register an account with them.
It's my first grow, which strain should I choose?
Firstly, congratulations on deciding to grow – you're going to love it!
For your first grow, I would recommend choosing a strain that's known for it's "easy to grow" characteristics.
Northern lights is a very popular strain that is exceptionally resilient to many common issues that affect cannabis plants while growing.
They also grow short and have a low odor, which can be beneficial for a number of reasons.
Final Thoughts
Purchasing cannabis seeds online can seem a little daunting at first.
However, buying from a well-respected and reliable seed bank should ease any fears that you have.
The seed banks listed in this article will take good care of you and ensure that you receive your seeds and that you are 100% happy.
Related posts from GreenBudGuru: